Ever since the first Galaxy Fold was announced 2 years ago, I felt obsessed (yes, very strong word) with all the technologies it introduced. From its folding mechanism that spawned many clones and wannabes to an optimized software that is second to none, I could not think of any smartphone of such caliber to overtake my desire to own one.
Fast forward to today, the Galaxy Z Fold 3 5G was just announced and you can just imagine my excitement despite having a working and still very reliable Z Fold 2 5G. The new iteration promises a lot of really good features that are missing on my current Fold. This, for me, is a good starting point for this long-term review. My intention in this review is to answer the following questions: (1) is the Z Fold 2 5G still worth keeping; and (2) should you buy a brand new one?
Is the Z Fold 2 5G still worth keeping?
My personal answer: No.
To qualify, however – I am already on board to trade in my unit to the Galaxy Z Fold 3 5G. This is, of course, coming from someone who spent about a year enjoying the perks and benefits of the Z Fold 2 5G. This is the reason why I'm not keeping the Z Fold 2 5G.
Similar to the customer feedback that sprung the features on the Z fold 3 5G, I truly enjoy the flexibility of a folding smartphone. You get a smartphone that you can instantly shift from phone to a tablet form factor by manually unfolding it. Its magic does not stop there, because the moment you unfold the phone, you'll be greeted with a UI that matches the bigger screen. This, however, is a double-edged sword because not all applications support this. There are times when some apps like Instagram, Lazada, and some mobile games would not switch to a bigger UI when the display is unfolded. According to Samsung, this issue is resolved in the new Galaxy Z Fold 3 and I believe that it will only be a matter of time for this update to be rolled out in the older iteration.
As this device has a folding mechanism, I am tremendously impressed with how Samsung improved it over the years. It is, however, still not a perfect feature as moving parts tend to break over time. This is where the reliability of Samsung Care+ comes it. I have availed of this service in the past since the inner display of my Z Fold 2 suddenly had a horizontal line that extends from the sleep and wake button to the other side. After paying the service fee of PhP7,200, it seemed like Samsung totally replaced the phone and got it back in just a matter of two weeks. Without Samsung Care+, owning a folding smartphone is like having a hollow brick full of anxiety. Fortunately, all new purchases of any Z Fold 2 and Z Fold 3 variants come with a Samsung Care+ for a year.
It has been 4 months since the last time I put a case on my Z Fold 2 5G. Despite this, I have not seen a single scratch on the device, which I find very impressive. Putting a case is fine and gives more protection but it just makes the device a lot heavier than usual.
I also enjoy the camera features of the Galaxy Z Fold 2 5G. Its set of cameras may not be as good as the Galaxy S21 series, but it just works as intended. Photos are crisp with really good levels of saturation and contrast. You get deep and accurate blacks and grays. The extra camera software features further add value to its folding capability. The lack of 8K recording is not a big deal since consumers are not yet technically ready to play 8K videos on streaming and VOD services.
The Z Fold 2 5G still holds up to its capability to be a gaming smartphone. I am able to smoothly play premium mobile games like: Marvel Future Revolution, Genshin Impact, and Apex Legends Mobile. Surprisingly, these games are compatible with Z Fold 2's display with very minimal visual glitches. Gameplays are smooth as well, and their ability to manage thermals is impressive.
Note that the Fold 2 does not have the latest chipset but its performance can topple other current flagship devices. Take a look at its performance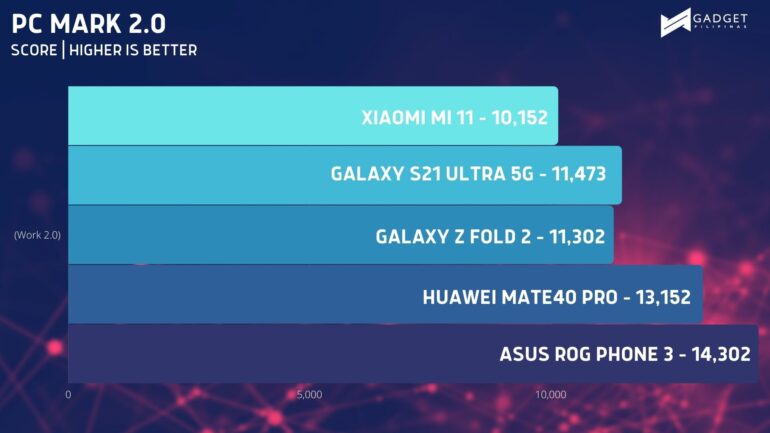 If there's anything that I was really concerned about prior to getting my Z Fold 2 was battery life. It only has 4500mAh battery and I thought that it is not enough to get the phone up and running for more than 12 hours. I was not wrong in this assumption but I was surprised that the phone can manage to stay up for about a total of 10.5 hours every day. I would charge the phone at night, unplug it the following morning and use it until around 7:30 PM. It has been my daily grind, and this might actually change a bit when the Z Fold 3 arrives. The new Fold only packs around 4400mAh battery and given its more energy-optimized chipset, I expect it to perform better despite having a lower capacity.
Should you buy a brand new Z Fold 2 5G?
It is more than likely that Samsung would cease the production of Z Fold 2 5G to refocus everything on the new iteration. However, I will not be surprised if there are still some remaining units that need to be sold by Samsung or offered by telcos to their subscribers – at a lower updated price, of course. If this happens, assuming that the SRP of the Z Fold 2 5G drops to around PhP55,000 to PhP65,000, grab the deal. However, if you have more PhP30,000 pesos to spare on top of the new assumed SRP, then you might as well buy the Z Fold 3 5G.
This assumption begs to answer the question – Should you buy the Z Fold 3 5G instead? Absolutely, but only if you have the money and the need to do own one. The Galaxy Z Fold series is an interesting product line that blurs the gap between need and want. The surge of the urge to have a folding smartphone is triggered by its novelty features and determining whether they are answers to a specific lifestyle or professional necessity is up in the air. If you only want to experience a very capable folding smartphone, get the Z Fold 2 5G. If you need a new one, and budget is not a concern, pre-order the Galaxy Z Fold 3 5G.
Giancarlo Viterbo is a Filipino Technology Journalist, blogger and Editor of gadgetpilipinas.net, He is also a Geek, Dad and a Husband. He knows a lot about washing the dishes, doing some errands and following instructions from his boss on his day job. Follow him on twitter: @gianviterbo and @gadgetpilipinas.