As the country gradually shifts to a new normal, now is the most crucial time to be vigilant of your welfare and of your loved ones.
Be a responsible head of the household and prioritize safety with these relevant and cost-efficient health essentials by Cherry and know exactly when they would come in handy.
CHERRY ION, CHERRY ION LITE, AND 2-IN-ONE DISINFECTING LAMP WITH POWERBANK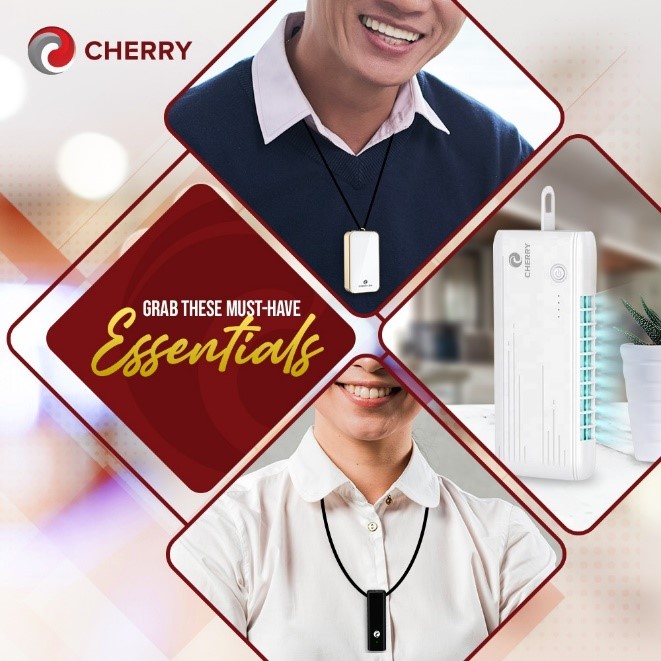 For personal wearables while on-the-go. Cherry offers extra protection with its personal wearable air purifiers that come in two variants.
Cherry Ion – perfect for the daily commute and spending long hours at home. It emits 50 million/cm3 negative ions and lasts up to 12 hours. Get it at PhP3,500 for regular colors and PhP3,700 for limited editions.
Cherry Ion Lite – a more affordable option that emits up to 20 million negative ions and offers up to 8 hours of maximum protection. Get it for PhP2,300.
For added protection, Cherry's 2-in-1 Disinfecting Lamp with Powerbank is portable and has UVC that is proven to kill 99.9% of germs on surfaces. It also has a 6,000mAh battery and comes with 2 USB ports for charging your smart gadgets. Get it for only PhP1,399.
CHERRY CAR IONIZER WITH AIR PURIFIER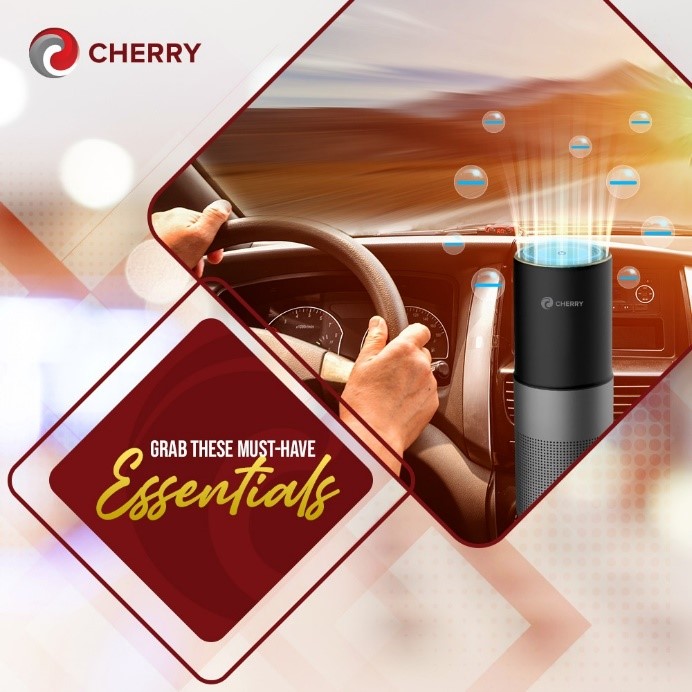 For extra protection inside your car, the Cherry Car Ionizer with Air Purifier easily fits into a cup holder and emits up to 20 million negative ions. With 360-degree purification coverage, you get maximum indoor protection at a pocket-friendly cost. Get it for only PhP2,500.
CHERRY AIR PURIFIER SELECTION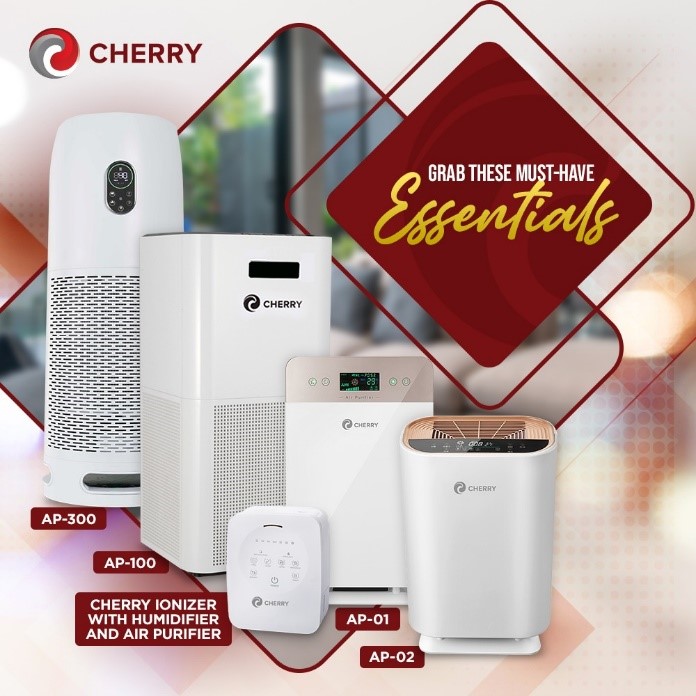 Looking for a household appliance that provides all-out protection for you and your family? Level up the safety and comfort in every room with Cherry Essentials' range of air purifiers:
Cherry Ionizer and Humidifier and Air Purifier – This gives off up to 170 million negative ions, provides 4-stage air purification, boasts a 99.98% purification rate, and improves your quality of sleep. Grab this for only PhP4,000.
Cherry Air Purifier (AP-01) – The most affordable on the list with an SRP of PhP3,500. It can effectively purify a 30sqm. room and is relatively lighter at 3.5kgs.
Cherry UVC Air Purifier (AP-02) – This is a unique option with its build-in UV lamp that kills 99.9% of bacteria along with 6-stage air purification. Get it for PhP5,000.
Cherry Air Purifier (AP-100) – This top-of-the-line variant has the biggest coverage of as much as 60sqm and has a Clean Air Delivery rate (CADr) of 500m3/hr. It also boasts a 6-stage Filtration System and UV light disinfection. Get it for PhP11,990.
All variants offer 99.98% purification rate and are designed to keep hotels, offices, rental units, and parts of your home free from allergens, bacteria, and other airborne viruses.
SMART UVC DISINFECTING LAMP AND CHERRY UV STERILIZER CABINET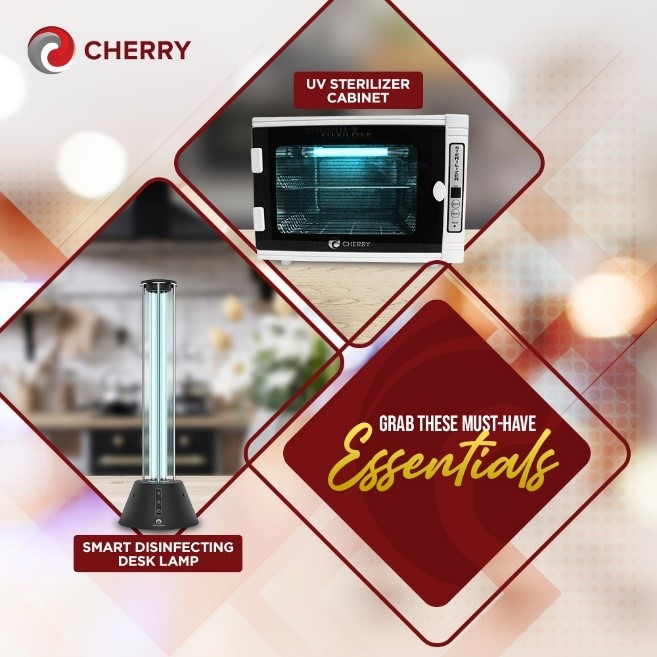 The Cherry UV Sterilizer Cabinet lets you disinfect your utensils simultaneously with a 10L capacity and 5,000-hour lamp life. Get it for PhP3,800.
The Smart UVC Disinfecting Lamp offers 36 watts UVC that kills 99.9% of germs. It has 2-way control, allowing you to conveniently use it with your smartphone or manually. Get one for only PhP2,999.
Be safe and sound with these Cherry Essentials must-have. All available here.