Introduction
The ROG Zephyrus line of gaming notebooks has surely made its mark as one of the best ultra-portable gaming laptops available in the market. The most recent variant, the ROG Zephyrus G14 is undoubtedly the best and most powerful 14″ thin and light gaming laptop and it doesn't stop there. The latest iteration of ROG Zephyrus Gaming laptops comes packed with Intel's latest Intel Core 11th gen series processor paired with Nvidia's RTX 30 series mobile graphics. The combination utilizing the flagship Intel Core i9 11900H and Nvidia RTX 3070 is in the form of the ASUS ROG Zephyrus M16, a premium thin-and-light gaming laptop featuring a WQHD display.
ASUS ROG Zephyrus GU603 Specs
Display
16-inch, 16:10, non-touch, matte, AU Optronics B160QAN02.Q panel
WQHD 2560 x 1600 px IPS, 165 Hz 3ms with 100% DCI-P3 and sRGB, with AdaptiveSync
Processor
Intel Tiger Lake, Core i9-11900H (8C/16T)
Video
Intel + Nvidia GeForce RTX 3070 Laptop 8GB (80W, up to 100W with Dyn Boost) on 603HR model
Memory
32 GB DDR4 3200 (16 GB onboard, 1x DIMM, up to 48 GB)
Storage
1 TB NVMe SSD (2x M.2 PCI x4 slots)
Connectivity
WiFi 6 (Intel AX200) 2×2 with Bluetooth 5.0, Gigabit LAN (Realtek RTL8168/8111)
Ports
2x USB-A 3.2 gen2, 2x USB-C with Thunderbolt 4, HDMI 2.0b, microSD card reader, LAN, headphone&mic, Lock
Battery
90Wh, 240 W power adapter + USB-C charging up to 100W
Size
355 mm or 13.98" (w) x 243 mm or 9.57″ (d) x 19.9 mm or .78" (h)
Weight
2.03 kg | 4.47 lbs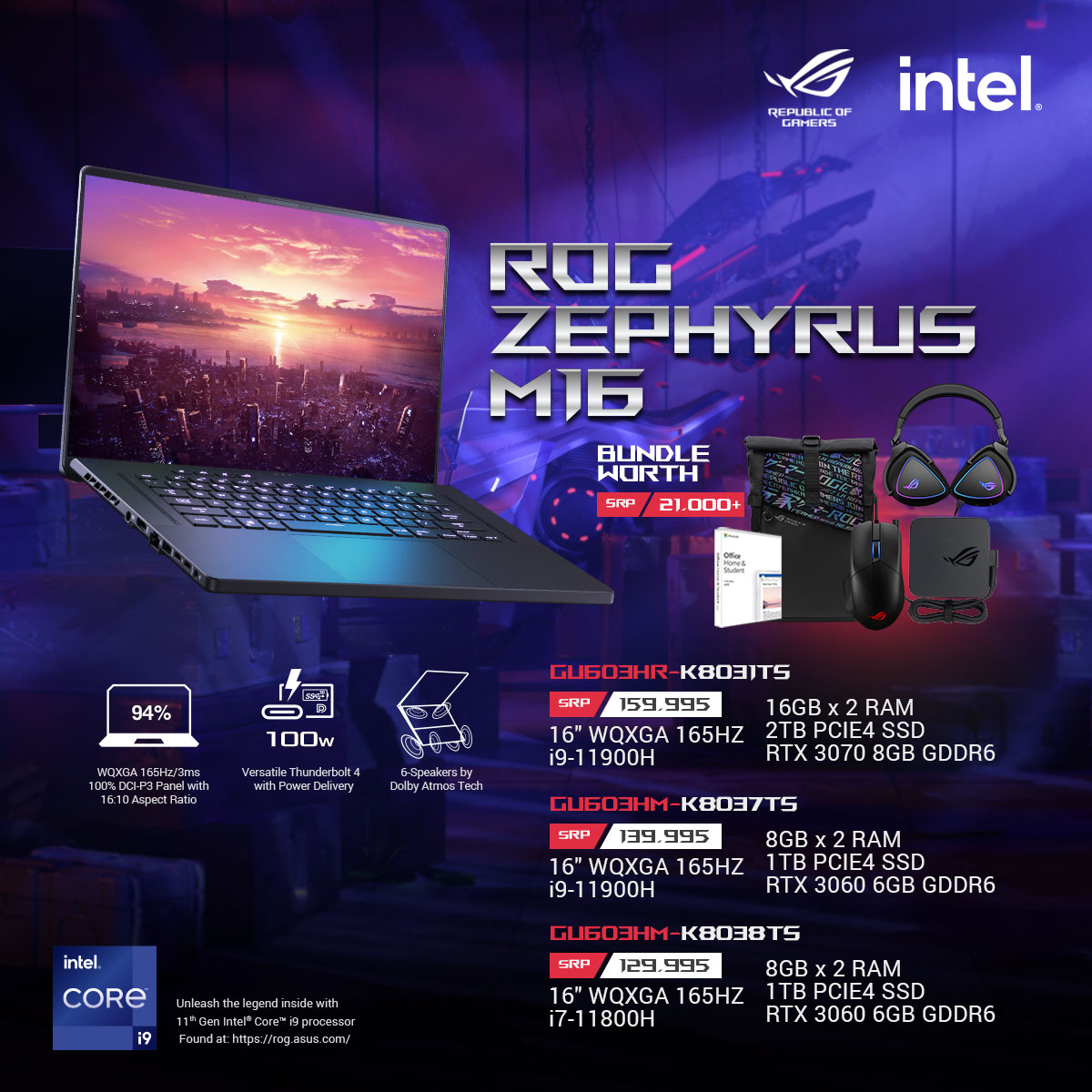 The ASUS Zephyrus M16 comes in three configurations in the Philippines. The base variant is a combination of an 11th-Gen Intel Core i7-117800H and an RTX 3060 for Php 129,995. The second variant is a Core i9 11900H CPU upgrade for an additional Php 10,000. The flagship variant which is what we will be reviewing houses an Intel Core i9-11900H and RTX 3070 for Php 159,995. The Php 20,000 increase over the second variant is not solely attributed to the GPU upgrade but also because of the double RAM and Storage. Based on the pricing and configuration, I'd say that the most valuable option is indeed the most expensive variant(GU603HR) thanks to the RTX 3070 GPU, 32GB RAM, and 2TB PCI-E Gen 4 storage.
ASUS ROG Zephyrus M16 Unboxing and First Impressions
ASUS ROG Zephyrus M16 Review 002
ASUS ROG Zephyrus M16 Review 003
When it comes to a premium laptop packaging and unboxing experience, nothing beats ASUS ROG with its luxurious style. The ASUS ROG Zephyrus M16 comes in similar two-tone packaging with the ROG Zephyrus G14.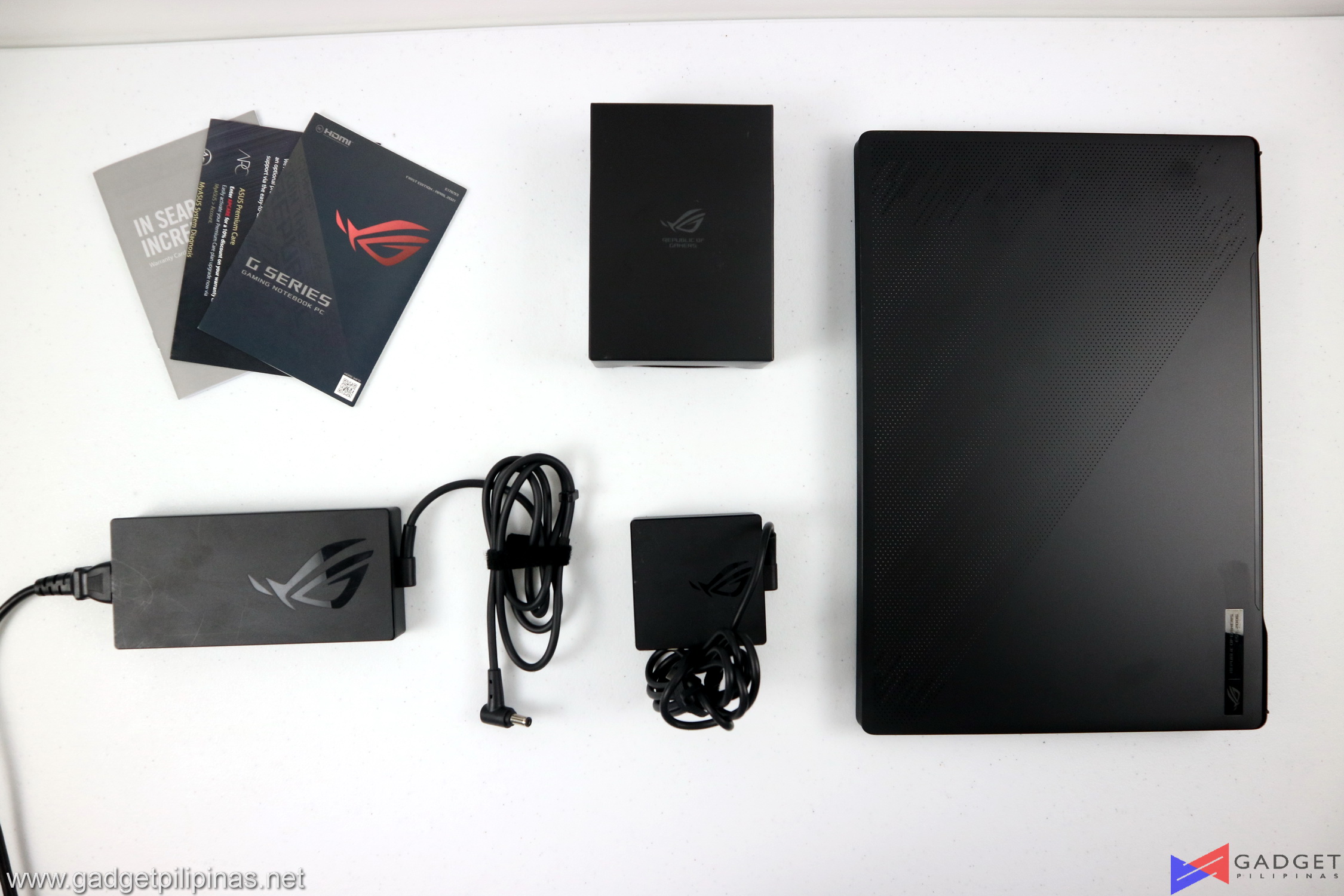 Contents of the packaging are as follows:
ASUS ROG Zephyrus M16 Gaming laptop
300W Power Adapter
100W Type-C Power Adapter
ROG Chakram Core Gaming Mouse
Warranty Card
User Manual
ASUS ROG Zephyrus M16 Review 012
ASUS ROG Zephyrus M16 Review 058
Gone are the days of flashy gaming laptops as the trend of professional-looking gaming laptops continues. The ROG Zephyrus M16 has the signature ROG two-tone color separation with the other half being somewhat perforated. It's basically the AniMe Matrix design we've seen on the G14 without the LEDs but instead with an iridescent film. The iridescent film strip adds a premium touch with the reflective RGB lighting but I frankly would've preferred an AniMe Matrix display to take advantage of its 16″ form factor.
There are two rubber feet strips near each end of the Zephyrus M16 which also elevates the laptop for airflow. The area where the cooler is located has perforations for the intake fans. I personally find the mesh perforations lackluster as there are other gaming laptops that have a more aggressive mesh for better airflow.
ASUS ROG Zephyrus M16 Review 024
ASUS ROG Zephyrus M16 Review 026
Unlike previous Zephyrus Generations, the ROG Zephyrus M16 doesn't use the Aero-dynamic hinge that opens up. Instead, it uses a hinge design similar to the ASUS Zenbook line which also elevates the keyboard area as you open the gaming laptop.
ASUS ROG Zephyrus M16 Review 021
ASUS ROG Zephyrus M16 Review 022
ASUS designed the chassis of the ROG Zephyrus G14 in an inclined manner to maximize the use of the Zenbook-style hinge as well as improve the overall ergonomics of the Zephyrus Gaming laptop. Moreover, the sides are thinned out as you move to the edge giving the illusion of a very thin gaming laptop.
The left side houses the charging port, an HDMI 2.1 port, a full-sized Ethernet port, one USB-A port, two USB-C ports(one of which is a Thunderbolt 4 port that supports 100w charging and video via display port), and a 3.5mm combo jack. Moving to the right side you have another USB Type-A port and a microSD card slot. Connectivity on the Zephyrus M16 seems fairly adequate with the inclusion of an ethernet port and a microSD card slot. I personally would've liked to see another USB-A port on the right side to omit the use of dongles in scenarios where a USB-A gaming keyboard, mouse, and headset are used. Moreover, the location of the charging port is the biggest issue as the 90-degree plug blocks either the intake vent or the majority of the ports of the whole Zephyrus M16.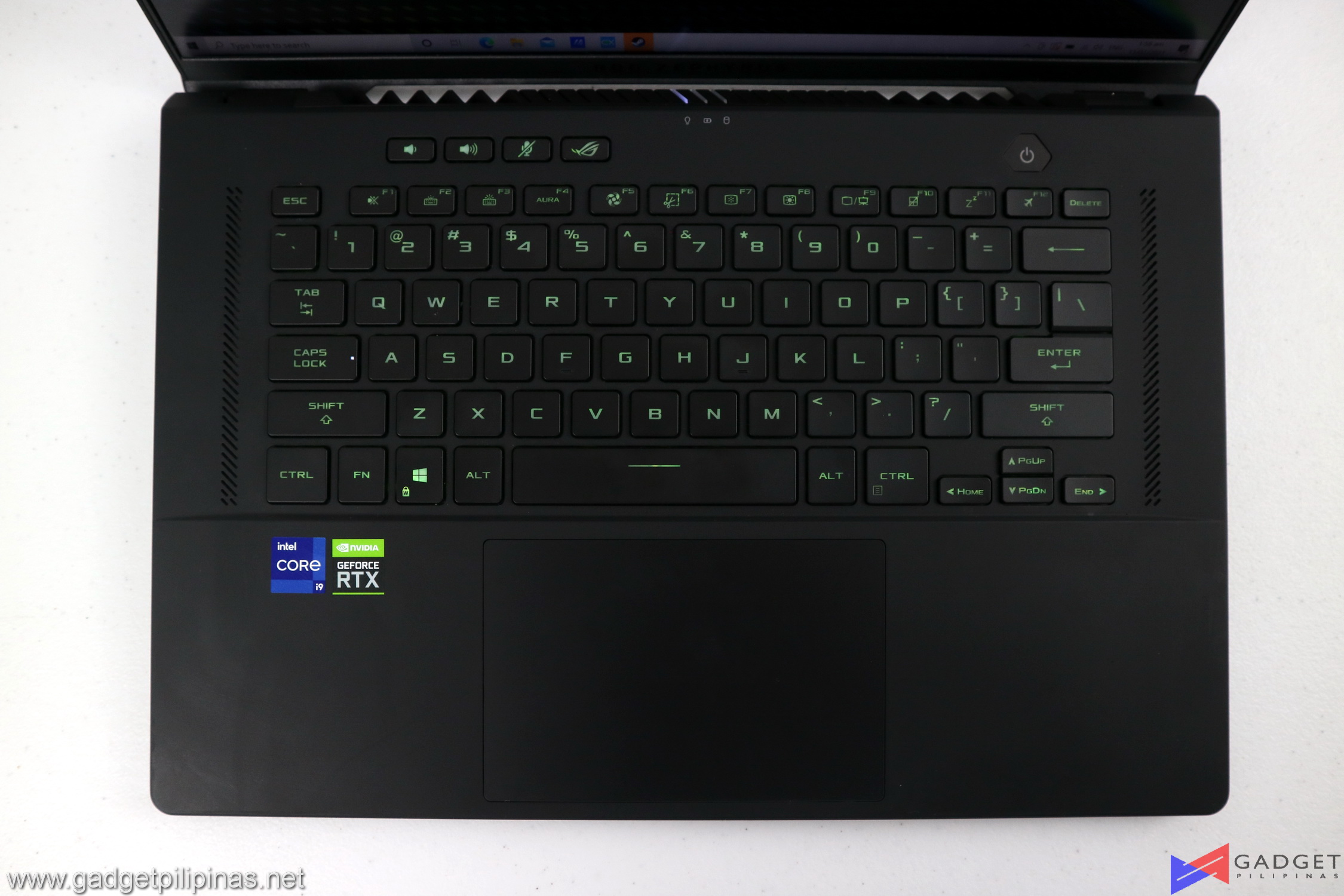 Surprsingly, ASUS did not go for a numpad/touchpad combo which is one of the Zephyrus line's signature layouts. ASUS implemented a clean keyboard layout with a matte black finish with no gimmicky printouts or design.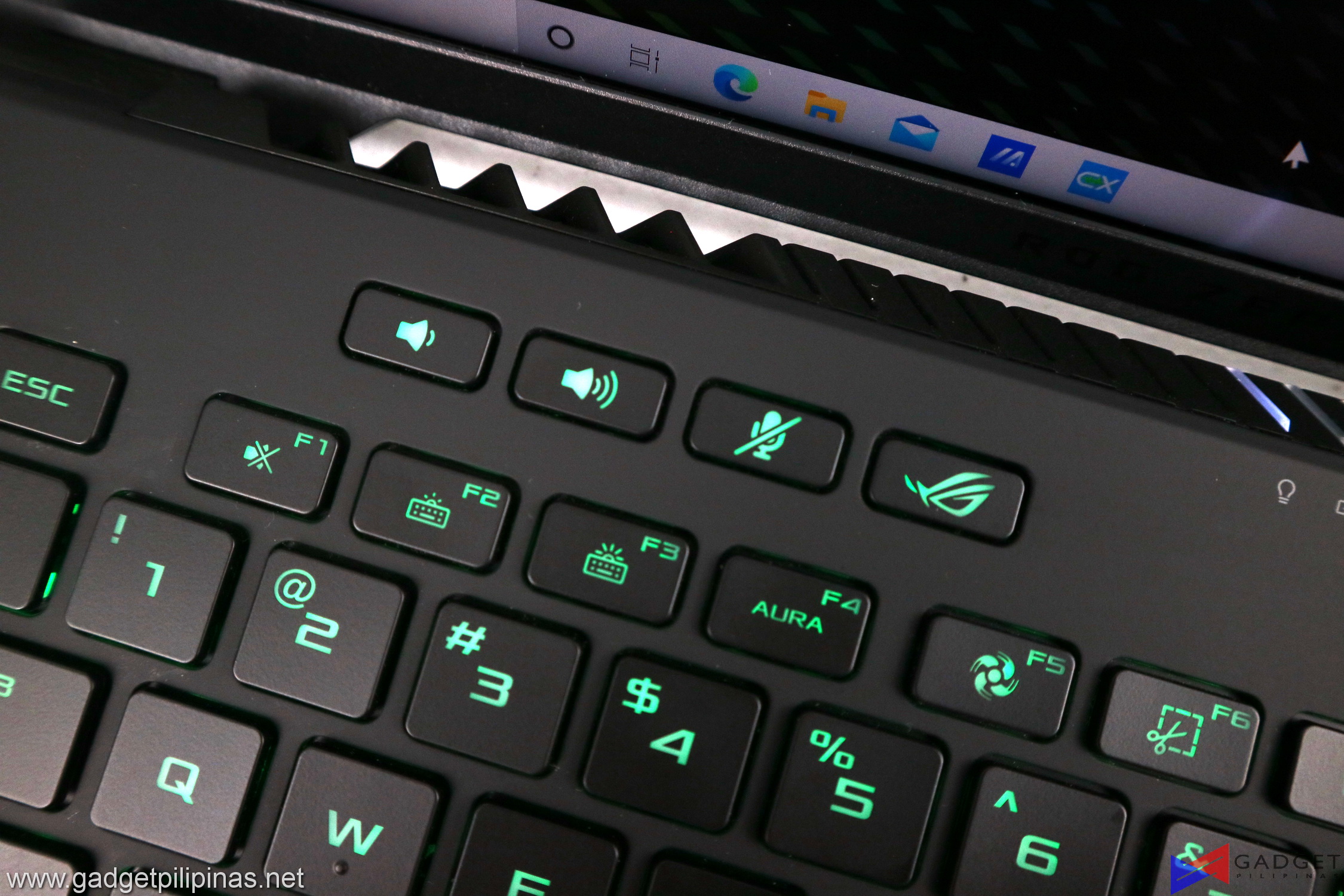 Like any other ASUS ROG Gaming Laptops, the dedicated volume up, volume down, mic mute, and ROG Armory Crate button are present on the upper left part of the keyboard deck.
ASUS ROG Zephyrus M16 Review 041
ASUS ROG Zephyrus M16 Review 042
Notorious ROG gaming font aside, the keyboard of the ROG Zephyrus M16 is definitely one of the best ones available in a gaming laptop, not to mention the extra challenge it took to cram in this keyboard in a relatively thin chassis.  Its key sizes and the crisp tactile feedback definitely keep you focused in both work and gaming with the only annoyance being the misplaced FN key. Most FN keys of laptops and even custom keyboards are on the right side of the spacebar for a more natural and undisrupted typing experience. Placing the FN key on the left side makes the user prone to misclicking the windows or alt key. There is clearly space for the FN key on the right side since the right control key is noticeably larger than the left ctrl key, not to mention the crammed, half-sized arrow keys.
ASUS ROG Zephyrus M16 Review 037
ASUS ROG Zephyrus M16 Review 040
Keyboard layout aside, the touchpad on the ROG Zephyrus M16 puts productivity and ultrabook laptops to shame with its wide footprint. The extra effort to include a large touchpad makes the ROG Zephyrus M16 a great laptop for productivity but its large size can also hinder your gaming experience as your thumb will definitely rest on the upper left corner of the touchpad. Luckily, this issue can be resolve by just turning off the touchpad when gaming.
ASUS ROG Zephyrus M16 Display and Camera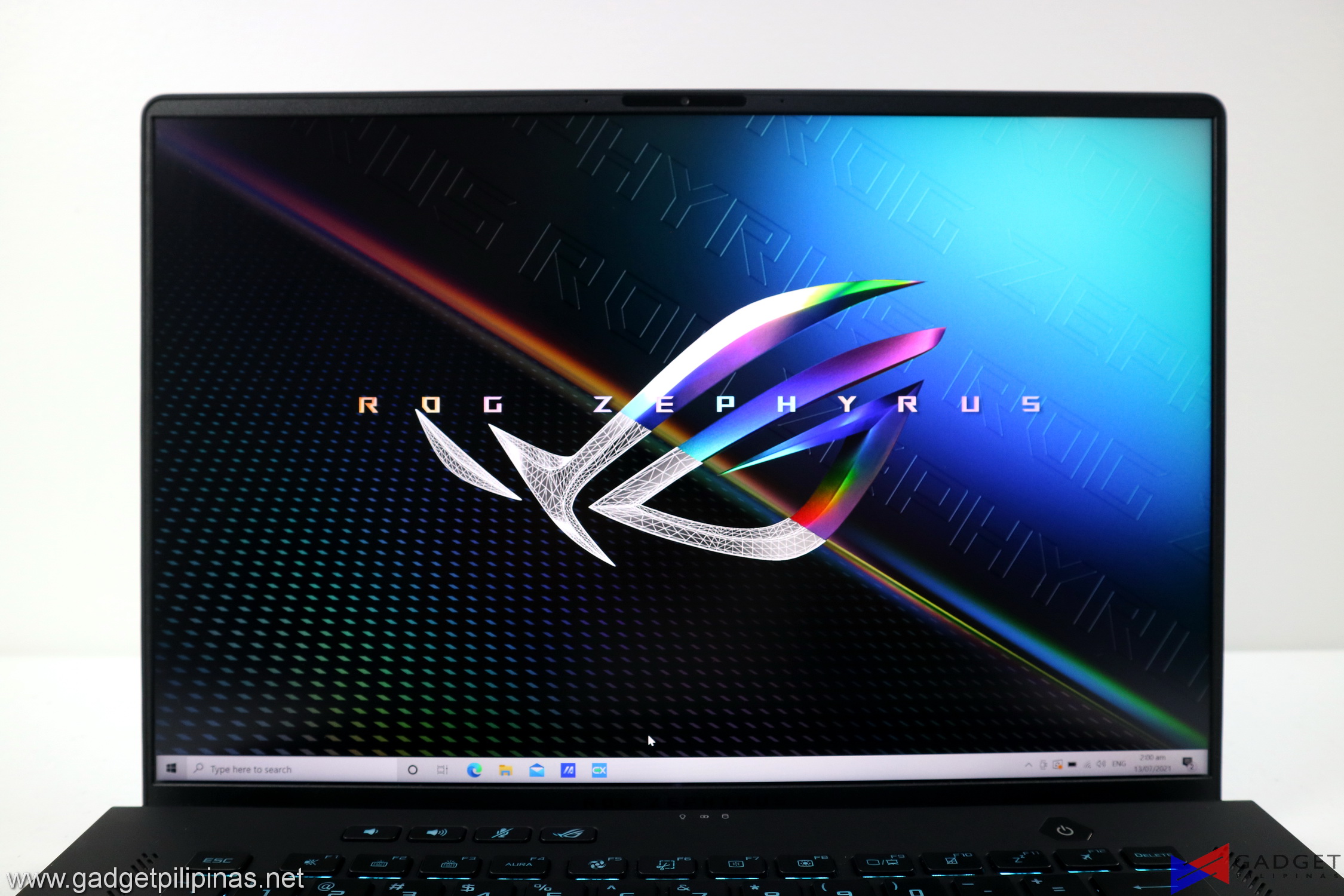 One of the refinements of the ROG Zephyrus M16 is its jaw-dropping 16″ display. There's a lot of things to like with the M16's screen starting off with the impressive 94% screen-to-body ratio thanks to the three narrow side bezels and Zenbook-style hinge that hides the supposed chin-bezel. Taking advantage of the superb 94%-STB is a 2560x1600p 16:10 165Hz IPS panel with Pantone validation. The display alone make the ROG Zephyrus M16 an attractive laptop not only for gamers but for professionals as well.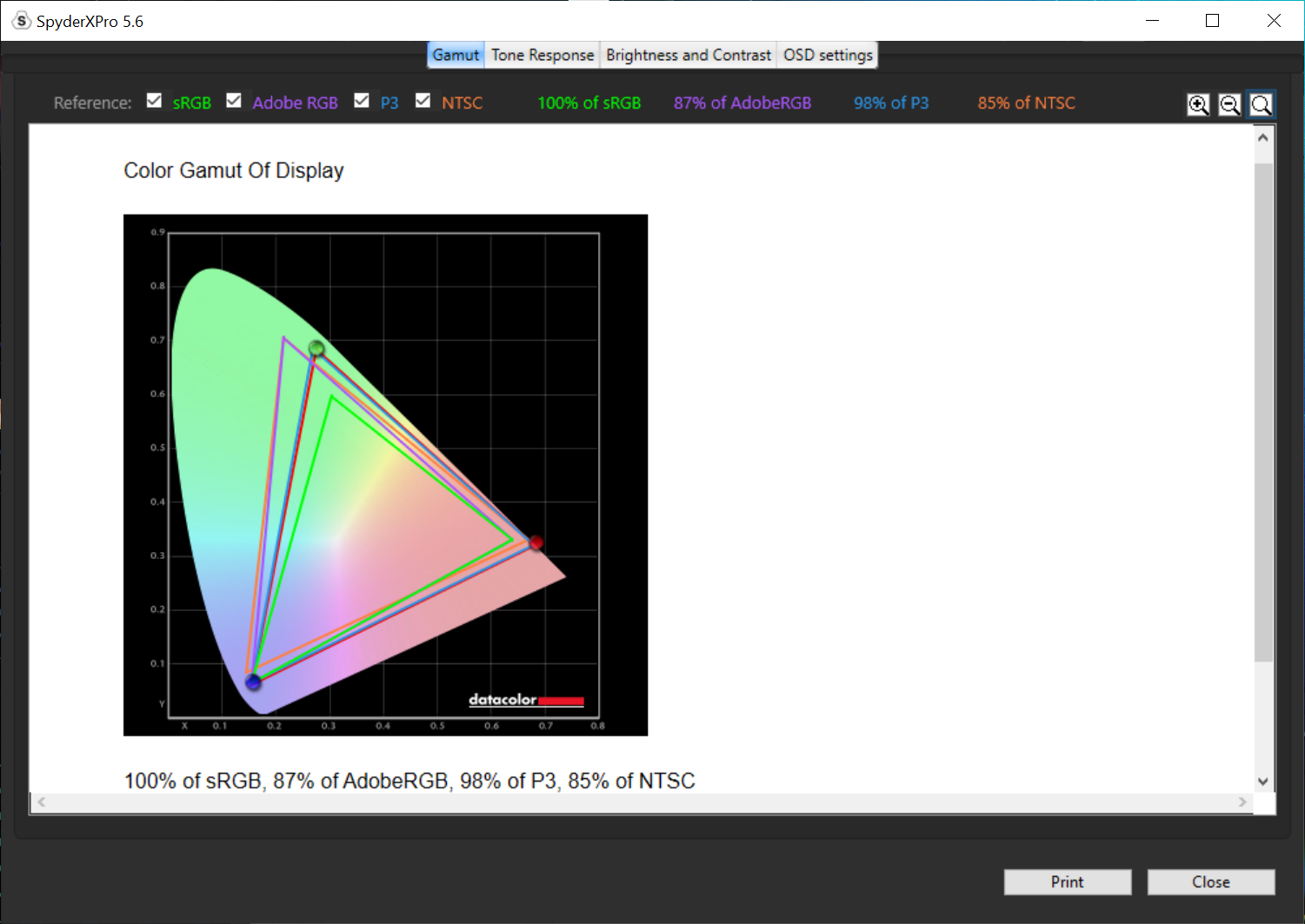 Our SpyderX Pro Display Analysis results show that the ROG Zephyrus M16's display passes not only for content consumption but for content creation as well thanks to the impressive 87% AdobeRGB and 98% DCI-P3 rating making it a suitable laptop for creative professionals.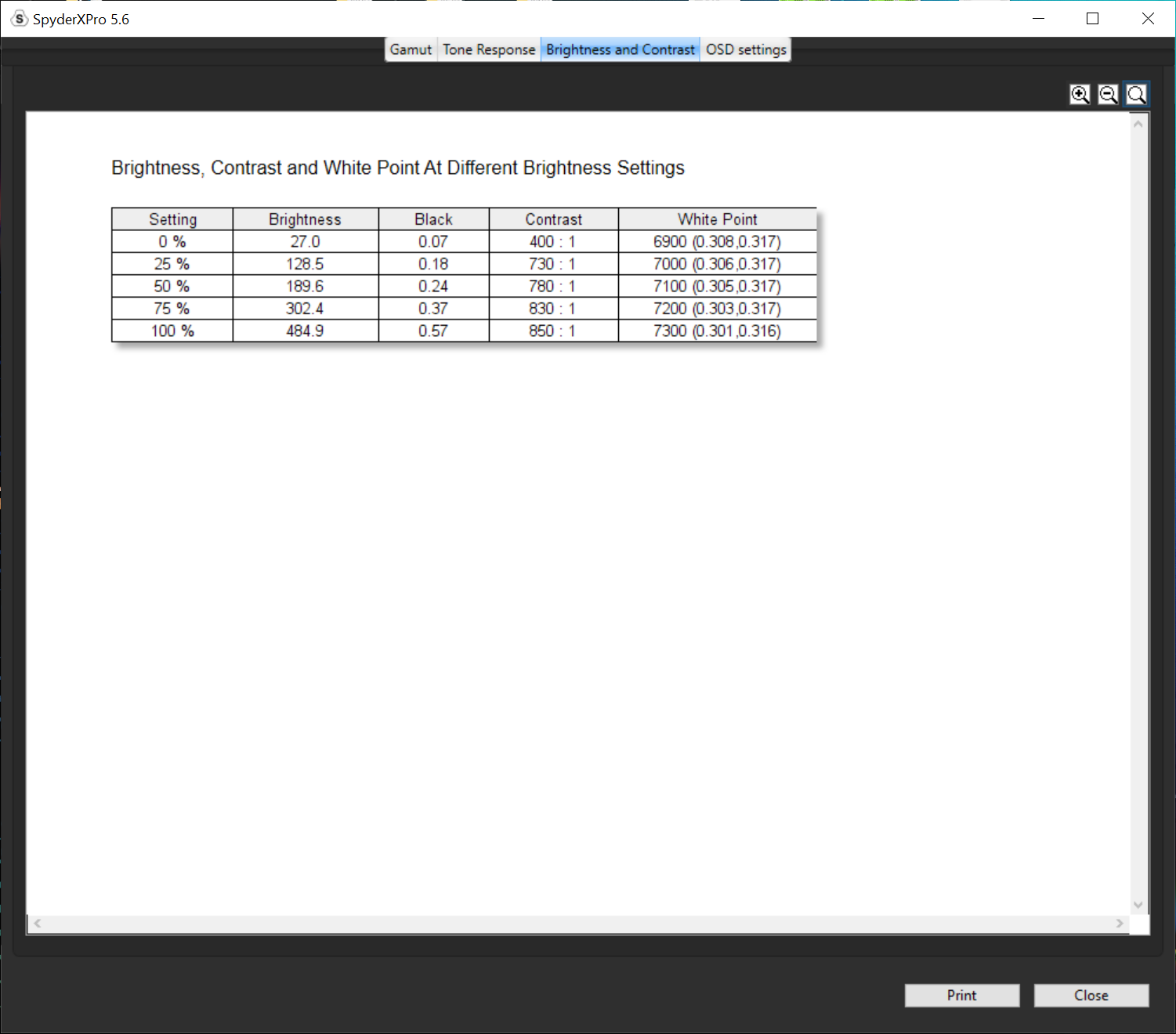 The ROG Zephyrus M16 sports a bright display to back up its incredible resolution and color gamut. With a peak brightness of 484.9 nits, its display is also one of the brightest ones available for gaming laptops.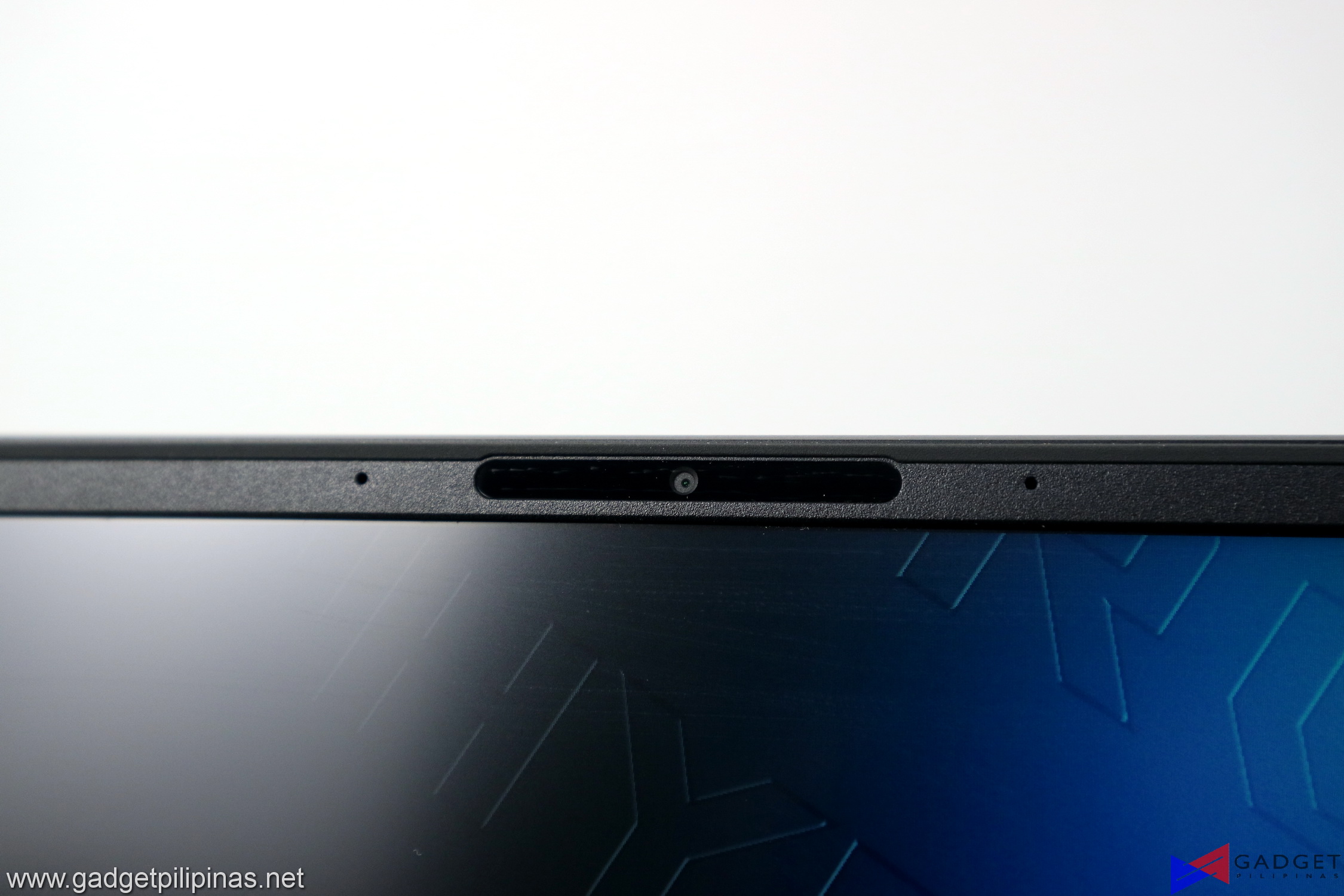 One thing that ASUS arguably improved in its Zephyrus line is the built-in webcam on the top bezel. While the M16 suffers in lesser camera quality, at least users don't have to carry the GC21 webcam and commit a USB-A port to use it. The only thing that's missing with the webcam comeback is a physical webcam shutter or at least a dedicated button or switch to turn the webcam off for privacy purposes.
ASUS Armory Software and Bloatware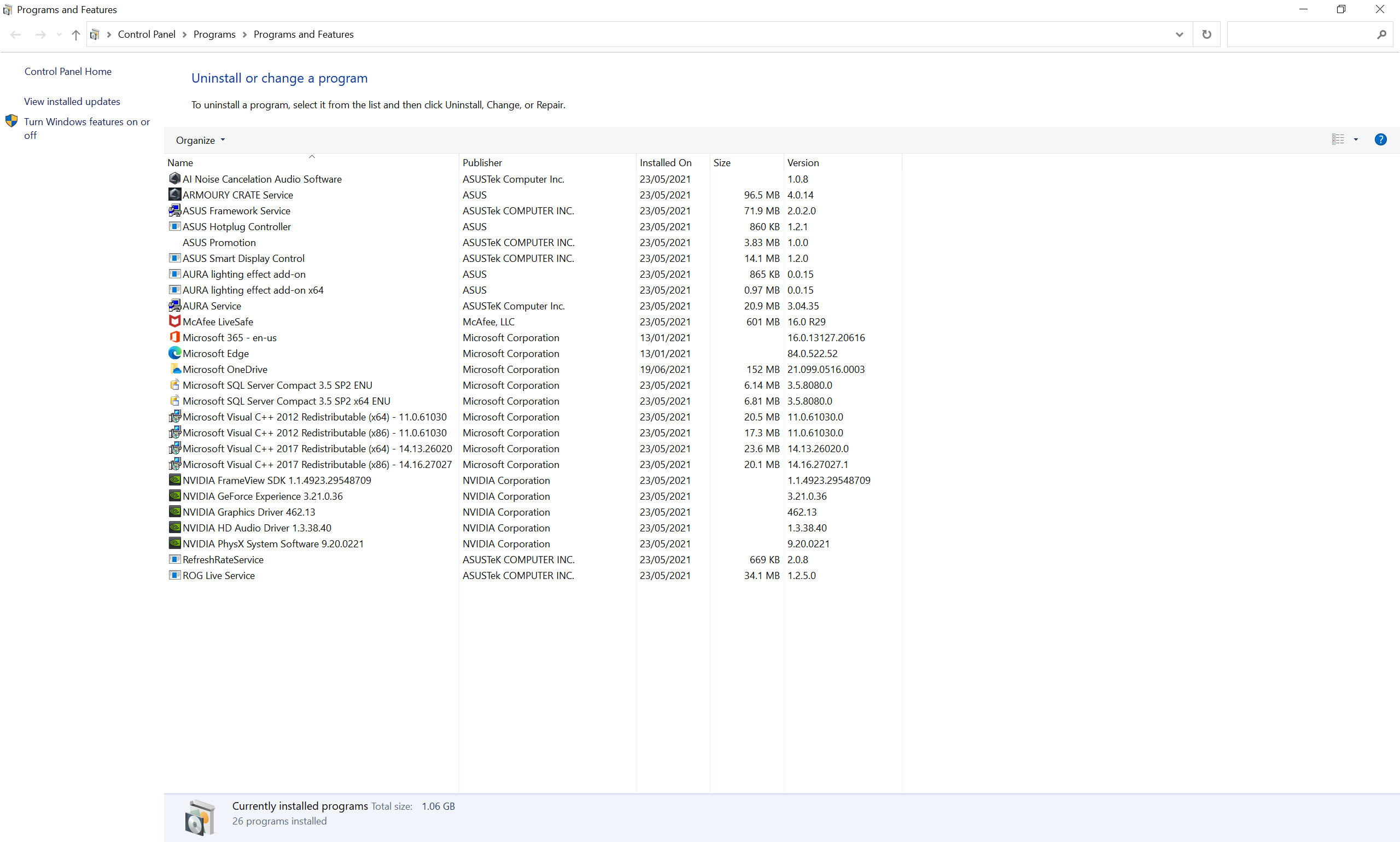 First-party ASUS bloatware apps aside, the Zephyrus M16 is fairly clean with only McAfee and Microsoft Office apps pre-installed on the device.
ASUS ROG Zephyrus M16 Synthetic Benchmarks
We benchmarked the ASUS ROG Zephyrus M16 together with its different power settings found in the ASUS Armoury Crate. The main purpose of benchmarking power profiles will show how aggressive or conservative the manufacturer is in thermal management. These profiles will affect the CPU and GPUs' boosting behavior in terms of duration and max clock speed which will translate to higher scores and stable framerates.
SuperPI 32M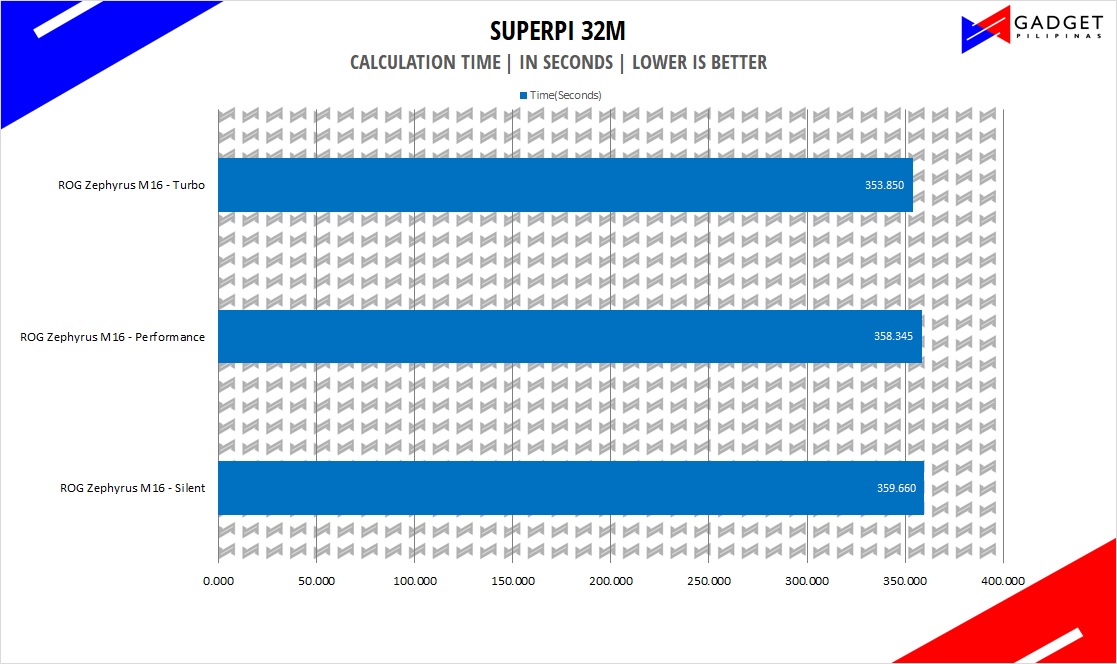 SuperPI is a single-threaded benchmark application that lets the CPU calculate Pi(π) to the nth digit. In this benchmark, we selected the Pi calculation to 32M, the highest available for the app.
GeekBench 5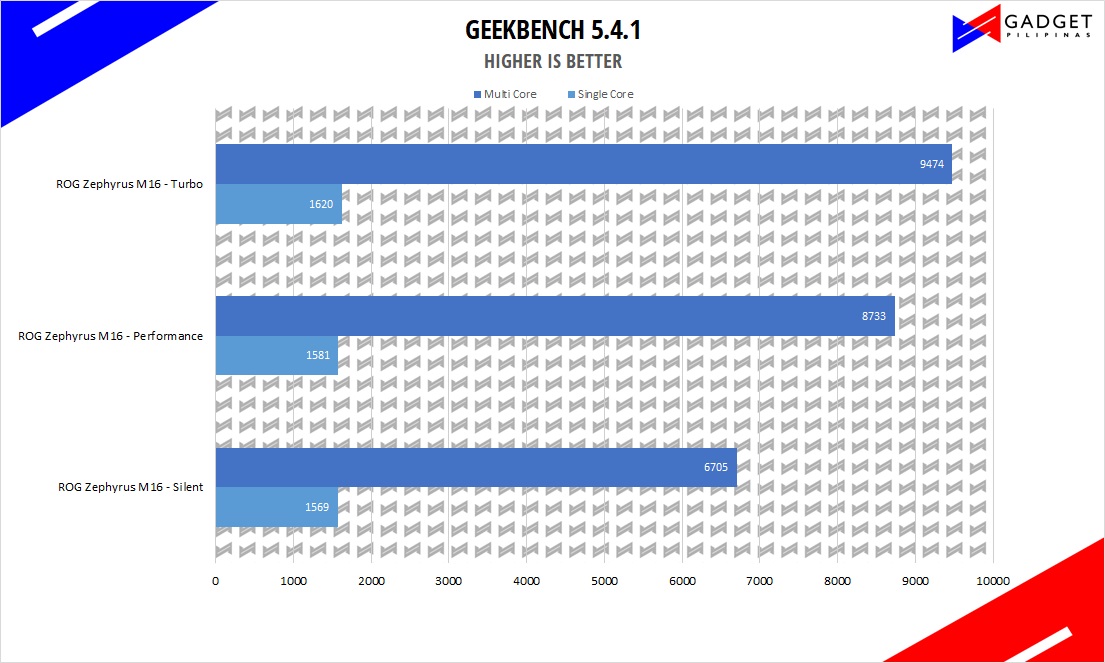 Geekbench is a multi-platform benchmark that's used to gauge CPU performance and compare them across Windows, Mac, and Mobile. Geekbench 5 is the latest version and doesn't rely on memory as much compared to the previous Geekbench 4, making it a great tool to measure both single-core and multi-core CPU performance.
CINEBENCH R20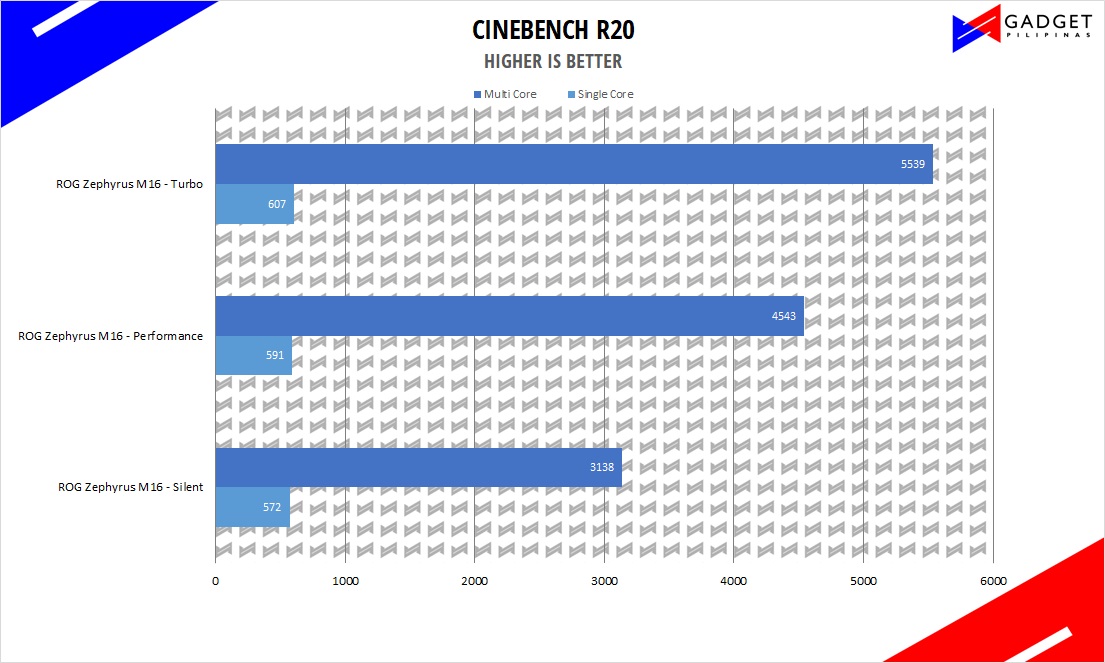 Maxon's Cinebench benchmark is one of the most iconic benchmark applications used by reviewers and enthusiasts. The latest Cinebench R20 uses the latest rendering architectures, including Intel's Embree ray tracing technology and other advanced features from AMD and Intel that allow users to render the same scene on the same hard. Cinebench R20 uses a larger and more complex testing scene than Cinebench R20 by about 8x computational power and requires 4x the memory.
V-RAY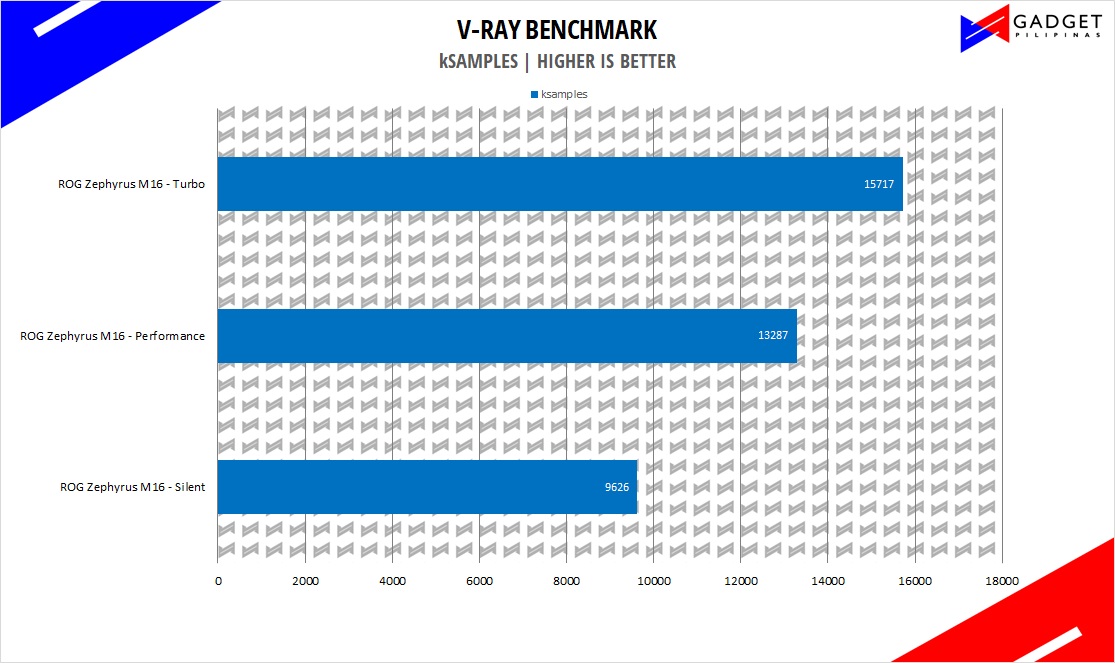 V-Ray Benchmark is a stand-alone version of V-Ray developed by Chaos Group. It is designed to test the CPU and GPU by rendering sample scenes at a fixed amount of time. V-Ray is a plug-in mostly utilized by 3D computer graphics software applications mainly for industrial design, product design, architecture, film, and video game production. V-Ray is not limited to 64-threads as it supports multi and mega-threading.
BLENDER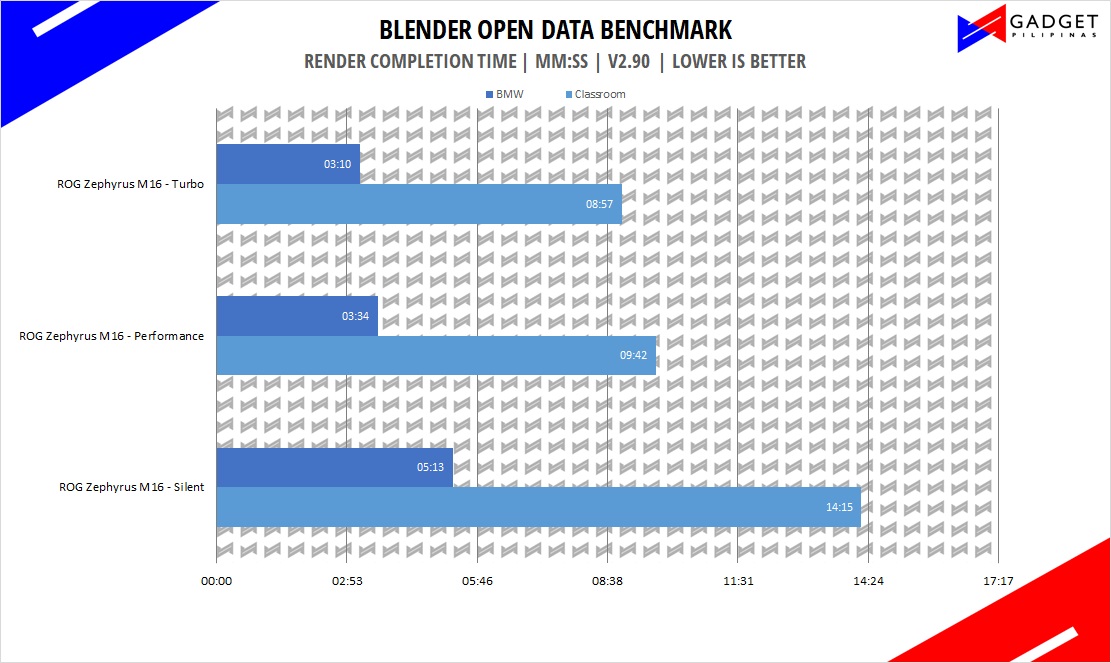 Blender is a widely used, free, open-source 3D creation suite. It supports the whole 3D pipeline process from modeling, rigging, animation, simulation, rendering, and even motion tracking. Blender has become a standard for CPU benchmarks with the BMW27 and Classroom scene most used. This prompted the company to release Blender Open Data Benchmark in 2018, a benchmark-specific version that allows users to run a preset benchmark and share the results online similar to 3D Mark.
CORONA RENDERER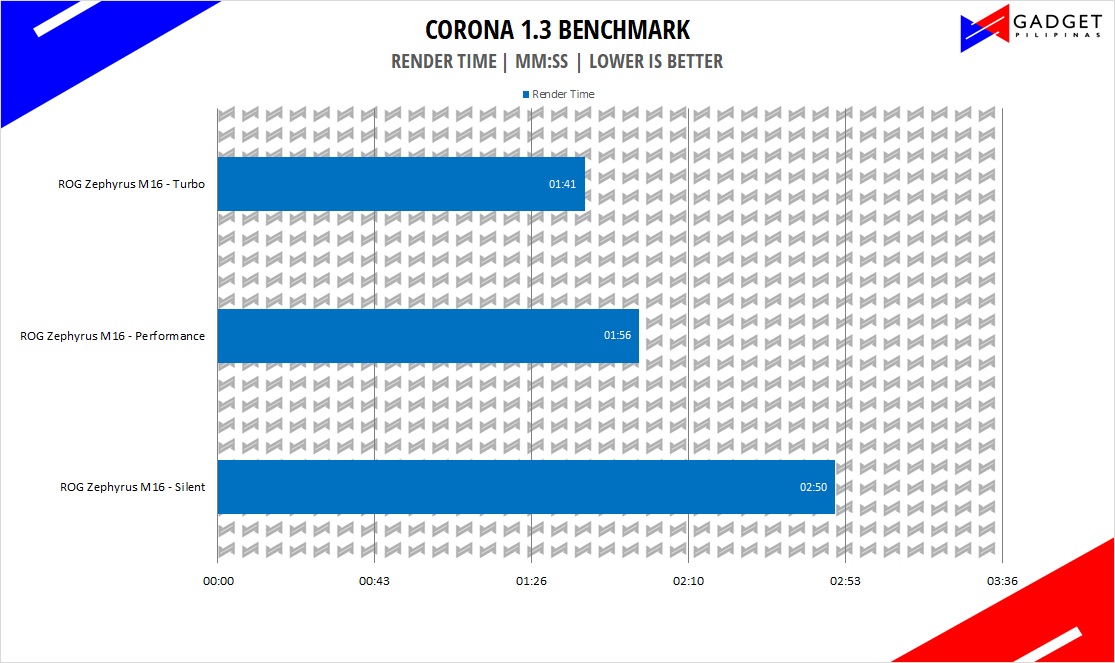 Corona Renderer is an unbiased photorealistic render available for Autodesk 3Ds Max, Maxon Cinema 4D, and as a stand-alone application. Its popularity, similar to Blender, led Chaos Group to develop a benchmark version of the app which runs using Corona Renderer 1.3. Workstation systems, especially CPUs, can utilize Corona Benchmark as up to 72 threads can be used in the benchmark, making it very suitable for CPUs with various price segments.
GOOGLE OCTANE 2.0
Google Octane 2.0 is a benchmark that measures a Javascript engine's performance by running multiple tests representing different use cases of JavaScript applications. While Google Octane is retired and no longer maintained, it is still a good representation of today's dynamic, interactive web applications. Our Google Octane 2.0 is run on Microsoft's latest Chromium-based Edge browser.
SSD Benchmark
ASUS ROG Zephyrus M16 GU603 Gaming Laptop Review Storage Benchmark 1GB
ASUS ROG Zephyrus M16 GU603 Gaming Laptop Review Storage Benchmark 16GB
Developed by Noriyuki Miyazaki, CrytalDiskMark is a free benchmark tool that is being used by thousands of experts. This tool measures SSD's sequential read and writes speeds. That means how fast files can be read from and written to the drive, usually measured in MB/s.
ASUS used a 2TB PM9A1 PCIE Gen 4 SSD which is rated at a 7,000MB/s read and 5,200MB/s write. Our quick CystalDiskMark benchmark validates the PM9A1's specs.  The extra M.2 slot on the Zephyrus M16 supports RAID 0 in case you find 7k read and 5k write speeds lacking.
ROG Zephyrus M16 Gaming Benchmarks – Power Plan Settings
We use CapFrameX Capture and Analysis Tool v1.6.2 to capture framerates for our benchmark run. We are using the latest Nvidia Game Ready 462.13 driver for our benchmarks of the ASUS Zephyrus M16. HWMonitor and HWInfo64 are both used to measure CPU and GPU temperatures.
3DMARK
ASUS ROG Zephyrus M16 Review 3DMark Firestrike Benchmark
ASUS ROG Zephyrus M16 Review 3DMark Timespy Benchmark
ASUS ROG Zephyrus M16 Review 3DMark Port Royal Benchmark
3DMark is the go-to benchmark for gamers because of the ability to share and compare results online.We tested the ROG Zephyrus M16 both in Fire Strike and Time Spy to get a good gauge of DX 11 and DX 12 API performance. We also tested the M16 in Port Royal, 3DMark's DX12 Ray Tracing benchmark.
DOTA 2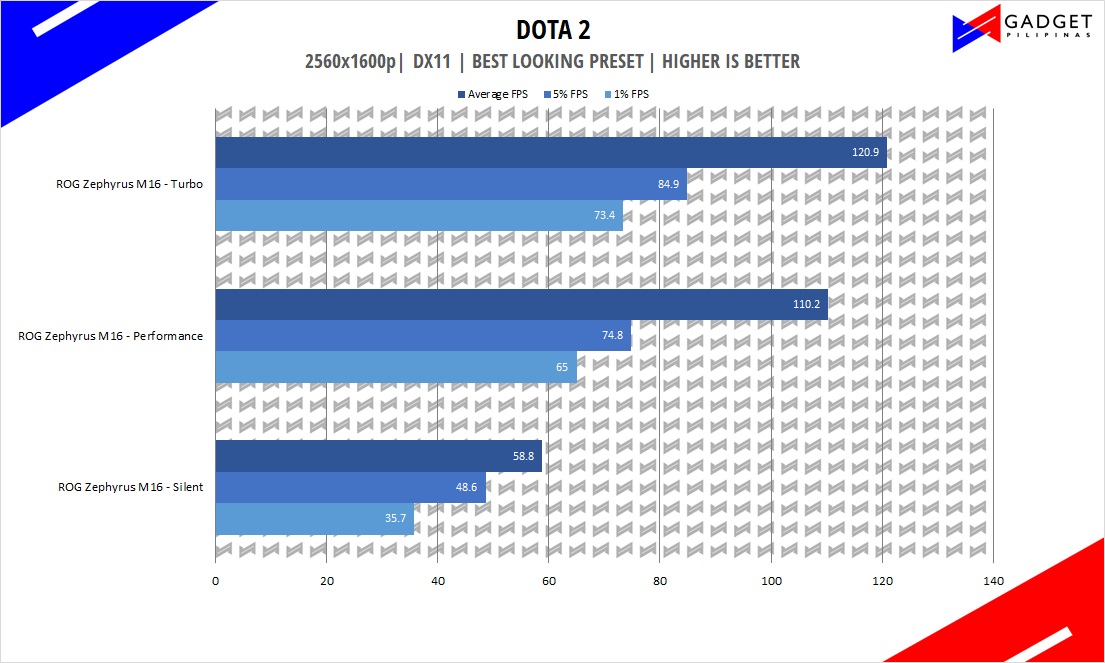 Most gamers play at least one of the following free-to-play titles: League of Legends, CS: GO, Dota 2, and/or Fortnite.  Dota 2 is a good representation of the F2P titles as it is the most demanding game in the spectrum. The benchmark will give you an idea of the laptop's relative performance on other lesser demanding titles. Our benchmark sequence is based on a replay of OG vs. Liquid in the TI9 grand finals from the team fight that happened from 28:30 to 29:30.
Far Cry 5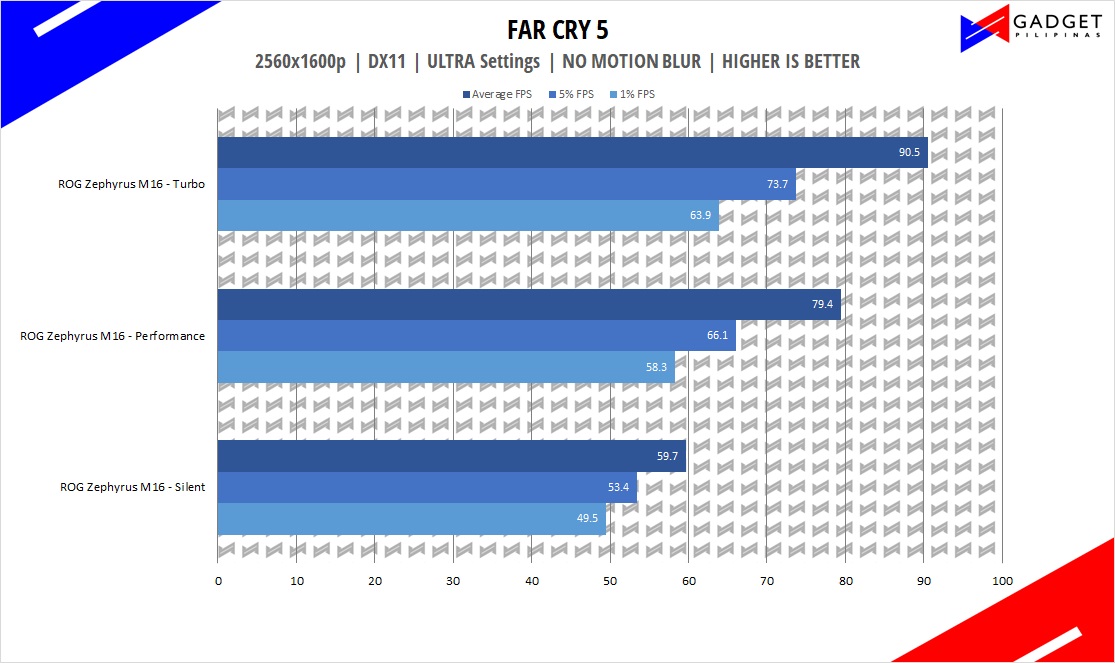 Far Cry 5 is an FPS game published by Ubisoft and uses the Dunia engine. It heavily relies on and takes advantage of DirectX 11 to render a realistic environment that makes it taxing to both the CPU and GPU.
Rainbow Six Siege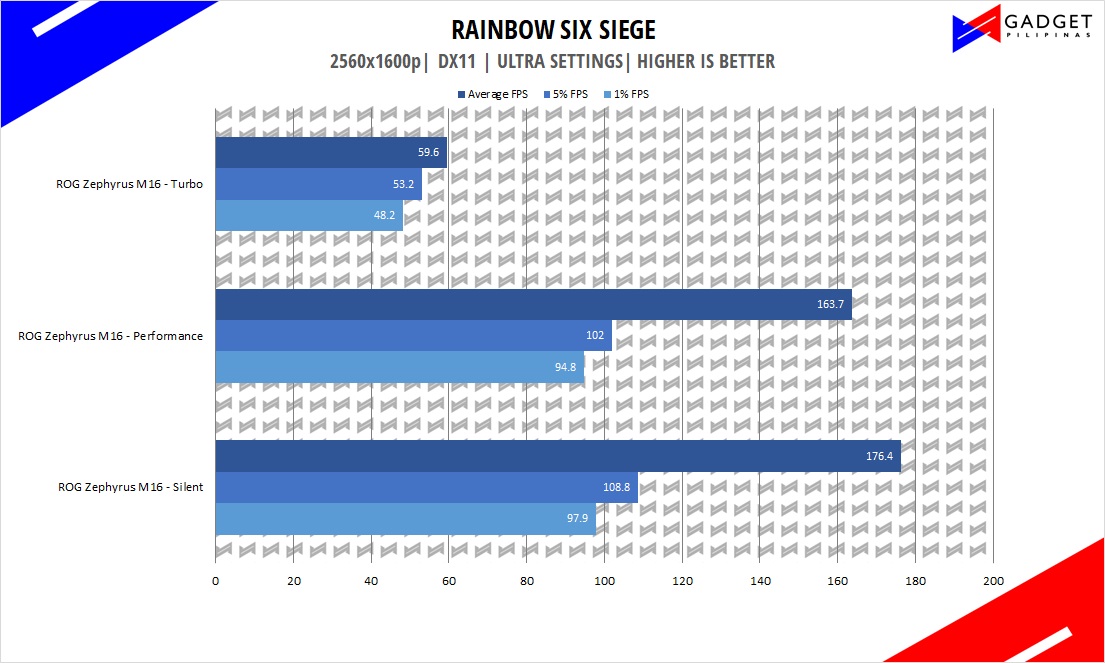 Rainbow Six Seige is one of the few popular AAA games that's still popular in 2021 due to its competitive gameplay mechanics. R6S uses the AnvilNext game engine, which is developed by the game's publisher, Ubisoft. As of writing, Rainbow Six Siege is currently the most popular Tom Clancy title beating out Wildlands, Breakpoint and even, Division 2. Rainbow Six Seige is one of the few popular AAA games that's still popular in 2019 due to its competitive gameplay mechanics. R6S uses the AnvilNext game engine, which is developed by the game's publisher, Ubisoft. As of writing, Rainbow Six Siege is currently the most popular Tom Clancy title beating out Wildlands, Breakpoint and even, Division 2.
F1 2020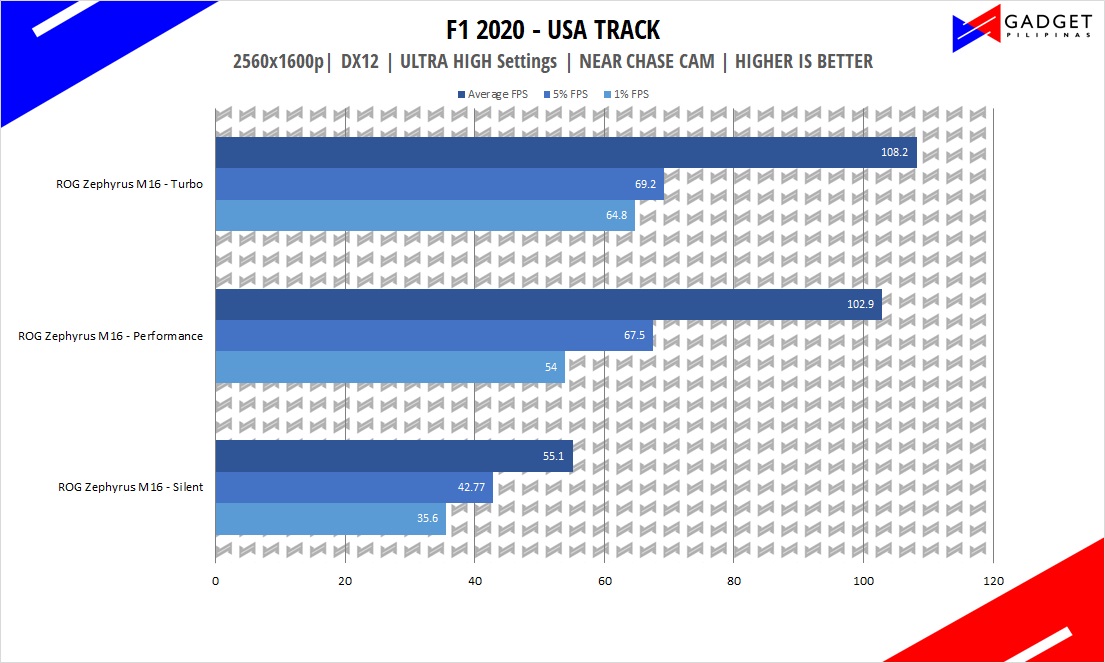 F1 2020 is the official video game of the 2020 Formula 1 and Formula 2 championships developed by Codemasters. F1 2020 is the twelfth installment in the franchise and uses the Ego Engine 3.0. F1 2020 is a good representation of racing games thanks to its realistic graphics and fairly demanding spec requirements.
Cyberpunk 2077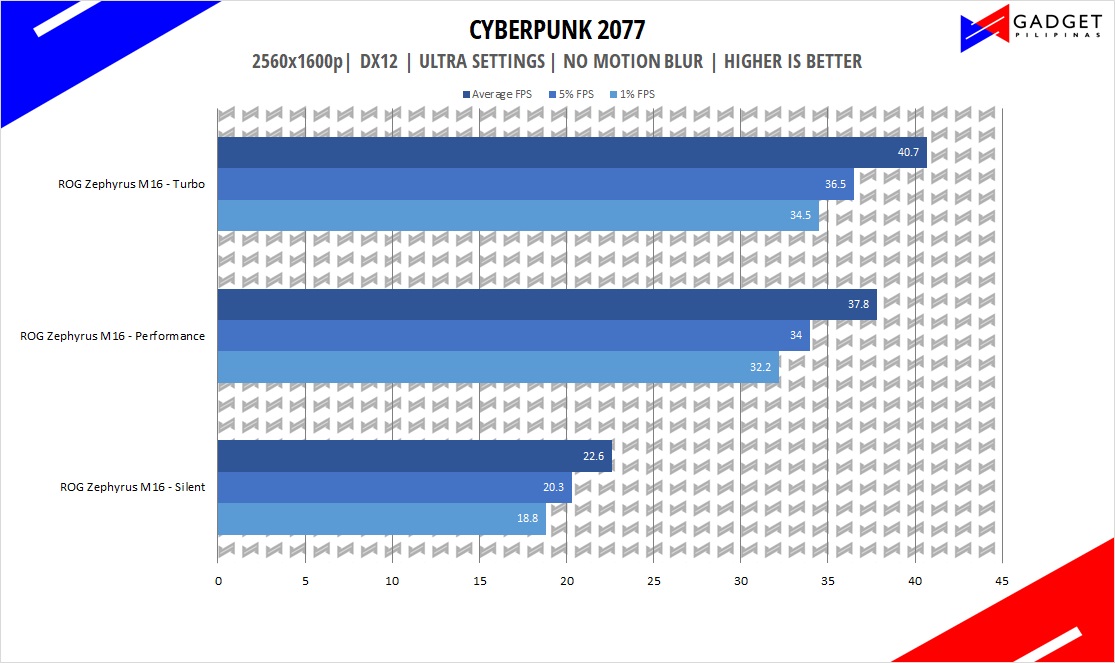 Cyberpunk 2077 is arguably the most hyped game of 2020. Developed by CD Projekt Red, the dystopian open-world, action-adventure RPG sports is one of the most demanding titles to date. Cyberpunk 2077 also supports three Ray Tracing settings as well as DLSS which makes the game a great tool to measure Ray tracing performance for both AMD and Nvidia graphics cards.
Horizon Zero Dawn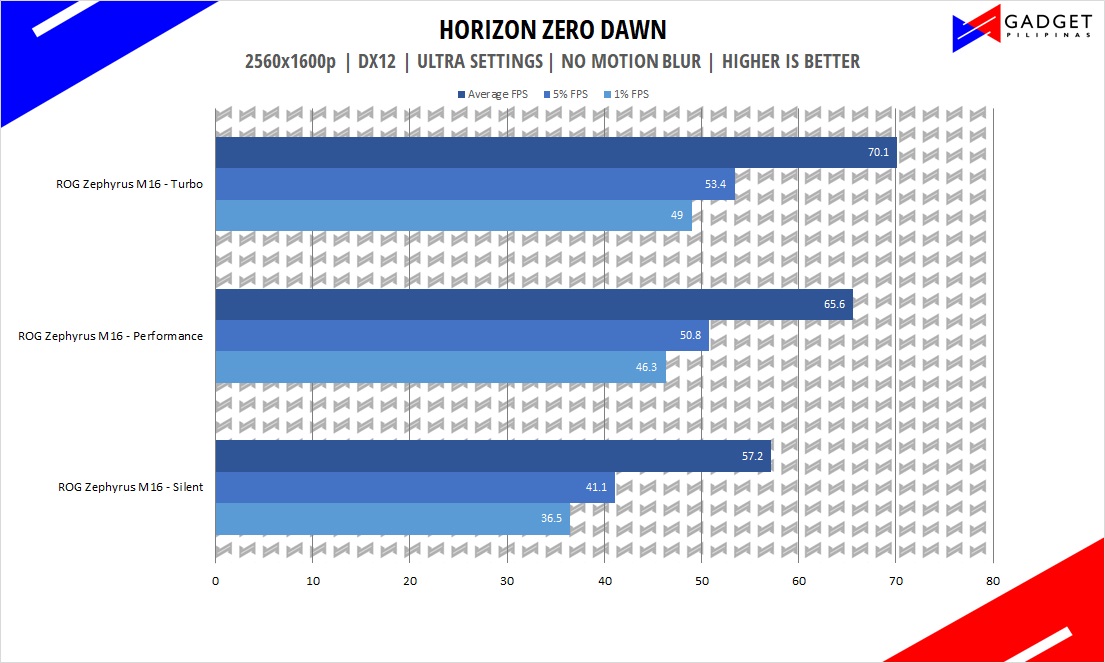 Horizon Zero Dawn is one of the most popular console-port RPG developed by Guerilla Games and published by Sony Interactive Entertainment. Horizon Zero Dawn is a multi-award-winning action RPG and its popularity resulted in an exclusive Complete Edition game bundle in Steam.
Metro Exodus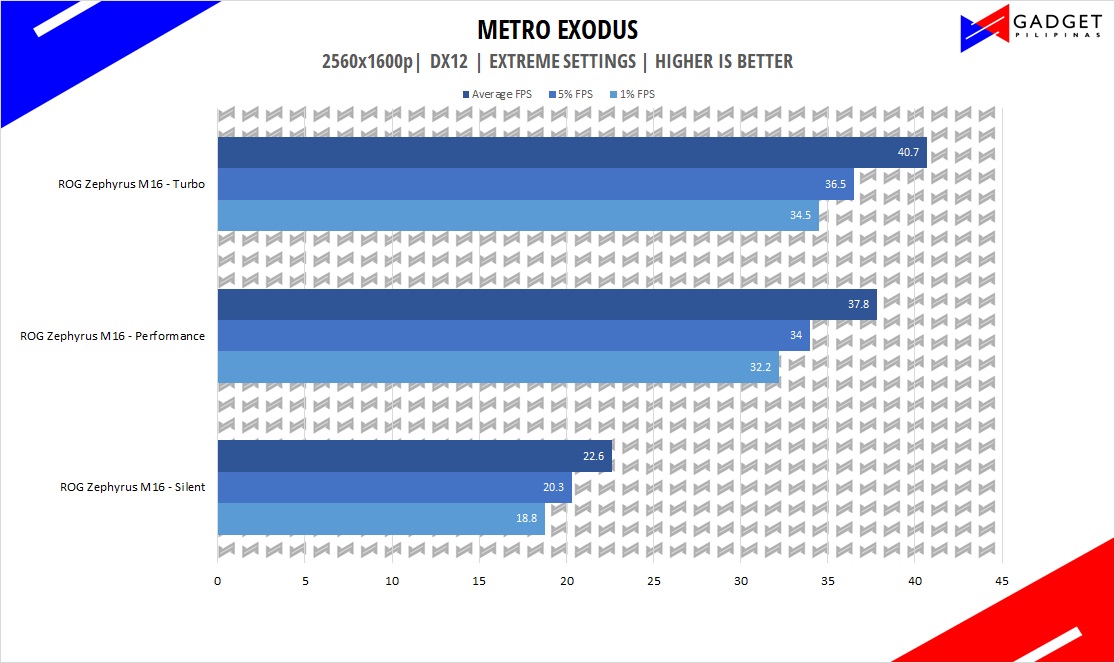 Metro Exodus is the third Metro game trilogy based on Dmitry Glukhovsky's novels. The game is a first-person shooter with survival horror and stealth elements. The post-apocalyptic game is using 4A Engine by 4A games. Released last 2019, Metro Exodus remains to be one of the most graphically pleasing and demanding games that's popular to date.
Assassin's Creed: Odyssey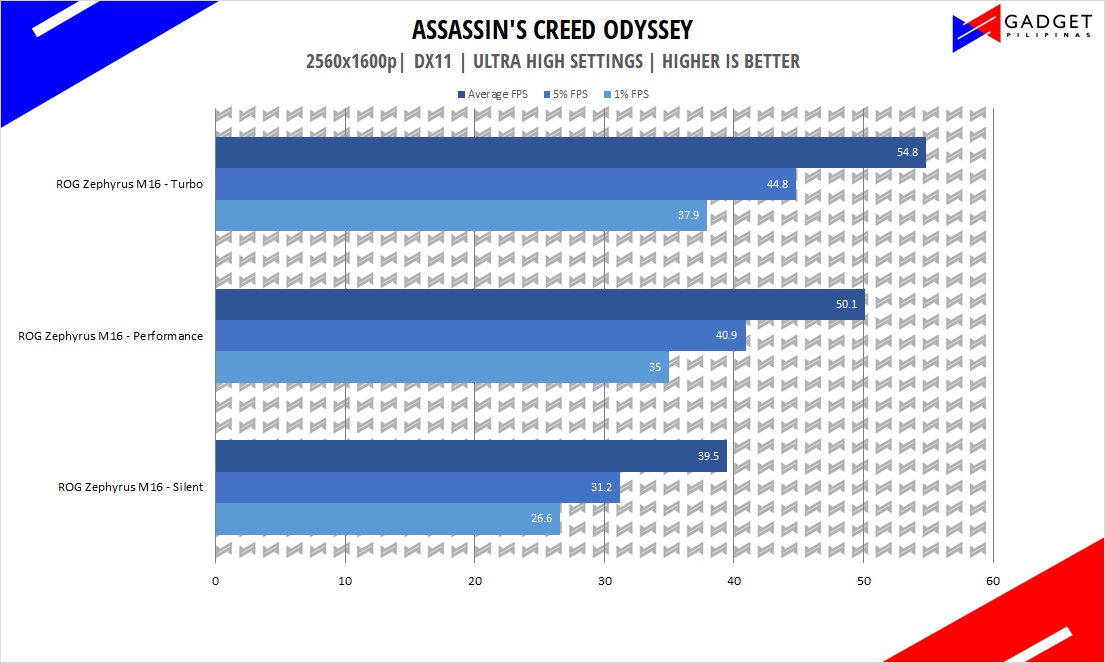 Assassin's Creed Odyssey is the latest franchise installment from Ubisoft. It's by far the most popular and stable Assassin's Creed title since AC IV: Black Flag. It uses the AnvilNext 2.0 game engine, an updated version of Rainbow Six Siege's game engine, and uses the DirectX 12 API.
Shadow of The Tomb Raider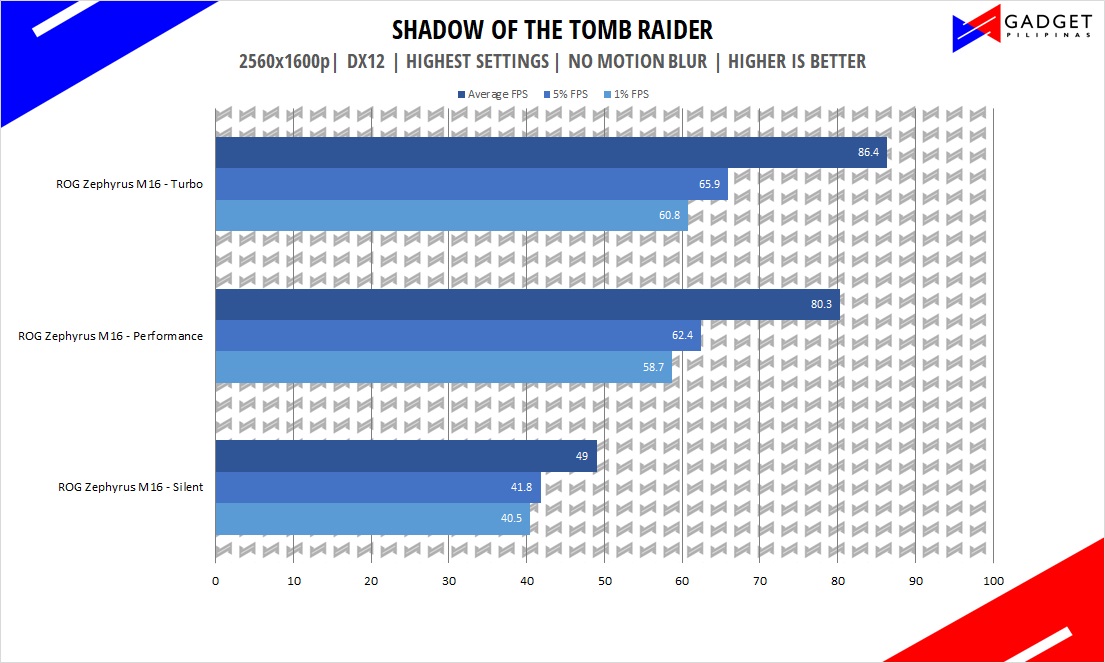 Shadow of The Tomb Raider or SOTR is the latest installment of the Lara Croft Tomb Raider franchise. Developed by Square Enix, SOTR uses the Foundation engine and is further enhanced by Eidos Montreal. STOR is also one of the first games to come out with Ray Tracing and DLSS support.
ROG Zephyrus M16 Thermals
ASUS ROG Zephyrus M16 Review Intel Core i9 11900H CPU Temps
ASUS ROG Zephyrus M16 Review RTX 3070 GPU Temps
The Intel Core i9 11900H 's temps is somehow concerning as it's very near to its rated TjMax temp of 100°C. The Zephyrus M16's Turbo profile record a max CPU temp of 93°C and a GPU max temp of 77°C which is slightly lower than the Performance profile's 95°C and 78.1°C. Silent mode prioritizes low-noise fan speeds thus there's a compromise in higher idle and max temps as well as lower boost clocks.
Conclusion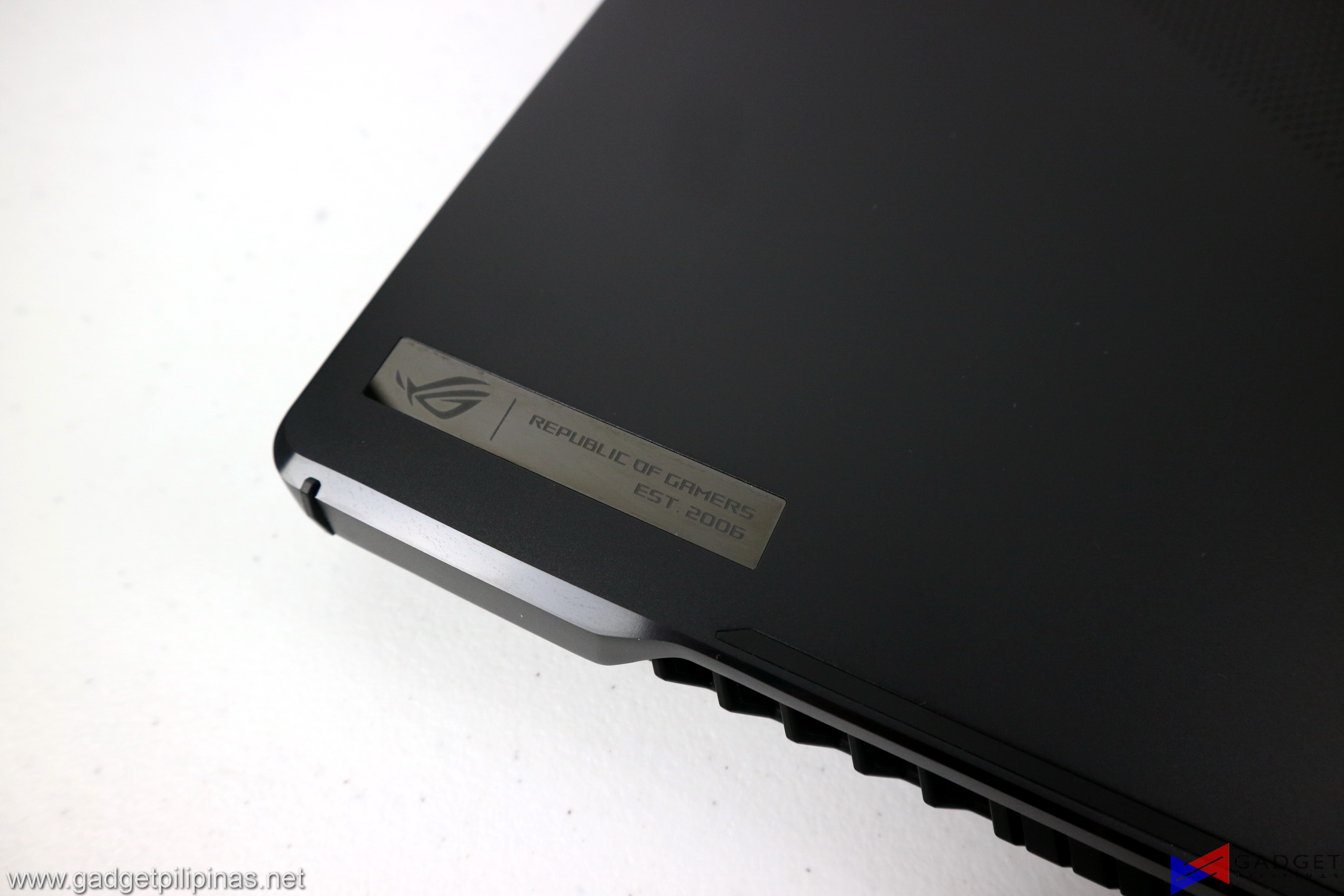 Performance-wise, the ASUS ROG Zephyrus M16 holds a love-hate relationship for us and it may or may not be the case for any potential owner as it will boil down to how the user will use the device.  As seen in our benchmarks, gaming on the ROG Zephyrus M16 at 2560x1600p resolution regardless of power plan setting barely yielded over 60 FPS across our 9-game benchmark suite. While we do indeed love its near-pixel-perfect 1600p display, the Core i9 11900H and RTX 3070 mobile combo can't maximize the 165Hz refresh rate without compromising on graphics quality. E-Sports titles will surely run over 165 FPS on the Zephyrus M16 but there's no way to get over 165FPS on AAA games unless you lower the game's graphics setting or resolution which frankly defeats the purpose of having a 16:10 WQHD display. Of course, if you play on an external 1080P monitor then it will easily yield over 100 FPS at max settings. That said, we still welcome the ROG Zephyrus M16's gorgeous display as it rounds up the Zephyrus M16's overall physique.
All in all, the ROG Zephyrus line particularly the Zephyrus M16 has evolved from a premium thin-and-light gaming laptop that servers a very tiny niche to a very portable powerhouse that packs a vivid 16-inch display, a well-rounded keyboard, and touchpad. The ASUS ROG Zephyrus M16 perfectly embodies the strengths of both gaming laptops and ultrabooks. If you happen to be in the market for something slightly larger than the average ultrabook but packs more power for both productivity and gaming, all enclosed in a relatively thin and light chassis, then the ROG Zephyrus M16 is a top candidate.
Grant is a Financial Management graduate from UST. His passion for gadgets and tech crossed him over in the industry where he could apply his knowledge as an enthusiast and in-depth analytic skills as a Finance Major. His passion allows him to earn at the same time help Gadget Pilipinas' readers in making smart, value-based decisions and purchases with his reviews and guides.