The current health crisis has ushered a major shift in the way we do things – from entertainment, to work. Those who were used to grinding the day out in the four corners of the office are now confined to their homes.
I've been mostly working from home over the past four years. But since the pandemic, there are times when I miss being able to go out and meet people face-to-face, regardless if it's for work or leisure. It is just not the same.
Fortunately, music has helped me get through those days – being my temporary escape from all the stress and the noise of this fast-paced environment. Listening to my favorite tunes also helps in setting the mood, re-energizing my mind to re-focus, and calming down to rationalize.
I do all of that with the help of the Samsung Galaxy Buds Pro, which is my go-to wireless earbuds for listening to my favorite tracks, whether for work or me-time. It delivers great sound quality, provides a comfortable fit, effectively blocks outside noise, and best of all, allows me to move around without having to worry about tangled wires.
Oh, and with the recent playful weather, I don't have to worry about getting these earbuds splashed or even submerged in water, thanks to its IPX7 rating.
Starting mornings with refreshing tracks
Working from home means there is a chance you are no longer confined to an 8-5 shift. With things being more flexible, some people prefer to work in the wee hours and catch sleep from early morning to afternoon.
As for me, there is something about catching the sunrise at around 5 to 6 AM that makes it worth waking up to. I also prefer to spend this time outside, where the sunshine can kiss me with its warmth.
Santana and Michelle Branch's The Game of Love may be a track from way back, which kind of reveals my age, but it is a song that I find really energizing. You know, like a powerful cup of coffee that jumpstarts everything. I usually listen to it while checking my email, and at the same time, enjoying a hot drink.
Another track that I find very energizing is Coldplay's Viva La Vida, which, if I understand correctly, is all about remaining strong through the odds, being yourself, and not letting others define who you are. The upbeat and inspirational vibe of this song serves as my daily reminder that I can do what I need to do today.
Being outside with noises from passing cars, the Intelligent Active Noise Cancellation (ANC) of the Galaxy Buds Pro really helps me listen to music without any distractions, concentrating on my music, focusing on every lyric and detail. When ANC is on, it can filter up to 99% of outside noise so I can focus on what I'm listening to. I'm also able to adjust the level of ANC in the Galaxy Wearable app, letting me switch from low to high depending on the environment I'm in. It's pretty convenient when I am working on my articles outside my room, considering our house is beside the main road.
Pairing the Galaxy Buds Pro to the Galaxy S21 Ultra 5G was a breeze. The moment I opened the case, the smartphone immediately recognized the Galaxy Buds Pro and prompted to pair. After that, it was smooth sailing.
Battling the mid-day crash
I usually start working on more important deliverables after lunch. These include reviews as well as other time-bound content. Unfortunately, this is also the hour when I feel very sleepy. Sometimes, I usually just take a quick nap, which I heard is good for the health.
When I cannot afford to take quick naps, I listen to tracks like Kaskade's It's You, It's Me, and Bonnie Bailey's Ever After. Both have that Ibiza/summer vibe that transports my soul to a place like Boracay, letting me cruise through these hours.
The Galaxy Buds Pro delivers immersive sound quality, thanks to its custom-built 2-way speakers with sound by AKG. You can also choose from several equalizer presets to match what you are listening to. Want a deeper bass and higher treble? There is a setting for that on the app.
Compared to the first iteration of the Galaxy Buds, this Pro version showcases so much improvement in terms of sound quality. The vocals showcase great clarity and smoothness, and the detail retrieval has also significantly improved.
Throughout the day, I also receive some calls from clients or from couriers. To ensure noise-free and crystal clear calls, the Galaxy Buds Pro is equipped with three built-in microphones and a Voice Pickup Unit. It also comes with a mic mesh and chamber to minimize wind noise, making sure that every word is heard with great clarity.
Winding down after a long day
As I finish my last editorial pieces for the day, I prefer to listen to more relaxing tracks that calm my mind.
LANY's Malibu Nights is a great example of my wind down jam, and so is Ne-Yo's Sexy Love, which may be a little upbeat, but is still relaxing otherwise.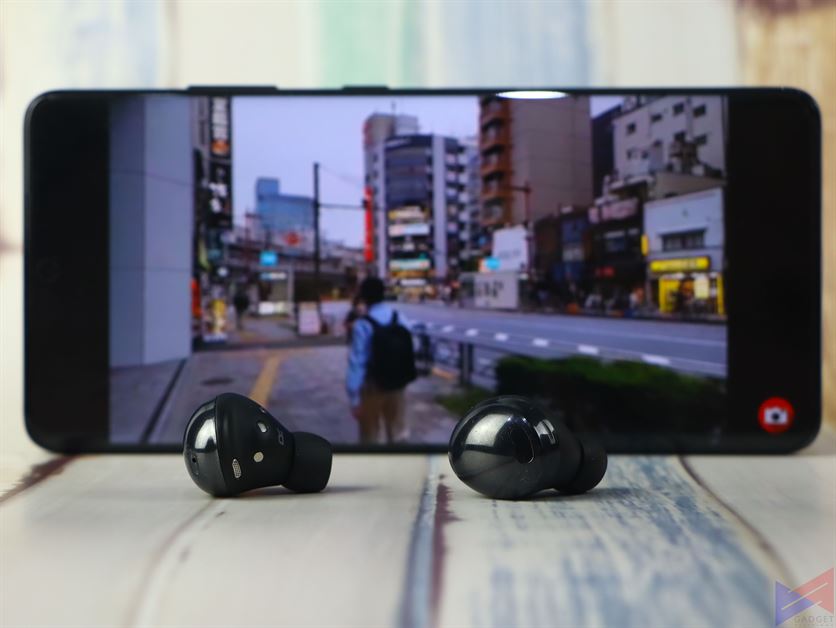 In my free time, I also like to binge-watch clips on YouTube, especially videos about Japan – from the Day in a Life Series by Paolo from Tokyo to City Walks by Tokyo Explorer. I generally like these videos because they make me feel like I am there.
To make listening more immersive, the Galaxy Buds Pro features 360 Audio which provides a unique audio experience. This feature makes it possible to hear sound from various directions as you move your head. In fact, it feels like the sound is not even coming from the earbuds, but from a multi-room speaker.
Another great feature of these earbuds is its ability to quickly switch from one audio source to another. If you're watching a movie on your tablet using the Galaxy Buds Pro and suddenly gets a call, the device will automatically switch the audio to your phone. When the call is done, it will automatically switch back to your tablet, so you can continue watching content seamlessly without having to fiddle with individual settings.
With ANC on, the Galaxy Buds Pro delivers up to 5 hours of playback with an additional 13 hours in the charging case. With ANC off, you get up to 8 hours of uptime and 20 more with the case.
One of the best True Wireless Sound earbuds for that work-from-home setup
Overall, the Galaxy Buds Pro delivers good sound quality, provides a comfortable fit, features seamless Galaxy device integration, and offers effective noise cancellation. The device simply ticks all the boxes in terms of features and usability. It currently retails for Php 9,990 nationwide and comes in Phantom Black, Phantom Silver, and Phantom Violet.
For more information on the Samsung Galaxy Buds Pro, click here.