ASUS' newly launched ZenBook Pro Duo 15 OLED takes a productivity laptop to the extreme, thanks to its next-level multi-tasking capabilities, a beautiful OLED display, and top-of-the-line hardware that allows it to breeze through resource-intensive creative tasks with ease.
I have been using this for a while now, and I thought I would share some of the reasons why I think this laptop is a dream come true for content creation.
A Look that Fits Every Place
In a way, the ZenBook Pro Duo 15 OLED seems like a laptop that deserves to stay on a desk than being moved around. While it defies the current trend of slim and light, it does make up for it with a look that emits elegance and formality. Put it on your office table, and it sits there calmly, ready for the busy day.
At home, place it in your living room, and it is just as good as any piece of art. One look, and you will be able to tell that this laptop is quite special.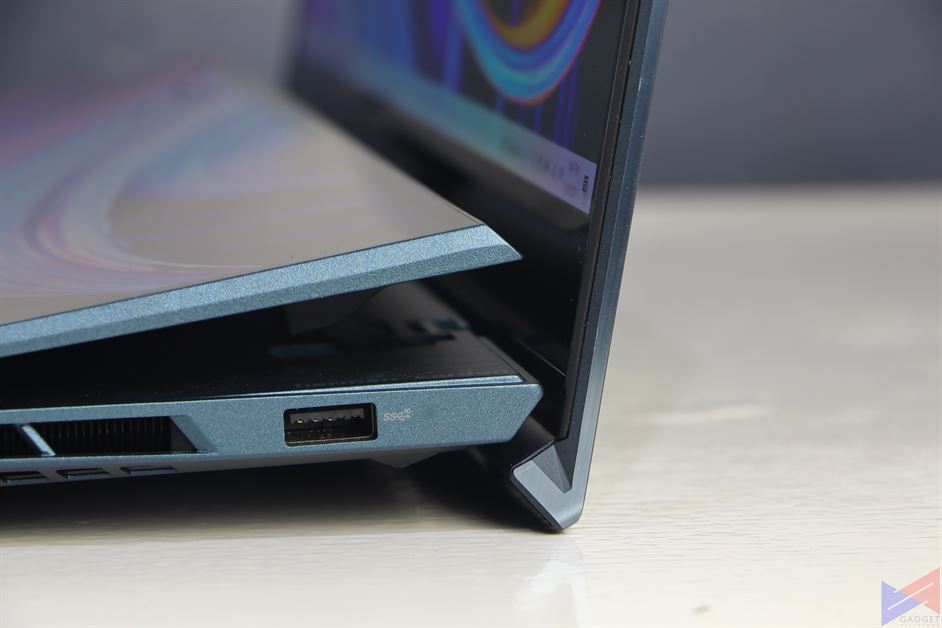 ASUS has put in its signature ErgoLift Hinge that basically tilts the ScreenPad Plus while also aiding in improving thermal performance. In that regard, ASUS has made improvements to its ZenBook Duo and Pro Duo models, with a 36% improvement in airflow, while also giving a better view of the main display.
When fully open, the keyboard is also slightly titled at an angle, which contributes to a more natural position for comfortable typing.
Its keyboard has been pushed down and is as compact as it could be, so the typing experience could be a bit different at first.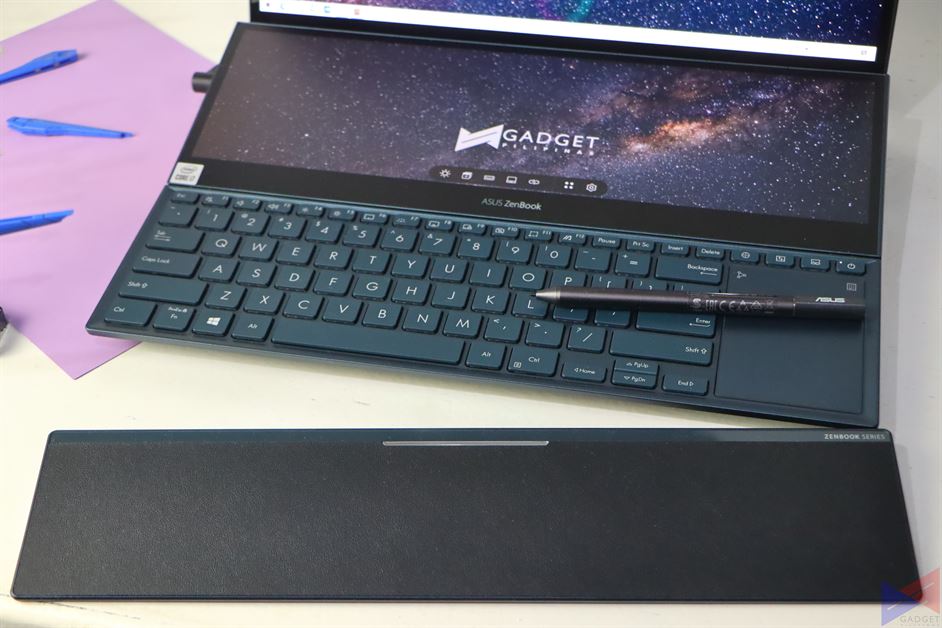 Thankfully, there is a palm rest that is included in the box, which adds to a more comfortable typing experience. The touchpad, which can be converted into a Numpad, is on the rightmost part, which means left-handers will probably have to look somewhere else.
A Multi-Tasking Beast
ScreenPad Plus is perhaps one of the most innovative features you'll find in a laptop. While it can't completely replace a separate secondary monitor, it does deliver quite a fun experience, especially when you get used to it.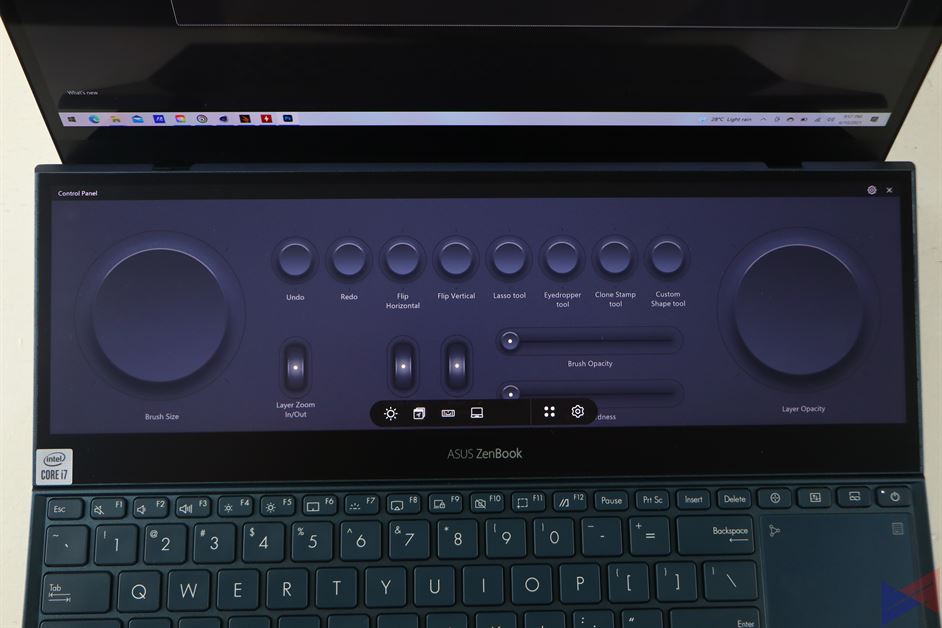 Thanks to improvements in both hardware and software, ScreenPad Plus gives you access to customizable controls for several Adobe apps which include Photoshop, Lightroom Classic, Premiere Pro, and AfterEffects. Fire up the app, and ScreenPad Plus will automatically display the corresponding controls.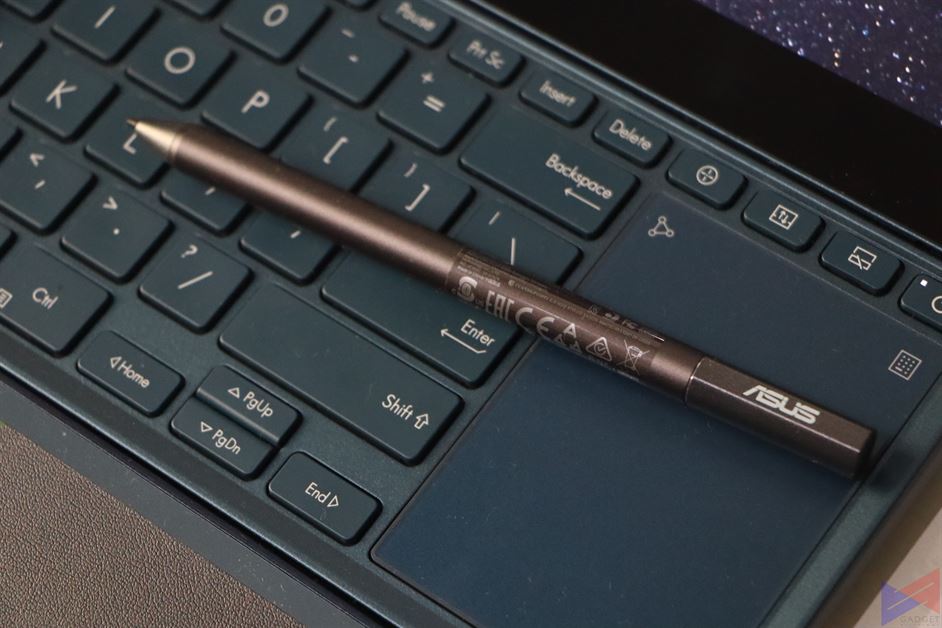 Since ScreenPad Plus is also touch-enabled, the user can do more precise adjustments using the ASUS Pen, which is also included in the box.
Another cool feature is being able to create Task Groups, which are basically sets of apps that you can open at the same time, saving you the trouble of having to open each app one-by-one.
For content creators, this is a big help. In my case, it is very handy when publishing an article and I need to immediately access my source folders, my photo editing tool, and my web editor all at once. It saves me the hassle of having to minimize other windows to switch to another one.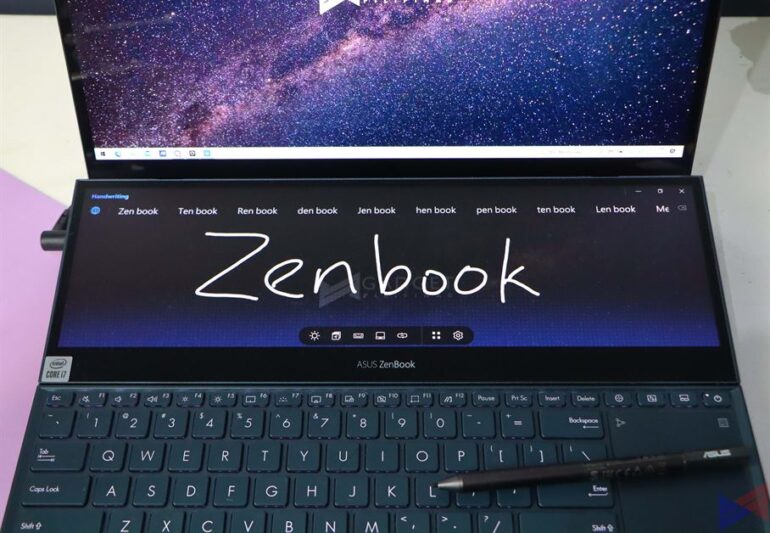 During meetings, you can also use ScreenPad Plus to quickly jot down important notes or even perform quick calculations.
What the Experts Think About the ZenBook Pro Duo 15 OLED
The OLED Difference
For creatives, having a color accurate display is essential, especially when dealing with tons of videos and images that need pin-point enhancements in multiple aspects. Being able to see photos in their best and working with the right baseline before applying any adjustments is a big plus.
Just like its 13-inch counterpart, the ZenBook Pro Duo 15's OLED display showcases good coverage of every color spectrum, which makes it ideal for creative work.
In terms of Tone Response, it also scored a display gamma of 2.2, which just shows how good its blacks are.
ZenBook Pro Duo 15 OLED delivers a good balance of features that enhance productivity and creativity. ScreenPad Plus takes multi-tasking to a whole new chapter, offering additional real estate that expands your workspace and features that enhance workflow without consuming extra space and the hassle of having to set up say, an extended monitor.
An OLED screen makes a ton of difference not just in terms of the viewing experience, but for creative work as well. With precise control on each pixel's lighting, you get more natural colors and truer blacks.
ASUS ZenBook Pro Duo 15 OLED price and availability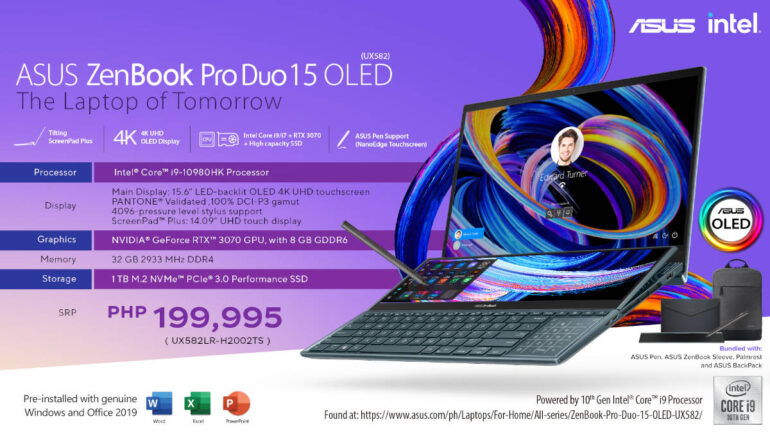 The ASUS ZenBook Pro Duo 15 OLED is available in a Celestial Blue color. The Core i9-10980HK variant is priced at PHP 199,995, while the Core i7-10870H variant is available for PHP 169,995.
Emman has been writing technical and feature articles since 2010. Prior to this, he became one of the instructors at Asia Pacific College in 2008, and eventually landed a job as Business Analyst and Technical Writer at Integrated Open Source Solutions for almost 3 years.