Marshall Major IV's availability in the Philippines almost flew under our radar!
If you're a huge fan of music and rock bands, it's very likely that you've heard of Marshall. Marshall, started and popularized by Jim Marshall, is a brand that carries products that sport iconic and timeless looks of sound devices. Marshall, however, is more than just a brand that designs, makes, and sells amplifiers and speakers – they are here to build legacies!
Over time, they introduced products that embrace vintage looks with modern features that will benefit sound professionals and enthusiasts. The product that we've got today, the Marshal Major IV, is definitely not an exemption. If you owned a Marshall Headphones III before, it's very likely that you would think that the new one looks utterly the same. Contrary to this though, the new one is packed with new features that even I got excited to try out.
Before I dive into my first impressions, let me first show you everything inside the box. My review will be out soon, so be sure to check it out.
The new Marshall Major IV is packed neatly in this familiar-looking box. It's entertaining to see how this brand has been staying very consistent with its design philosophy, which transcends even to their products.
Inside the box are the headphones, manual, USB Type C cable, and a 3.5mm headphone cable that has an output extension for sound sharing purposes. The inclusion of the latter is something that isn't normally found on smartphones, so having this on Marshall Major IV is definitely a great move by Marshall.
Here's a quick rundown of the things you need to know about Major IV.
The new headphones is built with custom-tuned dynamic drivers that help it produce Marshall-signature sound, which is "roaring bass, smooth mids and brilliant treble". Each dynamic driver is 40mm with a sensitivity of 99db. Frequency response goes from 20 Hz to 20kHz, which is wide enough to truly deliver the frequencies suitable per music genre.
Honestly, I am not expecting anything new in the sound department since the driver specs and frequency range did not change from the previous generation. At the very least, I expect the Marshall IV to have very near-studio audio quality, with a balanced sound signature. Expect our review to touch on this, including my description of my experience during binaural tests.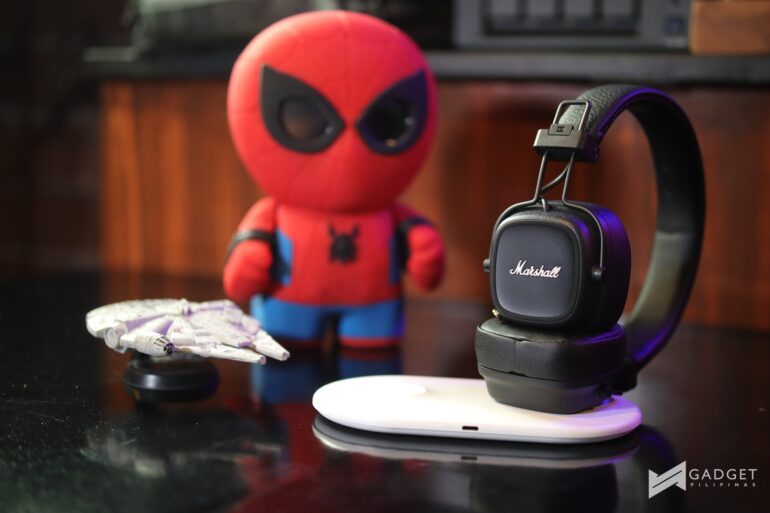 One of the major changes on the Major IV is battery life. In contrast, the Marshall III may be used for 30 hours at a single full charge. Marshall IV, on the other hand, can stay up as much as 80 hours in a single charge. Let that sink in. 80 hours! My Sony WH-MX1000 M4 can only last for 40 hours. It supports Quick Charge too, so you don't have to worry about not having to listen to classic Eraserheads or Sponge Cola tracks for the next 3 hours.
Those who are embracing the wireless-device ecosystem will also love to know that the new Major IV can now be charged wirelessly. If you're using a smartphone that can be charged wirelessly, it's very likely that you've got a Qi charger around. You can now use it to charge the new headphones too!
The pads are now softer too for additional wearing comfort. On-ear headphones usually have uncomfortable clamping force when using it for an extended amount of time. Having softer pads would definitely be beneficial for consumers.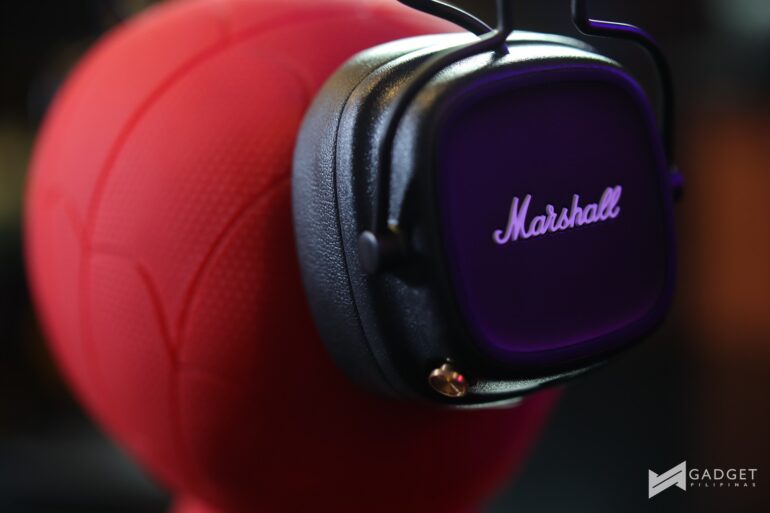 Major IV's major change – pun intended – is that it now uses Bluetooth 5.0, albeit not using aPTX for audio processing. While the new headphones can have better connection and energy-efficient, the lack of being able to stream lossless audio at full range. As usually, we'll check on this on my full review, along with wireless audio delay when using PC, iOS and Android devices.
The new Marshall Major IV is now available for PhP7,690 in the Philippines. If you want to buy one, you can buy via the links below:
Giancarlo Viterbo is a Filipino Technology Journalist, blogger and Editor of GadgetPilipinas.net, He is also a Geek, Dad and a Husband. He knows a lot about washing the dishes, doing some errands and following instructions from his boss on his day job. Follow him on twitter: @gianviterbo and @gadgetpilipinas.