Marshall has established itself to be one of the premium music and sound brand in the country. It has proven itself to be a reliable companion to music lovers and audiophile. Just like what my friends have been telling me – "If it's from Marshall, then it must really be very good." For someone who has been using the Marshall Stanmore II Voice for a month now, I couldn't agree more with what some of my friends said about the brand.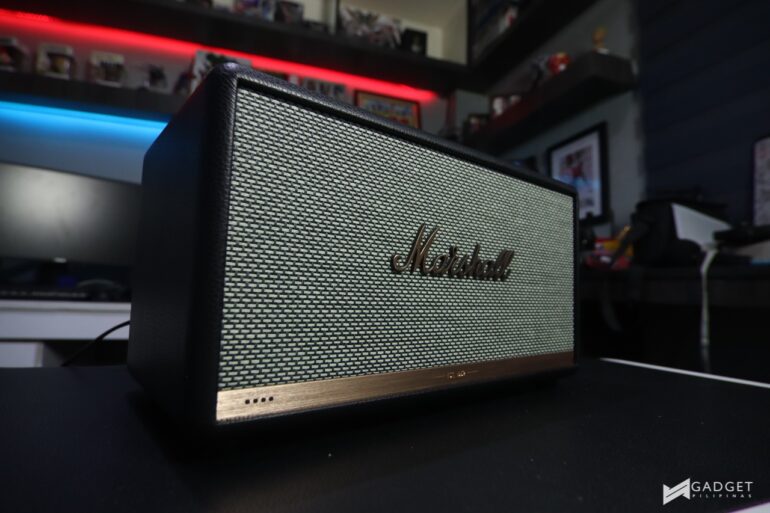 Over time, the Marshall brand has matured into a hybrid sound brand, which wholeheartedly embraces things beyond music and sound solutions. Suddenly, Marshall has ingrained itself with new trends in technology with new products that are more functional than ever.
Marshall Stanmore II Voice is a product that deserves your attention. In the sea of smart speakers available in the market, it stands out with its smart and sound features. I prepared a few points why I believe that it needs your utmost attention. It's something that desires to be considered as a need rather than a want. In today's advent of IoT, having a Google Assistant embedded on a premium and high quality speaker from Marshall is must-have goal especially if you've got yourself an office or study room.
Premium Sound Quality
The foremost reason why you're getting a speaker is because you need one so you can listen to your favorite tracks or an output device from another device. Marshall Stanmore II Voice is made primarily for such needs, and its quality is something that competitors are having a hard time trying to beat.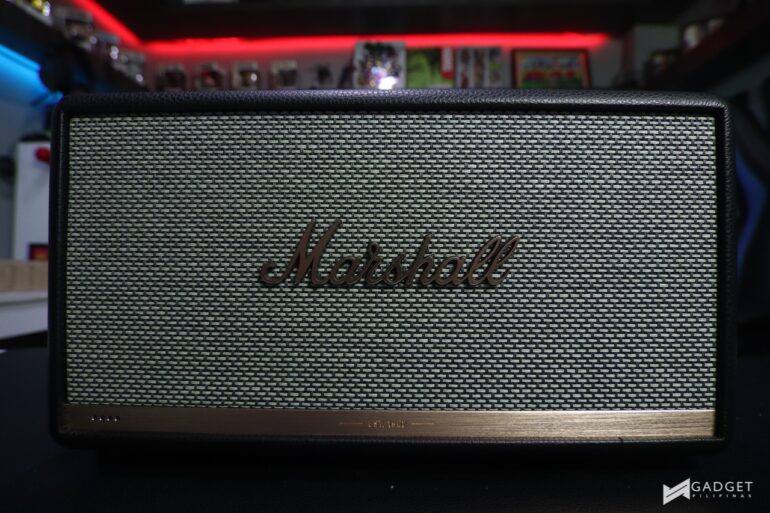 For starters, it features one (1) 50 watt class D amplifier for woofer, and two (2) 15 watt class D amplifiers for tweeter. These are very loud speakers with balanced soundstage and outstandingly clean and precise quality. Whether you're going to use this as your desktop speaker for your PC or Mac, or a streaming device for Spotify, you'll be surprised how versatile it can be. This brings me to the next reason why it has proven itself as the best one I've used so far.
Versatility as one of its finest points
I am mainly using the Marshall Stanmore II as my lone voice assistant and desktop speaker at my office. It suits perfectly on my 20sq/m office room, but it can be perfect regardless of room size.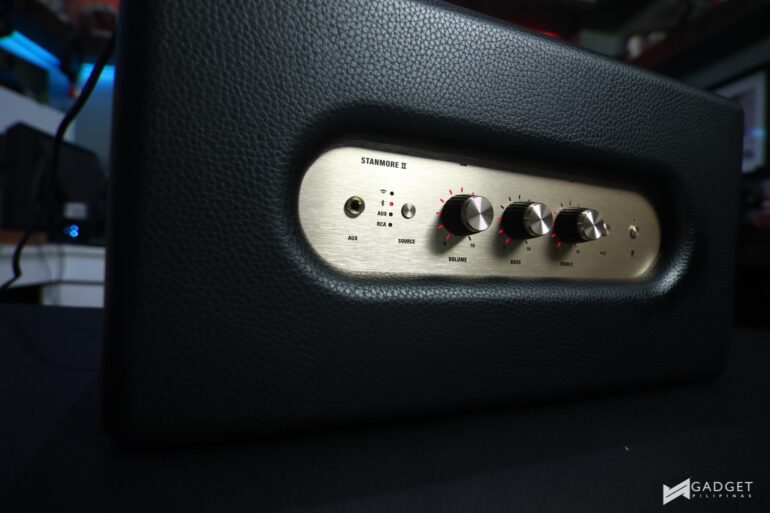 As my desktop speaker, I've got my ASUS ROG G21 Huracan connected to it via its 3.5mm AUX input. There's a dedicated mode if you're going to use its 3.5mm input, but you can easily switch it by pushing its connectivity button to your desired mode: "Assistant Mode", Bluetooth,  AUX input or RCA input. Regardless of mode, it proved to be able to produce sound at the highest quality. The only thing you have to worry is the quality of the music you're going to play.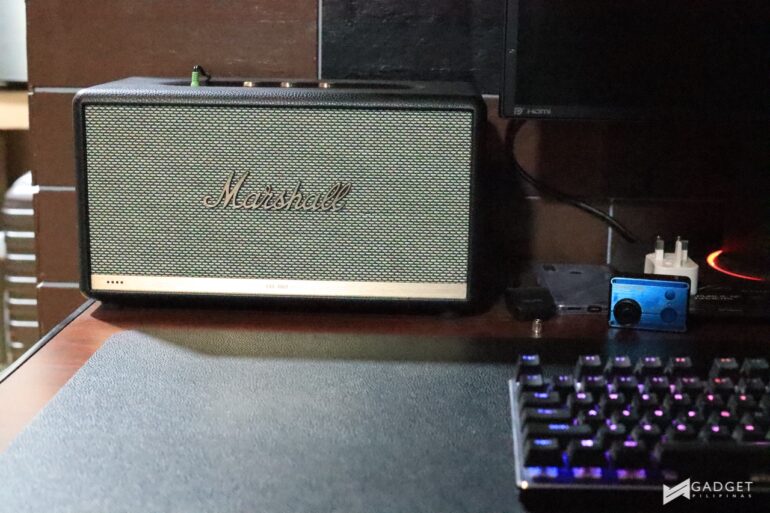 Obviously, this isn't the ideal speaker setup for my PC as it's located beside my monitor. However, it's more than good enough for me to listen to my favorite tracks and to watch my favorite YouTube videos or Twitch streams. Besides, I use my a pair of cans with 7.1 surround when I'm playing games.
Hey Google… what's my schedule tomorrow?
When I'm at work, my hands usually tied to either typing my next feature article (like this one) or using my Macbook's trackpad when editing videos. When I need to know my next schedule tomorrow or ask about a specific trivia or information, I can just simply ask Google on my Marshall Stanmore II Voice.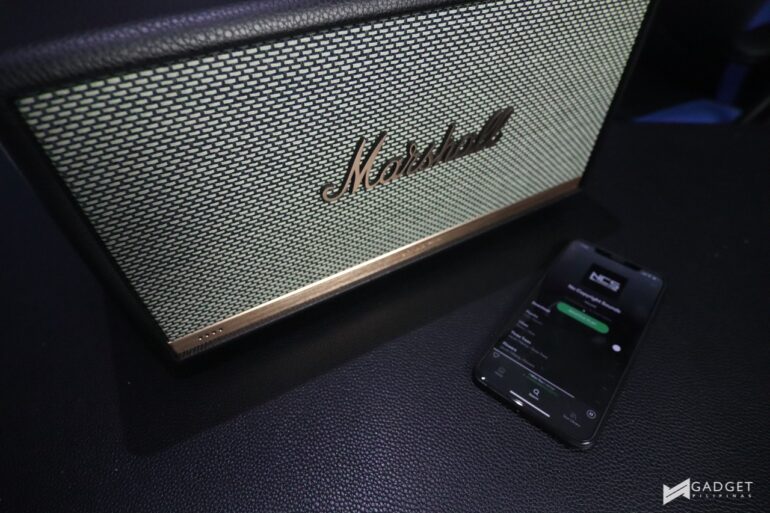 There are 2 versions of Marshall Stanmore II Voice – Google and Alexa. Both assistants have pros and cons, but since Google has more widespread available and market-share in the Philippines, it's just app that Marshall brought its Google Assistant version here. With this main feature of the speakers, you can basically control your music or get on with your day without lifting a finger.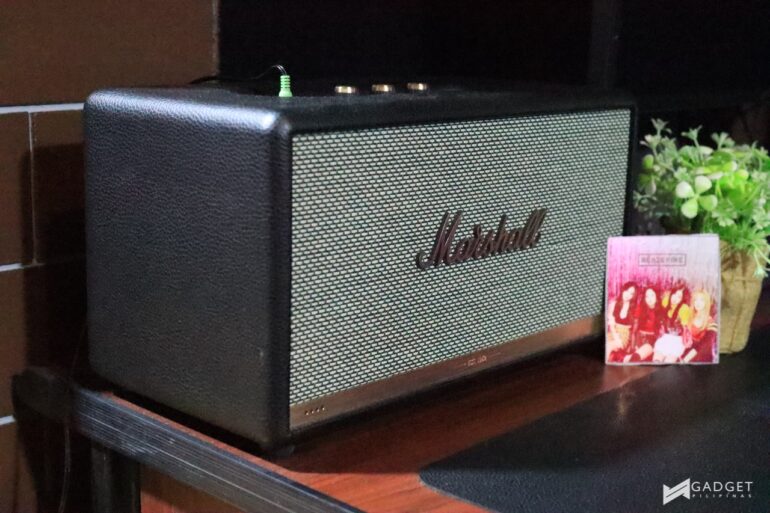 Now, with IoT starting to permeate the Philippine Market with local sellers like TuyaSmart via Cherry Home, you can easily tell Google Assistant on this speaker to turn on your TV, for instance.
Marshall Stanmore II Voice ignited the new path of Marshall to bringing more features to their products. Now, they are not just a go-to sound solution brand, but even smart speakers. I wouldn't be surprised if they bring this feature to their MID ANCs. I would honesty consider getting one, even if I have to buy it at a premium.
PRICE : PHP 26,990 (Available up to 24 months 0% interest installment via Citibank, Metrobank & BPI.)
Giancarlo Viterbo is a Filipino Technology Journalist, blogger and Editor of gadgetpilipinas.net, He is also a Geek, Dad and a Husband. He knows a lot about washing the dishes, doing some errands and following instructions from his boss on his day job. Follow him on twitter: @gianviterbo and @gadgetpilipinas.