Introduction
When it comes to gaming peripherals, ASUS ROG is a brand that's usually on the go to list of consumers. Thanks to a great combination of quality and aesthetically pleasing products designed to make your setup shine (Their slogan even says it).
They've also made quite the progress in audio products – the Fusion series, the Centurion, which was a true 7.1 gaming headset, the Delta, and more. As you'll notice, most or all of these are over ear headphones.
So it was such an exciting moment when we learned about the ROG Cetra – a pair of in-ear headphones that pack a promising set of features, one of which is Active Noise Cancelling. This headphone currently retails for PhP5,000.
Specifications
| | |
| --- | --- |
| Style | In-Ear (Earbud) |
| Connector | USB-C |
| Driver | 10.8mm ASUS Essence Drivers |
| Microphone | Omni-Directional |
| Impedance | 16 Ohm |
| Frequency Response | 20 ~ 40000Hz |
| Noise Cancellation | Active Noise Cancellation |
| Cable Length | 1.25m |
| Weight | 26g |
| SRP | PhP5,000 |
Designed with Character
True to being an ROG product, the Cetra still shows the brand's character in its design. The earpieces are covered in gunmetal finish, and certainly feel like they're well-made. They're also quite light. As far as cable thickness goes, it's thicker than usual. I personally prefer a braided cable, but it's fine I guess.
The ROG logo on each earpiece lights up in its signature red color. It would be nice to have an option to change the color, or completely turn it off, but there's none, for now.
The microphone is located in a separate module, close to the earpiece and in-line controls.
The in-line remote consists of buttons for volume up and down, plus a multi-function button used to answers calls, pause and play, skip tracks, or return to the previous one.
The button on the side enables or disables ANC. While there's no voice prompt, there is a dedicated LED light to show you when it's ON or OFF. A Static light means ANC is ON, no light means its OFF, and a blinking light means you're in Ambient Mode, which basically allows a bit of outside noise to pass.
ROG Cetra uses a USB-C connector, which means it should work with current smartphones, DAPs ultra-slim notebooks, and even some handheld consoles, as most OEMs have already adapted the standard.
One of the main advantages of using USB-C is that it allows headphone makers to pack in better components for their products, such as the DAC or the Amplifier. It also allows users to control the sound using apps on the host device, such as smartphones.
There are downsides as well. It means you'll typically have to choose between listening to music, and charging, and that it will not work with lower-end devices, which usually use a standard microUSB port, and a 3.5mm jack.
Easy Fit, Good Seal
The ROG Cetra comes with three sets of Silicon tips with different sizes, along with a set of Foam Tips.
Getting a good fit and seal was quite easy for me, as the default medium tips matched my ears. They feel very comfortable to the ears, and won't easily come off even if you move your head, grooving to your music.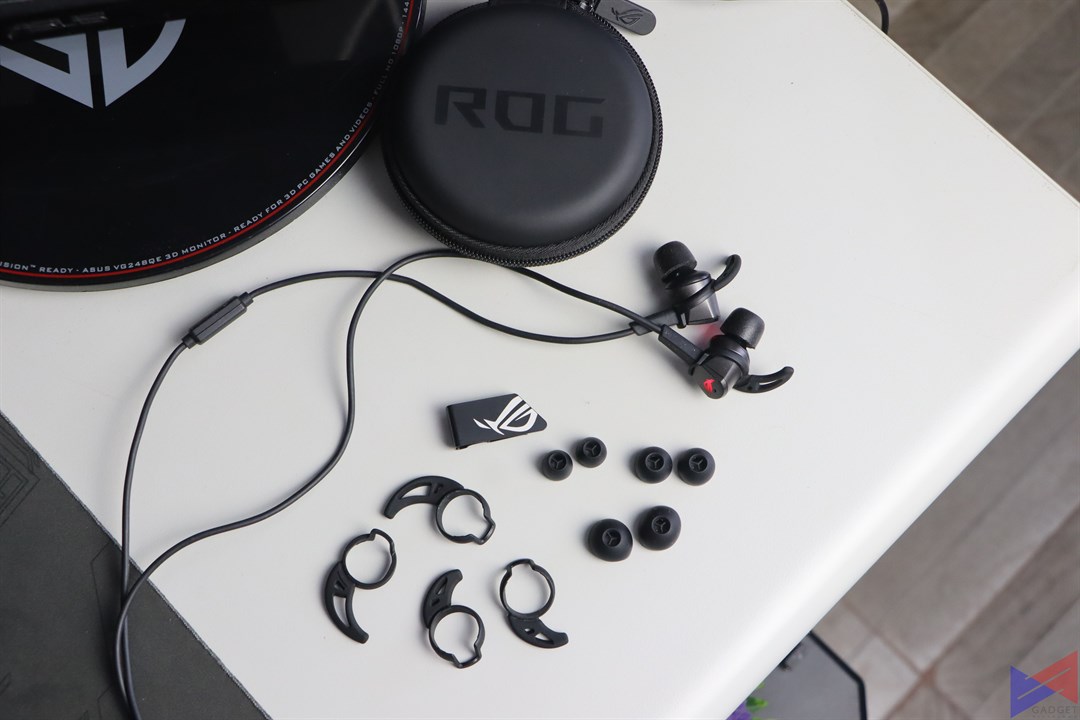 The package also comes with three pairs of ear fins, and a cable organizer, brushed in ROG branding.
Not Just for Gaming, but for Casual Listening as Well
Despite having the word "Gaming" in its name, ASUS is actually advertising the Cetra as a more universal pair headphones. That means it should work well not only for games, but also when used primarily to enjoy your vast library of high-quality music.
When used for a game such as Survival Heroes, or CoD Mobile, wherein having a sense of where your opponent is coming from plays a huge role in winning, you'll be able to clearly hear the footsteps, and also get a sense of where it's coming from. Even the sound of the environment is accurate.
Sound
With Noise Cancelling ON
Bass is present, but not overpowering. It doesn't go as deep as I'd like, but it's enough.
Vocals are slightly laid back. It's clear enough, but enveloped by the highs. I wish it was more forward, and had more body.
Highs can be too piercing at around 80% volume. It doesn't sound as free as it should be, like someone's tapping the cymbals inside a blanket. It also falls short in terms of brightness.
With Noise Cancelling OFF
Bass is more evident, and feels more lively
Vocals are slightly more emphasized, better positioning, has more body.
Highs still fall short in brightness, but is still too piercing.
Well, in general, these headphones are better for gaming than for music.
Noise Cancellation Done Well
One of the key features of the ROG Cetra is its ability to cancel out outside noise, letting you focus on your game, or your music.
Good news is that when enabled, the feature works very well to cancel out a lot of outside noise. No, not all of it, but the amount of noise it's able to nullify is quite noticeable. You'll still hear a bit of the noise that cars make when on the sidewalk, but it's not distracting.
In a commute, you won't hear the conversations of people around you, but you'll most likely hear a bit from the TV in the bus. It's nowhere near the more expensive wireless solutions out there, but it does the job.
In order to keep you safe when crossing streets, and to increase your awareness, these headphones also have Ambient Mode, which basically lets a bit of noise in, and dials the volume down on your device.
Mic Check, Sound, Sound Check
Another good thing about the Cetra is its microphone, located close to the earpiece. While it does pick-up a bit of outside noise, the voice still comes out clear, at least based on our recording.
Indoor Mic Test
Outdoor Mic Test
There were instances of noticeable "blips" in the recording, a short sound that sort of clips the audio from time to time. Nothing bothersome, but something to take note of.
Tweak the Settings, But Only on Your Desktop or Laptop
As of the moment, the ROG Cetra doesn't have a companion app on Mobile, but there is one for desktops and notebooks, Armoury II.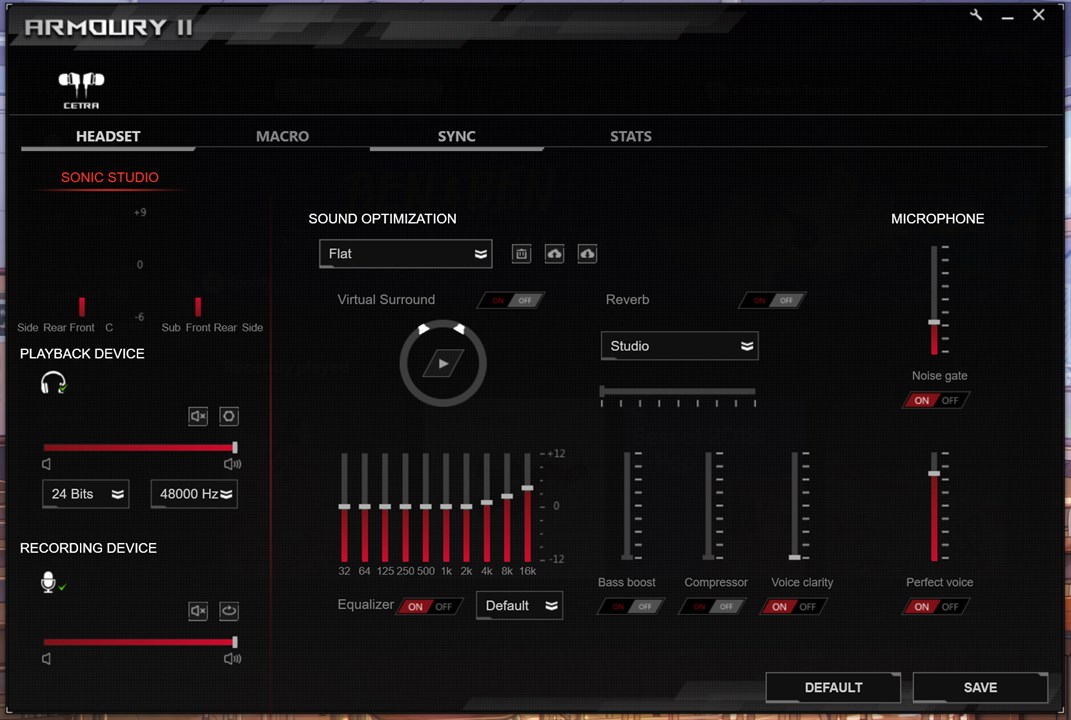 Armoury II gives you a ton of options to fine tune the sound, such as an equalizer, control on reverb, bass boost, and more. There are even dedicated settings in the microphone.
Now, this would all be great if you're just using the Cetra on a notebook or desktop, but it would've been so much better if it had a mobile app equivalent.
Emman has been writing technical and feature articles since 2010. Prior to this, he became one of the instructors at Asia Pacific College in 2008, and eventually landed a job as Business Analyst and Technical Writer at Integrated Open Source Solutions for almost 3 years.