Thanks to a  tip from leakster LlabTooFer, we now know more a great deal about the HTC U12, codenamed "Imagine".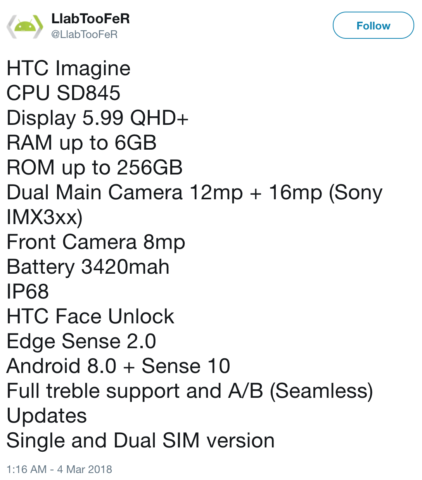 The handset will be fueled by Qualcomm's latest and greatest chipset – the Snapdragon 845. Dual main cameras from Sony (12mp +16mp) is a bump up – megapixels wise versus other handset snappers. The 3420mah battery means it can grind with the up-sized flagships like the Samsung S9+. IP68  makes it resistant to dust, dirt and sand and are resistant to submersion up to a maximum depth of 1.5m underwater for up to thirty minutes.
As for the release date, LlabToofer also tipped that we should be getting our hands on it in April.
Allan Abaca is an avid gamer through and through. Virtually, he is locked-in with his PS4 almost daily and has just introduced the awesomeness of gaming to his two sons.
Next in his sights is PC gaming. The platform which he nows considering going back to after a two decade hiatus.
Oh, and let's not forget the Nintendo Switch...
His psn id is hip2b2