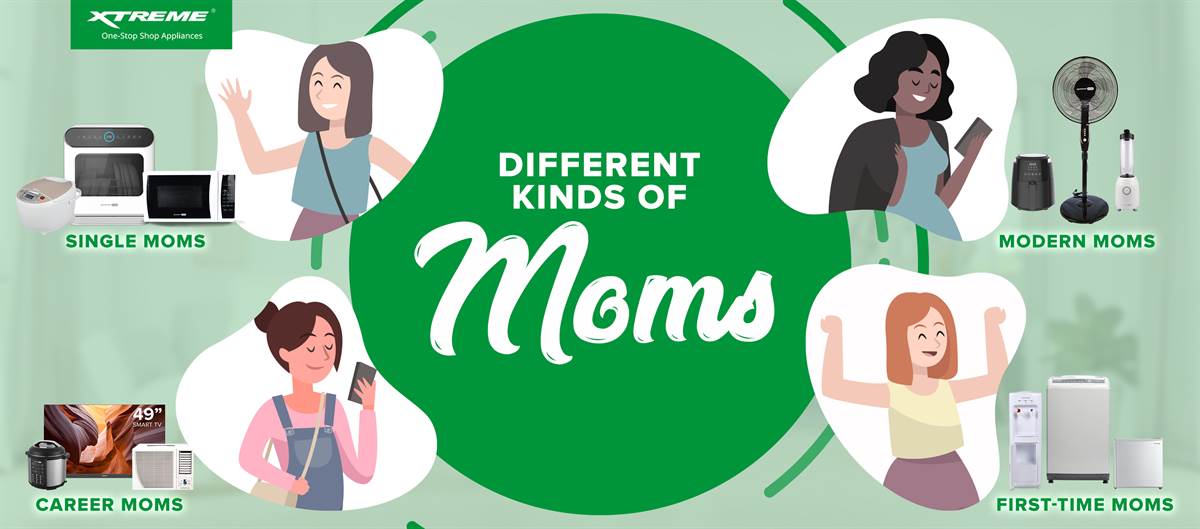 Home appliances have always been the most popular gifts to mothers on special occasions especially on Mother's Day. In fact, no mom will ever say no to another practical and useful appliance, thus making it a perfect present any time of the year.
As such, XTREME Appliances has a wide-range of products that cater to every kind of mother. Choosing the right kind of appliances would be beneficial and save our moms a lot of time.
Being a Single Mom is never an easy job. You need to be good at multitasking and create a routine to structure your busy schedule. An extra help from multi-use appliances is a perfect pair of hands for an independent mom!
XTREME Cool Combo Washer & Dryer (₱44,995)
6.0L XTREME Home Dishwasher (₱15,995)
20L XTREME Home Full Touch Microwave Oven (₱3,995)
1.0L XTREME Home Multi-cooker (₱2,495)
These Modern Moms are often the kid's best friend! Letting the child/children to try out something new regularly will lead them to live to their full potential. With these home gadgets, household chores will turn into mother-and-child bonding for quality time!
40L XTREME Home Blue Convection Oven (₱8,995)
3.5L XTREME Home Digital Air Fryer (₱2,995)
1.50L XTREME Home Blender (₱1,695)
XTREME Home "The Silencer" Electric Fan (₱2,995)
Career Moms tend to be professional and trained in every kind of challenge and pressure. Usually, you will spot this kind of mom in a rush or managing the home and office work, at the same time! it's not easy to leave work undone but these home devices are great tools for a fun and knowledgeable environment for you and for the kids!
50" XTREME Android TV (₱27,795)
1.0HP XTREME Cool Window Type Inverter Aircon (₱25,800)
50CM XTREME Home Gas Range (₱9,995)
6L XTREME Home Electric Pressure Cooker (₱3,895)
First-time moms need appliances that will give them comfort and convenience in their new journey. Learning to be a mom needs a huge adjustment physically, mentally and emotionally. Guidance and assistance from your loved ones will play a big role in this kind of major transition in life.
1.0HP XTREME Home Split Type Inverter Aircon (₱26,800)
1.8CU.FT XTREME Cool Personal Refrigerator (₱5,495)
XTREME X-Series Bottom Load Water Dispenser (₱6,995)
1.7L XTREME Home Electric Kettle (₱995)
Top Load Fully Automatic Washing Machine ((₱9,995)
Stay updated on everything XTREME Appliances via Facebook, Twitter, Instagram, and TikTok. They also have an online community on Facebook, XTREME Fan. For the full list of products and exclusive discounts, you may visit XTREME Appliances' official website, as well as its official Lazada and Shopee stores.
Emman has been writing technical and feature articles since 2010. Prior to this, he became one of the instructors at Asia Pacific College in 2008, and eventually landed a job as Business Analyst and Technical Writer at Integrated Open Source Solutions for almost 3 years.