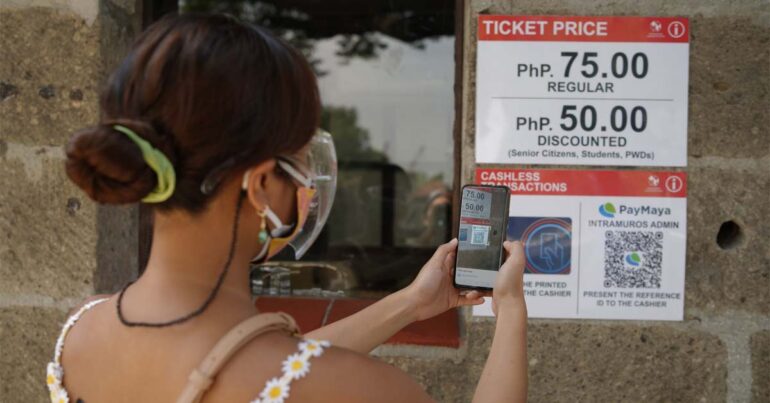 Visitors to the recently re-opened historic sites and museums in Intramuros, Manila will be assured of a safer experience with PayMaya offering its cashless payment options for fees in tickets in the various tourist attractions in the area.
The Department of Tourism and the Intramuros Administration have tapped PayMaya to provide cashless payment options via its PayMaya QR solution as it re-opened select sites such as Fort Santiago, Casa Manila Museum, and Baluarte de Santiago (limited capacity) to the public.
Visitors can scan the PayMaya QR displayed at the ticket booth using their PayMaya app to pay for necessary fees, avoiding person-to-person contact with the site personnel.
The DOT has been promoting various local tourist destinations such as Boracay, Bohol, and Palawan for domestic travelers to re-ignite interest in local tourism and support the sector, which was heavily impacted by the COVID-19 pandemic.
Linking the past to the future with cashless payments
Intramuros Administration is also utilizing PayMaya's digital invoicing solution, allowing them to accept cards (Visa, Mastercard, and JCB) and PayMaya for merchants' rental fees, permits, and other similar transactions.
It has also collaborated with PLDT wireless subsidiary, Smart Communications, in rolling out FREE Wi-Fi access around various sites and public areas of Intramuros, and interactive tourism markers powered by QR codes and NFC technology as part of its nationwide Digital Tourism Program and #TravelSmart campaign.
To support the government in this endeavor, PayMaya has also enabled government agencies such as the Department of Foreign Affairs (DFA) and the Tourism Infrastructure and Enterprise Zone Authority (TIEZA), as well as local tour operators and travel agencies, to accept cashless payments from local tourists and visitors.

At the same time, PayMaya is the only financial technology company in the Philippines capable of enabling the entire transportation chain across the entire country with the widest range of solutions - a vital component in the revival of the tourism industry.

Start your cashless journey by downloading the PayMaya app here and registering an account.