Counterpoint has just released its report on smartphone shipment market share in the last quarter of 2020 and the entire year. The report confirms that Apple took the top spot in Q4 but also revealed that realme grew the most with a 65% year-on-year increase.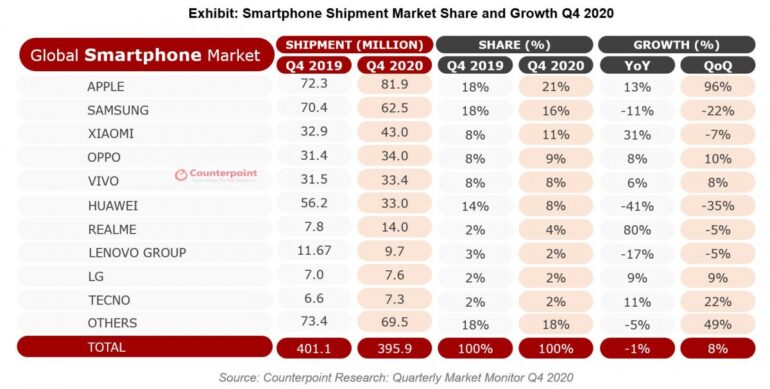 Apple shipped nearly 82 million iPhones in the closing months of 2020 – this is up 13% over the same time in 2019. The Cupertino-based company tied Samsung in 2019 at 18% market share but Apple solely took the top spot in 2020 with 21% share. Samsung settled at 16% market share in Q4 2020, according to the Counterpoint report.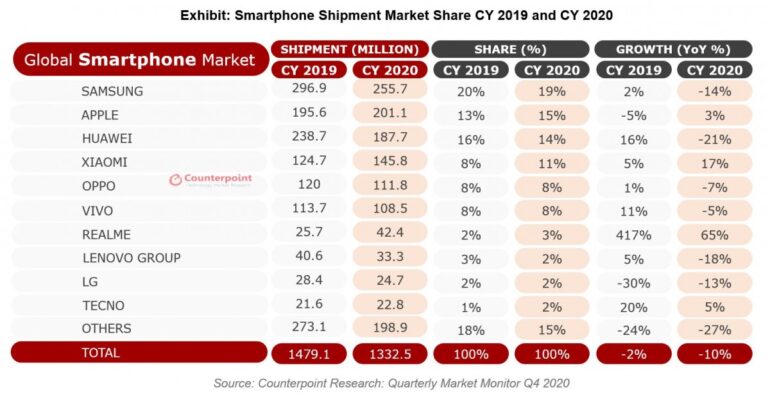 realme, on the other hand, almost doubled its smartphone shipments in Q4 2020 with 14 million phones. What's more impressive is that the company shipped 65% more phones in 2020 than in 2019. realme shipped 42.4 million smartphones in 2020 maintaining its fast-growing smartphone brand in the world for five quarters in a row.
Furthermore, Xiaomi managed to take a big part of the Huawei share with a 17% increase. Huawei shipped 21% less phones in 2020 than the year before, that's 51 million less.