Introduction
The Ryzen 5000 series marks AMD finally surpassing Intel's processors in performance, both in single and multithreaded workloads and ofcourse, both gaming and productivity. However, such achievements and milestones do come at a cost and it's unfortunate that the consumers are the ones paying for it, literally. As AMD has been consistent in catching up with Intel performance-wise, their prices also rise up with each generation. The recent launch of the 3000 XT series was AMD's testing ground if consumers would bite a refreshed processor at a relatively higher price. The performance leadership provided by the Zen 3 microarchitecture allows AMD to command higher prices with its Ryzen 5000 CPUs. The question now is, does the performance improvement with the new Ryzen processors justify AMD's price hike? Let's investigate starting with the Ryzen 9 5900X
AMD Zen 3 Overview
The Ryzen 5000 series processors are still under the 7-nanometer process node by TSMC but are under an all-new Zen 3 architecture. In AMD's last press event, Lisa Su talked about the Ryzen 5000 series processors getting a 19-percent Instructions Per Clock uplift and a massive performance-per-watt efficiency. AMD did a ground-up redesign with the Zen 3 architecture to achieve a +19% IPC uplift alongside some functionality improvements over the previous Zen 2 architecture.
Achieving +19% IPC
AMD's engineering team did remarkable work with the Zen 3 CPUs as they improved the pipeline allowing for faster fetching, reduced latency, and reduced memory and cache dependency.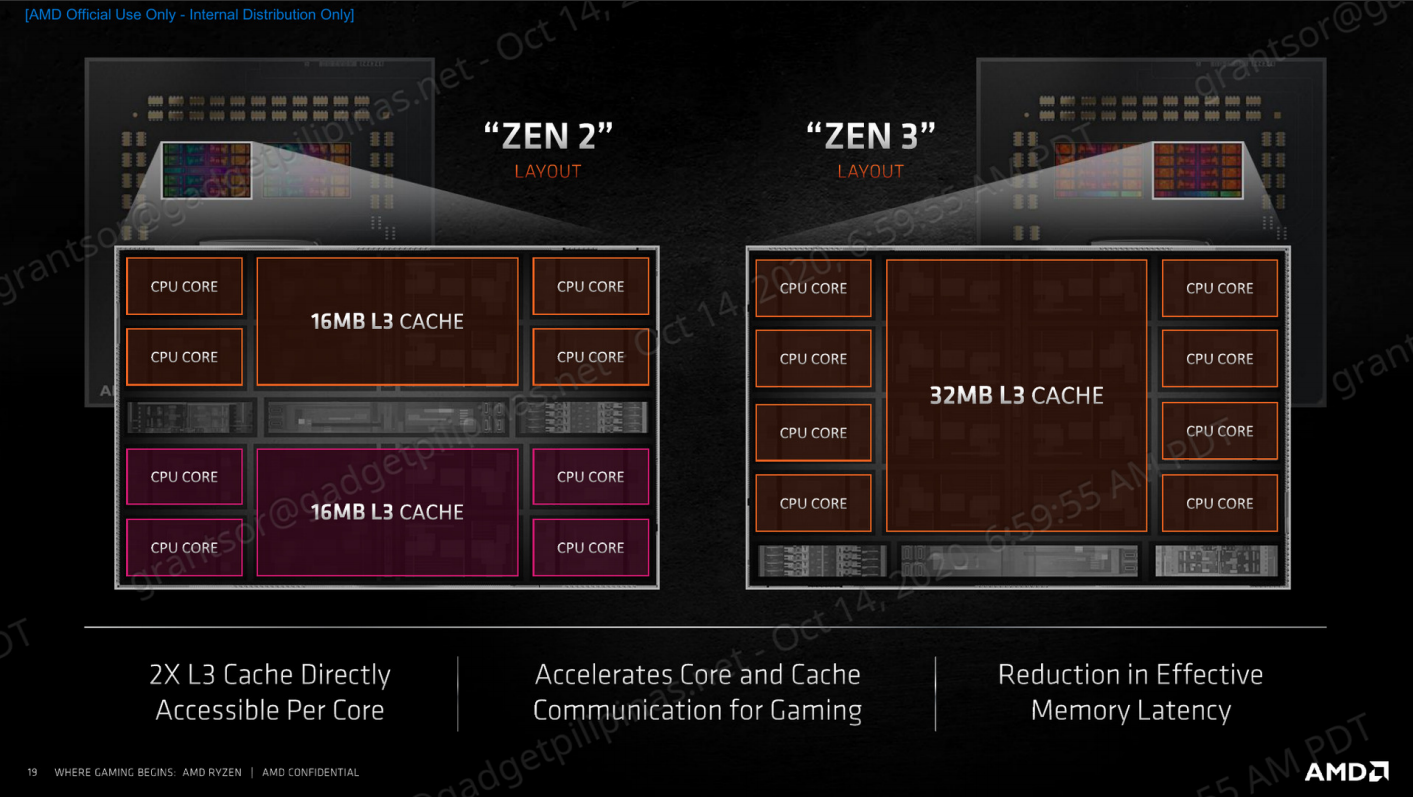 The AMD Ryzen 5000 series has undergone design changes at the SoC architecture as well. Zen 2 CPUs utilized a union of two core complexes(CCX) per compute die(CCD), whereas Zen 3 processors now feature a unified CCD meaning each CCX can consist of up to 8C/16T & 32MB L3 Cache instead of Zen 2's 4C/8T & 16MB L3 Cache per CCX. The consolidated core and cache complex on Zen allows better performance, especially on latency-sensitive workloads. The Zen 3 layout design eliminates CCX-to-CCX communication within the die as well as enabling a direct-access pool of the 32MB L3 Cache. CPU intensive games will greatly benefit from Zen's redesigned CCD and CCX layout
Our AMD Ryzen 9 5900X review shares some data and information with our Ryzen 9 5950X Review. If you've read the latter, we recommend skipping to the last page for our thoughts about the AMD Ryzen 9 5900X.
AMD Ryzen 5000 Processors Spec Sheet, Price, and PH SRP
AMD Ryzen 5000 CPUs
CPU
Cores/threads
Base/Boost Clock (GHz)
TDP
L2 + L3 Cache
Launch Price – USD
PH SRP
Ryzen 9 5950X
16/32
3.4/4.9
105W
72MB
 $799
 ₱44,900
Ryzen 9 5900X
12/24
3.7/4.8
105W
70MB
 $549
 ₱30,250
Ryzen 7 5800X
8/16
3.8/4.7
105W
36MB
 $449
 ₱24,800
Ryzen 5 5600X
6/12
3.7/4.6
65W
35MB
 $299
 ₱16,550
Ryzen 9 3950X
16/32
3.5/4.7
105W
72MB
 $749
 ₱42,000
Ryzen 9 3900X
12/24
3.8/4.7
105W
70MB
 $499
 ₱29,470
Ryzen 7 3800X
8/16
3.9/4.7
105W
32MB
 $399
 ₱23,185
Intel Core i9 10900K
10/20
3.7/5.3
125W
20MB
 $488
 ₱29,990
Of course, all of the improvements AMD made with the 7-nanometer Zen 3 architecture needs to be recuperated. AMD boasted a 19% IPC performance improvement but that comes with a huge asterisk as AMD also hiked up its launch prices compared to the previous generation. We decided to compare the Ryzen 5000 processors against the non-XT predecessors as the XT series are just "refreshed" versions. The Flagship Ryzen 9 5950X is at a price where Intel doesn't have anything to compete with. The $799 AMD Ryzen 9 5950X is $50 more expensive than the 3950X when it first launched. The Ryzen 9 5900X also receives the same $50 price increase compared to the 3900X.
Our AMD Ryzen 9 5900X review shares some data and information with our Ryzen 9 5950X Review. If you've read the latter, we recommend skipping to the last page for our thoughts about the AMD Ryzen 9 5900X.
Benchmark Setup and Methodology
The AMD Ryzen 9 5950X and Ryzen 9 5900X are benchmarked against the Ryzen 9 3900X as well as Intel's flagship Core i9 10900K processor. The Ryzen 9 5900X directly clashes with the Intel i9 10900k in terms of pricing, while the Ryzen 9 5950X sits at a higher price tier and thus will be evaluated as an "upgrade" for both the 5900X and 10900k. We opted out testing the i7 10700K as it is priced significantly lower than the Ryzen 9 5900X and that the former is reserved for our upcoming Ryzen 7 5800X Review.
Gadget Pilipinas' testing philosophy is to provide detail-oriented results as accurately as possible that our readers can replicate our tests given that these conditions are met. Different benchmarking apps and sequences are used depending on the component or device being tested.
We use CapFrameX 1.5.7 Beta as our FPS capture and analysis tool for all our gaming benchmarks. The latest build version of Windows 10 and WHQL certified drivers are used for our benchmarks. Readings such as temperatures and power draw are recorded using HWMonitor and HWInfo64 as well as other relevant software are used for cross-checking.
Benchmark list
SuperPi 32M
wPrime
AIDA64 Memory Benchmark
Geekbench 5
Cinebench R20
Google Octane
V-Ray
HWBot x265
Handbrake
Blender
Corona Renderer
3DMark
DOTA 2
Rainbow Six Siege
Metro Exodus
Far Cry 5
Shadow of the Tomb Raider
GTA V
F1 2020
Battlefield V
Assassins Creed: Odyssey
Anno 1800
Our benchmark list and methodology may change in the future depending on the industry trend.
AMD Ryzen 9 5900X CPU Benchmarks
SuperPI 32M
SuperPI is a single-threaded benchmark application that lets the CPU calculate Pi(π) to the nth digit. In this benchmark, we selected the Pi calculation to 32M, the highest available for the app.
wPrime 1024M
wPrime is a benchmark tool similar to SuperPI, but the former takes on finding prime numbers using Newton's Method. The benchmark is set to calculate 1024M, and measured according to calculation time.
AIDA64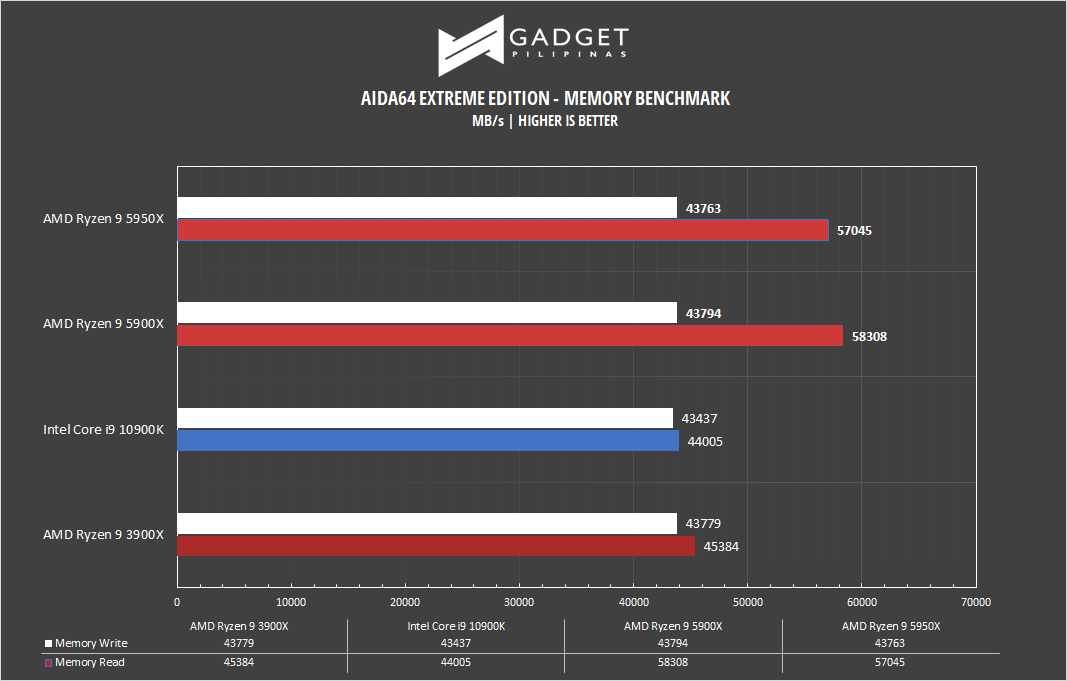 AIDA64 is a very popular and powerful monitoring tool, as well as a benchmarking application. AIDA64 is commonly used to stress test CPUs, especially testing if an overclock is stable. We used AIDA64's Memory Benchmark to measure the data transfer bandwidth of the system memory.
GeekBench 5
Geekbench is a multi-platform benchmark that's used to gauge CPU performance and compare them across Windows, Mac, and Mobile. Geekbench 5 is the latest version and doesn't rely on memory as much compared to the previous Geekbench 4, making it a great tool to measure both single-core and multi-core CPU performance.
CINEBENCH R20
Maxon's Cinebench benchmark is one of the most iconic benchmark applications used by reviewers and enthusiasts. The latest Cinebench R20 uses the latest rendering architectures, including Intel's Embree ray tracing technology and other advanced features from AMD and Intel that allows users to render the same scene on the same hard. Cinebench R20 uses a larger and more complex testing scene than Cinebench R20 by about 8x computational power and requires 4x the memory.
GOOGLE OCTANE 2.0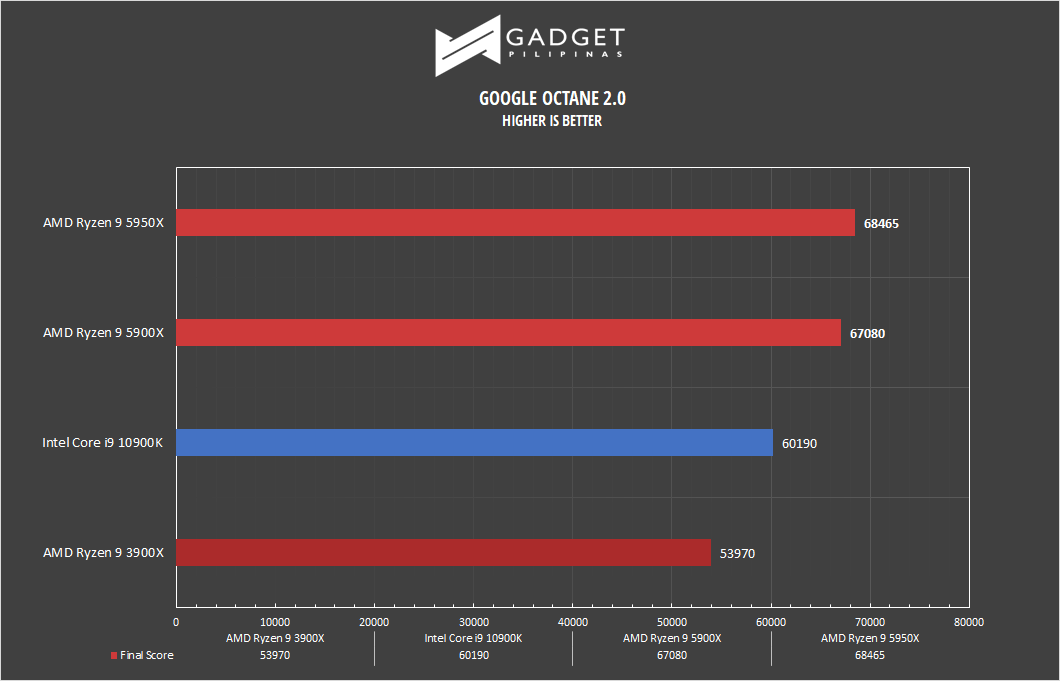 Google Octane 2.0 is a benchmark that measures a Javascript engine's performance by running multiple tests representing different use cases of JavaScript applications. While Google Octane is retired and no longer maintained, it is still a good representation of today's dynamic, interactive web applications. Our Google Octane 2.0 is run on Microsoft's latest Chromium-based Edge browser.
V-RAY
V-Ray Benchmark is a stand-alone version V-Ray developed by Chaos Group. It is designed to test the CPU and GPU by rendering sample scenes at a fixed amount of time. V-Ray is plug-in mostly utilized by 3D computer graphics software applications mainly for industrial design, product design, architecture, film, and video game production. V-Ray is not limited to 64-threads as it supports multi and mega threading.
HWBOT x265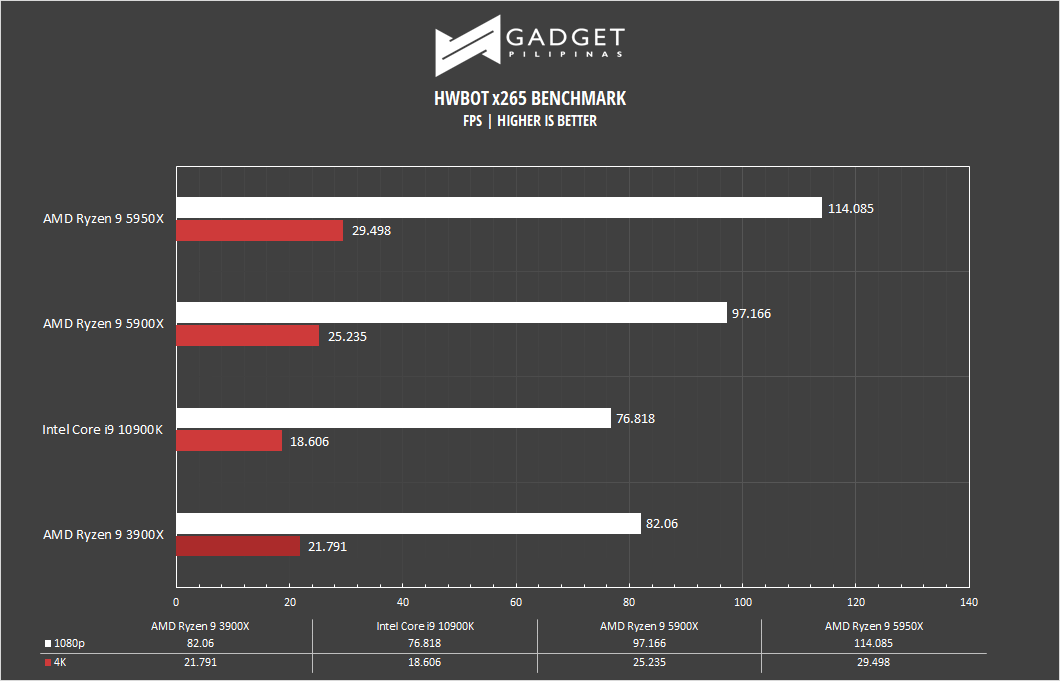 HWBOT x265, developed by Czech overclocker Havli, is a multi-threaded application that takes advantage of modern CPU instruction sets with support for older CPUs.  HWBOT x265 benchmark uses the x265/HEVC encoder that renders a video in 1080p or 4K resolution.
HANDBRAKE
Handbrake is a top-rated open-source video conversion software that is used by professionals, enthusiasts, and even reviewers as a reference point mainly because of its wide variety of media codecs. The rise of streaming and blogging makes video content, both encoding, and transcoding important for these people, regardless if they're seasoned professionals or just starting out. Handbrake also takes advantage of AVX-512 and OpenCL to accelerate certain types of media codecs. Our Handbrake benchmark converts a 500MB MP4 video to H.264 to measure the processor's performance.
BLENDER
Blender is a widely used, free, opensource 3D creation suite. It supports the whole 3D pipeline process from modeling, rigging, animation, simulation, rendering, and even motion tracking. Blender has become a standard for CPU benchmarks with the BMW27 and Classroom scene most used. This prompted the company to release Blender Open Data Benchmark in 2018, a benchmark-specific version which allows users to run a preset benchmark and share the results online similar to 3D Mark.
CORONA RENDERER
Corona Renderer is an unbiased photorealistic render available for Autodesk 3Ds Max, Maxon Cinema 4D, and as a stand-alone application. Its popularity, similar to Blender, led Chaos Group to develop a benchmark version of the app which runs using Corona Renderer 1.3. Workstation systems, especially CPUs, can utilize Corona Benchmark as up to 72 threads can be used in the benchmark, making it very suitable for CPUs with various price segments.
PCMark10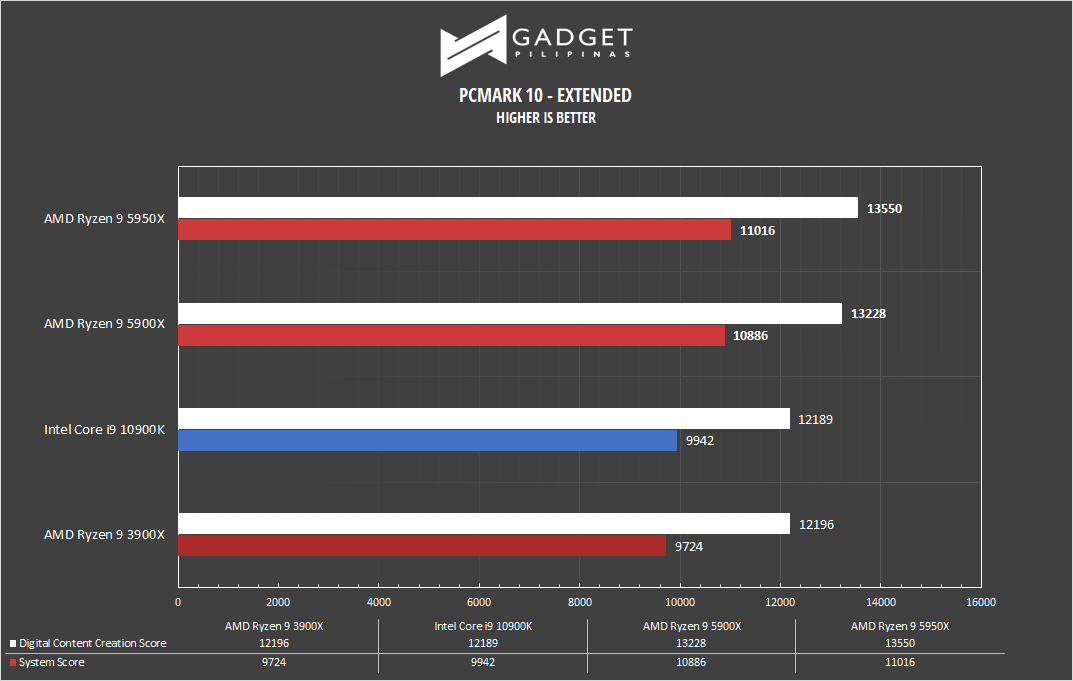 From the same developers of the popular game benchmarking tool 3DMark, PCMark 10 is a benchmarking app for measure a whole PC's performance. It covers a wide variety of tests to reflect common tasks performed in a modern workplace. We selected PCMark 10's extended benchmark and reported both the overall score and Digital Content Creation Score.
AMD Ryzen 9 5900X Gaming Benchmarks
3DMARK
3DMark is the go-to benchmark for gamers because of the ability to share and compare results online. We used Time Spy DirectX 12 benchmark and Fire Strike DirectX 11 benchmark to gauge the CPU's performance using different APIs.
DOTA 2
Most gamers play at least one of the following free-to-play titles: League of Legends, CS: GO, Dota 2, and/or Fortnite.  Dota 2 is a good representation of the F2P titles as it is the most demanding game in the spectrum. The benchmark will give you an idea of the laptop's relative performance on other lesser demanding titles. Our benchmark sequence is based on a replay of OG vs. Liquid in the TI9 grand finals from the team fight that happened on 28:30 to 29:30.
Far Cry 5
FarCry 5 is an FPS game published by Ubisoft and uses the Dunia engine. It heavily relies on and takes advantage of DirectX 11 to render a realistic environment that makes it taxing to both the CPU and GPU.
Rainbow Six Siege
Rainbow Six Seige is one of the few popular AAA games that's still popular in 2019 due to its competitive gameplay mechanics. R6S uses the AnvilNext game engine, which is developed by the game's publisher, Ubisoft. As of writing, Rainbow Six Siege is currently the most popular Tom Clancy title beating out Wildlands, Breakpoint and even, Division 2.
GTA V
Grand Theft Auto is undoubtedly one of the most iconic installments in the gaming industry. Released on September 13, GTA V  still tops Steam's most-played games chart thanks to the immersive open-world mechanics, modding support, and role-playing multiplayer servers.
Battlefield V