Huawei launched its Learn On program at the recently hosted Philippine ICT Talent Online Summit.
The Learn On program provides high-quality resources on an online open platform to support the distance learning requirement during the pandemic. In addition, the program looks to ensure the development of an ICT talent ecosystem and pave the way for sustainable digital transformation.
Among the guests at the Summit were Philippine Ambassador to China Jose Santiago "Chito" Sta. Romana, Commission on Higher Education Chairperson J. Prospero De Vera III, University of the Philippines Diliman Chancellor Dr. Fidel Nemenzo, National ICT Confederation of the Philippines President Michael Tiu Lim President of NICP, and Philippine internet pioneer and Mapúa University professor Dr. William Torres.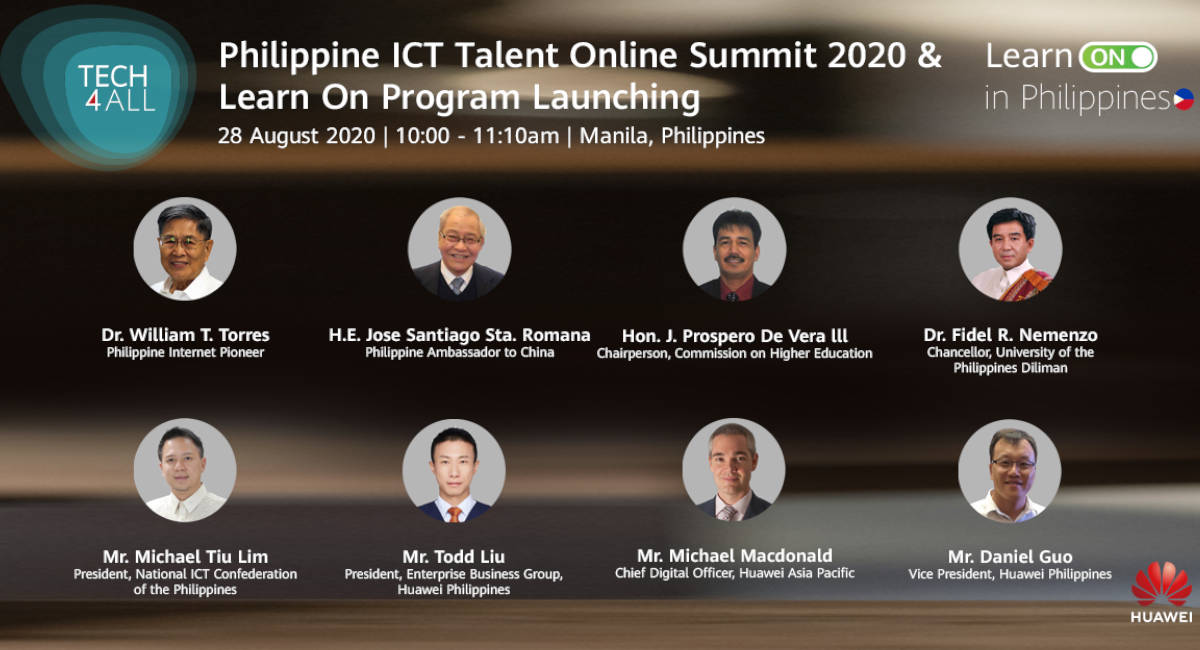 Huawei ICT Academy and Learn On Program will undertake the following to support the local talent development and digital learning in the Philippines:
Huawei ICT Academy Development Incentive Fund (ADIF) will be allocated for partner education institutions to run online activities such as courses, training, and research projects.
More than 130 Massive Open Online Courses (MOOC) resources will be opened up, covering advanced technical fields such as Artificial Intelligence (AI), big data, 5G, and Internet of Things (IoT).
More than 100 online Train the Trainer (TTT) programs will be provided for 2020, and more than 1500 teachers are expected to be trained.
Nine Courses – Huawei Routing and Switching, WLAN, Security, IoT, Cloud Service, Storage, Cloud Computing, Big Data, and Ai.
In closing the event, Huawei Vice President, Daniel Guo Zhi stated, "Huawei is committed to providing inclusive and equitable quality education opportunities for all people from all regions, working with more partners through ICT innovations and contributing to the overall healthy development of society. This summit is held under such a background, wherein we have officials and experts from CHED, universities, colleges, and industries. Let's work together through the Huawei ICT Academy, to further our work so that the learning never stops."
For more on the Huawei Learn On Program, click here.