Qualcomm announced its newest fast-charging technology, Quick Charge 5 which supports up to 100W charging speeds while reducing battery temperature by up to 10°C, and being 70% more efficient.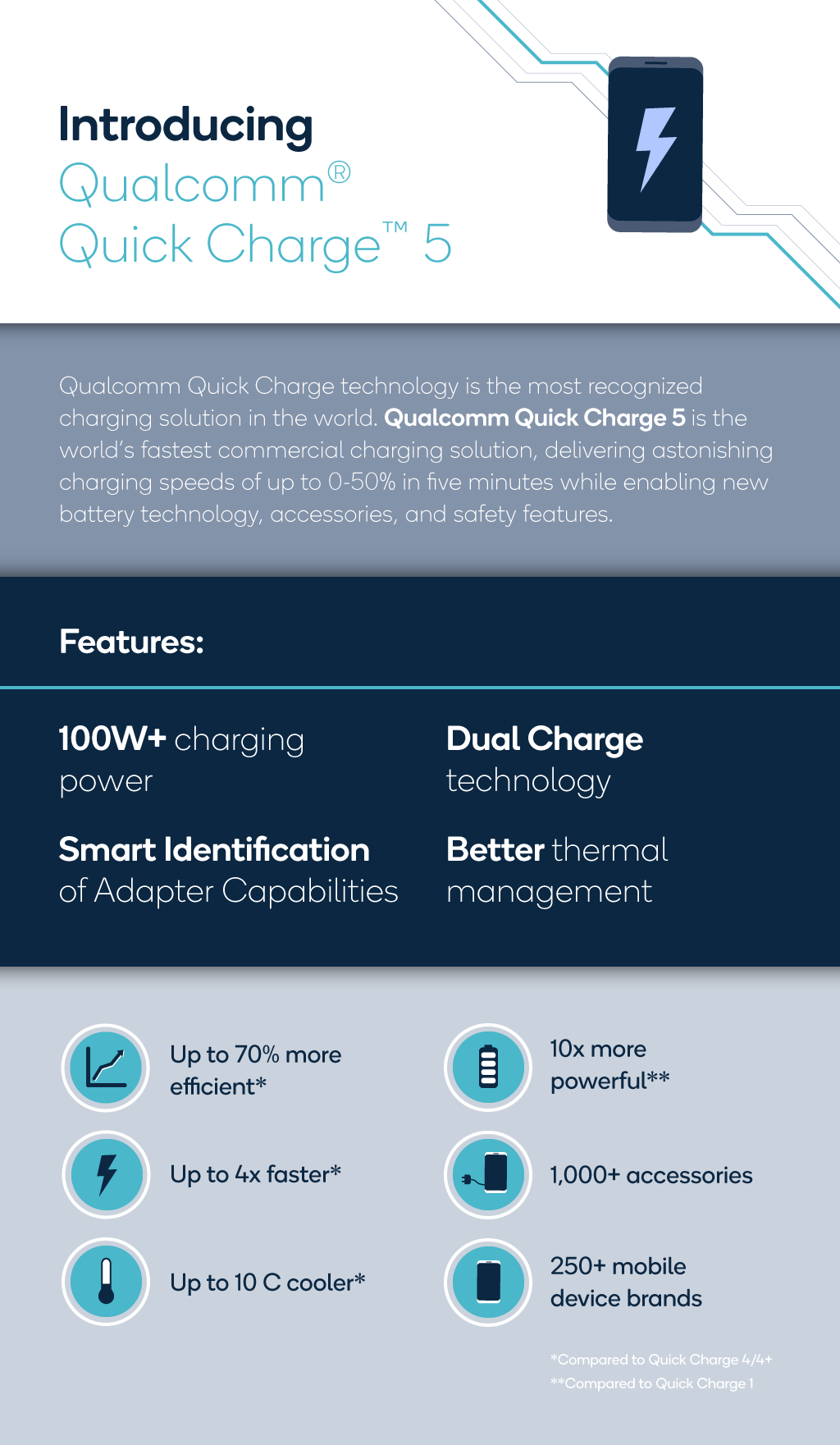 To give you an example, in a dual charging solution, where the battery is split into two cells connected in series, a 4,500mAh battery can be charged to 50% in 5 minutes, and to full in 15. The new technology also supports Triple charge.
Built on top of USB Power Delivery PPS, Quick Charge 5 offers backward compatibility with QC2 and later, and also works with standard USB PD and Apple devices. To be specific, an iPhone 7 or newer device.
The system boasts 8 levels of voltage protection, 3 levels of current protection, 3 levels of thermal protection, 3 timer protections, and lastly, overvolt protection at 25V.
Using the PD Protocol, the charger controller chips inside phones will be able to intelligently measure the charger to determine the maximum current it can supply, all while managing thermals.
Qualcomm announced two controller chips for manufacturer use – SMB1396 and MSB1398. Both support for wired and wireless input and can be used with 1 cell and 2 cell batteries. Do note that a single cell design will still be limited to 45W charging.
Quick Charge 5 is expected to be used in smartphones in Q3. While the new Snapdragon 865 and 865+ already support it, the chipset needs to be paired with the new SMB chips for the feature to work (So just having the SoC is not enough).
You may watch the Quick Charge 5 announcement video here.
Emman has been writing technical and feature articles since 2010. Prior to this, he became one of the instructors at Asia Pacific College in 2008, and eventually landed a job as Business Analyst and Technical Writer at Integrated Open Source Solutions for almost 3 years.