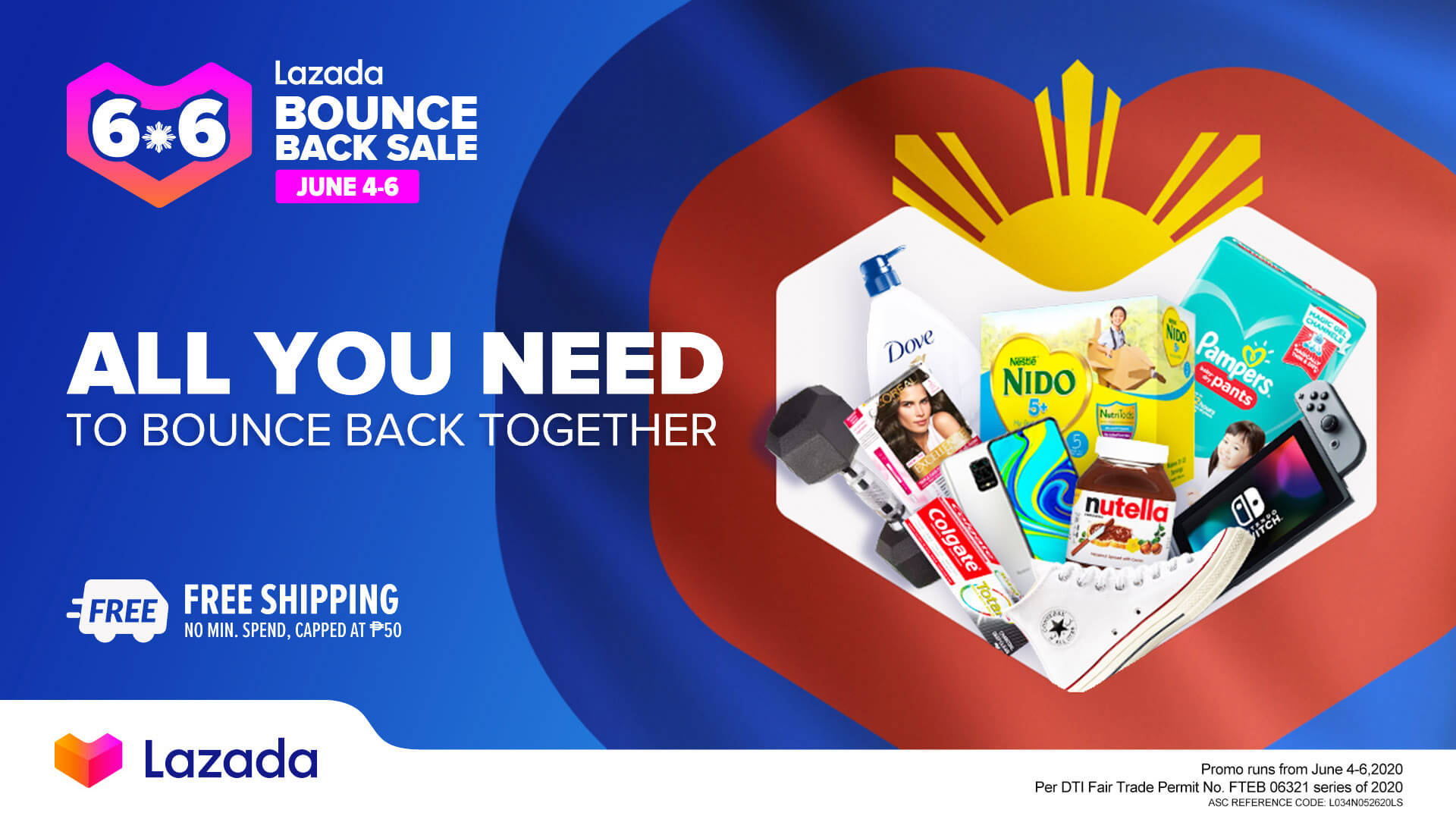 Leading eCommerce platform Lazada welcomes June with positivity and happiness with the Lazada 6.6 Bounce Back Sale happening on June 4 to 6, 2020. As the Philippines continues its fight against COVID-19, the digital platform remains committed in continuing to serve the community by delivering the best experiences online and aiding businesses to recover.
To accompany the 6.6 shopping event, Lazada Brand Ambassador and YouTube sensation Mimiyuuuh features in the latest Bounce Back Sale TV commercial. Shot entirely at home and on mobile devices, the video reminds customers of the joy of unboxing a package as well as the connections everyone still has with each other in spite of the current situation.
From June 4 to 6, shop all you need to bounce back on Lazada with free shipping vouchers at no minimum spend, capped at PhP50.
Lazada Special Livestreams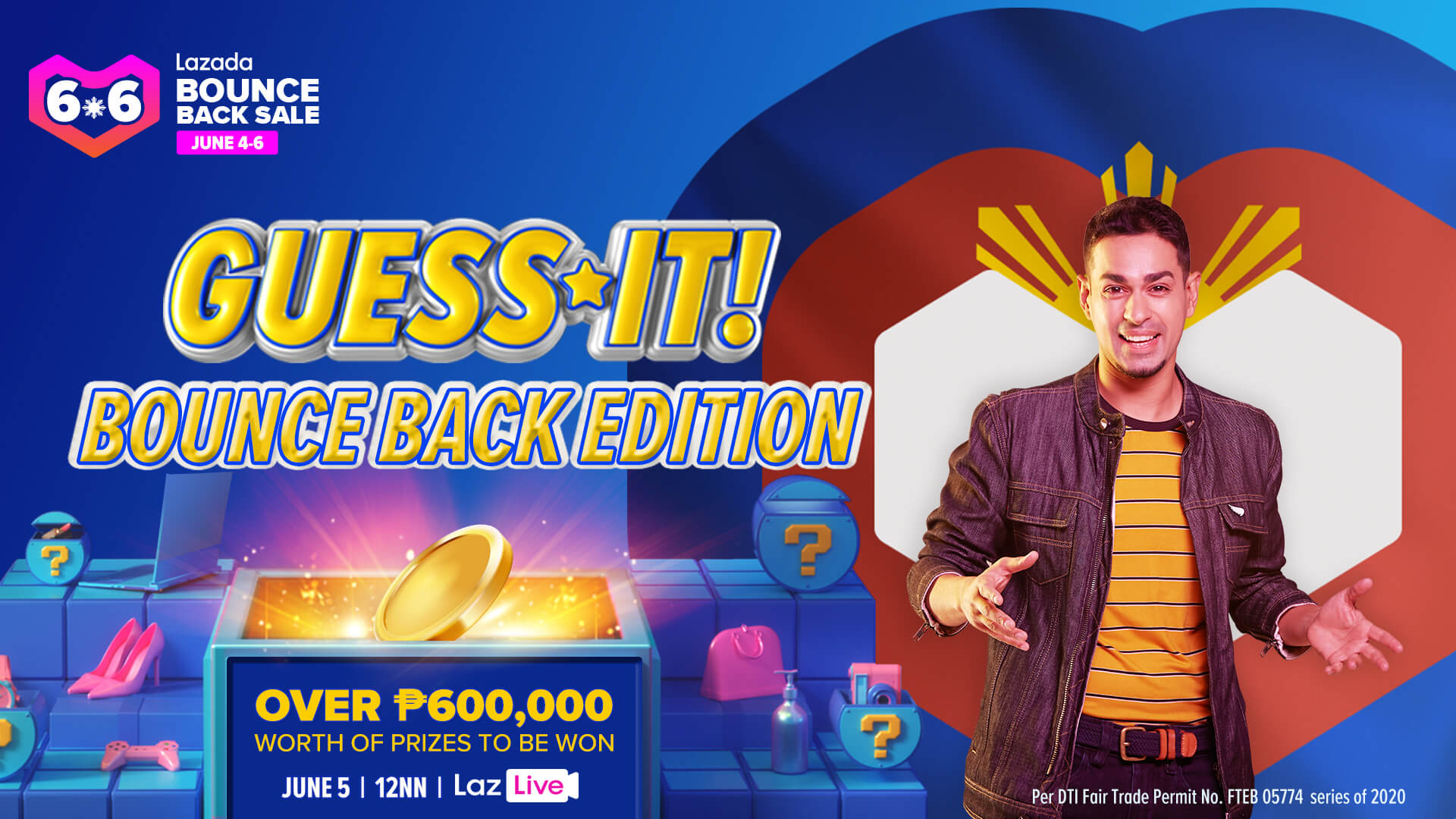 Get ready for Lazada's Guess It! Bounce Back Special on June 5 at 12nn hosted by Sam YG featuring special guest Miss Universe 2015 Pia Wurtzbach, and Super Sing It! Bounce Back Special featuring Ben&Ben, SB19, KZ Tandingan, and Regine Velasquez-Alcasid.
The 2-hour special hosted by Mimiyuuuh will be live-streamed on Lazlive on June 6 at 6PM, where more than PhP200,000 worth of vouchers will be given away. More views, more vouchers to give away.
Customers may contribute to the fight against COVID-19 by purchasing items from select participating brands to extend your help to our countrymen.
Colgate-Palmolive: Spend a minimum of P750 and P50 will be directed our LazadaForGood beneficiaries.
Unilever Skin Sciences: Spend a minimum of P1000 and P50 will be directed our LazadaForGood beneficiaries.
Johnson & Johnson: Spend a minimum of P1066 and P66 will be directed our LazadaForGood beneficiaries.
Tiny Buds: Buy P1000 worth of products and P50 will be directed our LazadaForGood
beneficiaries.
MIDEA: Buy P1000 worth of products and P50 will be directed our LazadaForGood beneficiaries.
From June 4 to 6, expect loads of deals and products consumers can add to their boxes of happiness:
Fashion
1. Plus Size Boutique spaghetti sando tops at 52% off now at P48 from previously P100
2. KW Online Shop Women's Slip-on Casual Sandals from P119 to now at P89
3. Havaianas Hype Flip Flops Mens at 45% off from P1,249 to now at P687
4. Inspi Mamba Forever shirts for men for women now at P99 from P124
5. ShoePer MoveUp Casual Sneakers Shoes for Men and Women now available at P269 from P299
6. Ella Fashion Casual Canvas Bag at P63 from P79
7. Hawk 5278 Belt Bag from P900, now at P720
8. Tala by kyla Ely Necklace at P199 from P249
9. MetroSunnies Kaiser Specs Screen Protection Computer Eyeglasses for Men and Women (Silver) at P637 from P1,150
10. Homer Wardrobe Online Store Korean Fashion Fluorescence Crossbody Bag from P169 now at P147
Electronics
1. Infinix Hot 8 4GB RAM + 64GB Internal Memory Smartphone now at P4,999 from P5,999
2. Huawei Y7 4GB RAM + 64GB ROM Wide Dewdrop Smartphone available at P6,190 from P6,890
3. Apple AirPods 2 with Charging Case at P7,690 from previously P9,590
4. Fitbit Ionic Water-Resistant Smart Watch – Adidas Limited Edition from P17,690 now at P11,690
5. Devant 50-inch SMART UHD TV at P18,000 from P26,450
6. LWH Electronics Nintendo Switch lite console at P11,999 from P13,380
7. Imarflex Xpresso Duo Coffee Maker (Silver/Black) now at P3,219 from P10,730
8. Dyson V8 Fluffy Cord-free Vacuum Cleaner previously sold at 35,000, now with the sale price of P24,500
9. Lenovo Ideapad 15.6-in Gaming Laptop at P35,995 from P44,990
10. Sricam SriHome SH037 Plug and Play Webcam with Built-in Microphone now at P659 from P859
Health and Beauty, Mother and Baby, Groceries and Pets
1. Maybelline Super Stay Matte Ink Collection Liquid Lipstick at P149 from P299
2. Dove Body Wash Deeply Nourishing 550ml Special Offer x3 previously at P746, now at P597
3. Olay Whip Power Duo now at P1,799 from P2,609
4. Huggies Dry Newborn (80 pcs) – Tape Diapers at P364 from P520
5. Enfagrow A+ Four Powdered Milk Drink 1.8kg x 4s now at P4,647 from P6,638
6. Tiny Buds Natural Powder Detergent 1kg Set of 3 from P825 now at P599
7. FreeStyle Libre Starter Kit at P6,790 from P7,000
8. Puritan's Pride Melatonin 3mg 120 tablets Sleep Aid now at P337 from P399
9. Angel Evaporada Halo Halo Pack from P99 now at P84
10. PEDIGREE Adult Beef and Vegetables Dry Dog Food (1.5kg) available at P266.75 from previously P275
Home and Living, Toys and Games, Sports, Motors, and Digital Goods
1. Sunbeams Lifestyle Slique Roast Pan – Baking Tools and Equipment now at P209.30 from P299
2. Cost U Less Ergodynamic 360˚ Swivel Function Office Chair available at P1,959 from P2,499
3. Fitch Home Lifetime 30" Personal Table at P1,454 from P1,699
4. Bosch GO Smart Cordless Screwdriver Kit now at P1,800 from P3,200
5. Gundam PG 1/60 Perfect Strike Gundam (Gunpla) from P16,999.75 now at P13,500
6. ANTA Mens GH1 Basketball Shoes available at P4,405.50 from P4,895
7. RJ Guitar Deluxe Manila Folk Steel Acoustic Guitar – Brown from P3,999 now at P2,399.00
8. HONDA – Click 150i – Reservation Fee at 99% off from P2,000 to now only P6.00
9. Hyundai Santa Fe HOMERUN Reservation Fee with zero-interest for 5 years from P1,000 to now P600
10. Shakey's digital voucher: Hawaiian Delight Large Thin Crust Pizza now at P300 from P432
Gadget Deals
Do use the following links for extra discounts on select gadgets from June 4 to 6!
https://www.facebook.com/gadgetpilipinas/posts/10157515797028337
To know more, you may visit Lazada Philippines' Facebook, Twitter and Instagram pages.