[lwptoc]
The vivo NEX 3 is the company's latest flagship and looks to continue to carry the NEX flag along. It may not be as experimental as the NEX Dual Display or one of the first to feature a pop-up camera like the NEX S, but it has its own quirks and lives up to the NEX name.
It was released locally earlier this month with a PHP 39,999 pricetag. I've had the phone for a little over two weeks now and my experience has been interesting, to say the least.
| | |
| --- | --- |
| | Vivo NEX 3 |
| Display Size | 6.2-inch FHD+ POLED |
| Resolution | 1080×2256 |
| Processor | Qualcomm Snapdragon 855+ |
| GPU | Adreno 640 |
| RAM | 8GB |
| Storage | 128GB |
| Front Camera | 16MP |
| Rear camera | 64MP f/1.8 |
| | 13MP f/2.5 telephoto |
| | 13MP f/2.2 ultrawide |
| Audio | AK4377A Hi-Fi chipset |
| OS | FunTouch 9.1 based on Android 9 Pie |
| Battery | 4500mAh with vivo FlashCharge 22.5W |
| Connectivity | 2.5G + 5G Wi-Fi |
| | Bluetooth 5.0 |
| Price | PHP 39,999 |
Build
The NEX 3 is a gorgeous phone with an aluminum frame sandwiched by glass on the front and back. It is bigger than most phones with the entire phone measuring up to 167.4mm tall with an even bigger display. This makes it quite unwieldy for those with smaller hands. Despite some adjustments, I found it a necessity to use two hands to navigate at times, especially when needing to reach the top part of the screen. Although, it did provide more real estate for gaming and watching videos, which is a trade-off well worth it in my book.
Like many phones nowadays with a FullView display, the NEX 3 has a pop-up mechanism for its front camera. On the rear is the triple rear camera module housed in the Lunar Ring Camera. A simple NEX logo on the bottom of the phone is the only other thing that can be found on the rear of the phone. The lack of other design elements on the rear of the phone gives it a very clean and simple look.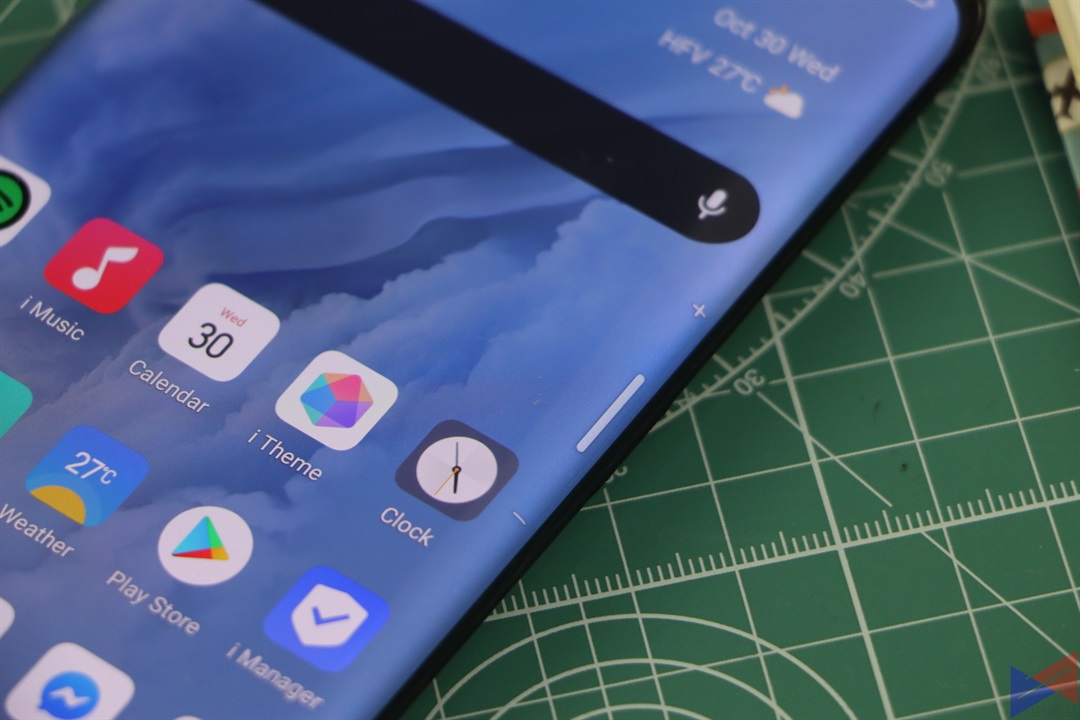 Replacing the physical volume rocker and power buttons are X-Axis Haptic Vibration Motor and Touch Sense Technology sensors found on the right side of the phone. I found its layout quite a struggle with the power button in between the volume buttons, albeit textured and a bit raised. Luckily, it is possible to increase the pressure required to trigger the buttons and I decided early on to crank mine to the max.
On the bottom of the phone are its USB-C port, speaker grille, mic, and SIM tray while on top is a 3.5mm headphone jack, secondary mic, and a flushed physical power button. The latter, I totally forgot it had especially since the case that comes with the blocks it, but it is still nice to have.
The Vivo NEX 3, as far as design and build go, is a gorgeous phone on the taller side of life. It may not look as flashy or as unique as other phones but I appreciate its understated design.
Performance
Under the hood, the NEX 3 is powered by a Snapdragon 855+ accompanied by 8GB RAM and 128GB internal storage. The Qualcomm Snapdragon 855+ performs just as expected. It can handle even the heaviest tasks. The combination of the best Qualcomm chip and 8GB offered a buttery smooth experience of navigating through the OS.
Its 4500mAh battery held strong throughout the day even with mobile data ON. On average, I've only really needed to charge the phone once a day. It can definitely go a little past a day without a charge with even lighter usage, for sure.
Even with a once a day charge, its fast-charging capability topped off the phone in about an hour. This makes it feel like you can use it for an entire day. Leaving it to charge while doing chores or even work and coming back to it makes it feel like it's constantly topped off.
Media and Gaming experience
The Vivo NEX 3 offers quite an experience for consuming media as well as playing video games.
In addition to more real estate, its 6.89-inch display had good viewing angles and had accurate colors. Its solid build also made for a pretty comfortable viewing experience. Although, I had to be very conscious of whether or not my fingers were hitting or pressing the buttons.
Where I think the device performs well is in the audio department. Its speakers are pretty decent delivering both in the sound and loudness department but I'm specifically talking about wired headset experience. Yes, it has a 3.5mm headphone jack. The NEX 3 packs an independent AK4377A audio chip that delivers an even better listening experience. Let's not forget that most flagships have omitted the 3.5mm audio jack. In addition, Vivo has its DeepField effect for additional audio tweaking.
Unsurprisingly, the NEX 3 kept up with games like Call of Duty Mobile, Asphalt 9, Mobile Legends: Bang Bang, and PUBG Mobile without a hitch. It is to be expected with a phone packing the Qualcomm Snapdragon 855+. I was able to play Asphalt 9 and CoD Mobile on max settings with little to no trouble.
Camera
The NEX 3 has three cameras headlined by a 64MP sensor, accompanied by a 13MP telephoto lens and a 13MP ultrawide lens.
Its main 64MP camera is a formidable camera that in reality was mostly what I used. As far as the secondary cameras go, I found the ultrawide more useful than the telephoto. The ability to add in more elements in the photo was more useful than using the zoom.
The camera has quite a lot of things to tinker with like AR stickers but its beautification options just surprised me. Its options go from Whitening and Skin tone to Eye enlarging and nose adjustments. It felt like I was going through a character creation screen in a game. This isn't a bad thing exactly, the variety of options is quite welcome, I just really don't fancy beautification.
There are three major subcategories in the camera app. In the regular photo mode, it includes Ultra wide angle, Bokeh, and Super Macro. I only really used the ultra-wide-angle mode and a bit of the bokeh. I found the Super Macro mode quality a bit grainy. In addition, a Night mode is also included but in the times I tried it, it oversaturated the bright spots. I tended to use the main camera for close up shots and just lowered the main camera brightness for night shots.
Its front shooter gives good photos that offer some separation between foreground and background but can also have quite some noise to it.
Software
The Vivo NEX 3, out of the box, features Funtouch OS 9.1 based on Android 9 Pie. FunTouch is the company's own skin on top of Android and it is the first time I've encountered the OS. It is one of the more unique OS out there that will take some getting used to as far as layout goes.
The biggest difference is that the shortcuts that you normally find with the Notification Panel is now accessed with a swipe up from the lower left part of the screen. As an Android user through and through, this will take getting used to. It also doesn't have an app drawer if that's something important to you. I have gotten used to working without one and has unfazed me.
Its variety of security in the software is pretty impressive. The fingerprint scanner took me a while to use it consistently but the option to have the phone scan your face when the fingerprint scanner fails was pretty useful. This, of course, comes on top of the more usual security of options of number pin or pattern unlocks.
I'm still not sold on curved displays especially with most menus in games curving upward or downward. But the NEX 3 offers it as an ambient light for media as well as notifications which can be turned on or off. I personally enjoyed watching the pulsing of the ambient light while I listened to music.
Vivo NEX 3 Review: The NEX Flagship from Vivo
Our Verdict
The Vivo NEX 3 is definitely a phone worth checking. It stays in a good arms' reach away from the range of the more known flagships but is able to perform pretty well. Like I've mentioned quite a lot in the review, there will be quite a few adjustments to be made with the phone but it will be well worth it. Add in there a pretty beefy battery pack with fast charge support that will allow it to be topped off (assuming you use the charger with it). Its camera has quite a lot on top of it and its inconsistencies but its main camera held the fort and was reliable throughout my experience. What truly impressed me is its inclusion of a 3.5mm jack with a separate audio chip that gives quite an unmatched audio experience for smartphones.
What's Good
Top of the line hardware
Understated design
Reliable main camera
Audio capability is beyond expectation
Smooth experience
What's Not
Grainy macro camera
Bigger than your average phone
No expandable storage