Since its debut in Gamescom 2019, ASUS ROG Chakram has been regarded as one of the best accessories for gamers. The gaming brand sent over one unit for us to experience and boy was I surprised how good it really is!
Chakram what?
Dubbed from a throwing weapon from the Indian subcontinent, Chakram strikes as a hyped gaming peripheral, infused with all the necessary features for the modern PC gamer. It is surreal to see a product that almost has everything a gamer wants and needs at the expense of – literally – really spending load of bucks.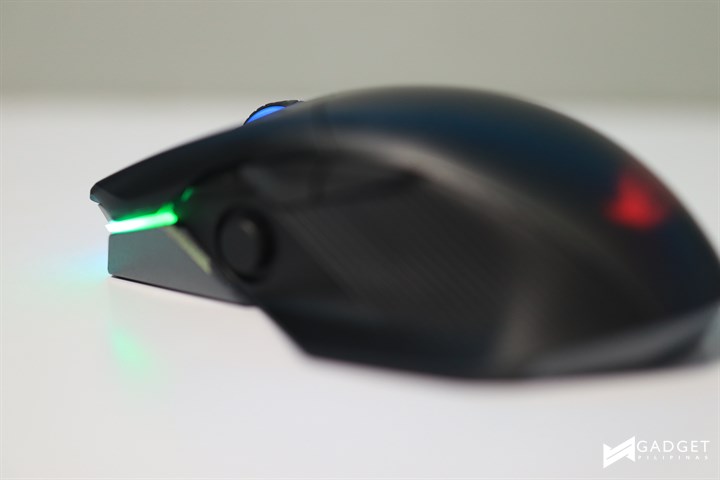 ASUS ROG Philippines has not yet disclosed publicly the SRP of this new gaming mouse, but we recon that this might go around PhP7,000 to PhP8,000 once it becomes available. Everything comes with a price, and I seriously think that with all the features that this one has, each penny is so worth it.
Let me explain.
For someone who plays a lot of PC games – from FPS to MMORPG, or adventure to space sim, – ROG Chakram has the specifications necessary to help gamers achieve small to big victories.
Built for you to achieve victory
For starters, Chakram has a 400 IPS sensor and 1600 DPI sensitivity.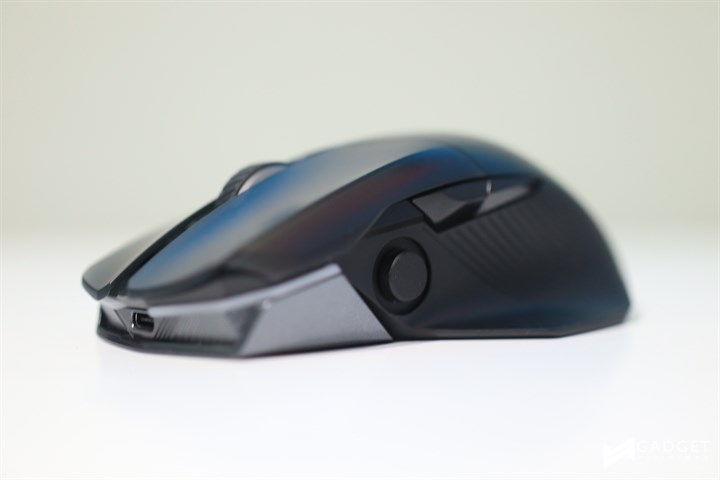 The level of resolution may be adjusted from 100 DPI up to 16,000 DPI, which can be very helpful for most gamers especially FPS players. The sensitivity may be adjusted via Armoury II (if the mouse is connected via cable) or by simply using the DPI on-the-fly tuning button. My only issue here is that I have to turn the mouse upside down each time I need to adjust the DPI settings while playing a game. This is crucial especially when playing FPS games when I have to adjust from high to low DPI when switching to a DMR or Sniper. This, however, is an issue that I can live with.
It also has a polling rate of 1000Hz, and with such number of polling rate, it is computed to be equal to 1ms in terms of response time. With the right amount of DPI setting and this quality of responsiveness, you've got a gaming mouse that is definitely built to keep up with your senses.
Joystick Fun!
Now, here's another cool thing about Chakram – it has a built-in joystick that may be customized and used when controlling menus or even playing games that require joysticks. Honestly, I initially found this to be more gimmicky than useful. However, as I played through games like No Man's Sky and Everspace, the more I appreciated its mini joystick feature. I can pitch and yaw my ship with the joysticks, and I can roll with my A and D keys. Trust me – these joysticks can come in real handy when playing flight sims. You can even set the joysticks to allow you tilt your body to the left or right on PUBG or Call of Duty Modern Warfare.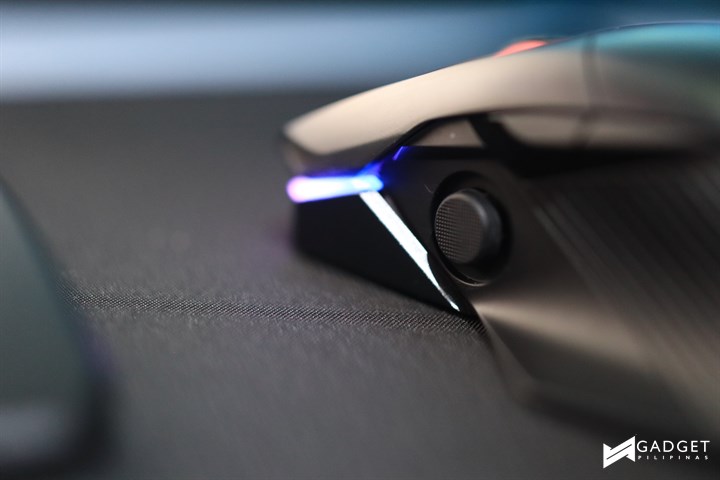 ROG included 2 replaceable sticks in its box – a short and a longer one. You have the option which one to use depending on your grip, be it claw, palm or fingertip. It, however, requires a bigger hand to use the mouse and not left-handed friendly based on its location. So, if you're a lefty and considering to get this gaming mouse, there is no way to transfer the stick to its right side so you can use it.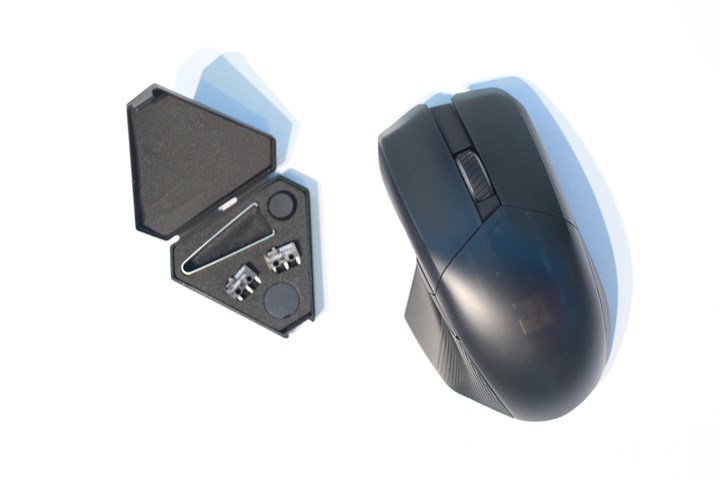 Replaceable switches
ROG Chakram has replaceable switches. Included in the box are D2FC Omron switches: one set of D2FC and another set of D2FC -F. Each set has specific actuation force: D2FC has 150g actuating force while D2FC -F has a light force of 75g. The pre-installed switch was D2FC -F, so since I prefer switches with higher actuation force, I changed it to D2FC without any issues. ROG included a tool out of the box, and they made sure that its hot-swap ability may be done in less than 20 seconds.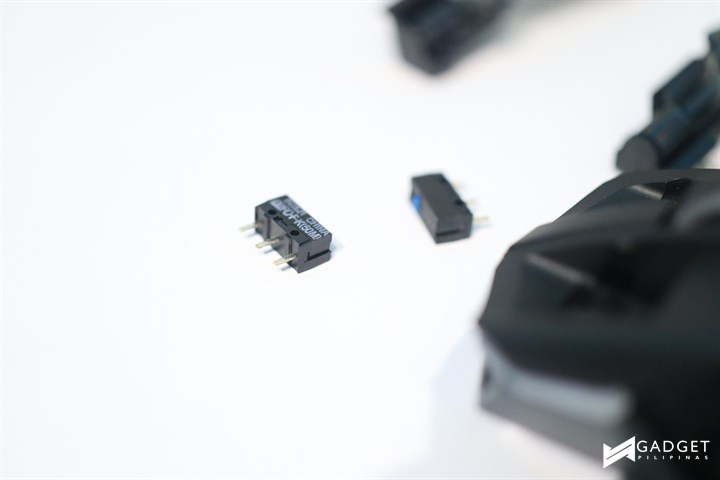 In terms of lifespan of the included switches, the D2FC has been rated to last up to 10M (presses) while D2FC -F has been rated to reach 50M (presses).
Aesthetics!
If you're into aesthetics, ROG Chakram offers RGB lighting and may be controlled via key combinations or via ROG Armoury II. Unfortunately, ROG still needs to upgrade Armoury II for it to be compatible with Chakram. This means that if you wish to Sync its lighting effects to your ROG Flare, you will be unable to do because of compatibility issues. In the meantime, you may switch through lighting effects with the following presses:
DPI button + backward button: Wave
DPI button + forward button: Color Cycle
DPI button + scroll wheel: Comet
ASUS ROG Chakrmam Review 40
ASUS ROG Chakrmam Review 31
ASUS ROG Chakrmam Review 37
Define wireless!
As a wireless mouse, it may be paired either via the 2.4Ghz or Bluetooth. I prefer the former as it has better latency and responsiveness over the latter.
Also, while ROG did not disclose the amount of battery juice the Chakram has, it been rated to last for 100 hours on 2.4Ghz wireless connectivity or around 130 hours when using Bluetooth.  Of course, the number of hours would depend on your frequency and manner of use, plus how much power it would require if you got the RGB lighting enabled.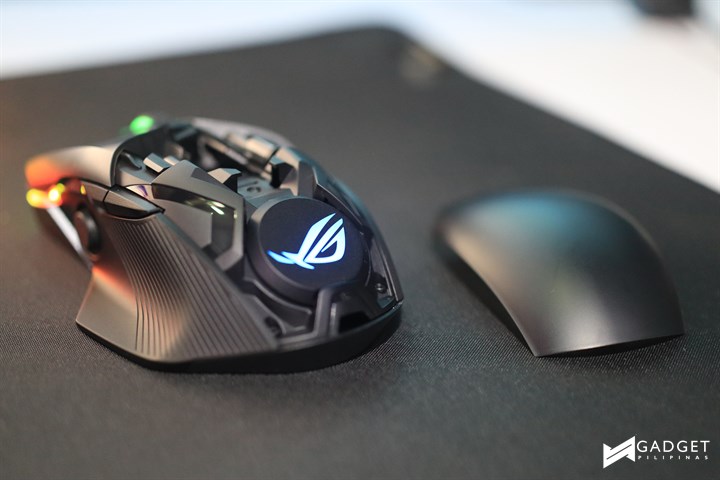 What's even cooler about this new mouse is its ability to be charged via Qi wireless charging. Unfortunately though, there was no way for me to test this as I did not have ROG's Balteus Qi. I tried using my charging pads for my Galaxy Note 10+ and iPhone XS Max, but none of which and both worked like a charm on my Chakram. I will, of course, update this review once I've tried it on.
Update: Your point of reference where to place the mouse on charging pads is the mouse's logo.
Verdict
I found the best gaming mouse on ROG Chakram. The flexibility the mouse offers in terms of connectivity, plus the features it is packed with to prolong its usage makes it a peripheral that is worthy of praise and award. If you're serious about playing the games you love to play, or commit for that much-coveted prize or trophy, I don't see any reason why you wouldn't consider getting this.
Giancarlo Viterbo is a Filipino Technology Journalist, blogger and Editor of gadgetpilipinas.net, He is also a Geek, Dad and a Husband. He knows a lot about washing the dishes, doing some errands and following instructions from his boss on his day job. Follow him on twitter: @gianviterbo and @gadgetpilipinas.