Smartwatches have become part of the lifestyle among Filipinos. Surprisingly, Filipinos love such technology, and brands like Huawei have had a great share of success in encouraging Filipinos to grab one for themselves. Apparently, smartwatches initially strike a sense of awe and bewilderment among Filipinos; and today, the reason for getting one has matured to a state where smartwatches are seen as technologies that enable a healthy lifestyle.
This March 22, 2019, Huawei will make the Huawei Watch GT available in the Philippines. It promises a couple of exciting feature for Filipinos, including a two-week battery life. The latter is, by far, its unique selling proposition; and neither their competitors like Fossil's Gen 4 Android Watch nor Samsung's Galaxy Watch can do. The former can last 24 hours, while the latter can only stay up for a maximum of 5 days.
Why does two-week battery life matter?
I find charging your smartwatch on a daily basis a cumbersome routine. For someone who has a very active and busy lifestyle, adding this routine to mix relatively add inconvenience to users.
There is something in Huawei Watch GT that makes two-week battery life in normal mode possible, and it has something to do in its dual-core architecture and ditching Wear OS. Yes, Huawei Watch GT does not use Android Wear as its main operating system but instead using their own LiteOS.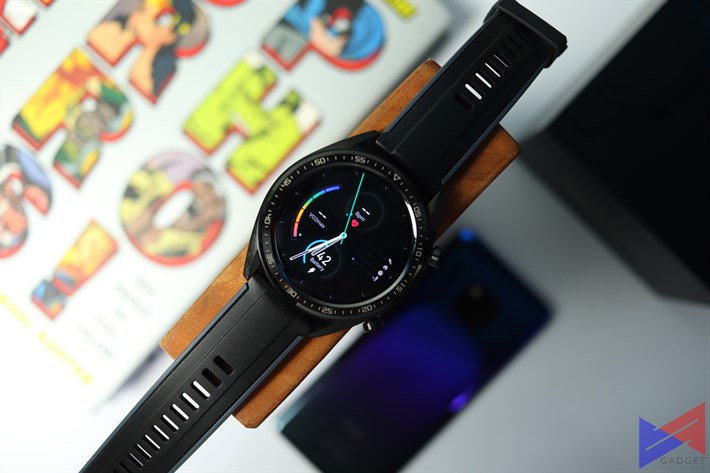 For starters, Watch GT only has 420mAh battery as opposed to Galaxy Watch, which has a 427mAh battery. This fact has great significance as the former can last more than 8 days longer than the latter in a single charge at normal mode. What's even interesting, which I am dying to really test, is that the Watch GT can last up to 30 days in watch mode. You may call it endurance mode if you want to, but what it basically does is it reduces its function to just being a watch. We are going to update you after two weeks and another 30 days to further test its battery life at normal and watch modes accordingly.
Having a smartwatch that tells more than time can be very useful for anyone. Whether you're looking for an all-rounder watch to something that will help you monitor your performance in a triathlon, there is no doubt that Huawei Watch GT is a good match for you.
Timeless Design
Huawei Watch GT is a watch, and like any other watches, there is a tall order for it to sport a design that inherits classic elements like large screen (or watch face), durable lug, strong and functional bezel and straps that lasts for ages.
While Watch GT is primarily designed for men because of its overall design and build, it will perfectly look well on any gender. For a watch, this one doesn't weigh much (only at 46g with strap) and looks just as big as a G-Shock. It houses a 1.399-inch AMOLED touchscreen with 454 x 454 with 326ppi. I am currently using the smartwatch right now, and I can attest that its screen looks stunning and sharp; colors are punchy with impressive quality of contrast and saturation. You will be glancing on its screen once in a while, and having a screen that displays the right amount of brightness and color is a must.
Features that make it more than just a watch
Data is key in understanding how our body works, and this is something that Huawei Watch GT can be very useful of. Its fitness functions are pretty robust, and it even features independent GPS position, fou-satellite, and three-satellite positioning, which helps the watch obtain accurate data.
Raising your arms, just like when you are checking the time, turns on the screen like magic to display the salient data and information you need for the day. Watchfaces are available and you can quickly switch to any face you want to match any activity you're into.
Meanwhile, here are some of the features that this smartwatch can do
More Accurate GPS Positioning: the watch supports simultaneous positioning of three satellite systems for rapid and accurate positioning; collaborative optimization of software and hardware ensures no drift in case of complex scenarios.
Smarter Heart Rate Monitoring: with innovative optical path design and professional customized elements, the watch can realize multi-source receiving and send for continuous and accurate measuring.
Diverse Exercise Modes: the watch supports diversified exercise modes and all-around exercise data tracking, and offers multiple professional exercise scenarios, thus ensuring scientific and safe training.
More Professional Daily Monitoring: with Trusleep™ scientific sleep monitoring and other professional technologies developed by Huawei, the watch features such functions as daily real-time reminder and offers more professional suggestions for observation and improvement of health.
Initial Verdict
This smartwatch and I are off to a great start. I have been using this for 2 days now, and I haven't even charged it from the time I put it out of the box – That's from 50% down to 30% in 2 days. I still can't say much about my full experience with its battery life though as I still need to use this for more than 2 weeks and another 30 days.
So far, in terms of its functions and features, it is leaps beyond what I have right now, which is the Amazfit Stratos. It has more features to boast off, at the expense of having to pay more. Pun intended.
Availability
Huawei Watch GT will be available this March 22,  2019. As of today, Huawei has not yet officially announced its price but we're guessing to be PhP12,999 for Graphite Black with silicone band, and PhP14,999 for saddle brown with leather strap.
Giancarlo Viterbo is a Filipino Technology Journalist, blogger and Editor of GadgetPilipinas.net, He is also a Geek, Dad and a Husband. He knows a lot about washing the dishes, doing some errands and following instructions from his boss on his day job. Follow him on twitter: @gianviterbo and @gadgetpilipinas.