When it comes to gaming laptops, ASUS ROG sure knows how to work its magic, by creating products that offer aesthetics that represent the brand's values, while delivering the performance that gamers need to have that competitive edge.
Such an example is the ROG Strix GL504GS Scar II. The second iteration of its kind, this one promises to be tons better than its predecessor in many aspects. The question is, can it walk the talk? let's find out in this review.
Specifications
| | |
| --- | --- |
| Processor | Intel Core i7-8750H |
| Graphics | NVIDIA GeForce GTX 1070 8GB |
| Memory | Up to 32GB 2666MHz DDR4 |
| SSD | M.2 NVMe PCIe 512GB SSD |
| HDD | 5400rpm 1TB SSHD |
| | 5400rpm/7200rpm HDD |
| Display | 15.6-inch Non-Glare IPS FHD |
| | 144Hz Refresh Rate |
| | 3ms Response Time |
| Keyboard | Backlit Chiclet Keyboard |
| | RGB (4-Zones) |
| Audio | 2 x 3.5W Speaker |
| Ports | 1 x USB 3.1 Gen 2 (Type-C) |
| | 2 x USB 3.1 Gen 1 |
| | 1 x USB 3.1 Gen 2 |
| | 1 x mDP 1.2 |
| | 1 x HDMI 2.0 |
| | 1 x LAN Port |
| | 1 x SD Card Reader |
| | 1 x Audio Combo Jack |
| | 1 x Kensington Lock Slot |
| Power | 230W Power Adaptor |
| Dimensions (WxHxD) | 36.1 x 2.61 x 26.2cm |
| Weight | 2.4kg |
Design
The Scar II retains its signature military camouflage marks,  and much of the aesthetics have undergone a makeover.
The ROG logo on the lid for instance, now has RGB lighting, The bezels on the display are now much more thinner as well, allowing the laptop to be narrower without reducing screen size.
There's also an RGB-enabled section on the chin, which unfortunately, has no other purpose than being an additional eye-candy.
It uses the same keyboard layout as the previous version. That means very little separation between the alphanumeric keys and the numpad, which is a nightmare for someone with big hands like me. Maybe it's just nitpicking, but I would often accidentally press Num Lock instead of Backspace.
The Caps Lock button has an LED indicator to show you when it's ON. I just hope that they did the same case for the Num Lock button. The ROG key is located at the upper left section, along with the volume control and microphone enabling buttons.
The keyboard  feels comfortable to type on. And while It doesn't give that satisfying clicky sound that you get from mechanical switches, it tends to be rather silent even with rapid typing. At least you won't disturb the guy on the other room. Except for the Numpad, spacing seems ample for every key.
The RGB lighting effect can be customized using the ROG Aura Core software, which we'll talk about later. Unfortunately, you can only set the effects on zones instead of individual keys.
One notable upgrade from the previous version is the 15.6-inch display, which uses an IPS panel, and now has 144Hz refresh rate and 3ms response time. This allows the Scar II to deliver smooth and fluid visuals, and makes it ideal for fast-paced action games and first-person shooters.
As far as ports are concerned, you get 4 USB 3.1 ports, one of which is a Type-C, a Mini DisplayPort and an HDMI 2.0 port for connecting the laptop to an external monitor, a dedicated LAN port, an SD card reader, a Kensington Lock slot, and a 3.5mm headphone and microphone combo jack.
Performance
Synthetic Benchmarks
The Scar II runs on an Intel Core i7-8750H, along with an NVIDIA GeForce GTX 1070 graphics card. Our review unit had 32GB of 2666MHz DDR4 RAM, and a 512GB SSD. At these specs, it should be able to handle most titles at Max settings at 1080p.
As expected, the laptop got pretty good scores in 3DMark, compared to similar machines. beating 57% of other results in Time Spy, 84% in Fire Strike, and 96% in Sky Diver.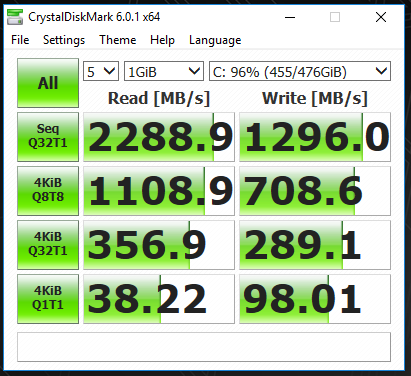 Disk performance is also what you would expect from an SSD. Bootup time takes less than 10 seconds, (including that splash screen).  I do recommend pairing it with another drive, since 512GB isn't really a lot when you consider the file size of today's games.
Memory Performance
Memory performance is also satisfactory, beating both the 6th and 7th gen processors by a margin.
Gaming Benchmarks
Regardless if it's a fast-paced shooter such as PUBG, an open world RPG like the Witcher 3, or an adrenaline pumping racing game like Project Cars, the Scar II managed to perform very well, with framerates not dipping below 60 fps in most cases, and even at the highest settings.
Thermal Performance

The Scar II does a good job of managing its GPU temperature across various situations. As for the CPU, I expected the values to be lower, but the good thing is that there seems to be minimal impact on performance.
Audio
Another notable improvement are the side-firing speakers, which are (pardon the exaggeration) miles apart from previous ROG gaming laptops I have reviewed.
The improvement is evident in all frequencies. The bass is now easily recognizable, and packs quite a punch for a laptop speaker. The vocals are well-pronounced, and that sweet s-sound is now audible. The highs are now crisp, and are more detailed. They're loud enough for a small room, and there's none to minimal distortion at high volume.
The speakers on this thing are so good that i no longer have to use headphones, or an external speaker just to get the sound I want.
Software
The ROG Gaming Center can be accessed by the press of a dedicated button, and allows you to monitor performance metrics, and gives you control over the different settings for your laptop. You're also given the option to disable the Windows Key, the Touchpad, or even the ROG Key itself.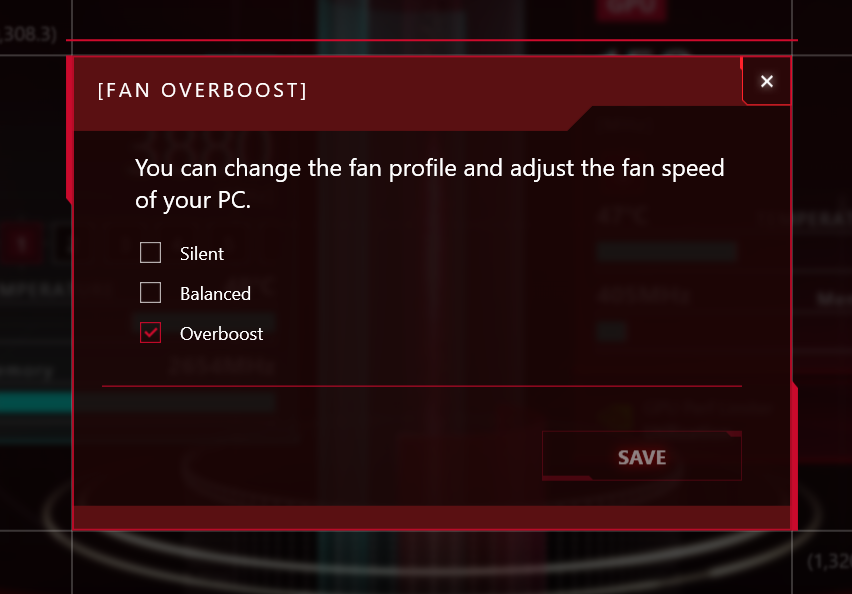 You can for example, set the fan speed depending on what you're doing. There's no Auto option here, so you'll have to adjust it manually each time.

You can also check out the ROG Game Visual options, which gives you a number of display presets for your activities. I for one, prefer the default or scenery mode, but you have other presets to choose from.
There's also Sonic Radar, which supposedly gives you information on where sounds are coming from. Useful for titles which require you to track your enemies movements to get an advantage.
You can also customize the RGB lighting effects via the AURA Core application, and enable or disable AURA Sync for other compatible devices.
Of course, you do get a couple of ASUS apps, which fortunately, can be uninstalled at your discretion.
ASUS ROG Strix GL504GS SCAR II Gaming Laptop Review
Our Verdict
The ASUS ROG Strix GL504 Scar II is perhaps, one of the most well-rounded gaming laptops out there, checking off much of the necessities in the list. The narrower profile combined with thinner bezels and new RGB-enabled elements make it an eye-candy. The screen's 144Hz refresh rate in conjunction with powerful hardware also makes it a dream machine for 1080p gaming. Delivering crisp and fluid visuals across different titles and genres. Its speakers have also greatly improved compared to the previous generation, delivering quality sound that adds to the immersion. The software is also well-refined, giving you easy-access to the essentials, from fan and display profiles, to RGB lighting. There are of course things that could've been better, such as the separation for the alphanumeric keys and the numpad, an LED indicator for Num Lock, and perhaps, more functions for the RGB-lit chin - maybe an indicator for your signal strength, or your in-game hp, the possibilities are vast. But these are relatively minor flaws, and I retain that this machine is very well worth its price (starts at PhP129,995), for all that you get with it.
What's Good
Narrower footprint, thinner bezels
Stellar gaming performance across various titles and genres
Dramatically improved speakers
Decent GPU thermal management
What's Not
No per-key RGB lighting
Too little separation between Alphanumeric keys and Numpad
New RGB-enabled elements are purely just for aesthetics
Keyboard feels underwhelming
CPU Thermal Management can be improved
Emman has been writing technical and feature articles since 2010. Prior to this, he became one of the instructors at Asia Pacific College in 2008, and eventually landed a job as Business Analyst and Technical Writer at Integrated Open Source Solutions for almost 3 years.