As part of its 30th anniversary, and in celebration of National Heroes Day, LG reaffirmed its commitment to community service with a donation in-kind to the Victoriano Luna Medical Center, a government hospital that provides sanctuary and support for injured soldiers, including those who suffered casualties in the Marawi Siege.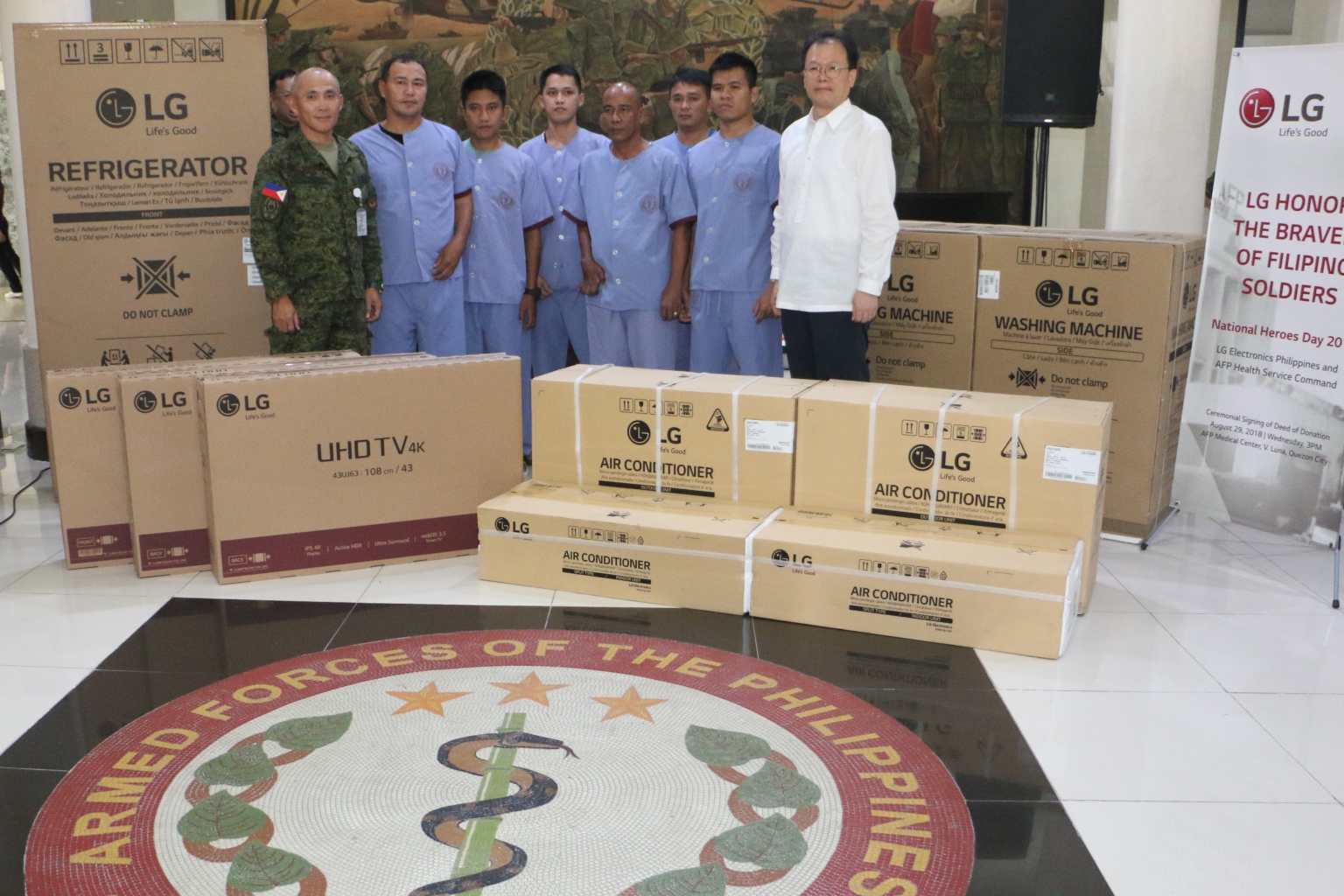 During a simple ceremony held last August 29 at the AFP Health Service Command, Mr. Inkwun Heo, Managing Director of LG Philippines handed over the following:
10 x 1.5 HP Dual Cool Inverter Split Type Air Purifying Deluxe Airconditioners,

2  x  

13kg Inverter Top Load Washing Machines

1 x 24 cu ft Side by Side Refrigerator

10 x 43″ Smart TVs
Col. Jeffrey Jake Gallenero, Philippine Army MNSA, Chief of Staff, AFP Health Service Command (AFPHSC) received the items with the utmost gratitude. Also present were the chiefs of each operating unit and staff of the AFP Health Service Command.
The project was executed to aid in the recovery of the valiant soldiers at the Orthopedic Heroes Ward  who sustained injuries in Marawi and other military efforts.
Each Air Conditioner's individual Air Purification Mode ensures that patients breathe clean air, and quiet operation means that they can sleep uninterrupted. The Smart TVs will provide entertainment not only to the soldiers, but also to their families at the wards, Officers' Room, and Isolation and Post-Recovery Rooms.
The hospital staff will also benefit from LG's donated refrigerator and washing machines, which will be placed in ward comfort rooms and at the pantry. The Side by Side Refrigerator is equipped with multiple air vents that circulate air to every corner of the Refrigerator, ensuring that food is properly cooled and remain fresh, while the 13kg Inverter Top Load Washing Machines have a Turbo Drum Feature that ensures the removal of even the toughest hospital stains.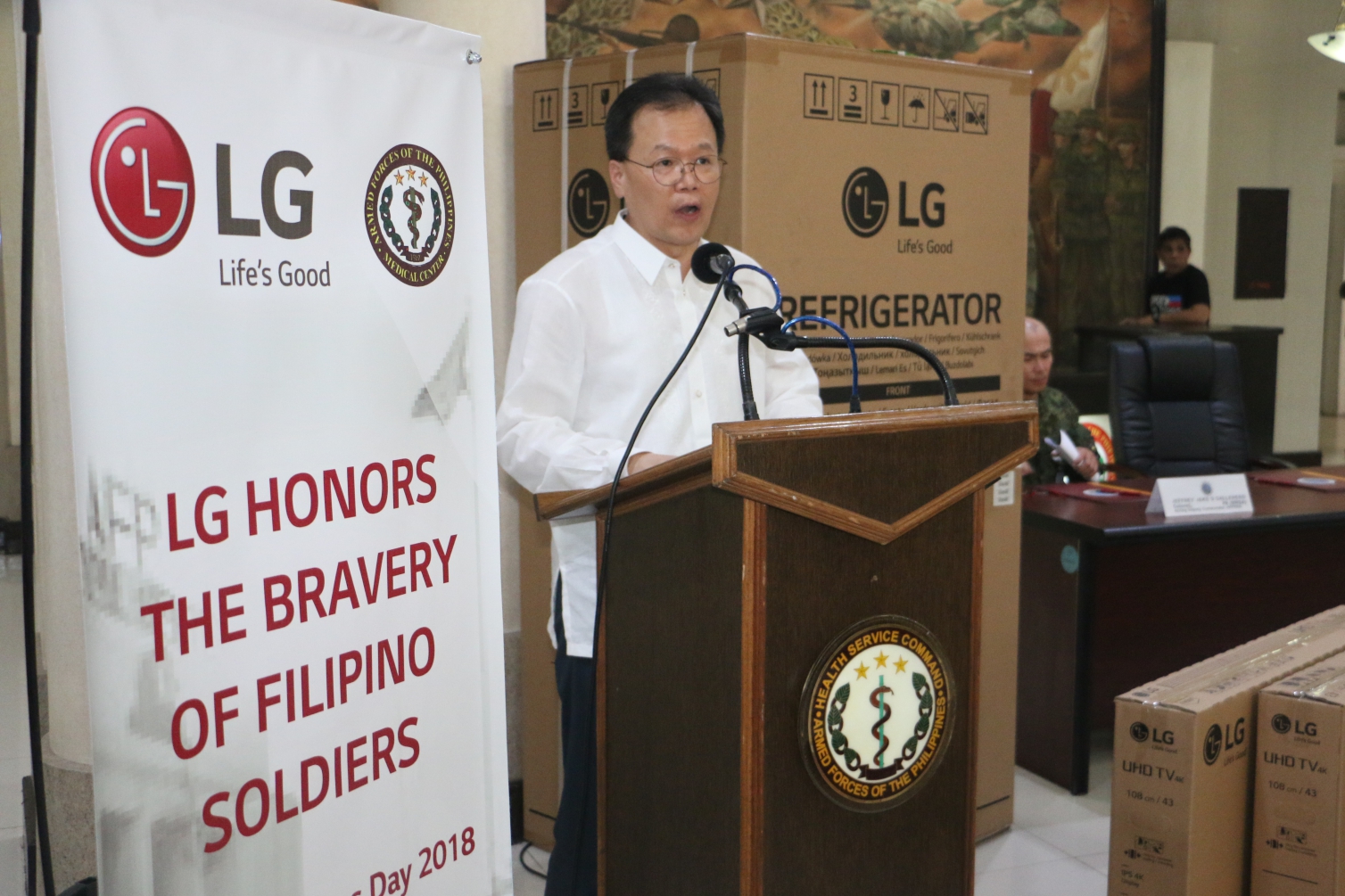 LG, through its products, is committed to making an everyday difference in the lives of individuals. On its 30th anniversary, LG Philippines is honored to support the injured soldiers of Marawi and the Victoriano Luna Medical Center, and we hope that our small gesture will go far in helping these soldiers on their road to recovery.
Mr. Inkwun Heo, Managing Director of LG Philippines
I, together with the staff of the AFP Health Service Command, would like to extend our heartfelt appreciation to LG Philippines. This deed of donation signing is a concrete realization that our soldiers' efforts are greatly recognized by the people they are serving. May you continue supporting our troops as they protect and secure the sovereignty of our nation.
BGen Augustus H De Villa, Acting Commander AFP Health Service Command (AFPHSC)
Earlier this year, LG also donated health kits, comprised of roughly 30,000 personal care products, and 200 computer monitors to 46 public schools in Marawi as part of its initiative in promoting products and services that serve the local community.
Emman has been writing technical and feature articles since 2010. Prior to this, he became one of the instructors at Asia Pacific College in 2008, and eventually landed a job as Business Analyst and Technical Writer at Integrated Open Source Solutions for almost 3 years.