With video games constantly evolving, it's always a challenge to manufacturers like Samsung as to how to make the experience more and more immersive.
Of course, monitors play a big part in this. And while some can't keep up with the developments. Samsung' got gamers covered. The tech giant has just launched its 49″ QLED Gaming Monitor, and it looks awesome.
Gamers love vivid and immersive adventures, whether they're exploring magical worlds or fighting in an all-out wa. The Curved Gaming Monitor is the gateway to the heart of exciting action, providing intense gameplay that engages the senses and broadens horizons.
Angelo Mendoza, Samsung Philippines' Display Solutions Product Manager
This gaming monitor uses a 49-inch super ultra-wide 32:9 curved screen that allows players players to see scenes the way the developers wants them to be seen. It gives you a feeling of being wrapped in the terrain, thanks to its 1800R curved panel.
Samsung's QLED technology makes colors look more stable, and games to appear more realistic thanks to accurate hues and tones.
The Curved Gaming Monitor also supports HDR. That means, there's no need to manually adjust the brightness to see deep shadows and silhouettes in games. It also supports FreeSync 2 for high-brightness pixels, outstanding black levels, and a wide color gamut for smooth gameplay.
It uses a VA panel that's built for speed, and boasts a 1ms response time along with a 144Hz refresh rate, ideal for fast paced shooters. Now, you can spot enemies faster, as it provides a quicker image transition.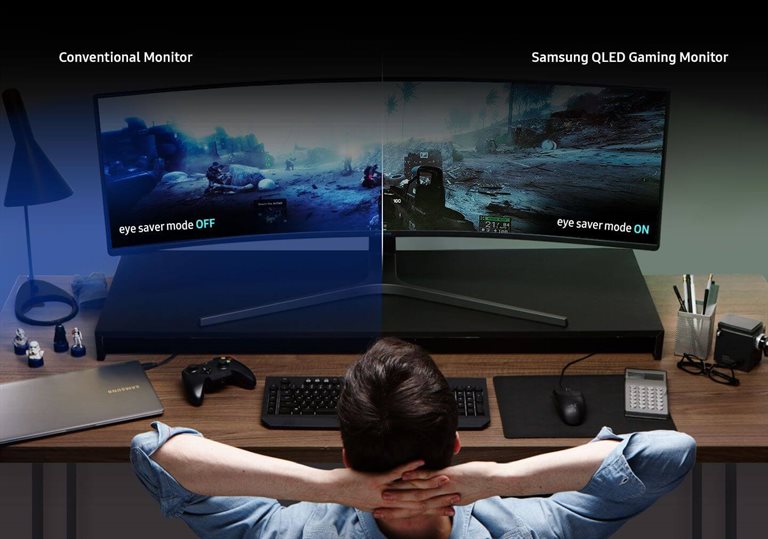 The Easy Setting Box takes multitasking to the next level by letting you split the screen into multiple displays of different sizes. Watch pro tips and tricks on one side, and play the game on the other.  To reduce eye strain, the monitor also features eye-saver mode, while also cutting down on blue light, providing you with improved visual comfort.
Our newest QLED monitor redefines the future of casual and competitive gaming, providing  most stunning visuals and realistic content. Our latest product solidifies our commitment to refine and introduce more game-changing innovations to meet the needs of players, developers, and partners in the coming years.
Angelo Mendoza, Samsung Philippines' Display Solutions Product Manager
For more information, you may visit samsung.com/ph/game-mon/.
Emman has been writing technical and feature articles since 2010. Prior to this, he became one of the instructors at Asia Pacific College in 2008, and eventually landed a job as Business Analyst and Technical Writer at Integrated Open Source Solutions for almost 3 years.