Fitbit started their campaign by introducing sleep trackers, heart rate monitors, pedometers – pretty much a lineup that monitors our daily activity. Sounds a little overwhelming but that's what their devices can do. Now that they've established their campaign here in our country, it is up to us whether we will use it to the fullest or not. We can take an example for this device that I am about to review, the Fitbit Blaze.
Design
Don't get me wrong, this smart device does not look very good compared to its older/younger brothers, at least for me. However, most of its capabilities are an improvement from the recent Fitbit Alta HR. The Fitbit Blaze is basically a removable watch from its strap and yes, you can change your strap from your liking. The Blaze's display is 1.25-inch touchscreen LCD (covered by Gorilla Glass 3) with a resolution of 240×180 pixels. It's an improvement over the mono-color tiny display from previous Fitbits.
The metallic frame from the strap simply hinges the watch itself, protecting it from dropping. It has three physical buttons: one from the left which usually works as a Back button and two from the right. At the back you'll see the heart sensor itself and magnetic charging strip.
The watch is water-resistant and not water-proof. Fitbit says that you can shower with it but you cannot swim with it and undeniably, smartwatches nowadays are getting water-proofed and this must be a negative connotation for the Blaze.
Performance
I use the Fitbit Blaze almost everyday especially during workouts. The Blaze can easily sync your data via Bluetooth to your smartphone. The app intensifies your need to exercise: it can extensively monitor your steps, your heart rate and it can also measure your calories burned within the day. After workout and about to sleep, it can also track your sleep whether you reached REM, light or deep sleep.
I am a 5'11" man that works out every other day. Every time I use the Blaze in the gym, I keep on adjusting the strap higher than my wrist because if it is not adjusted, it won't read my heart rate and calories so this has been so hassle for me but don't get me wrong, it gets the job well done.
The battery of Blaze works very well and I consider this as the best feature of the smartwatch. I've been using the Blaze three times a week and I get to only charge it every week so that's in total once in a week.
The Fitbit Blaze has a feature inside that makes it unique than any other Fitbit variants. If you will swipe the watch to the left three times, you'll see the FitStar. The FitStar basically helps you warm-up and workouts with 7-10 minutes intervals. By tapping any workouts you like, a GIF-animated will walk you through but the downside of this is that it cannot track you while doing the exercise and in that case, it is an absolute zero integration but at least it can walk you through it, right?
You can view your notifications in Blaze but it's limited. You can only view messages, accept calls, check calendar reminders and control music playback, and that's about it. Other smartwatches  can show notifications from your social media accounts, along with email, so this is a downside for the Blaze.
Verdict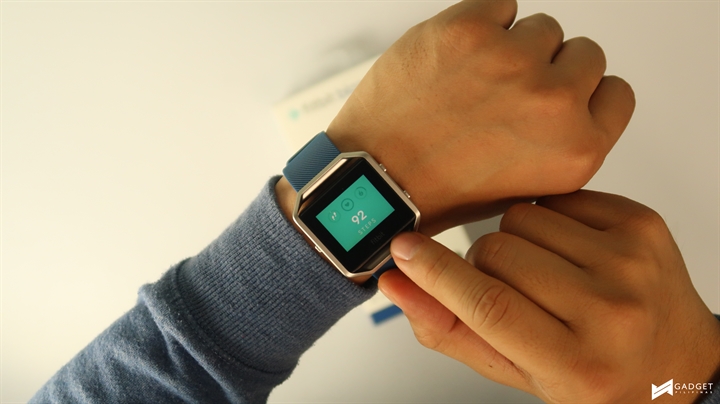 With the help of Fitbit Blaze, I get to see my steps per day, my calories burned and can track my sleep. The app is undeniably one of the best extensive reviews from Fitbit. This smartwatch definitely amazed me with its battery performance because of its charge-two-hours-use-five-days agenda. Notifications can really be limited but consumers today are demanding and this might not be a sellout for Fitbit.
Pros
Outstanding battery life
FitStar Included
Extensive app integration
Interchangeable straps
Cons
Limited notification
Water-resistant not waterproof
Mediocre design
Gianfranco is the co-founder of gadgetpilipinas.net. He graduated from Far Eastern University. A Psychology student turned tech-savvy. He's currently the HR Supervisor of Blip Media and one of the content producers of Gadget Pilipinas. He enjoys playing competitive video games and binge-watch American TV series.