Introduction
When it comes to quality monitors, LG is a brand that would most likely land at the top of the list. One of its newest gaming monitors under the UltraGear lineup, the 24GN600 offers a robust spec sheet that should satisfy both creatives looking for a monitor that can display accurate colors, and gamers who want fast response time coupled with a high refresh rate for those smooth and fluid visuals.
24GN600 Specifications
| | |
| --- | --- |
| Size | 24″ |
| Display Type | IPS |
| Refresh Rate | 144Hz |
| Response Time | 1ms GtG |
| Resolution | 1920 x 1080 |
| Brightness | 300cd/m² |
| I/O | 2 x HDMI |
| | 1 x DisplayPort |
| | Headphone Out |
| HDR | HDR10 |
| VRR | FreeSync Premium |
| Stand Adjustments | Tilt |
| Wall Mounting | Yes (100 x 100 cm) |
Unboxing
While the box of the 24GN600 isn't difficult to carry around due to its smaller size, LG still opted to place a hole on each side so that you can easily carry it without having to tie it up. Inside, accessories are placed in their own compartments in a piece of styrofoam that also protects the panel.
Inside the box, you'll find the base for the stand, the part that connects to the monitor, a cover cap, and a number of screws. There's also an HDMI cable, some paperwork, and of course, the power brick.
Stand Assembly
Like most monitors, this one uses two parts for the stand, a stem and a base. The only difference is that instead of using a big screw that has a handle on its tail, which means you don't have to use a screw driver to connect the base onto the stem, you'll need an actual screw driver as the stand uses more traditional screws.
Screw the base to the stem, and then the base to the back of the monitor. There's also a plastic cap included to cover the point where the stand and the monitor are joined.
Apart from being a bit wobbly, the stand doesn't offer much for adjustment. Just tilt. I guess at this price point, it's too much to ask, but it would've been nice.
Design and Build Quality
You get a display that's surrounded by thin bezels, except for the chin which bear the LG logo. There's a joystick underneath the center section, which is used to navigate the on-screen display. It uses an anti-glare surface which means you don't get those unwanted reflections.
Apart from that, there are no physical buttons on this monitor. At the back, there are a couple of HDMI ports, a DisplayPort, and lastly, a headphone out.
24GN600 uses a 24-inch IPS panel with a resolution of Full HD or 1920 x 1080. while some people may argue that 1440p is the new sweet spot in terms of resolution, 1080p is still great especially for a monitor of this size, and considering not all gamers have a GPU that's powerful enough to run games on 1440p.
This monitor also boasts a 144Hz refresh rate, which in my opinion should be a minimum on any gaming monitor, as well as a 1ms response time, and supports wall mounting for a cleaner setup.
On Screen Display
Apart from typical adjustments like brightness, contrast, and sharpness, 24GN600 also features Motion Blur Reduction, Black Stabilizer, FreeSync Premium, and HDR10 support for improved colors and contrast. It offers a number of display profiles to choose from, and can also display a crosshair.
Navigating the OSD is a breeze, thanks to the dedicated joystick located underneath the center section. The button is made of plastic as far as I can tell, but it doesn't feel flimsy, and is quite responsive.
If you're using an NVIDIA card, you can also enable adaptive sync via the NVIDIA Control Panel. Do note that this isn't in the official list of G-Sync compatible monitors.
Viewing Angles and Backlight Bleeding
24GN600 offers good viewing angles, with text still readable and graphics still fairly visible even in close to extreme angles.
It doesn't have any backlight bleeding, but it does have IPS Bleed, which is pretty common for this type of panel.
Color Accuracy
For AdobeRGB, we're looking for a value that's as close to 78% accuracy to say that it's good for editing. 24GN600 managed to score 75%, which isn't bad, but could be better. It covers 98% of the sRGB color space, which is way above the 80% that we're looking for, and very close to LG's claim of 99%, making it great for gaming.
Tone Response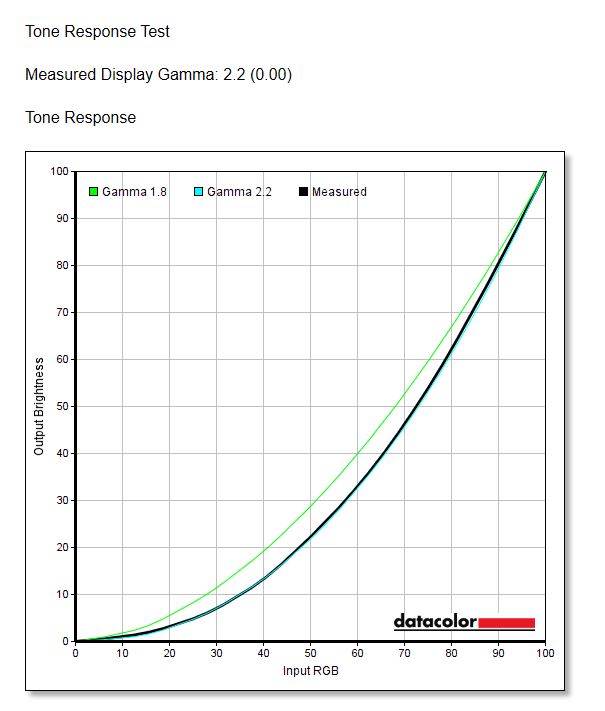 For Tone Response, we're looking for a value of 2.2 or close to it. The 24GN600 scores exactly 2.2, which means you get deep blacks.
Brightness and Contrast

Apart from inconsistent increments per 25% increase in brightness, which means the monitor doesn't use a constant amount of energy to increase its brightness, the test also shows a maximum brightness of only 239.7, a decent number when gaming on dim lighting to a completely no light setup. If gaming on a bright room with lots of sunlight, you could have some issues with visibility.
Gaming Performance
Comparison
| | | | | |
| --- | --- | --- | --- | --- |
| | Lenovo G25-10 | AOC 24G2 | ASUS VP249QGR | LG 24GN600 |
| Display Size | 24.5 | 23.8″ | 23.8″ | 24″ |
| Panel Type | TN | IPS | IPS | IPS |
| Resolution | 1920 x 1080 | 1920 x 1080 | 1920 x 1080 | 1920 x 1080 |
| Refresh Rate | 144Hz | 144Hz | 144Hz | 144Hz |
| Response Time | 1ms | 1ms MPRT | 1ms MPRT | 1ms GTG |
| | | 4ms GTG | | |
| I/O | DisplayPort x 1 | DisplayPort x 1 | DisplayPort x 1 | DisplayPort x 1 |
| | HDMI x 1 | Headphone Out | HDMI x 1 | HDMI x 2 |
| | Audio Out | | VGA x 1 | |
| | | | PC Audio Input | |
| Wall Mounting | Yes | | Yes | Yes |
| VRR | G-Sync Compatible | FreeSync Premium | FreeSync Premium | FreeSync Premium |
| Stand Adjustments | Tilt, Lift | Tilt, Swivel | Tilt | Tilt |
Most monitors at this price point offer almost the same features. A few could have the advantage of having more I/O ports as well as more flexible stands.
Conclusion
For PhP12,650, LG 24GN600 brings a good balance of good gaming performance and accurate color reproduction. You also get added features like HDR10 support, G-Sync Compatibility, AMD FreeSync Premium, and a joystick for navigating the OSD.
On the flip side, it's stand is wobbly, and very limited in available adjustments. The front bottom bezel could also use be just a bit thinner. It's not as consistent in terms of brightness, and its maximum brightness isn't anything to write home about.
Emman has been writing technical and feature articles since 2010. Prior to this, he became one of the instructors at Asia Pacific College in 2008, and eventually landed a job as Business Analyst and Technical Writer at Integrated Open Source Solutions for almost 3 years.