Introduction
ASRock's debut of the Steel Legend motherboard line in the form of the B450 and B450M Steel Legend has been quite successful thanks to their feature suite and affordability. The Steel Legend series is known for its Black and White design which is scarce and crazily expensive for motherboards.ASRock's Steel Legend motherboards particularly the B450 and B450M has been the top choice of motherboards for gamers on a budget and they have been also featured on our Gaming PC Build Guides. Since then, ASRock also launched the Steel Legend line alongside Intel's 8th Generation motherboards and has also made its way to this year's 500 series chipset. Like its team red counterpart, the Intel Steel Legend motherboards also received the same praise from enthusiasts with their competitive price. The latest iteration of the Steel Legend line comes in the form of the ASRock Z590 Steel Legend – will it be able to keep up with its predecessors' fame? Let's find out
| | |
| --- | --- |
| Socket | LGA 1200 |
| Chipset | Z590 |
| Form Factor | ATX |
| Voltage Regulator | 14 Phase (12+2, 50A MOSFETs) |
| Video Ports | (1) HDMI 2.0 |
| | (1) DisplayPort 1.4 |
| USB Ports | (2) USB 3.2 Gen 2, Type-A and Type-C (10 Gbps) |
| | (2) USB 3.2 Gen 1, Type-A (5 Gbps) |
| | (2) USB 2.0 |
| Network Jacks | (1) 2.5 GbE |
| Audio Jacks | (5) Analog + SPDIF |
| Legacy Ports/Jacks | PS/2 |
| Other Ports/Jack | ✗ |
| PCIe x16 | (2) v4.0 x16, (x16/x0 or x16/PCIe 3.0 x4) |
| PCIe x8 | ✗ |
| PCIe x4 | ✗ |
| PCIe x1 | (2) v.4.0 (x1) |
| CrossFire/SLI | 2-Way CrossfireX |
| DIMM slots | (4) DDR4 4800+(OC), 128GB Capacity |
| M.2 slots | (1) PCIe 4.0 x4 / PCIe (up to 80mm) |
| | (1) PCIe 3.0 x4 / PCIe + SATA (up to 80mm) |
| | (1) PCIe 3.0 x4 / PCIe + SATA (up to 80mm) |
| U.2 Ports | ✗ |
| SATA Ports | (6) SATA3 6 Gbps (RAID 0, 1, 5 and 10) |
| USB Headers | (1) USB v3.2 Gen 2×2 (Type-C) |
| | (2) USB v3.2 Gen 1 |
| | (2) USB v2.0 |
| Fan/Pump Headers | (7) 4-Pin |
| RGB Headers | (2) aRGB (3-pin) |
| | (2) RGB (4-pin) |
| Legacy Interfaces | ✗ |
| Other Interfaces | FP-Audio, TPM |
| Diagnostics Panel | Yes (4-LED Q-LED display) |
| Internal Button/Switch | ✗ |
| SATA Controllers | ✗ |
| Ethernet Controller(s) | (1) Realtek Drason RTL8125BG (2.5 GbE) |
| Wi-Fi / Bluetooth | Intel WiFi-6E AX210 (802.11ax, 2×2, MU-MIMO, OFDMA, BT 5.2) |
| USB Controllers | ASMedia 1074 |
| HD Audio Codec | Realtek ALC897 |
| DDL/DTS Connect | ✗ / ✗+ |
| Warranty | 3 years |
Z590 Chipset Overview
Chipset
Z590
Z490
Supported CPUs
10th Gen Intel Core Processors
10th Gen Intel Core Processors
11th Gen Intel Core Processors
11th Gen Intel Core Processors
Chipset Link
DMI x8 (11th Gen only)
DMI x4
PCIE Lanes(CPU)
20
16
PCIE Specification(CPU)
4
3
PCIe Config
x16,x8/x8, x8/x8/x4+4
x16,x8/x8, x8/x8/x4
PCIe 3.0 lanes
24
24
SATA 6.0 Gb/s Ports
6
6
USB 3.2 Gen 2×2 (20Gb/s) Ports
3
0
USB 3.2 Gen 2×1 (10Gb/s) Ports
10
6
USB 3.2 Gen 1×1 (5Gb/s) Ports
10
10
USB 2.0 Ports
14
14
The Z590 chipset supports both 10th Gen and 11th Gen Intel Core processors. Z590 chipset motherboards generally have more connectivity versus Z490. The main difference being PCI-E 4.0 support but it will only work if the Z590 motherboard is paired with an 11th Gen processor.
ASRock Z590 Steel Legend Unboxing and First Impressions
The Z590 Steel Legend Sports an updated packaging design with a more premium feel and a camo-like design which is almost totally different from the B450 box design. The back part of the packaging shows almost everything you need to know about the motherboard in regards to its specs and features which is not the usual case for motherboards.
ACCESSORIES LIST
2x M.2 Screws
2x SATA Cables
1x CD Drivers
ASRock Z590 Steel Legend Motherboard Manual
ASRock Graphics Card Holder
Sticker Pack
2x WiFi Antennas
2x Velcro Strap
Unlike previous Steel Legend motherboards, the ASRock Z590 Steel Legend features steel-like accents throughout the heatsinks for a more premium feel. The gray PCB print design on the front paired with the white and shiny gray accents make a military camouflage-like design. The backside on the other hand has now design with only a steel bracket that holds the I/O shield and shroud combo.
Z series or overclocking ready motherboards tend to sport an additional 4-pin EPS 12V connector to provide more and stable power to the CPU when overclocked. However, with the ASRock Z590 Steel Legend, ASRock included an additional 8-pin EPS 12V connector instead for that overclocking headroom. While the additional wattage of the extra 4-pin may seem to be too extra for some, it's nice to see ASRock going the extra mile to provide the option for PC builders.
The ASRock Z590 Steel Legend WiFi 6E uses 12+2 Dr.MOS power configuration. A Richtek RT3609BE 6-channel controller handles the 12 Vishay Sic654 50A MOSFETs in a teamed configuration. This VRM setup is more than enough for 10th and 11th Gen processors, even the Intel Core i9 11900K.
Memory support on the ASRock Z590 Steel Legend WiFi 6E is limited to a max speed of 4,800Mhz, the lowest of all the Z590 motherboards we reviewed so far. Don't get me wrong, DDR4 4,800Mhz is still plenty fast, it's just not as jaw-dropping after seeing 5,333Mhz support.
Connectivity-wise, the ASRock Z590 Steel Legend WiFi 6E has the standard configuration with a surprising inclusion of a PS/2 port. I personally find five USB-A ports lacking especially for a Z590 board not to mention that two of them are USB 2.0 ports.
As the box packaging and model name implies, the ASRock Z590 WiFi 6E supports the latest WiFi 6 standard via the Intel 210 BT and WiFi module. ASRock's decision to put the WiFi module on the PCI-E slot area not to mention very close to the first PCI-E x16 slot. The placement of the wifi module, as well as the second M.2 slot, may cause some heat issues depending on the graphics card installed.
There are two detachable M.2 heatsinks on the ASRock Z590 Steel Legend.
The first M.2 slot is the only M.2 slot that supports PCI-E Gen 4 so it's surprising to see that it's also the one that has the shorter heatsink given the well-known heat issues of Gen 4 SSDs.
Benchmark Setup and Methodology
Gadget Pilipinas' testing philosophy is to provide detail-oriented results as accurately as possible that our readers can replicate our tests given that these conditions are met. Different benchmarking apps and sequences are used depending on the component or device being tested.
We use CapFrameX as our FPS capture and analysis tool for all our gaming benchmarks. The latest build version of Windows 10 and WHQL certified drivers are used for our benchmarks. Readings such as temperatures and power draw are recorded using HWMonitor and HWInfo64 as well as other relevant software used for cross-checking.
Cinebench R20
V-Ray
HWBot x265
Handbrake
Blender
Corona Renderer
Super PI – 32M Calculations
wPrime –1024M Calculation
ASRock Z590 Steel Legend Benchmarks
SuperPI 32M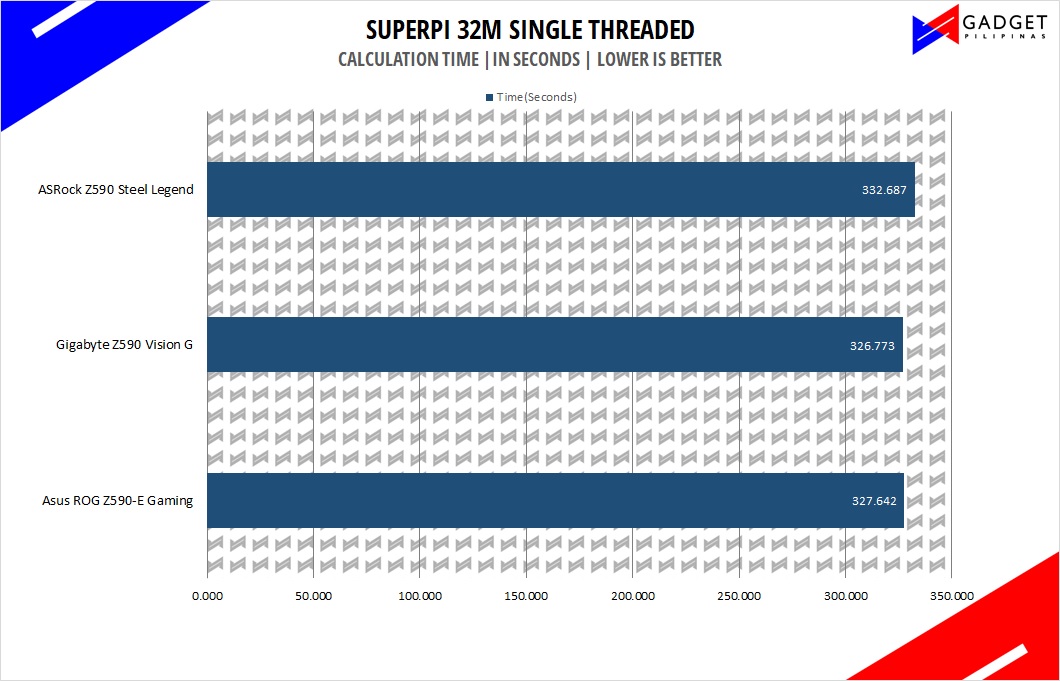 SuperPI is a single-threaded benchmark application that lets the CPU calculate Pi(π) to the nth digit. In this benchmark, we selected the Pi calculation to 32M, the highest available for the app.
wPrime 1024M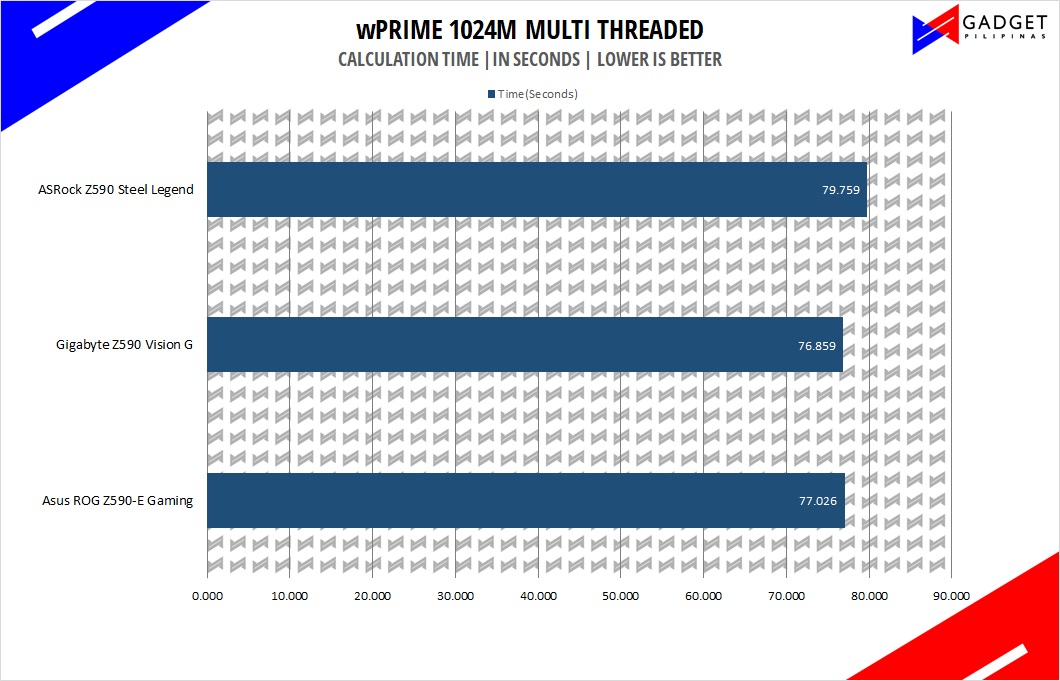 wPrime is a benchmark tool similar to SuperPI, but the former takes on finding prime numbers using Newton's Method. The benchmark is set to calculate 1024M, and measured according to calculation time.
GeekBench 5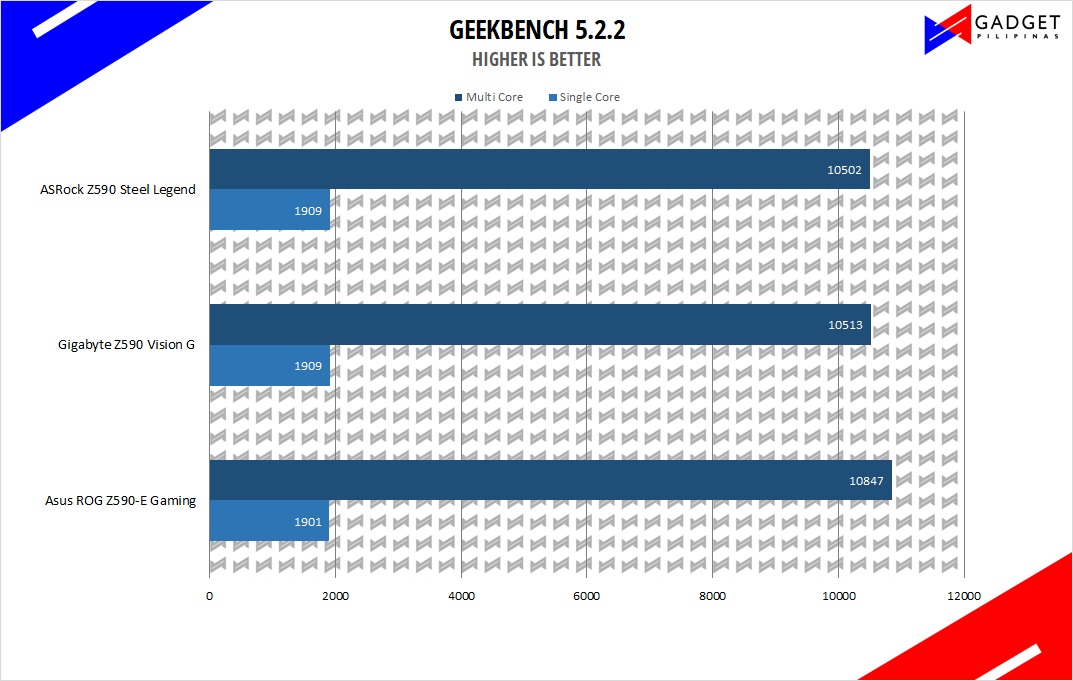 Geekbench is a multi-platform benchmark that's used to gauge CPU performance and compare them across Windows, Mac, and Mobile. Geekbench 5 is the latest version and doesn't rely on memory as much compared to the previous Geekbench 4, making it a great tool to measure both single-core and multi-core CPU performance.
CINEBENCH R20 & CINEBENCH R23
Maxon's Cinebench benchmark is one of the most iconic benchmark applications used by reviewers and enthusiasts. The latest Cinebench R20 uses the latest rendering architectures, including Intel's Embree ray tracing technology and other advanced features from AMD and Intel that allow users to render the same scene on the same hard. Cinebench R20 uses a larger and more complex testing scene than Cinebench R20 by about 8x computational power and requires 4x the memory.
V-RAY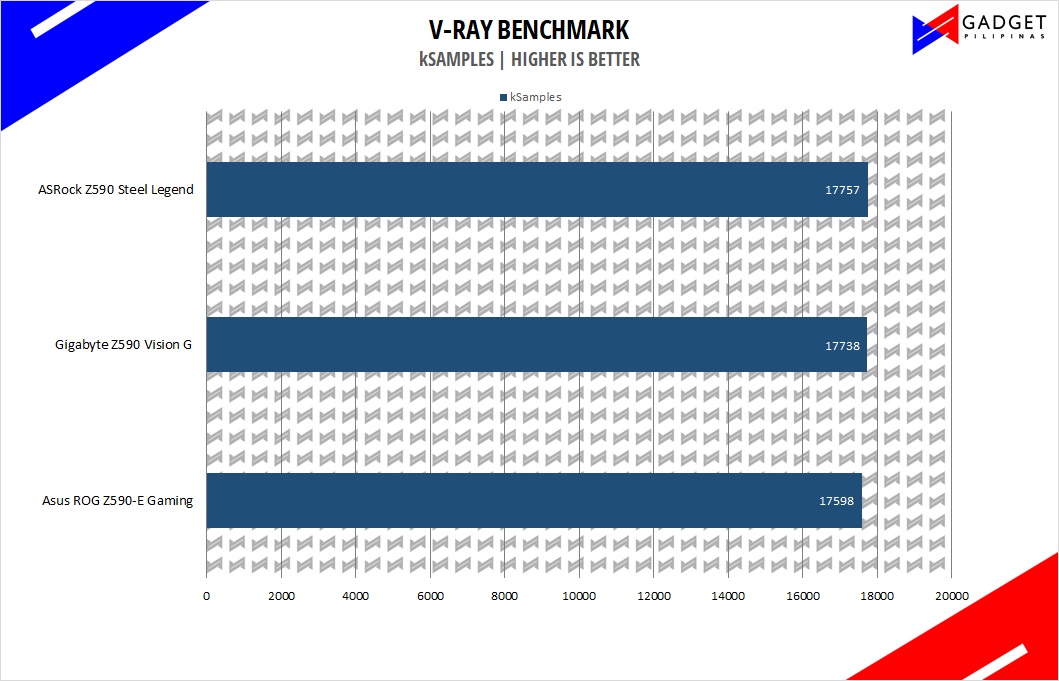 V-Ray Benchmark is a stand-alone version of V-Ray developed by Chaos Group. It is designed to test the CPU and GPU by rendering sample scenes at a fixed amount of time. V-Ray is a plug-in mostly utilized by 3D computer graphics software applications mainly for industrial design, product design, architecture, film, and video game production. V-Ray is not limited to 64-threads as it supports multi and mega-threading.
HWBOT x265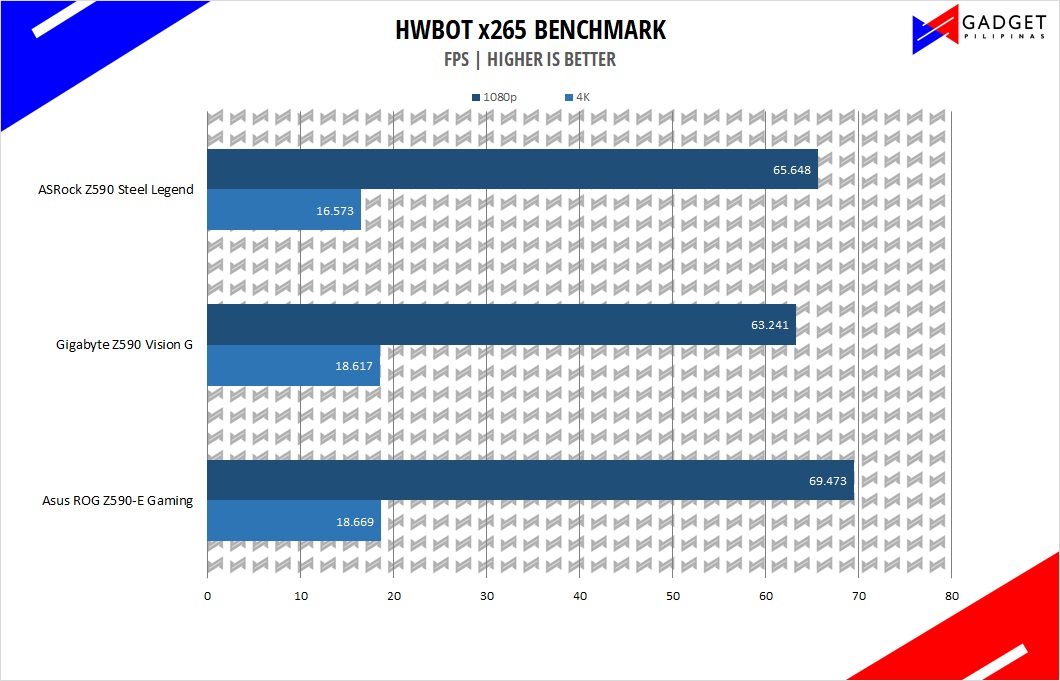 HWBOT x265, developed by Czech overclocker Havli, is a multi-threaded application that takes advantage of modern CPU instruction sets with support for older CPUs.  HWBOT x265 benchmark uses the x265/HEVC encoder that renders a video in 1080p or 4K resolution.
HANDBRAKE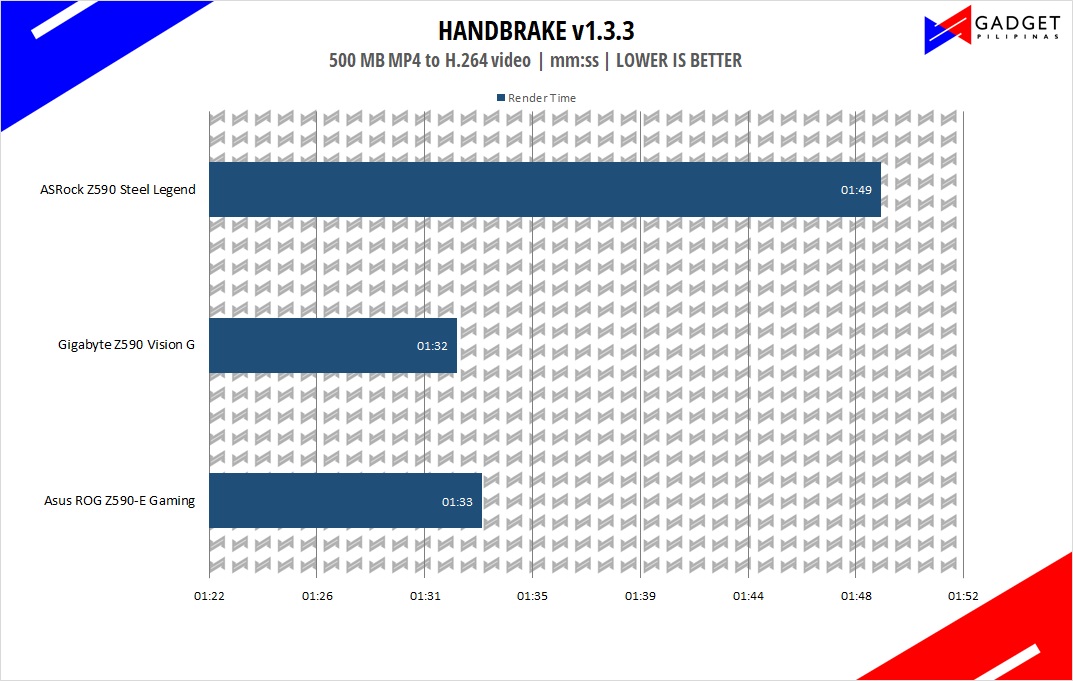 Handbrake is a top-rated open-source video conversion software that is used by professionals, enthusiasts, and even reviewers as a reference point mainly because of its wide variety of media codecs. The rise of streaming and blogging makes video content, both encoding, and transcoding necessary for these people, regardless if they're seasoned professionals or just starting out. Handbrake also takes advantage of AVX-512 and OpenCL to accelerate certain types of media codecs. Our Handbrake benchmark converts a 500MB MP4 video to H.264 to measure the processor's performance.
BLENDER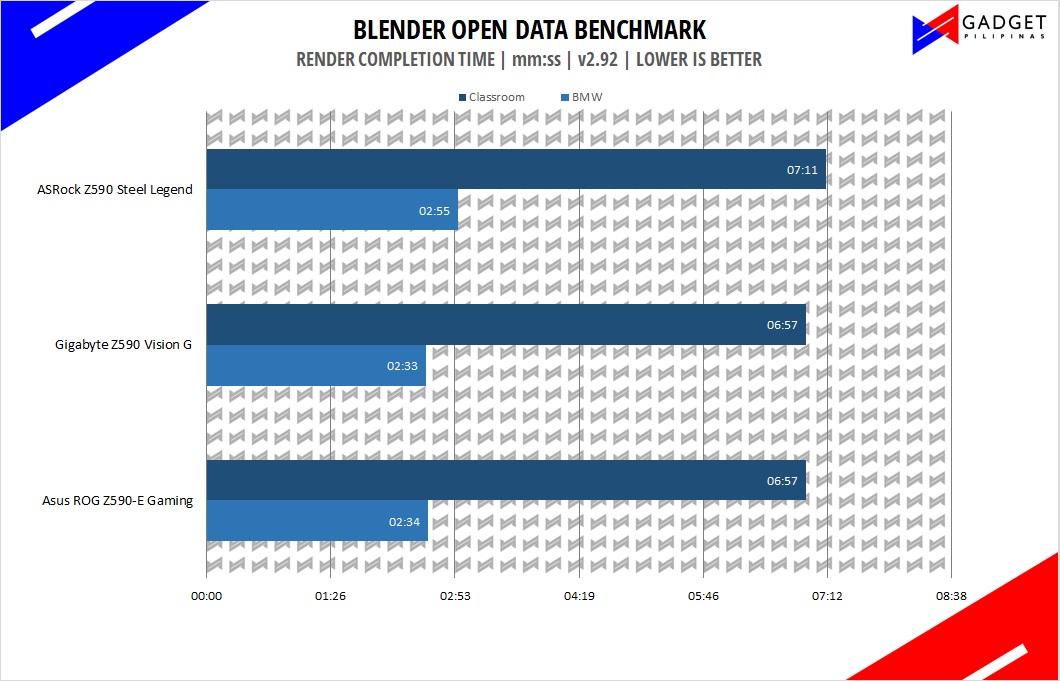 Blender is a widely used, free, opensource 3D creation suite. It supports the whole 3D pipeline process from modeling, rigging, animation, simulation, rendering, and even motion tracking. Blender has become a standard for CPU benchmarks with the BMW27 and Classroom scene most used. This prompted the company to release Blender Open Data Benchmark in 2018, a benchmark-specific version that allows users to run a preset benchmark and share the results online similar to 3D Mark.
CORONA RENDERER
Corona Renderer is an unbiased photorealistic render available for Autodesk 3Ds Max, Maxon Cinema 4D, and as a stand-alone application. Its popularity, similar to Blender, led Chaos Group to develop a benchmark version of the app which runs using Corona Renderer 1.3. Workstation systems, especially CPUs, can utilize Corona Benchmark as up to 72 threads can be used in the benchmark, making it very suitable for CPUs with various price segments.
ASRock Z590 Steel Legend UEFI BIOS
Easy Mode is set as the default landing page when you go into the ASRock Z590 for the first time. Pressing F2 will toggle the BIOS to Advanced Mode with the Tweaker tab set as the default page.
ASRock's Z590 motherboard has the standard 6-tab BIOS with an extra tab for saving the changes and profiles. It has a pretty standard BIOS layout without many sub-categories to go through certain settings. If you're into overclocking, you'll mostly spend your time in the OC Tweaker tab which is sub-categorized into CPU, DRAM, and Voltage configuration. For this review, we used the default UEFI BIOS configuration aside from setting our RAM's XMP setting.
ASRock Z590 Steel Legend VRM Thermals
Our stress test consists of an Aida64 system stability test with a Cinebench R20 multi-core render loop running for one hour. We then measured the VRM temperatures as well as the back-side of the PCB using our K-type thermometer. After one hour's worth of stress test, we only recorded a peak temp of 52°C – the lowest so far. Though it's worth noting that the Z590 Steel Legend's default setting isn't as aggressive compared to ASUS and Gigabyte's profiles.
CONCLUSION
All in all, the ASRock Z590 Steel Legend WiFi 6E is a well-rounded motherboard that packs impressive features at an affordable price of Php 10,200. The dominant white and camo-like design is arguably one of the best white-colored motherboards, not to mention it has one of the brightest RGB lighting I've seen in a motherboard. The ASRock Z590 Steel Legend WiFi 6E offers more than the basics of a Z590 motherboard with cherry-on-top features that you would only normally see in flagship motherboards while having an attractive design and competitive price. If you're in the market for an affordable Z590 motherboard that can take advantage of the latest Intel 11th gen processors(even the i9 11900K), then the ASRock Z590 Steel Legend is a great bargain that you shouldn't miss.