Lenovo Legion, in partnership with AMD, launched the Legion Academy Caster Program in May. It was announced as a pilot program that focuses on developing skills and providing opportunities for new and upcoming talents. The program is part of the company's commitment to grassroots development in the region. 
We were given the opportunity to interview everyone involved in the project, namely Lenovo Philippines, the mentor and the caster program finalists.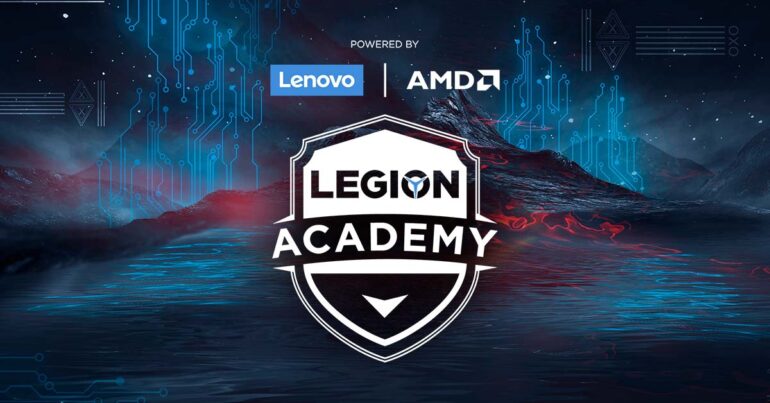 "Lenovo Legion has always focused on the grassroots; amateur tournaments, community activities and workshops, all dedicated to sustaining a healthy regional esports community in Asia Pacific. As the interest of competitive gaming continues to grow, so did the need for better tournaments, activities and talents supporting them," said Tristan Ver Gonzales, Product Manager Lead, Lenovo Philippines.
In addition to Lenovo's tournament platform, the caster program aims to provide more opportunities for casters, further emphasizing the companies' goal to support the industry.
"Expanding on an already established tournament platform, the Legion Academy's focus on shoutcasters is a stepping stone for us to fully explore how we can best provide for the region while also using our established platforms to generate opportunities for gamers in the region," added Gonzales.
At stake is an AMD-powered Legion 5 laptop and a non-exclusive casting contract worth USD 1,000 each for the top two winners and the third and fourth placers will bring home Legion accessories worth USD 200. Lastly, the finalist that is voted 'Most Popular Caster' will receive a Legion Y27q-20 gaming monitor. 
Academy Caster Program Mentor Edwin "Artickuno" Theo Rodriguez
An academy wouldn't be complete without a teacher, or in this case, a mentor. Edwin "Artickuno" Theo Rodriguez, a season veteran shoutcaster who got his big break as a contracted talent with Garena Philippines back in 2016 was called to share his expertise.
He has worked in various countries in Asia like China, Japan, and Thailand. While his career started with being a League of Legends caster, he eventually had the opportunity to branch out and cast different games with years of freelance work. These local and international experiences made him an ideal mentor for the aspiring shoutcasters.
We asked him what it was like sharing his expertise with the aspiring shoutcasters that joined the program.
"It's been a blast so far! You can feel the enthusiasm and passion coming in from our participants that made the Top 4, which is very reminiscent of how I started: just eager to learn new things and seize any opportunity I can to improve and hone my craft as a caster," said Artickuno
The Final 4
The first iteration of the program focused on Valorant shoutcasters and garnered entries from a variety of aspiring shoutcasters. Ultimately, it came down to the Final 4 composed of Dash, ExcelSor PH, CasterYuuske, and Zaco.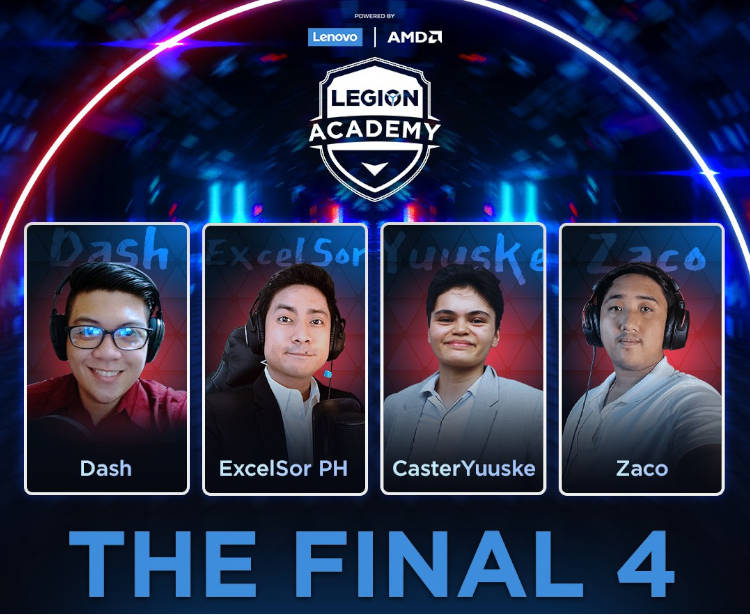 The Final 4 have quite a variety of games that they've previously casted. Dash has casted a mix of MOBA games as well as Counter-Strike: Global Offensive (CS:GO). ExcelSor PH, on the other hand, has more experience casting collectible card games but is looking to learn to improve on casting FPS games. CasterYuuske joined The Madrigal Project, a free online course for esports broadcasters, and is looking to continue enhancing his craft. Lastly, Zaco has mostly covered CS:GO but is exploring to expand his horizons to Valorant. 
Despite coming from different backgrounds, they applied for the academy, with the desire to further hone their skills and bring their casting to the next level.
As finalists, they went through workshops and did a live shoutcast of a Lenovo Legion AMD Valorant tournament. The journey has definitely been tough and unique for them.
Whether it was from the games itself, casting as a whole, or even casting with new people, we were pretty sure that their journey in the Legion Academy was exciting. Which is why we asked the four finalists what experience surprised them the most. To which, they replied:
Dash: "I was really surprised that we went with solo casting for the last part of our process in the academy and that showed me a lot of flaws that I fixed and skills that I picked up along the way. The way that I talk was enhanced when I tried to practice by myself preparing for the last performance. It also showed the love that I have for the game, Valorant, and how much content and information I consume just to get updated and be knowledgeable whenever I cast. I would never be aware of this if this process didn't happen."
ExcelSor PH: "I was actually surprised that what I do for CCG casting is the same for FPS casting in terms of preparation although a bit harder as there are more people to reach out to for a personality profile, especially in amateur/semi-pro leagues. A skill I picked up along the way is collaborating with more experienced FPS casters to learn the tricks of the trade-in bits and pieces. Each of the experienced professional casters in the FPS scene has given a piece of the pie in becoming a great FPS caster. They all have something different to say and I'm like a sponge taking it all in."
CasterYuuke: "What really surprised me in the process of my Legion Academy journey is the importance of honing the relationships you have with the people you meet through the esports industry. There is a professional standard to be upheld but of course, it is crucial to bond with your co-workers. Most especially caster to caster to create a dynamic and with the production so you can understand their role in the whole show. I truly appreciated my time in the Lenovo Legion Academy as a finalist, both behind the scenes as well as in front of the camera!"
Zaco: "Talking to people from the academy really had me interested in pursuing this career because of the many opportunities given to me as a new caster in the industry. On the last few days of the program, we were able to talk among ourselves and open up with each other, which helped us get to know our different personalities as casters as well. I learned that everyone has their own specialty and character when it comes to casting.  It's really great knowing that everyone is different and I find that very beautiful."
An experience and journey isn't complete with one moment that you'll take with you for a long while. We asked them what has been the biggest highlight for them during the Legion Academy caster program. Here's what they replied:
Dash: "I learned a lot about the industry during the time that we had in the academy.  We were all equipped with the basics and rules of casting which will help us survive in this industry. Giving us tips on how to create our own branding and how to market ourselves was a great start for us. I've learned that surviving in the industry is brutal so you need to be more proactive in finding clients and offering them your services."
ExcelSor PH: "One highlight I learned through the academy is that being proactive is always a pro and never a con. This will help me in my future career in gaming and esports as I have always been hesitant in being more proactive as I am afraid that it might be too forward. From what our mentor Arctikuno said, being proactive has helped him so much in getting to where he is in his current gaming career"
CasterYuuske: "My highlight would definitely have to be the production side that comes with casting. Of course, having to learn the game you will cast is one thing but it is always good to have knowledge for the behind-the-scenes work. Having to stream, cast, and produce my own product as a final entry really gave me hindsight to the way esports works. Without production, there is no casting and without casting, the production would seem lacking."
Zaco: "So far entering into the academy has been such a great opportunity and this really allowed me to interact with other casters such as Arctikuno who will now be there to support me as I grow my career as a caster. The academy has equipped me with tools that I will soon need to succeed in the near future especially when it comes to connections and having my own brand."
To learn more about Legion Academy and other upcoming programs, visit legion.lenovo.com/academy.