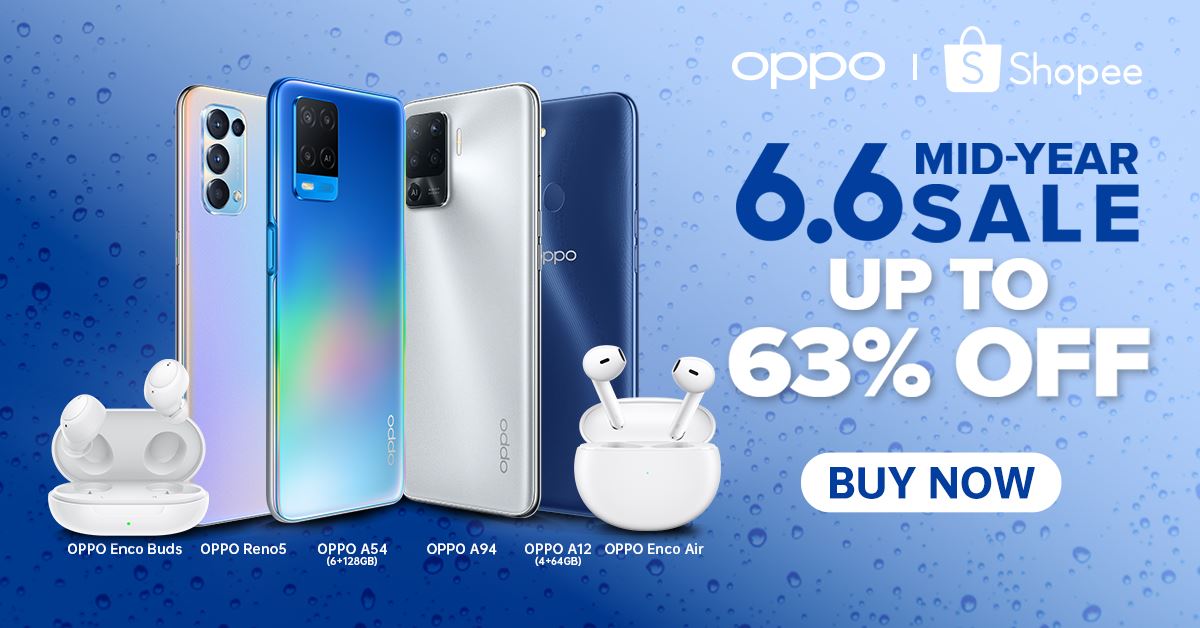 Another month rolls in and so do the special sales – and this June 6, OPPO will be holding its biggest midyear sale to date. From June 6 – 8, 2021 on Shopee, the global smart device brand will be giving away free gadgets, including mobile phones, earphones, free shipping, and store vouchers, alongside discounts of up to 63% nationwide.
For three days only, get access to exclusive perks when you buy bestselling Reno and A Series smartphones, packed with industry-leading camera features and good performance to keep up with your work and play.
#LiveLifeAtFullSpeed in a New Colorway
OPPO is set to launch the A94 in Crystal Silver on Shopee's 6.6 Sale. The device that helps you #LiveLifeAtFullSpeed now comes in a new color with a limited time offer. From June 6 to 8, buyers will be able to purchase the A94 in its new colorway for PhP13,499. It also comes with a free mobile phone holder, exclusively on Shopee.
Exclusive Perks to Stay Relaxed with Your Reliable A54 6GB+128GB
During the three-day sale, add the ever-relaxed and ever-reliable A54 6GB+128GB smartphone to cart and get a free mobile phone with every purchase.
Shoppers during lucky hours – 12am, 10am, 4pm, 8pm, and 10pm can also redeem a PhP500 voucher on their purchase on June 6, and a PhP300 voucher on June 7 and 8. They can also ad the Enco Buds W11 to their cart, with a special 50% discount during the first two hours and last four hours on June 6, or a 30% discount during the first two hours and last four hours of June 7 and 8.
Catch the OPPO livestream on Shopee Live on June 6 from 12nn to 1pm to get a chance to win the relaxed and reliable OPPO A54 6GB+128GB!
More Discounts, Vouchers and Promos
Shoppers will also be treated to an exclusive price drop for the newest addition to OPPO's IoT offerings in the Philippines, the OPPO Enco Buds and OPPO Enco Air, the former going for as low as PhP999 during the 6.6 midnight sale, and the latter selling for a limited time offer of PhP2,499.
More exciting deals await OPPO shoppers during the three-day sale! Avail of free shipping on all OPPO purchases from June 6 to 8, and if you're one of the first 1,000 smartphone buyers, you'll also get to take home a free pair of earphones! Customers can start claiming storewide vouchers worth PhP30 with no minimum spend, and up to PhP200 with a minimum spend of PhP10,000.
So what are you waiting for? start filling in your cart with your favorite OPPO products on Shopee and take home all the freebies you've been eyeing!
For more information, you may visit OPPO's official store on Shopee.
Emman has been writing technical and feature articles since 2010. Prior to this, he became one of the instructors at Asia Pacific College in 2008, and eventually landed a job as Business Analyst and Technical Writer at Integrated Open Source Solutions for almost 3 years.