A few days ago, we posted our first impressions of the new ASUS ZenBook Pro Duo 15 OLED UX582 while showcasing some of its key features. In this article, we'll take a closer look at its displays which include the innovative ScreenPad Plus, performance with a few benchmarks, and its connectivity features.
OLED Difference
In our review of the ASUS ZenBook 13 OLED, we talked about some of the differences between a regular LED LCD and an OLED Panel, and how the latter allows for more precise control, allowing for more natural colors and truer blacks.
The downside is that OLED screens aren't as bright as their LED LCD counterparts, and that its power consumption is dependent on what's happening on screen. The more blacks, the less power it needs. They are also more expensive to make, which is why you'll only usually find them on mainstream or flagship models.
Unfortunately, we didn't have our colorimeter ready at the time of writing, so we couldn't check the color accuracy of the UX582L's display, but if we were to base it on the ZenBook 13 OLED's results, we can expect some good numbers out of this laptop. Well, at this price point, it should be that good.
At face value though, the 4K UHD OLED display showcases punchy colors that add a bit more liveliness to videos and photos. You get deep blacks and sharp text. If one can even call it a drawback, it's that you don't get a high refresh rate, which in a way, feels like a waste, given that the UX582L is equipped with an RTX 3070. Still, It follows the idea that a good specced gaming PC is usually also good for creative work and productivity.
ASUS OLED Care protects the OLED display from burn-in with a Pixel Refresh Screensaver.
ScreenPad Plus
Apart from becoming a secondary display, another key feature of ScreenPad Plus is offering a dashboard that gives you quick access to certain functions, depending on the app you're using.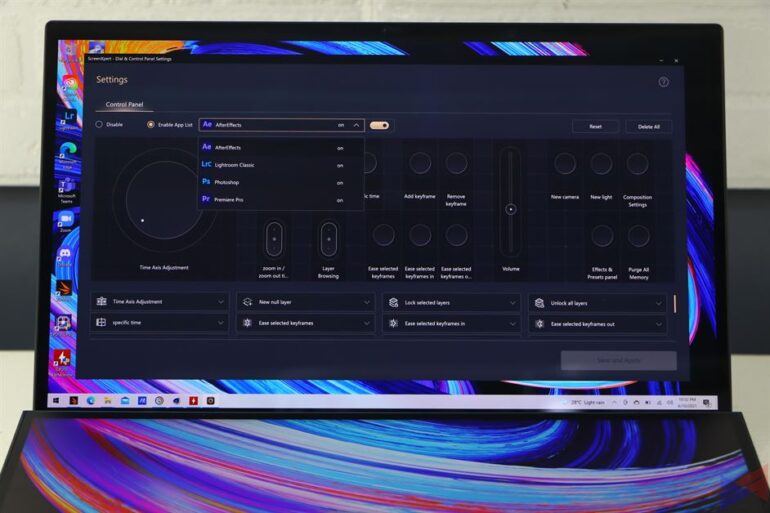 There are downsides – it only supports a very limited number of apps, and it doesn't always open automatically when you run the app when it should. In my case, I had to disable/enable the feature to make it work. I hope that this is just a software problem that can be fixed with an update.
For Adobe Photoshop, for example, it lets you perform certain actions such as undo, redo, flip horizontal and vertical, the Lasso tool, the Eyedropper tool, opacity, brush size, and even zooming in and out.
For Lightroom Classic, on the other hand, it's for zooming in and out, adjustments for tint, temp, contrast, exposure, highlights, shadows, blacks, and many more. What makes the experience even better is that you can control all these with touch, or with the ASUS Pen.
Another very useful feature of ScreenPad Plus is the capability to create Task Groups. It basically means that you can set up to four groups of up to seven apps, up to four on the main screen and up to three on ScreenPad Plus, all at the same time, saving you the hassle of having to open each app, one by one.
A feature I'd like to have is to be able to quickly launch any app from ScreenPad Plus, or maybe pin documents and photos that you can quickly open.
Performance Benchmarks
The ZenBook Pro Duo 15 OLED is powered by an Intel Core i7-10870H processor with 8 cores and 16 threads, paired with 32GB of 2933MHz DDR4 RAM, along with an NVIDIA GeForce RTX 3070 graphics card.
To observe the behavior of the CPU and the GPU, we ran each benchmark in different power plans – Better Battery, Better Performance, and Best Performance.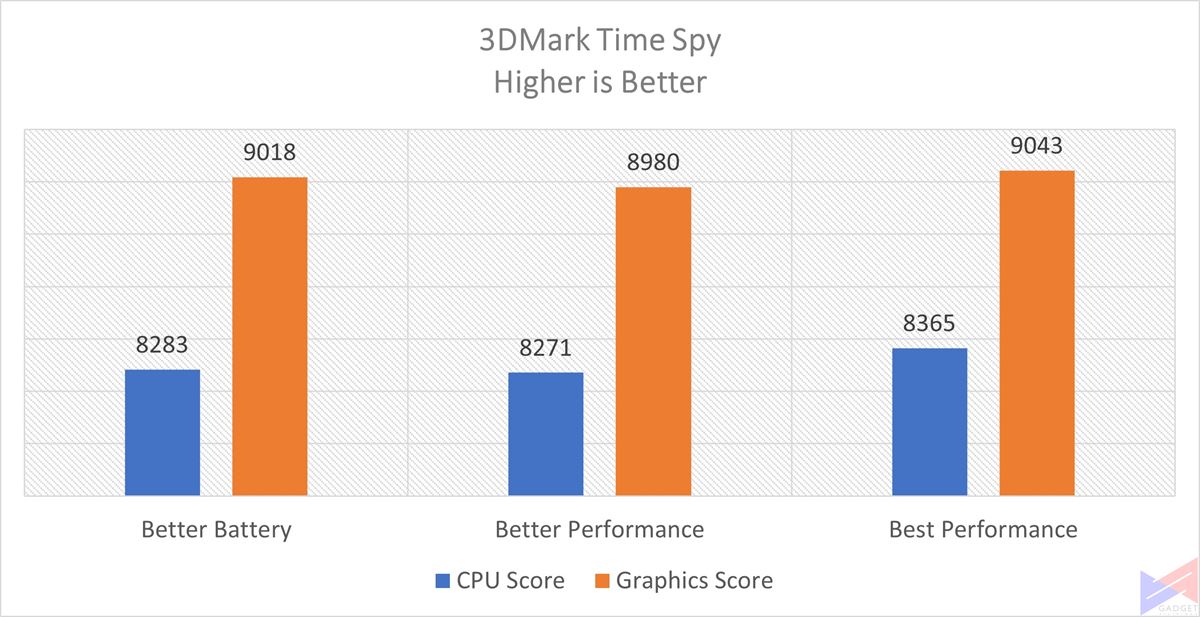 Both Fire Strike and Time Spy are designed to measure both CPU and GPU performance, with the former's tests being rendered at 1440p resolution.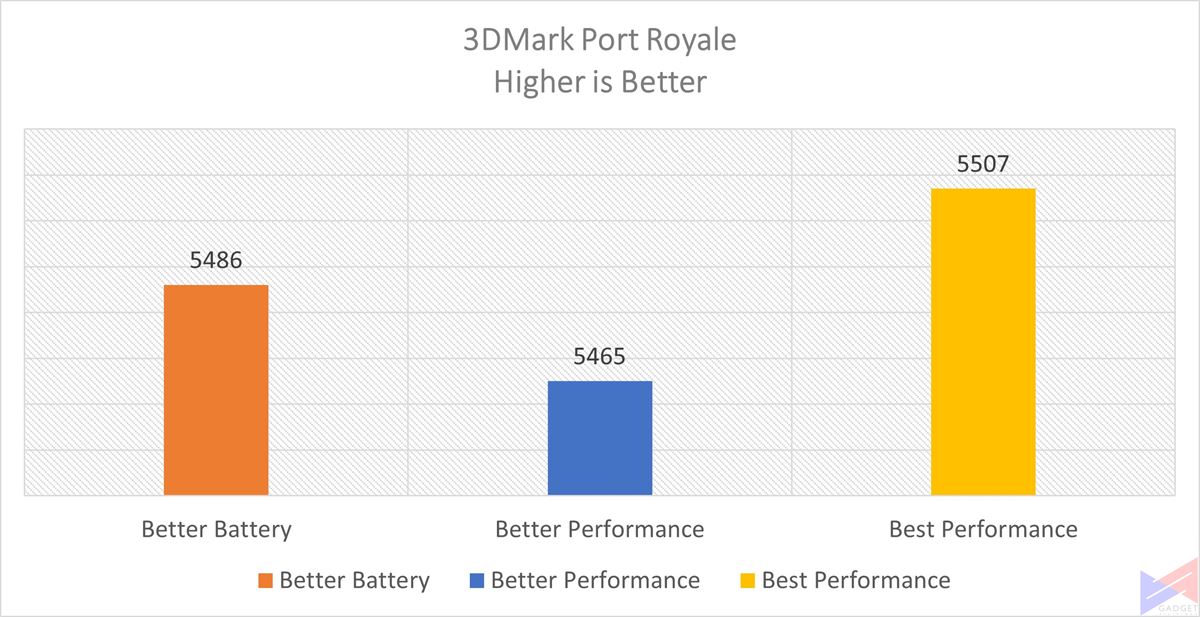 Port Royal tests the GPU's realtime ray-tracing performance.
Geekbench is also a tool that measure the CPU's single and multi-core performance.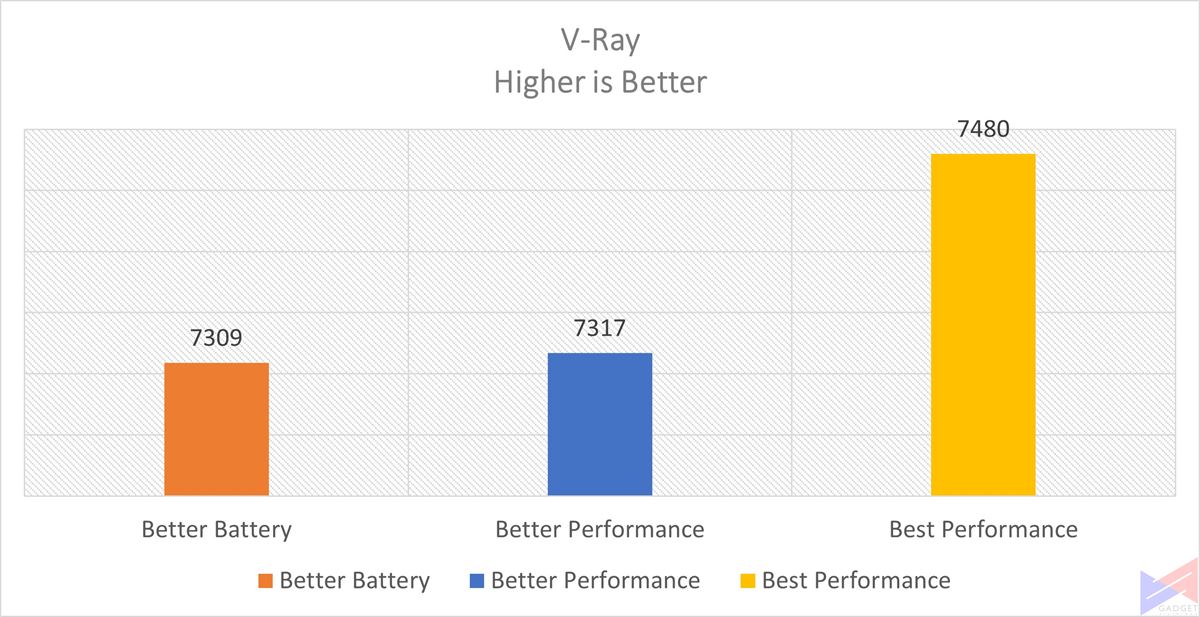 V-Ray tests CPU and GPU performance by rendering scenes at a fixed amount of time.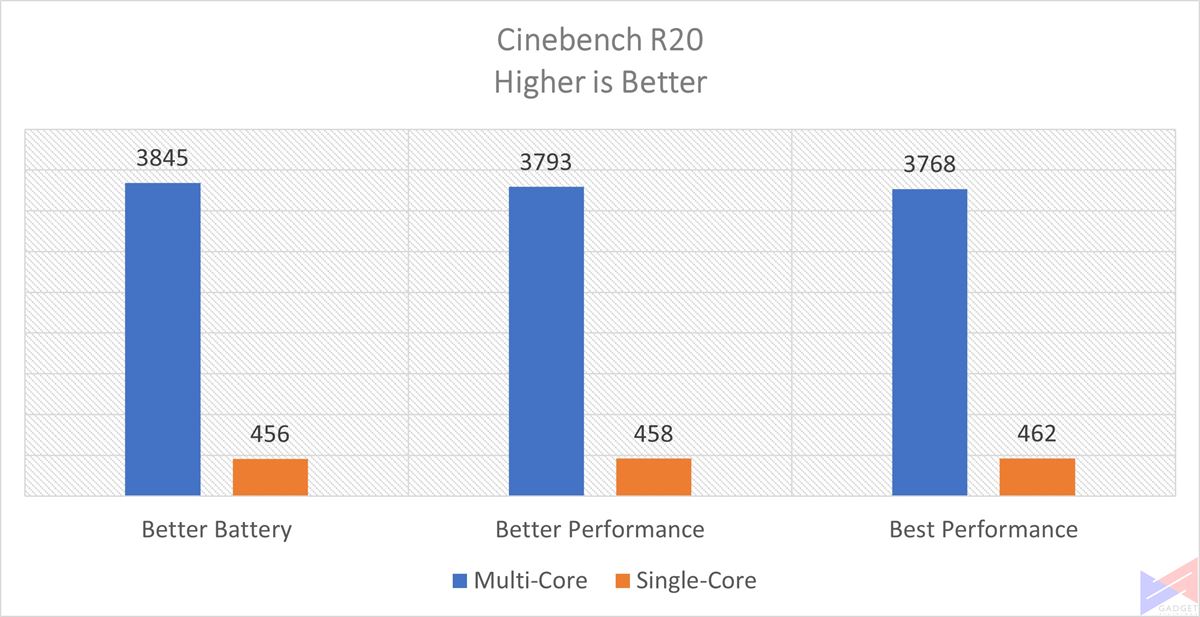 A very popular benchmarking tool, Cinebench R20 measures performance by rendering a particular scene.
Thermals
As for thermal performance, the CPU was idling at around 50°C, and peaked at 98°C. You can actually hear the cooling system kick in with the familiar sound. The GPU was a bit better – 54° and 81°C respectively.
The Verdict So Far
The ASUS ZenBook Pro Duo 15 OLED has one of the most eye-candy displays I've seen. The colors pop out, are vivid, and lively, and blacks are deeper compared to an LED LCD.
Performance-wise, the combination of a 10th Gen Core i7 Processor and an NVIDIA GeForce RTX 3070 means it'should be able to handle almost anything you'll throw at it. Thermals-wise, I've seen better, but it looks like the laptop's own dedicated cooling system does the job well.
On the other hand, the ScreenPad Plus' "dashboard" only works with a very limited number of apps, and the overall implementation is still rough around the edges.
Then of course, there's the absence of high refresh rate, and the steep price tag, which could really turn off even some folks who have money. This base model with an i7-10870H and an RTX 3070 will set you back PhP169,000.
We'll save the gaming tests for the full review to see how this laptop fares in other usage scenarios.