Introduction
All this time, I thought that we were already pushing the boundaries with current Smart TVs. I mean, you can talk to them. You can treat them like your smartphone with apps, play games on them, and so much more. Then here comes the Huawei Vision S Series, a lineup that the company calls "Future TV," thanks to its various smart features never before seen from competitors, bolstered by a sense of seamless collaboration and intelligently delivered entertainment.
Available in 55 and 65-inch variants, the Vision S Series boasts almost bezel-less displays with 4K UHD resolution and take note, a 120Hz refresh rate, something you'll usually see on more expensive products. These are also powered by Huawei Histen algorithms for superb audio quality, a camera for MeeTime, the brand's own video calling service, and collaborative features like Huawei Share, One Hope Projection, and more.
The price? it's PhP36,999 for the 55-inch variant, while the 65-inch model will retail for PhP56,999. The question is, are they really that much better than your standard smart TV? Huawei was generous enough to send us a review unit, and here's what we found.
Unboxing
Naturally, a TV of this size comes in a huge box, and it took some time for two people to get the TV and all the other items out of the box onto a table. Fortunately, there are holes on each side where your hand can go in, so you can easily move the box around. As usual, the panel is sandwiched in two pieces of Styrofoam and all the other pieces including the stand also have their own slots.
You get two stand pieces, four screws, the power cable, the camera, two batteries, the remote, and a short quick-start guide.
The two stand pieces are made of solid metal and attach to the TV using two screws for each side. Once installed. They're able to do a good job of making sure the TV remains stable on your table. Of course, you can have it wall-mounted for a cleaner or piece-of-art look.
Design and Build Quality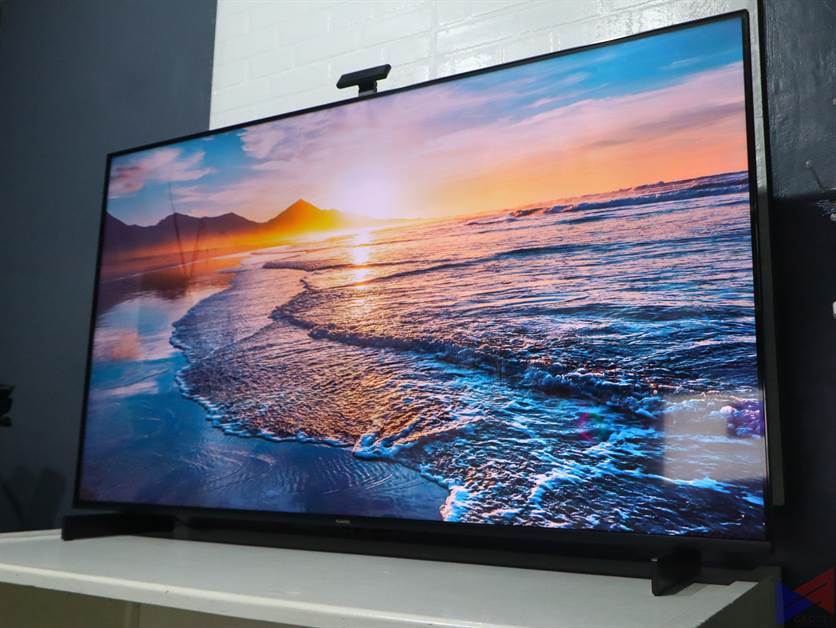 From the get-go, the VISION S Series looks just like your typical Smart TV. A brand at the lower center, an almost bezel-less frame, and a thin form factor that everyone's into these days. The metal frame that houses the panel gives a premium look and feel, while the rear cover is precisely contoured to give off what Huawei claims is a "crafted" look.
The TV boasts a screen-to-body ratio of 94% and its display has a resolution of 4K, which I think should be a standard on a TV this size. It also covers 92% of the DCI-P3 color gamut, boasts a brightness of 350 nits, and perhaps one of its most unique features – a 120Hz refresh rate for smooth and fluid visuals, which we'll get to in another section.
At the back, there are three HDMI 2.0 ports, an AV in, a single USB 3.0 port, and a SPDIF port. The detachable 13MP camera uses four magnetic pins that connect to corresponding slots at the top-rear section of the TV. In terms of functions, the camera can tilt upwards or downwards but can't swivel. It also has an LED indicator to tell you when it's on.
Despite the absence of HDMI 2.1 ports, the PS5 and Xbox Series X should still work fine with the Vision S Series, but you will be limited to 4K resolution at 60Hz.
Display Analysis
Huawei claims that the Vision S Series covers 92% of the DCI-P3 color gamut, which is pretty close to what we got on our test. The device also covers 100% of the sRGB color space and 84% of the AdobeRGB color space which makes it good for both gaming and creative work.
The TV also came out with a 2.2 on the Tone Response test, which means you get deep blacks. There's also no backlight bleeding present when using a black background at 100% brightness.

As for brightness levels, the Vision S Series shows good consistency from zero to full brightness, with only minimal differences.
Performance
Audio
In the audio department, the VISION S Series is equipped with a pair of 10W speakers and 10W tweeters which work with Huawei's Histen Algorithm which uses psychoacoustic and auditory perception models to deliver great sound quality. The TV is able to adapt both its sound and video profile to match what's on the screen, or you can manually choose a sound and video profile yourself.
Now, as far as sound is concerned, this TV can get really loud, and in a good way. There's no audible distortion at high volume, the dialogue in videos come out crisp and clear for most of the time. Bass is average, which is expected from a TV, and highs are well-balanced and not piercing.
Video
The Vision S Series is equipped with a Honghu cinema-quality chipset, along with 3GB of RAM and 32GB of storage. According to Huawei, the SoC uses Motion Estimation and Motion Compensation (MEMC) interpolation technology to achieve enhanced fluidity.
Before we get to what interpolation does, it's important to take note that the refresh rate determines how fast a monitor, or in this case, a TV, is able to update what's on screen. In this regard, the higher the refresh rate, the smoother the images will look.
Now, by definition, interpolation means that in order to reduce motion blur and make images appear smoother, the TV intelligently determines what happens between each frame, and inserts that particular frame in between. So even a 60Hz panel can technically reproduce the perceived smoothness.
Now, as good as that may sound, there is a caveat. This works well on games, but not so much on movies or other video content. That's because most films are recorded in 24fps or 30fps, which is how they're meant to be viewed. Forcing a smoother framerate can make them look a bit off, or artificial, which I personally don't like, but could be okay for some people.
Now, for a 4K 60fps video on YouTube, this effect isn't evident, and the image appears very smooth and fluid, but watching a 30fps music video, I noticed a few issues. Note that most of these only occur on YouTube videos, but content on Huawei Video runs fine.
| Issue | How I (Partially/Fully) Solved Them |
| --- | --- |
| Dimmer Images | Change Picture Preset/Increase Brightness |
| In Some Videos, Audio is Out of Sync | Set Dynamic Picture Compensation to Medium or Lower |
| Some Videos are Displayed in the wrong Aspect Ratio | Change Picture Preset Then Play Video Again |
| Video Lag | No solution yet. Tried turning off Dynamic Picture Compensation, didn't work. |
Things are slightly better with a 4K video playback with a USB Drive – I didn't get the aspect ratio problem, audio is in sync, and playback is mostly smooth and fluid though there are still micro stutters here and there, plus the artificial effect.
Gaming
Thanks to 32GB of internal storage, the Vision S Series can store a considerable amount of apps, including games. Unfortunately, the gaming experience on this device isn't as pleasant as even on a decent budget smartphone.
As you can see in the video, it was struggling to put up even a decent performance even at low graphics setting for MLBB, a game that I often term as playable in almost any device, and to be fair, it is playable, just not to an optimal experience.
Fortunately, there's another way to utilize the big screen for gaming. Just use One Hop Projection to mirror your phone's screen to the TV, and start playing. For some games, it means you'll still have to look at your phone for the controls, but for some titles like Real Racing 3, using the phone as your steering wheel while using the TV as your cockpit view raises the immersion.
I also tried connecting my PC via the HDMI 2.0 port and was able to get a resolution of up to 4K 60Hz. As for gameplay, Resident Evil 2 Remake looks fantastic on this TV, there's more detail, the lighting effects look more refined, and I saw some things I didn't when playing at a lower resolution.
Software
At the time of writing, the Vision S Series review unit we had was running on HarmonyOS version 2.0.0.188. You get access to the brand's various services like MeeTime, Huawei Video, Huawei Music, Petal Search, and of course, the AppGallery. There's also this section where you'll find all the pre-installed apps, and for those which you'll install moving forward, a file browser, an input source toggle, and a gallery.
Huawei Video offers a great selection of both local and international content, and Huawei Music offers a vast library of some hidden gems. If you've had enough of mainstream music, try playing a song in one of their playlists, and you'll be in the groove.
A sort of pull-down menu is also available, and can be launched without leaving the app you're using. The panel looks more like it came from a smartphone, and allows you to fiddle with a number of settings such as video and audio presets, brightness, toggle Wi-Fi On or Off, enable Multi-Screen and Huawei Share, and switch your input source.
While animations are smooth and fluid, there are things that could've been done better. For example, if you want to adjust contrast, you'll have to go to Settings > Picture Mode > Select Custom > Press the Menu Button > and you'll find the Contrast option. Quite the journey just for a simple adjustment, right? oh, that goes for Saturation, Sharpness, Color Temperature, and Tone as well.
Now, fortunately, you can adjust most of these options in the Vision app, which should work even on non-Huawei phones. For advanced picture options though, you'll still have to take the long route using the actual remote going into Settings > Picture Mode > Menu Button > Advanced.
Oh, and don't get me started on this app. It may be feature-packed, but it still needs optimization. My Mate 30 Pro even restarted while using it.
AI Voice
For additional convenience and accessibility, you can use voice commands to execute a number of actions. Once you have it set up, just press the microphone button on the remote control and you'll see a prompt.
You can talk to the AI as if you're talking to a real human. You can ask it to play music, show a list of videos you can watch, set the volume and brightness to a specific level, check the weather, turn on Wi-Fi, and a lot more.
Apps
There's no Google Mobile Services here, which means you don't get apps like YouTube (at least by default), which is one of the top sources for video content and the answer you'll mostly get if you ask 20 people around your neighborhood as to where they watch their videos.
Fortunately, you can sideload YouTube and other apps using Aptoide, an app market that you can also install on the Vision S Series either by using Huawei Share or a USB Drive to transfer the APK file. Now that's good and all, but since there's no GMS, there's no way to sign in to your Google Account, which means you won't be able to take advantage of your YouTube Premium subscription. Hello, ads.
As for Netflix, another top source of video content, you'll be able to install it via Aptoide, you'll be able to log in just fine, but you'll need to use the Vision Home app or connect a wireless mouse to easily navigate inside the Netflix app.
To ease your worries, Huawei is bundling an OTT Box that lets you easily enjoy a vast library of content including Netflix, YouTube, Discovery Prime, and more. This PhP3,999 accessory will come with FREE with your pre-order and for those who'll purchase a unit from May 22 to September 30, 2021.
Other Features
MeeTime
If you have a compatible Huawei device, and your Huawei account is set to Philippines, you can initiate a high-quality video call to anyone with MeeTime. Simply select the MeeTime app on the home screen of your Vision S Series, select who you want to call, and you're good to go. The 13MP camera that attaches to the TV can do 1080p video calls.
OneHop Projection
Using your Huawei smartphone, you'll easily be able to project audio and video content to the Vision S Series with just a few taps, letting you take advantage of its large display for a more immersive viewing experience.
Mirror Control
Mirror Control basically projects what's on Vision S Series' screen onto your phone, allowing you to use its touch screen to navigate within apps. This is very helpful for apps like Netflix, which doesn't respond well to input from the remote control, as well as Zoom Meetings.
Huawei Share
Using a compatible Huawei Smartphone, you'll be able to easily transfer photos, videos, and other files to the Vision S Series. All you have to do is Enable Huawei Share on both devices.
Verdict
Huawei Vision S is definitely more than your typical Smart TV, offering a minimal but still elegant-looking design that would make it a nice fit to most spaces, just like adding a new piece of art to your own gallery at home or even in the workplace.
Coming from a 2K monitor, 4K resolution on such a huge screen really does make a difference in the level of immersion, especially when you're watching movies. It showcases great color accuracy and its built-in speakers are able to produce clear and impactful dialogues, stirring and moving effects, and refined music.
It also offers a lot of features that make life just a little bit easier for you – seamlessly transfer audio, video, and other files, mirror the screen of your phone to the TV so everyone can watch see what you're playing or watching, and also using your phone's screen to control the Vision S Series.
As for its 120Hz feature, it's great when it works. You get fluid and smooth movements, transitions, and animations. As far as being a refined feature though, there's still much to work on as the consistency just isn't there yet. Sure, it's fine with Huawei's own video service app, but load a YouTube video, and on its own, you'll feel like the device is just allergic to it.
Sure, you can turn all that processing off or reduce its intensity, but not having that makes the Vision S Series just almost the same as your typical Smart TV, just with sharing features.
HarmonyOS looks clean, I'd give it that. But it still needs optimization for that smooth and fluid experience like on a smartphone. It offers a good level of customization, but navigating deep into the menus just for a simple task of say, adjusting the contrast? that's just one way to ruin the experience. Thankfully, there's a companion app, but it can be unstable at times.
Then, of course, there's the absence of GMS, which means you'll have to rely on sideloading to get YouTube and Netflix, two of the most popular streaming platforms up and running (at least on its own), and even if they run, there are still asterisks.
So the big question is, would I buy it if I had the money? it's a tough one. If Huawei can fix some of the issues that I've mentioned above, it would be a great addition to my room. In its current state though, I'd be hard-pressed to consider it against a Smart TV that has fewer features but is more refined in things that it should do well.
Pricing and Pre-Order
| Product | Pre-Order Period | SRP | Cash/Straight | Freebies | Free Delivery |
| --- | --- | --- | --- | --- | --- |
| 55-Inch Vision S Series | May 7 to 20 | PhP36,999 | PhP32,999 | Smart Box | May 7 to 31 |
| | | | | 1 x Microphone | |
| 65-Inch Vision S Series | May 7 to 20 | PhP56,999 | PhP49,999 | Smart Box | May 7 to 31 |
| | | | | 2 x Microphone | |
With the Smart Box, users will be able to enjoy a vast array of content including Netflix, YouTube, Discovery Prime, and More.
Those who will purchase a unit on May 21 will also be entitled to free delivery (May 7 to 31) and the same Freebies
From May 22 to September 30, those who will purchase a Huawei Vision S Series device will get a FREE SmartBox worth PhP3,999. Free delivery is also available from May 7 to 31
You may also take advantage of Huawei's Online to Offline Purchase Experience. More information can be found here
Sources – 1
Emman has been writing technical and feature articles since 2010. Prior to this, he became one of the instructors at Asia Pacific College in 2008, and eventually landed a job as Business Analyst and Technical Writer at Integrated Open Source Solutions for almost 3 years.