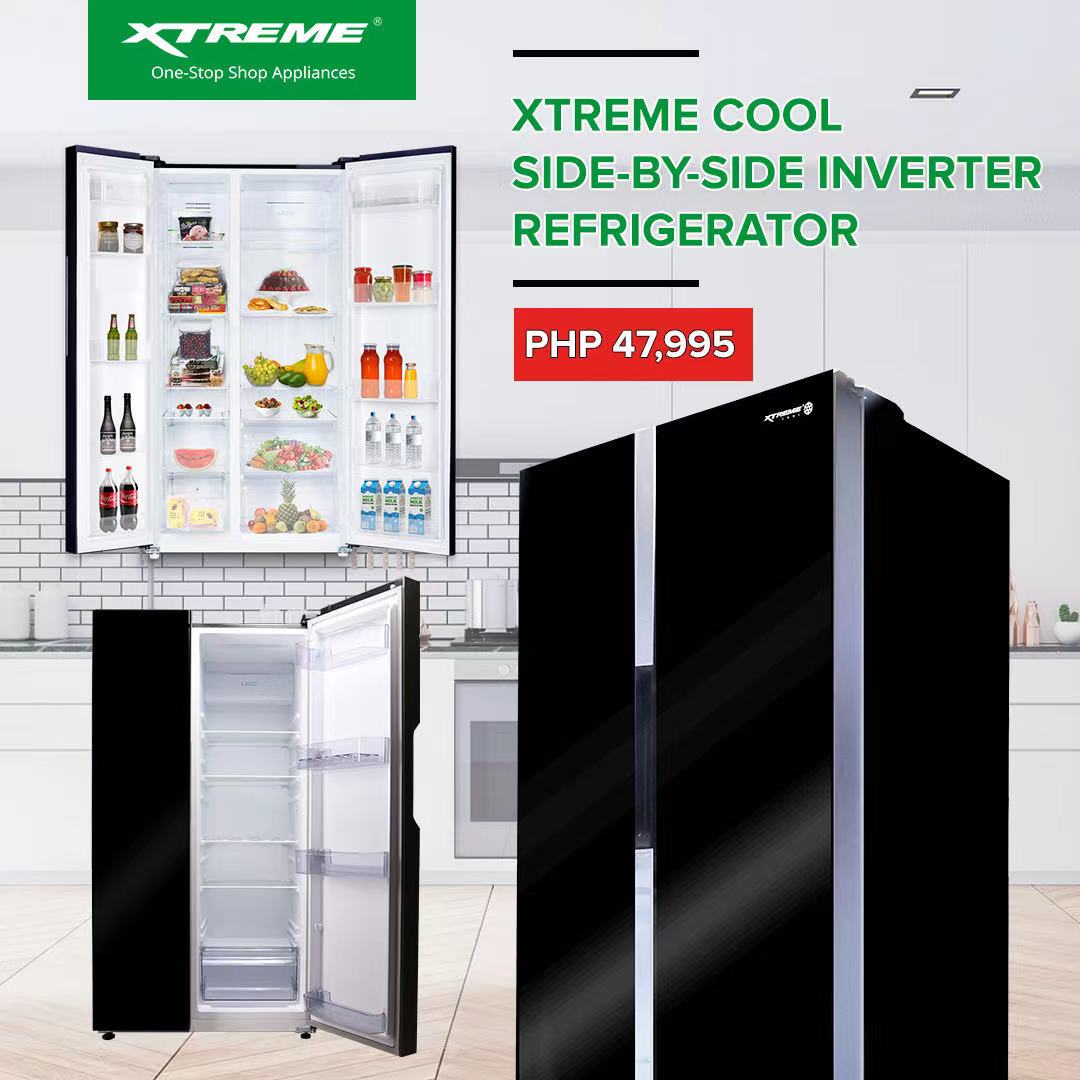 Innovations in home appliances have made a significant impact in our lives. The latest trends in home appliances aim to transform our households into a more versatile abode and a space for comfort and efficiency. XTREME Appliances has been taking notes on how to further simplify our day-to-day life while inspiring a modern way of living. This results to products like the new XTREME Cool Side-by-Side Inverter Refrigerator.
The COVID-19 pandemic has reshaped the way we perceive the importance of technology. With most of the people confined to their homes, working remotely and home-schooling, dependency on technology, especially on home appliances and consumer electronics has sharply risen. The efficiency of our appliances can help us survive this stressful and overwhelming lifestyle of this new normal. Luckily, XTREME Appliances introduces this new product that brings smart technology and convenience to every home.
XTREME COOL Side-by-side Inverter Refrigerator (XCOOL-SideBySide20IG)
With people cooking at home more than ever, the demand for food storage space has risen exponentially, Refrigerators keep our food from spoiling while providing cool beverages in the middle of the summer heat, helping to limit our trips to the grocery store. The 19.8 cu. ft. XTREME COOL Side-by-Side Inverter Refrigerator is the ultimate choice for a spacious, convenient, and efficient way of preserving the freshness of our food.
Apart from a combination of an elegant and novel appearance, this two-door refrigerator has tons of storage space, adjustable shelves, spacious fruit and vegetable drawers, and more than ample lighting. It also boasts a no-frost feature that eliminates the need for defrosting and is able to limit the formation of mildew or odors inside the refrigerator. It's also equipped with a digital touch panel on the door that allows you to adjust temperatures and settings easily, all without having to open the refrigerator's door. This helps save energy as well.
Compared to a fridge with a regular compressor, the XTREME COOL Side-by-Side Refrigerator's inverter compressor saves about 25% electricity consumption. It enables the unit to operate according to the temperature in the refrigerator – full speed when it needs cooling down, and completely stops when the temperature is low enough.
It's also an environmentally friendly product as the freon-free refrigerant and foaming insulation materials are used for the fridge freezer, causing no damage to the ozone layer and having a minimal impact on global warming.
XTREME COOL Side-by-Side Refrigerator is priced at PhP47,995. Keep updated on the latest news and happenings for XTREME Appliances by following its official Facebook, Twitter, Instagram, and TikTok accounts. For the full list of products and exclusive discounts, please visit XTREME on Website, Lazada, and Shopee e-commerce pages.
Emman has been writing technical and feature articles since 2010. Prior to this, he became one of the instructors at Asia Pacific College in 2008, and eventually landed a job as Business Analyst and Technical Writer at Integrated Open Source Solutions for almost 3 years.