The second iteration of Oculus Quest promises a lot of new features for VR gamers and explorers. The number of games and apps in Oculus' library is growing rapidly, and the implementation of new features makes the console a viable tool to play PC VR games.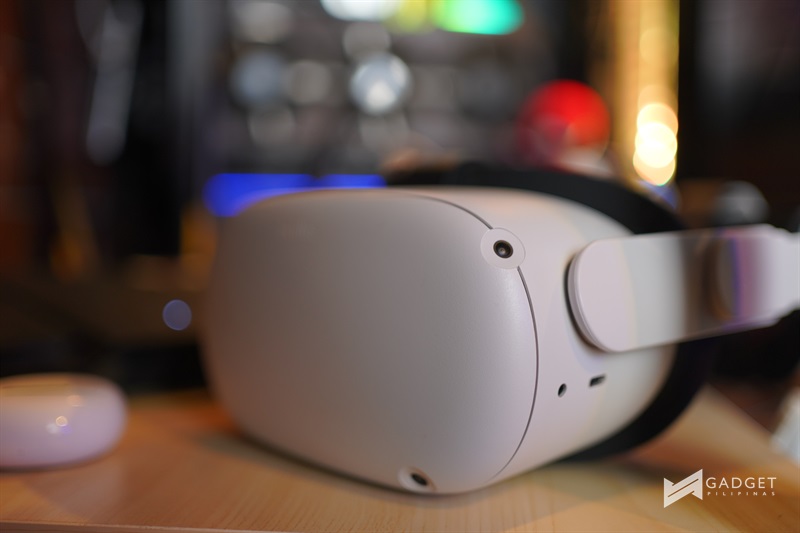 Oculus Quest 2 is a must-have for gamers. If you want to step aside from the usual game genres and try to dip into the world of virtual reality, the Oculus Quest 2 is more than enough to satisfy your VR cravings.
It has full compatibility with Wifi 6 too, which brings me to introduce TUF Gaming AX3000, a router that plays perfectly well with the Oculus Quest 2 so you can play your Steam VR games wirelessly.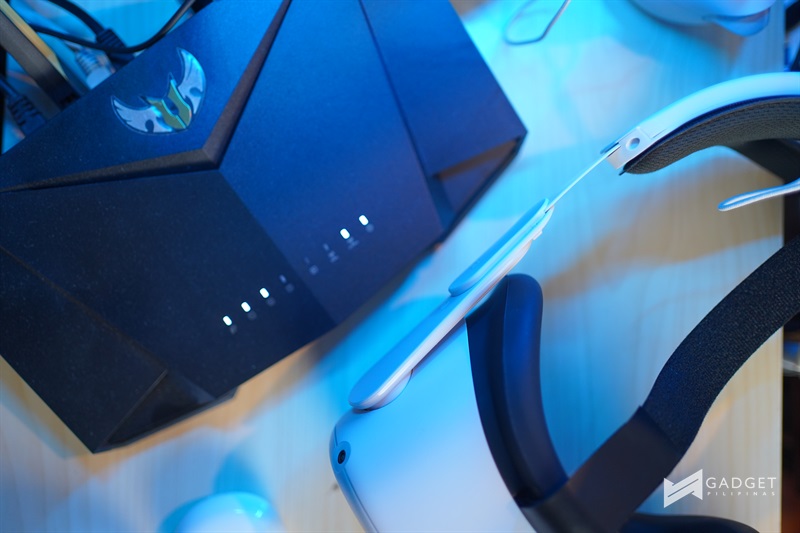 Before I get too much ahead of myself, let me give you a quick brief about these two products.
OCULUS QUEST 2
Oculus Quest 2 Specifications:
Product Dimensions: ​191.5 mm x 102 mm x 142.5 mm (strap folded in), 191.5 mm x102 mm x 295.5 mm (strap fully opened up)
Product Weight:​ 503g
Tracking: ​Supports 6 degrees of freedom head and hand tracking through integrated Oculus Insight technology.
Storage:​ 64GB or 256GB
Display Panel:​ Fast-switch LCD
Display Resolution: ​1832×1920 per eye
Display Refresh: ​72Hz at launch; 90Hz support to come
SoC:​ Qualcomm® Snapdragon™ XR2 Platform
Connectivity: Wi-Fi b/g/n/ac(5)/ax(6), 60 GHz Wi-Fi ay module (currently not in use); Bluetooth 5.0 LE; Type-C USB port, with USB Host support; 3.5mm audio jack.
Audio: ​Integrated speakers and microphone; also compatible with 3.5mm headphones.
RAM: ​6GB
Battery Life:​ You can expect between 2-3 hours based on the kind of content you're using on Quest 2; closer to 2 hours if you're playing games and closer to 3 hours if you're watching media. At any point, you can check the battery status of your headset in the Oculus App settings or in VR via Oculus Home.
Charge Time: ​With the provided USB-C power adapter, Quest 2 will charge to a full battery in about 2.5 hours.
IPD: ​Adjustable IPD with three settings for 58, 63 and 68mm.
Playspace:​ Stationary or Roomscale supported. Roomscale requires a minimum of 6.5feet x 6.5 feet of obstruction-free floor space.
Controllers:
Dimensions: ​9 x 12cm (per controller, includes tracking ring)
Weight:​ 126g (per controller, no battery installed)
Requires 2AA batteries (included in the box; 1 for each controller)
There is so much to say about its specifications, but I'd like to zero onto three things: Chipset, Display, and Wifi 6 support. These are important features to look out for, especially if you have any plans on playing your PC VR games using the console.
Qualcomm Snapdragon XR2 Platform
For starters, the console is powered by a Qualcomm Snapdragon XR2 Platform. Think of it like an SoC that mobile brands put on their smartphone or laptops. This chipset, however, is specifically made for VR devices. Right now, well-known devices that pack this platform are the Oculus Quest 2 and the pricier HTC Vive Focus. For reference, the first Oculus Quest was powered by Qualcomm Snapdragon 835.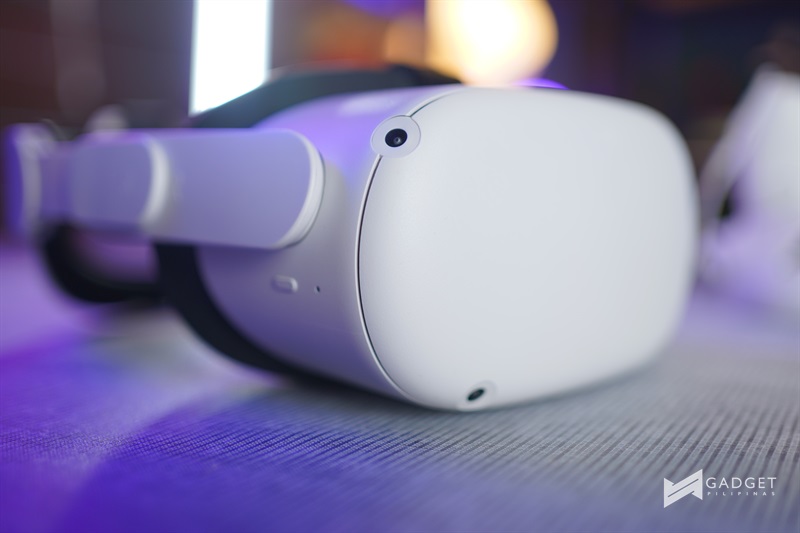 In a benchmark and study conducted by ARVRTips, the performance leap from Snapdragon 835 (Oculus Quest) vs Snapdragon XR2 (Oculus Quest 2) is quite a lot.
This means that you're looking at a VR device that is definitely better than its predecessor, and can still be a competitive choice should a new one arrives.
Display up to 120Hz, with V28 update
Oculus Quest 2 also packs a fast switch LCD with 1832×1920 resolution per eye. It has a refresh rate up to 90Hz, and can boost to 120Hz via experimental mode on v28 update.
While this is an exciting feature to play around, we'll have to wait for developers to roll out support to this refresh rate on their respective applications. So far, the developer of one of our favorite applications, Virtual Desktop, will roll out 120Hz support once the new update becomes official and available for everyone.
Connectivity, Wifi 6 goodness
Connectivity: Wi-Fi b/g/n/ac(5)/ax(6), 60 GHz Wi-Fi ay module (currently not in use); Bluetooth 5.0 LE; Type-C USB port, with USB Host support; 3.5mm audio jack
There's so much to talk about Oculus Quest 2's connectivity features, but let me focus on Wifi 6 support.
What is WiFi 6, and what router am I using?
Wifi 6(or IEEE 802.11ax) is the latest generation of Wi-Fi technology that succeeds Wi-Fi 5(802.11ac) in terms of speed, at a whopping 9.6Gbps versus the previous 3.5Gbps. The substantial speed increase is a result of an increase in capacity and improved transmission efficiency thanks to OFDMA and 1024-QAM technologies. The use of MU-MIMO antenna technologies also aids in the transmission and reception of simultaneously connected devices.
Devices compatible with Wifi 6 routers enjoy better connection performance and ultra low latency for streaming purposes. This is the reason why new devices are starting to make their new products compatible with Wifi 6.
TUF Gaming AX3000
This is where the use of my TUF Gaming AX3000 comes in. This Wifi 6 router delivers better efficiency and connection throughput. It can deliver up to 3000Mbps, which is 2.5x faster than 802.11ac dual-band routers.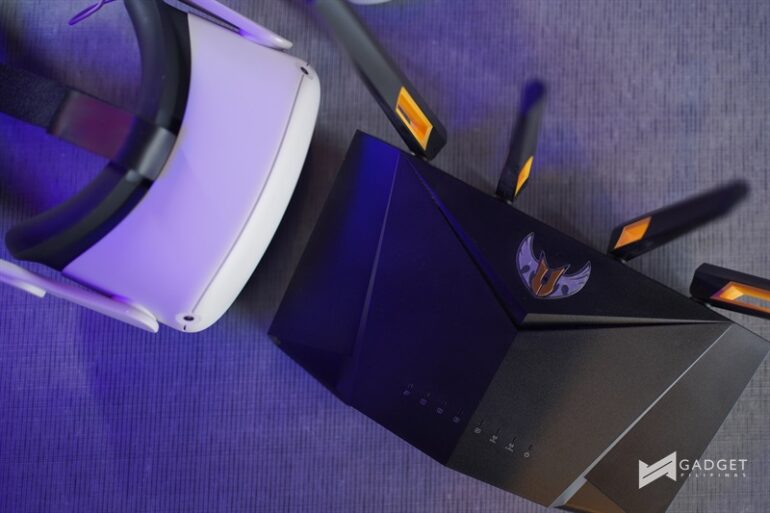 The router also provides faster and more stable wired gaming using its dedicated gaming port. This will come in very handy when you're trying to connect your PC (connected via LAN to the TUF Gaming AX3000) and your Oculus Quest 2 (connected via Wifi 6 on the same router). You can even prioritize your network activity from media streaming to gaming.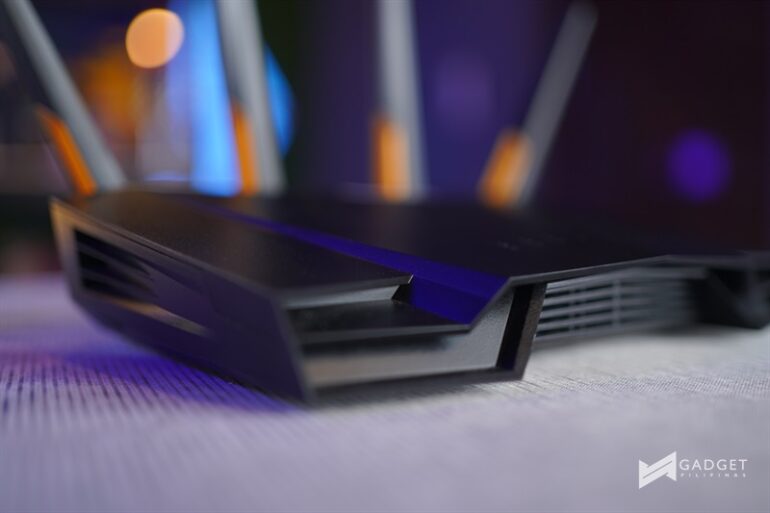 The TUF Gaming AX3000 can also be a viable stock router partner to further meet the desired connection speed you're paying. Normally, ISP-issued default router gives underwhelming performance due to non-readiness to multiple connection scalability. It also has AIMesh compatibility so you can wirelessly daisy chain your WiFi connection to increase your coverage range.
THE SETUP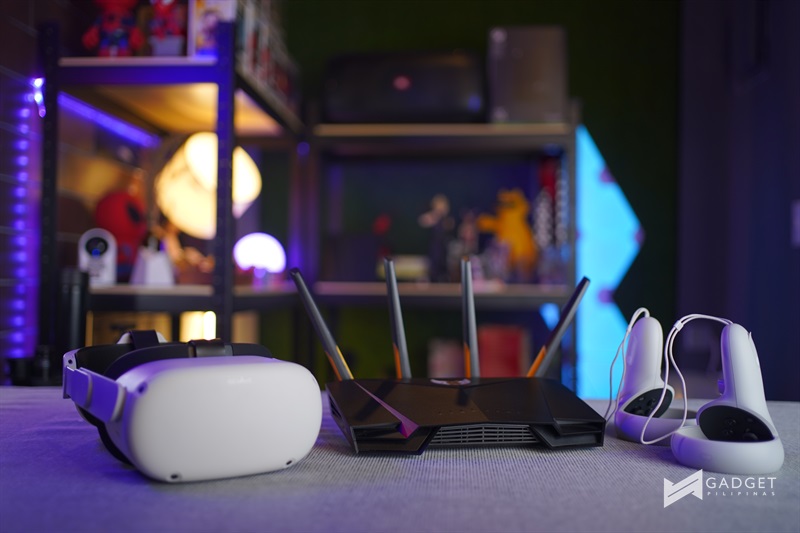 Assuming that your PC can handle VR games, you should have Steam VR installed and the VR game that you wish to play. In my case, I bought Half-Life Alyx on Steam and installed Steam VR and the latest Streamer App from Virtual Desktop's website. This is absolutely free, but you will need to buy Virtual Desktop on Oculus Store for $19.99.
If you don't want to buy Virtual Desktop, you can also try the Beta version of the Oculus-official Airlink, which can be enabled via Oculus app on your PC and under Settings > Experimental Features > AirLink. Details on how to enable this may be found on this link. In this article though, I'll be focusing on Virtual Desktop. We'll update this soon once AirLink becomes available for everyone and comes out of experimental features.
There might also be a chance that you'll be required to initially connect your Oculus Quest 2 to your PC via the included cable and open the Oculus app. This is a weird step, which I needed to do in one of my installations, but this is something that you only need to do once.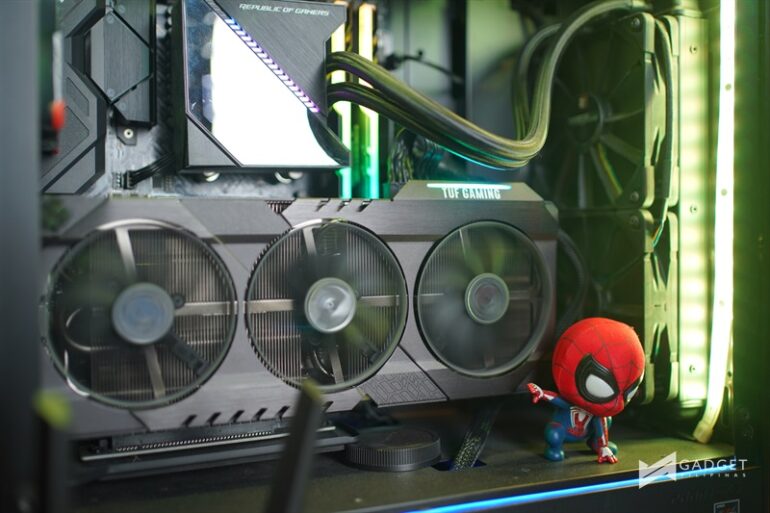 Now, that you have all the applications on your VR-capable PC, it's time to download Virtual Desktop on your Oculus Quest 2. At this point, you have to make sure that your console and PC are both connected to your router – TUF AX3000, in my case. Make sure that the PC is connected via LAN, and the Oculus Quest 2 is connected via Wifi 5GHz. (While you can also connect both via WiFi, it's best to have the PC connected via ethernet so it would not affect the wireless bandwidth of the router.) Since your Oculus Quest 2 is compatible with the TUF AX3000 Wifi 6 router, the connection handshake should be swift and easy.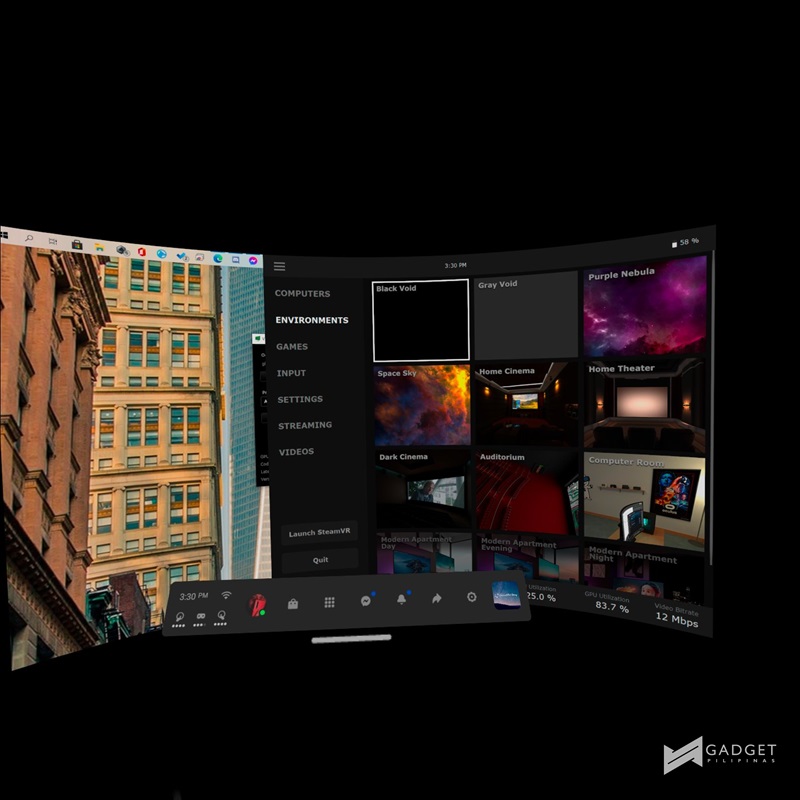 Fire up the Streamer App on your PC and Virtual Desktop on your Oculus Quest 2. If both devices are connected to the same network, then you should be able to see your PC in Computers tab. Tap your PC on Oculus Quest 2, and you should be connected to your PC in no time.
At this point, you should be able to see all the installed VR games on Virtual Desktop on your Oculus Quest 2. You can also open Steam VR directly from the console, and manually start Half-Life Alyx on your PC.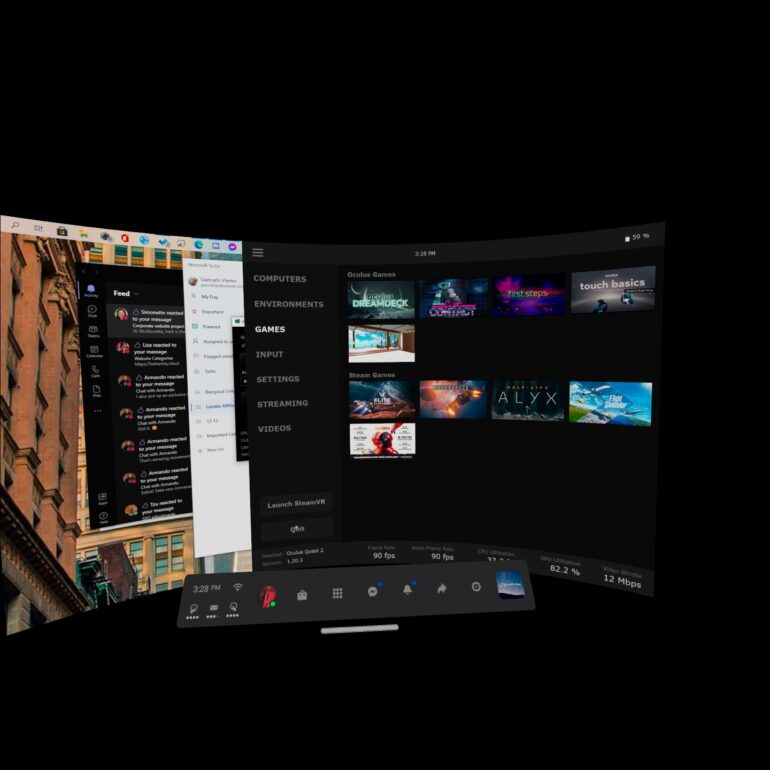 Based on my experience at 12Mbps Video Bitrate using HEVC codec on my PC with TUF Gaming RTX 3080, I was getting around 60 average fps while playing Half-Life Alyx. The experience was very smooth and with 17ms connection latency. This was made possible with the combination of peripherals I'm using: Wifi 6 compatible Oculus Quest 2 and my TUF Gaming AX3000.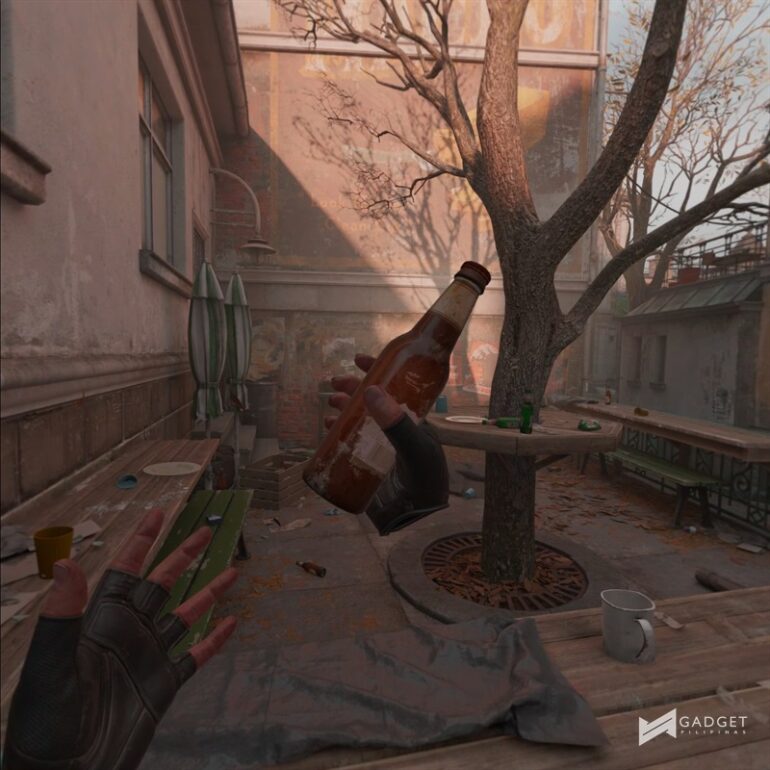 Where can you buy Oculus Quest 2 in the Philippines? Oculus does not have official representation in the Philippines, so you'll only probably see resellers who either bought theirs directly from Oculus or via Amazon. Eitherway, the cheapest we saw is being sold by Second Space for PhP21,490. I bought my Oculus Quest 2 from them and I can vouch that their shop is 100% legit.
Where can you buy TUF Gaming AX3000? This is our most recommended router, and it's now available via Lazada. Here's an affiliate link for your reference.
Giancarlo Viterbo is a Filipino Technology Journalist, blogger and Editor of gadgetpilipinas.net, He is also a Geek, Dad and a Husband. He knows a lot about washing the dishes, doing some errands and following instructions from his boss on his day job. Follow him on twitter: @gianviterbo and @gadgetpilipinas.