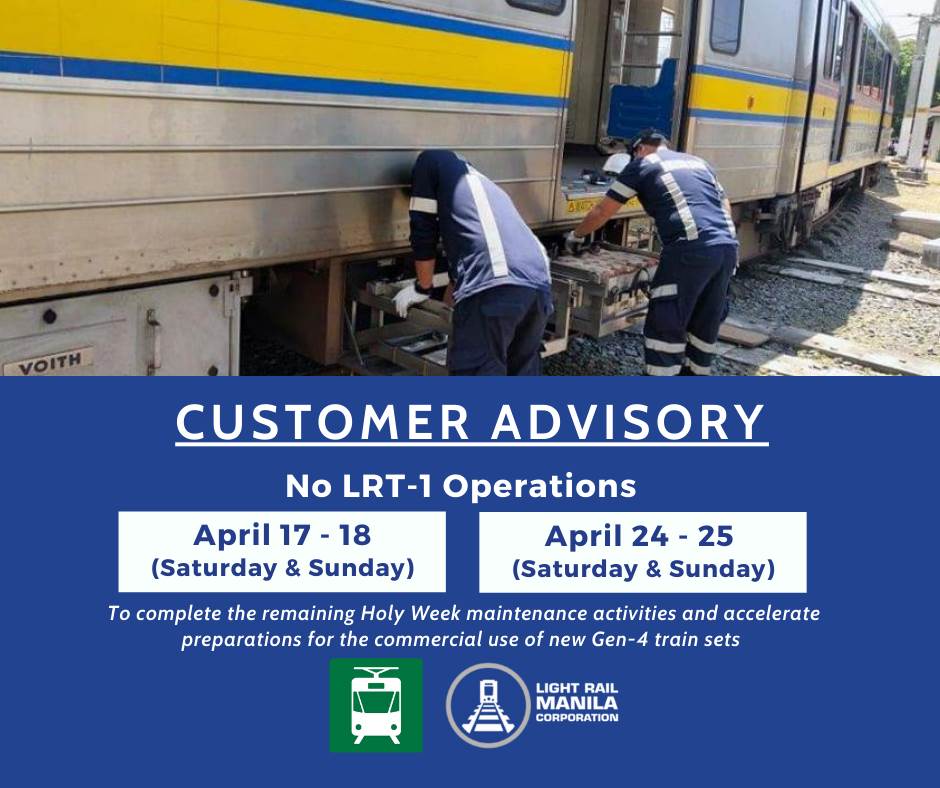 Update: According to a new press release, LRT-1 operations will NOT be suspended from April 24 to 25 as the LRMC was able to complete all the works over the weekend.
The Light Rail Manila Corporation (LRMC) has announced the temporary suspension of LRT-1 operations for two weekends in April 2021 to continue the maintenance works needed for a better and improved LRT-1 experience.
The shutdown on April 17 to 18 and April 24 to 25 (Saturday and Sunday) will allow LRMC to complete the remaining maintenance and rehabilitation works started during the Holy Week. Works to be carried out during this period would cover the maintenance of trains , stations, and various systems including the scheduled replacement of overhead catenary wires. These additional days will also accelerate preparations for the commercial use of the new Generation-4 train sets in Q4 of 2021.
In light of this event, the Department of Transportation (DOTr) has also confirmed the deployment of public utility buses, running on Route 17 (Monumento to EDSA via Rizal Avenue/Taft Avenue), to support schedule of LRT-1 on weekdays:
Northbound Train (4:30AM to 9:15PM)
Southbound Train (4:30AM to 9:30PM)
LRMC assures that it'll continue to enforce its health and safety protocols, as well as comply with IATF guidelines while performing the maintenance works during this period.
The riding public is advised to be guided accordingly and plan their essential trips ahead during this period. For more information, you may follow @officialLRT1 on Facebook and Twitter or download the ikotMNL mobile app on the App Store or Google Play.
Emman has been writing technical and feature articles since 2010. Prior to this, he became one of the instructors at Asia Pacific College in 2008, and eventually landed a job as Business Analyst and Technical Writer at Integrated Open Source Solutions for almost 3 years.