ASUS' continuous refinement of its ROG Strix motherboards reached a point where Maximus and Crosshair motherboards remain relevant only for those looking for extra connectivity or robust VRM cooling. The full-fledged ROG Gaming motherboards contain abstruse features that only attract a certain number of people. ROG Strix A, E, F, G, H motherboards, on the other hand, contain relevant features for real-world usage and are more affordable which suits the needs of most enthusiasts. The latest ROG Strix Z590-E motherboard's mix of performance and features dances in the thin line between just right and overkill. It certainly looks like the ROG Strix Z590-E cannibalizes the Maximus line thanks to a few upgrades over the ROG Z490-E namely Wifi 6E, PCIe 4.0 support, and full AI implementation.
Socket
LGA 1200
Chipset
Z490
Form Factor
ATX
Voltage Regulator
16 Phase (14+2) 70A, Teamed
Video Ports
(1) HDMI 2.0 ,(1) DisplayPort (1.4)
REAR USB Ports
1 x USB 3.2 Gen 2×2 port(s) (1 x USB Type-C), 3 x USB 3.2 Gen 2 port (2 x Type-A, 1 x USB Type-C ), 4 x USB 3.2 Gen 1 port (4 x Type-A), 2 x USB 2.0 port(s)(2 x Type-A)
Network Jacks
(2) Intel I225-V 2.5Gb Ethernet
Audio Jacks
(5) Analog + SPDIF
Legacy Ports/Jacks
✗
Other Ports/Jack
Wi-Fi Antenna + BT
PCIe x16
2 x PCIe 4.0/3.0 x16 (x16, x8/x8, x8/x4) + 1 x PCIe 3.0 x16 (max. x4)
PCIe x8
✗
PCIe x4
✗
PCIe x1
(2) v3.0 (x1)
CrossFire/SLI
AMD 3/2 Way CrossFireX and Nvidia 2-Way SLI
DIMM slots
(4) DDR4 – DDR4 5333(OC)
M.2 slots
Supports 4 x M.2 – 4th slot supports PCIe 3.0 x4 & SATA modes
U.2 Ports
✗
SATA Ports
(6) SATA3 6 Gbps
USB Headers
1 x USB 3.2 Gen 2×2 connector(s) (suppport(s) USB Type-C),

1 x USB 3.2 Gen 1 header(s) support(s) additional 2 USB 3.2 Gen 1 ports, 2 x USB 2.0 header(s) support(s) additional 4 USB 2.0 ports

Fan/Pump Headers
(7) 4-Pin
RGB Headers
(2) Aura Addressable RGB (3-pin), (2) Aura RGB (4-pin)
Legacy Interfaces
✗
Other Interfaces
FP-Audio, TPM
Diagnostics Panel
Yes
Internal Button/Switch
✗
SATA Controllers
✗
Ethernet Controllers
(1) Intel I225-V (2.5 GbE)
Wi-Fi / Bluetooth
Intel AX210 / BT 5.1
USB Controllers
✗
HD Audio Codec
SupremeFX S1220A + Savitech SV3H712 Amplifier
DDL/DTS Connect
✗/ DTS Sound Unbound
Warranty
3 Years
Z590 Chipset Overview
Chipset
Z590
Z490
Supported CPUs
10th Gen Intel Core Processors
10th Gen Intel Core Processors
11th Gen Intel Core Processors
11th Gen Intel Core Processors
Chipset Link
DMI x8 (11th Gen only)
DMI x4
PCIE Lanes(CPU)
20
16
PCIE Specification(CPU)
4
3
PCIe Config
x16,x8/x8, x8/x8/x4+4
x16,x8/x8, x8/x8/x4
PCIe 3.0 lanes
24
24
SATA 6.0 Gb/s Ports
6
6
USB 3.2 Gen 2×2 (20Gb/s) Ports
3
0
USB 3.2 Gen 2×1 (10Gb/s) Ports
10
6
USB 3.2 Gen 1×1 (5Gb/s) Ports
10
10
USB 2.0 Ports
14
14
The Z590 chipset supports both 10th Gen and 11th Gen Intel Core processors. Z590 chipset motherboards generally have more connectivity versus Z490. The main difference being PCI-E 4.0 support but it will only work if the Z590 motherboard is paired with an 11th Gen processor.
ASUS ROG Strix Z590-E Gaming Unboxing and First Impressions
The ASUS ROG Z590-E Gaming Wifi motherboard veers off the traditional ROG Strix packaging with the RGB ROG Strix logo. It feels similar to the recently launched ROG Zephyrus lineup with a distinct slash. Features and key specifications are highlighted on the backside which is easier to read compared to the Z490-E's packaging.
ACCESSORIES LIST
User's manual
1 x ASUS Fan Holder
4 x SATA 6Gb/s cables
1 x Supporting DVD
1 x MOS Cooling kit (fan bracket and 1x 40mm fan)
 x ROG Strix stickers
1 x Cable ties pack
1 x Extension Cable for RGB strips (80 cm)
1 x Extension cable for Addressable LED
1 x Thermistor cable
1 x ROG Thank you card
1 x 2-in-1 Rubber pad
1 x Wi-Fi 6E moving antenna
1 M.2 SSD screw package
1 ROG key chain
The ROG Strix Z590-E Gaming Wifi features a less aggressive cyberpunk dystopian design which makes the motherboard look and feels more premium. At a glance, the most noticeable improvement over the Z490-E is the clear separation of the M.2 heatsink and the Z590 chipset heatsink. This is a clear step-up of previous generation ROG Strix motherboards, including AMD variants as users don't go through the ordeal of having to remove the chipset heatsink to access an M.2 SSD slot.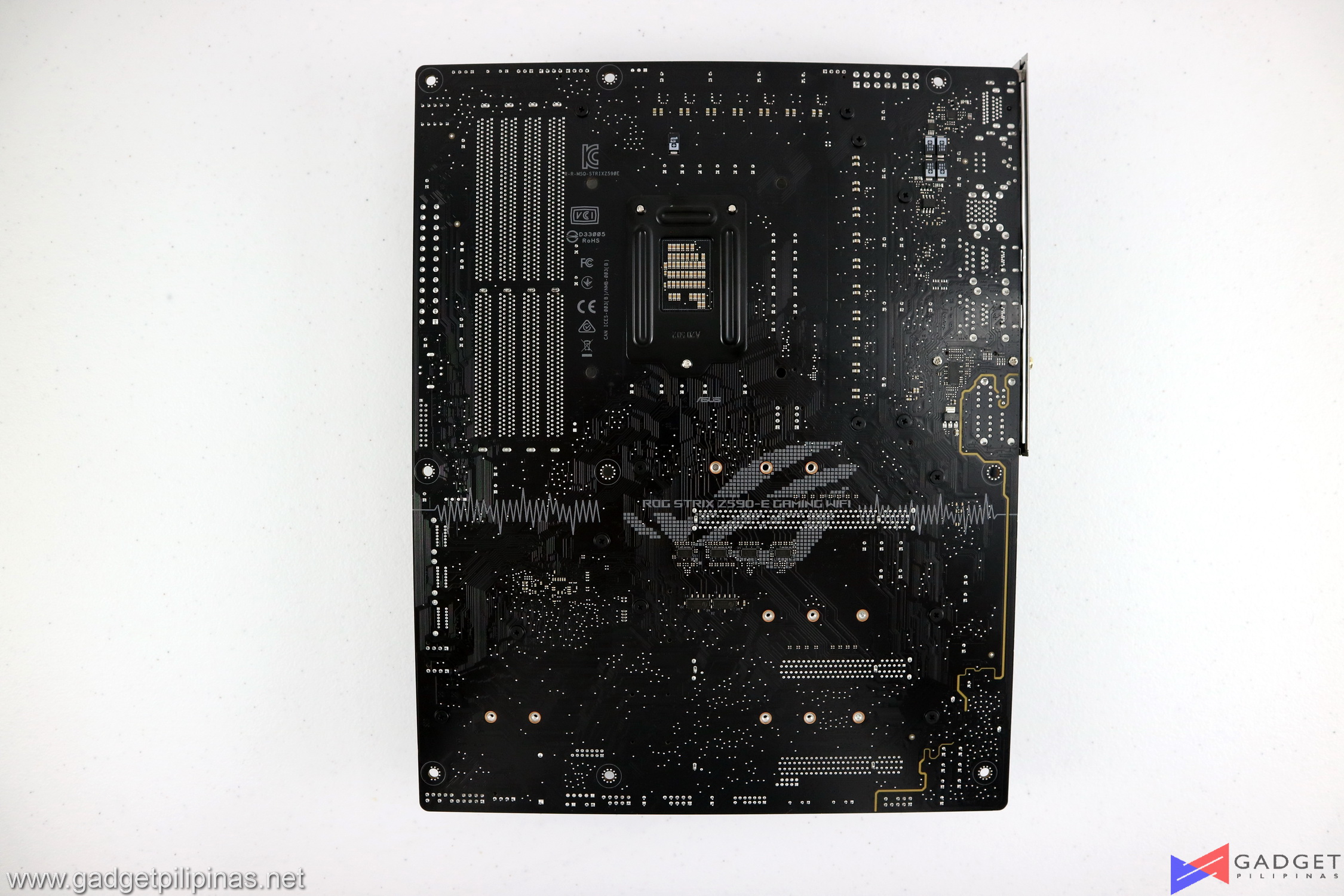 There's not much going on at the backside of the motherboard PCB except for the clean and premium solder work. Like the Z490-E variant, it also uses 2-oz copper across six PCB layers for overall system stability and build quality.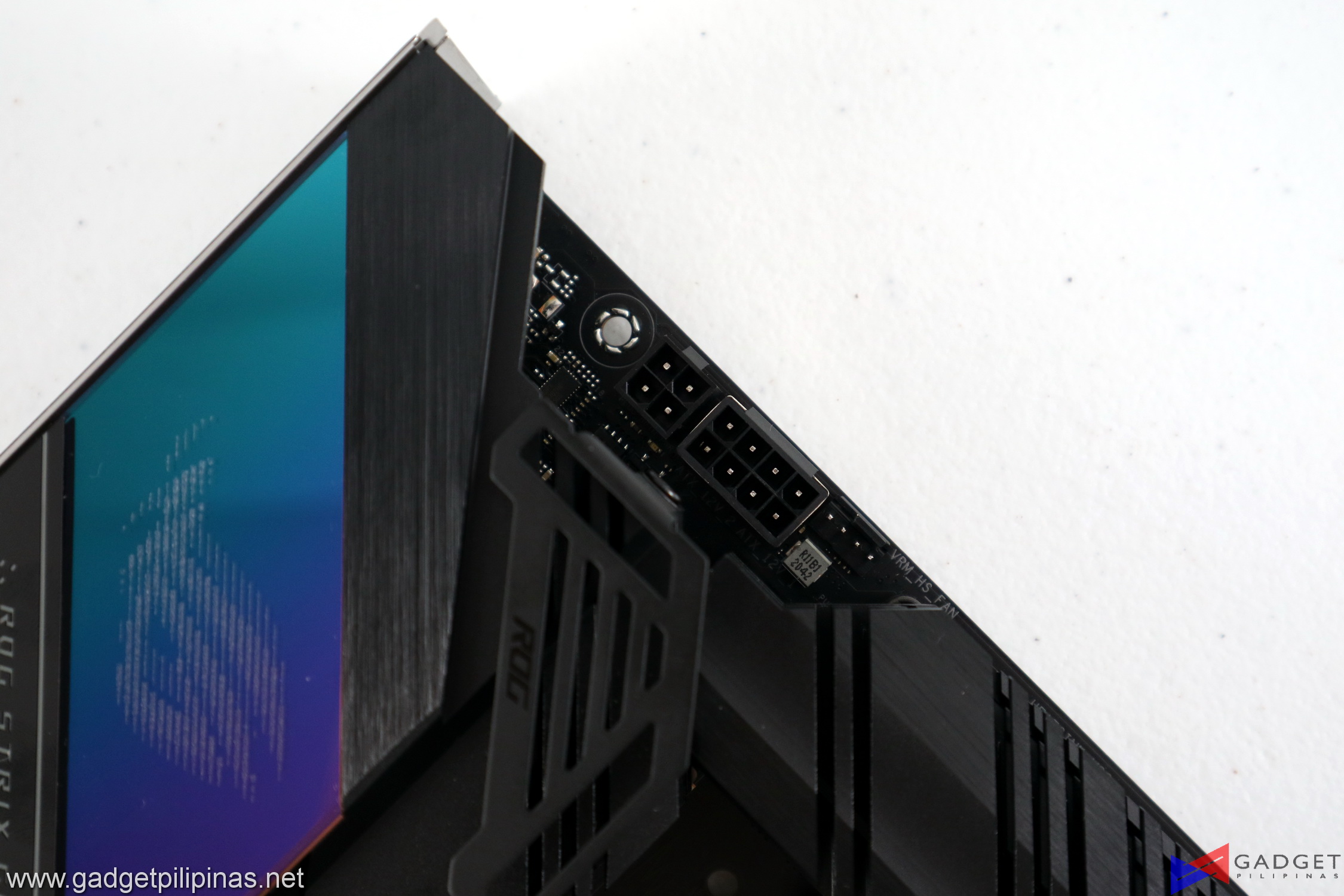 Another similar feature found on the Z490-E that carried over to the Z590-E is the ProCool II power connectors that reinforce the contact between the solid-core pins and PSU cables.
ASUS is known for using teamed power architecture for all of its ROG motherboards and the latest ASUS ROG Strix Z590-E is no exception. Moreover, ASUS used fewer fins on the Z590 VRM heatsinks, especially on the left side.
The main difference between an ROG Strix-E board compared to the rest of the ROG Strix lineup is its VRM configuration. Previously, the ROG Strix-E boards have at least two more power stages than the rest of the ROG Strix but that is no longer the case for the Z590 series. Instead, the whole ROG Strix lineup, with the exception of ITX variant, uses the same 14+2 power stage design. The ROG Strix-E differs itself this time by having 70A variants compared to the 50A installed on the Strix Z590 boards and even the Z490-E.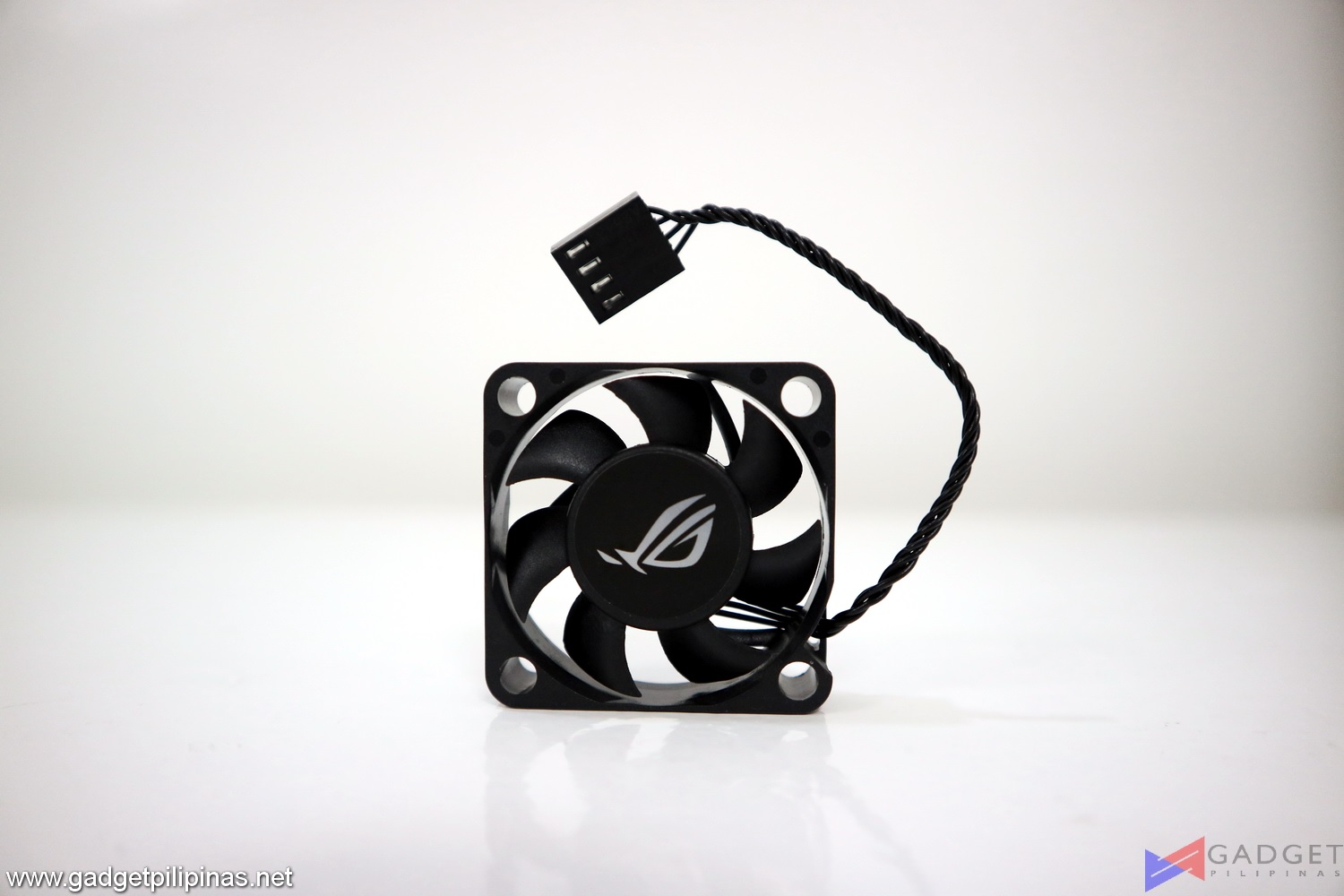 ASUS still includes a 40MM fan together with the MOS fan bracket providing the user the options of actively cooling the motherboard VRM.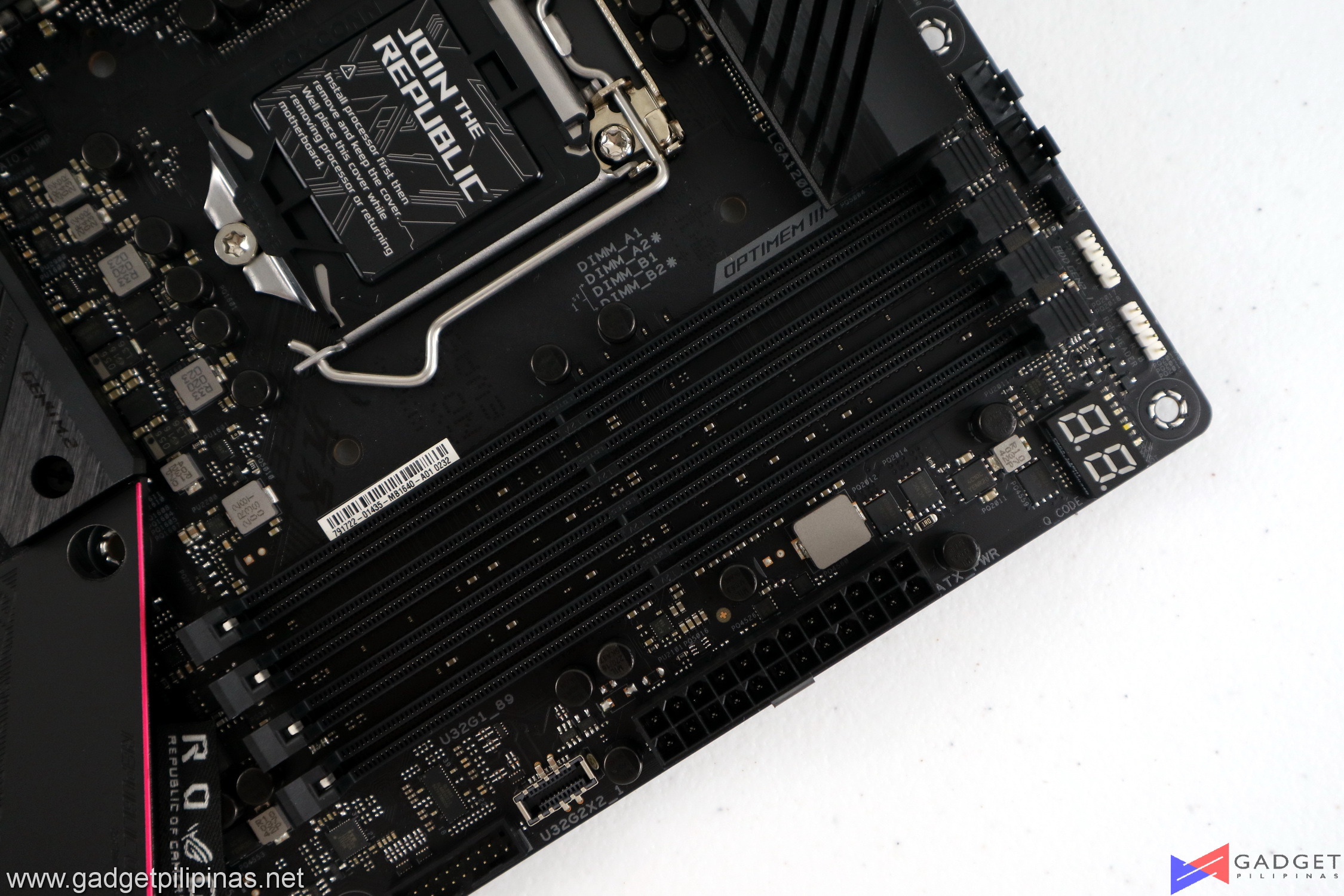 The previous Z490-E motherboard supported DDR4 speeds up to 4,800MHz whereas the ROG Strix Z590-E Gaming Wifi supports DDR4 5,333MHz(OC). The ROG Z590-E still uses a daisy chain trace design instead of T-Tpology. A Daisy Chain trace design is able to achieve a higher peak frequency by reducing signal and reflection as it enhances compatibility, performance, and the overclocking margin of one DIMM per margin.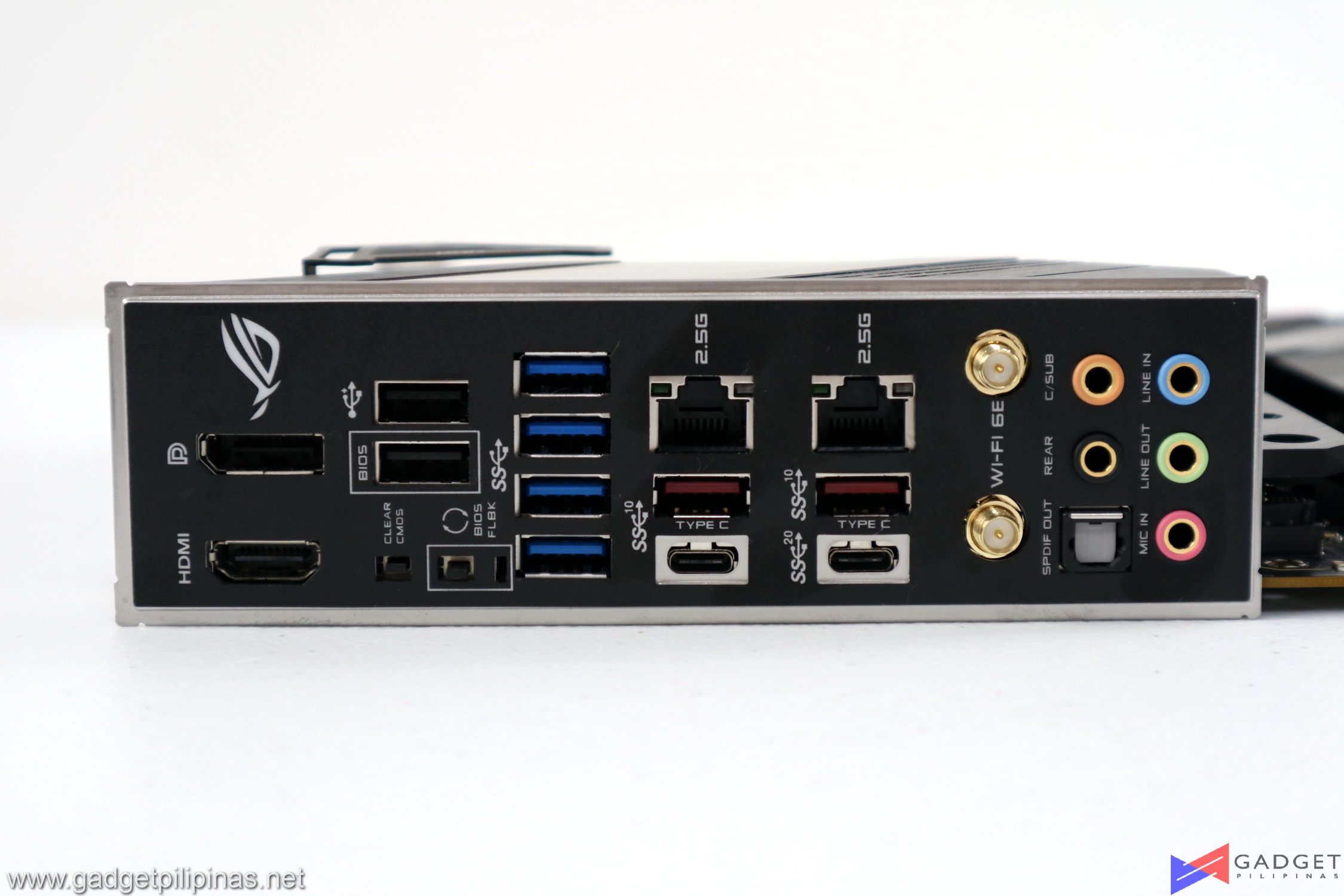 The Z590 chipset boasts more connectivity with almost double the native 3.2 Gen 1 ports as well as support for three USB 3.2 Gen 2 ports. There are four 3.2 USB Gen 1 ports, three 3.2 Gen 2 ports one of which is a type-c port, two USB 2.0 ports, and a single USB 3.2 Gen2x2 Type-C port. One of the USB 2.0 ports supports ASUS' proprietary EZ Flash Utility. Apart from the traditional audio, HDMI, and Display ports, the rear IO panel has a BIOS flashback button as well as a clear CMOS button. The Wi-Fi module is also upgraded and now uses the Intel AX210 which supports WiFi 6E. Compared to the Z590-F, the ROG Strix Z590-E has an additional Intel 2.5GbE ethernet port.
Two out of three PCI-E x16 slots support PCI-E Gen 4 and Nvidia SLI and AMD Crossfire. The PCI-E Gen-4 x16 slots are reinforced by steel per Gen 4 standards. Moreover, there's a total of four M.2 slots on the Z590-E. The first two slots support Gen 4 M.2 SSDS, the 3rd and fourth slots support PCI-E 3.0 with the fourth slot being the only one that supports SATA M.2 SSDs. Do note that the PCI-E slots will only run on Gen 4 mode if you are using an Intel 11th Generation Rocket Lake-S CPU. Additionally, one of the six SATA ports will be disabled if the fourth M.2 slot is occupied by a SATA SSD.
The bottom half of the ASUS ROG Strix Z590-E is mainly covered by three M.2 heatsinks with varying lengths and thicknesses. As mentioned earlier, users no longer have to remove the Z590 chipset to access any of the M.2 slots.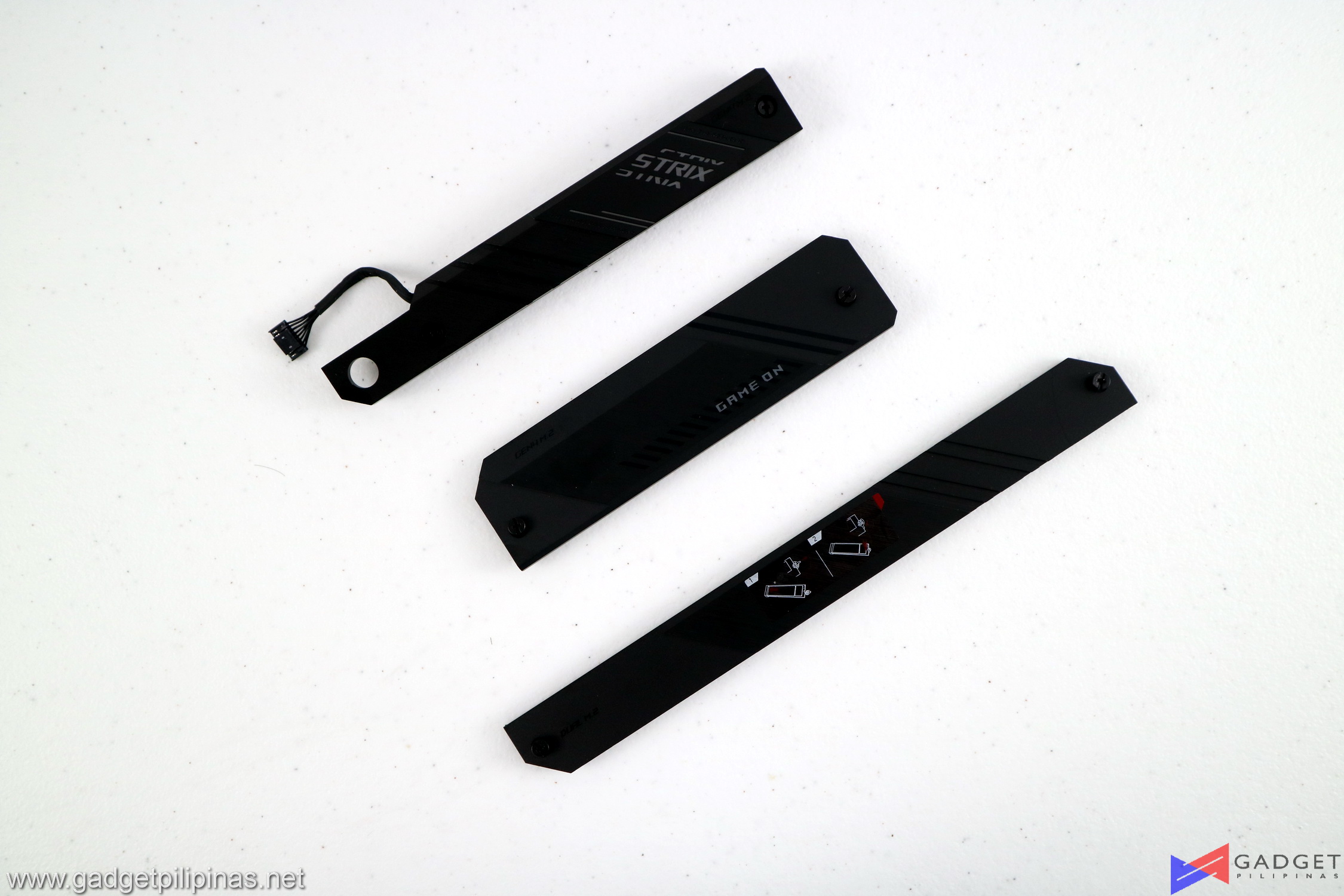 Interestingly, both M.2 slots that support Gen 4 SSDs have thicker heatsinks compared to the shared long heatsink of the last two slots. The first heatsink has integrated AURA lighting which requires the cable to be disconnected every time you install or remove an SSD.
With the launch of the 11th Gen Intel Core processors and Z590 motherboards, ASUS introduced a new feature only found on ROG Z590 motherboards
One of the most distinct and premium features of the ROG Strix Z590 lineup is the Q-Latch design. Q-Latch removes the need to use a screw to hold an M.2 SSD in place. Instead, it uses a simple yet clever locking mechanism to secure the SSD removing the ordeal of screwing and potentially losing your M.2 screw. All except the first M.2 slot supports Q-Latch albeit limited to 80mm and 110mm SSD lengths.
ASUS ROG Strix Z590-E Gaming Motherboard Review – Borderline Flagship
A Justified Premium Motherboard
Despite its complicated dystopian gamer-y look, the ASUS ROG Strix Z590-E makes it easy for anyone to extract more performance out of their system without pouring countless hours into learning every aspect of optimization simply with the help of its foolproof BIOS, software, and AI as well as the hours spent on testing these optimizations. That said, for anyone looking for a motherboard with a robust connectivity that rivals those of top-tier motherboards and can maximize Intel's latest Rocket Lake-S, then the ASUS ROG Strix Z590-E Gaming WiFi will surely not disappoint.
What's Good
Decent VRM Thermals
Generous I/O Connectivity
Q-Latch Easy SSD Installation
AI Features - Cooling, Overclocking, Networking, Noise Cancellation
WIFI 6E and Thunderbolt 4
What's Not
A bit Expensive
AI Features require turning it "on" to work rather than just working out of the box
Grant is a Financial Management graduate from UST. His passion for gadgets and tech crossed him over in the industry where he could apply his knowledge as an enthusiast and in-depth analytic skills as a Finance Major. His passion allows him to earn at the same time help Gadget Pilipinas' readers in making smart, value-based decisions and purchases with his reviews and guides.