Canon has just unveiled the EOS M50 Mark II mirrorless camera in the Philippines. The new camera is designed for photography enthusiasts who are also keen to do videos and livestream.
The new EOS M50 Mark II features a 24.1MP APS-C CMOS sensor and Dual Pixel CMOS AF, a combination that offers sharper images and video and quicker and more accurate autofocus functions.
It also has enhanced Eye Detection AF which is able to detect and focus on a subject's eye even when the person is far away. This should come in handy when capturing people in action like in a sports event. The feature is available with Servo AF when shooting still images and Movie Servo AF when shooting video.
The camera has a continuous shooting speed of up to 7.4fps with Servo AF so you can capture multiple shots of moving subjects like children or pets.
The EOS M50 Mark II makes full use of its touch-sensitive display with the new Tap AF feature where you can instantly switch focus from one person to another by just tapping the screen. You can also move the AF frame by dragging your finger on the screen while shooting through the electronic viewfinder with Touch and Drag AF.
The new mirrorless camera has an improved contrast AF algorithm that includes enhanced AF stability during 4K movie shooting with EF-M lenses. The camera supports movie digital zoom (approx. 3-10x ) which can be combined with optical zoom on a zoom lens to achieve magnified shooting with up-close shots.
You can also livestream directly to YouTube from the EOS M50 Mark II by connecting to Wi-FI. It also supports Canon's new image.Canon cloud platform.
Here are some of the bundles of the Canon EOS M50 Mark II. These are only available until February 28, 2021.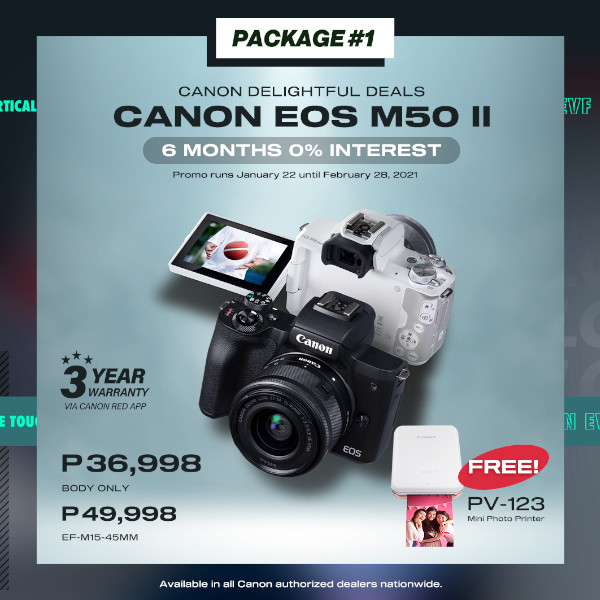 Package 1 offers the body for PHP 36,998 or PHP 49,998 with an EF-M15-45mm lens. This comes with a free PV-123 Mini Photo Printer.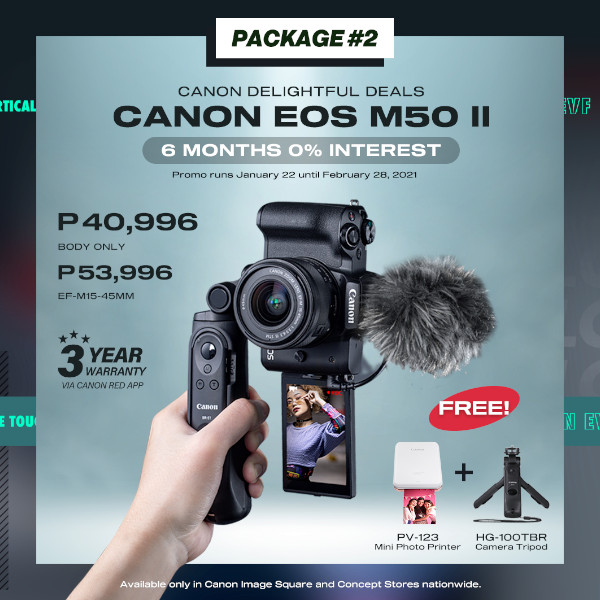 Package 2, on the other hand, offers the body for PHP 40,996 and PHP 53,996 with an EF-M15-45mm lens. In addition to the PV-123 Mini Photo Printer, the camera will also come with a HG-100TBR Camera Tripod.
For more information, click here.