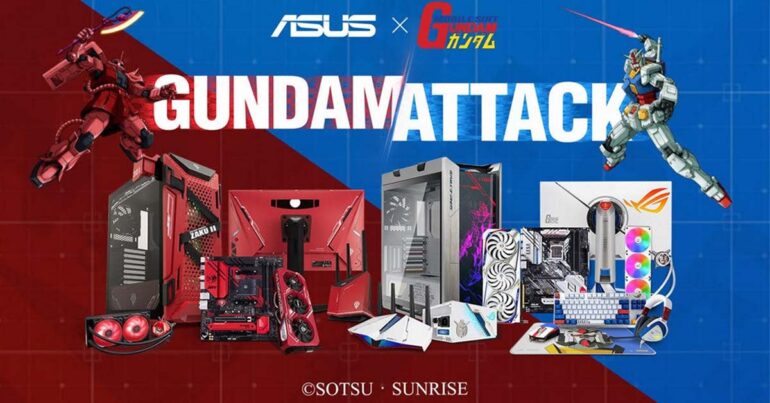 ASUS is bringing its lineup of components, peripherals, and accessories inspired by the legendary Japanese anime to the country. These special models mimic the elements of the original RX-78-2 Gundam and MS-06S Char's Zaku II.
Sieg Zeon Zaku II
The TUF Gaming lineup dons enhancements with design flourishes from the GUNDAM anime series. With aesthetics based on Char's MS-06S ZAKU II Mobile Suit, distinct character details are present in each model.
TUF Gaming GT301 ZAKU II Edition
TUF Gaming LC 240 RGB ZAKU II Edition
TUF Gaming B550-M ZAKU II Edition
TUF Gaming GeForce ® GTX 1660 Super™ ZAKU II Edition
TUF Gaming VG27AQGL1A ZAKU II Edition
RT-AX86U ZAKU II Edition
ROG T-Shirt ZAKU II Edition
Earth Federation Space Force (E.F.S.F) Gundam RX-78-2
The ROG Strix GUNDAM series lineup proudly clads a heroic white color scheme inspired by the RX-78-2 Gundam and representing the Earth Federation Space Force branding.
ROG Strix Helios GUNDAM Edition
Z490 (Wi-Fi) Motherboard GUNDAM Edition
ROG Strix GeForce ® RTX™ 3080 GUNDAM Edition
ROG StrixLC 360 RGB GUNDAM Edition
ROG Strix 850W GUNDAM Edition
ROG Strix XG279Q-G GUNDAM Edition
RT-AX82U GUNDAM Edition
ROG Delta GUNDAM Edition
ROG Strix Scope TKL GUNDAM Edition
ROG Strix Impact II GUNDAM Edition
ROG Sheath GUNDAM Edition
ROG T-Shirt GUNDAM Edition
ROG Stainless Steel Tumbler GUNDAM Edition
Promotions for Set Buyers
ASUS and Gundam fans are in for a treat as they may be able to get a whole Gunpla kit to match their newly purchased DIY PC set. For every purchase of selected parts combinations, customers may be able to claim Gunpla units – up to a PG Unleashed Version of the RX-78-2 GUNDAM and an MG MSN-04 SAZABI Ver. Ka. For more information, click here.
Pricing and Availability
The ASUS and Gundam product collection will be available starting March 2021.
GUNDAM Series
| Product | SRP |
| --- | --- |
| Z490-GUNDAM (WI-FI) | ₱ 12,990.00 |
| ROG STRIX GeForce RTX 3080 GUNDAM Edition | ₱ 76,500.00 |
| ROG STRIX LC 360 RGB GUNDAM Edition | ₱ 13,990.00 |
| ROG STRIX 850W GUNDAM Edition | ₱ 11,599.00 |
| ROG STRIX HELIOS GUNDAM Edition | ₱ 18,580.00 |
| ROG STRIX XG279Q-G GUNDAM Edition | ₱ 42,990.00 |
| ROG STRIX SCOPE TKL GUNDAM Edition | ₱ 7,270.00 |
| ROG STRIX IMPACT II GUNDAM Edition | ₱ 2,490.00 |
| ROG SHEATH GUNDAM Edition | ₱ 990.00 |
| ROG DELTA GUNDAM Edition | ₱ 9,560.00 |
| RT-AX82U GUNDAM Edition | ₱ 14,360.00 |
| ROG STAINLESS STEEL TUMBLER GUNDAM Edition | ₱ 1,290.00 |
| ROG T-Shirt GUNDAM Edition | ₱ 2,000.00 |
Zaku II Series
| Product | SRP |
| --- | --- |
| TUF GAMING B550M (WI-FI) Edition | ₱ 10,590.00 |
| TUF GAMING LC 240 RGB ZAKU II Edition | ₱ 7,590.00 |
| TUF GAMING X3 GeForce GTX 1660 SUPER ZAKU II Edition | ₱ 17,500.00 |
| TUF GAMING GT301 ZAKU II Edition | ₱ 5,740.00 |
| TUF GAMING VG27AQGL1A ZAKU II Edition | ₱ 29,990.00 |
| RT-AX86U ZAKU II Edition | ₱ 16,990.00 |
| ROG T-Shirt ZAKU II Edition | ₱ 2,000.00 |