Zhiyun Crane 2s Pro Package Review
Zhiyun is among the industry leaders in the stabilizer market. In fact, if you're a professional video producer, it's very likely that you're already using one.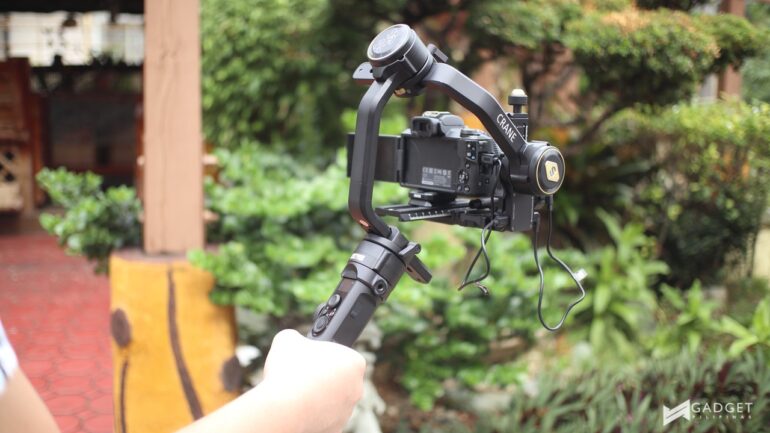 A few months ago, Zhiyun introduced Crane 2s, a follow up to the Crane 2 with bumped up features and innovations. The demand for it was pretty good despite the pandemic, which prompted Zhiyun to release specific packages that include accessories. Later, they would release the Pro Package, which packs all of the more essential accessories that will work best for video producers. If ever you're wondering what the included accessories are, you can check everything in the video below.
What's in the box?
In case you missed it, here is everything inside the box of the Zhiyun Crane 2s Pro Package:
| | | | |
| --- | --- | --- | --- |
| | Crane 2S | Crane 2S Combo | Crane 2S Pro |
| Price | $599 | $649 | $849 |
| Crane 2S Stabilizer | YES | YES | YES |
| Quick Release Plate | YES | YES | YES |
| Quick Release Plate Base | YES | YES | YES |
| 18650 x3 Charger | YES | YES | YES |
| 18650 Li-Ion Batteries (2600mAh) | YES | YES | YES |
| Tripod | YES | YES | YES |
| Backing Base | YES | YES | YES |
| Lens Support | YES | YES | YES |
| USB Type-C Charging Cable | YES | YES | YES |
| Canon Camera Control Cable (LN-MBUC-A01) | YES | YES | YES |
| Canon Camera Control Cable (LN-NBUC-A01) | YES | YES | YES |
| Panasonic Camera Control Cable (LN-UCUC-A01) | YES | YES | YES |
| Sony Camera Control Cable (LN-UCUS-A01) | YES | YES | YES |
| Storage Box | YES | X | YES |
| TransMount Mini Dual Grip Lite | X | X | YES |
| Crane 2S Sling Grip Handle | X | YES | X |
| TransMount Crane 2S DualCam Extension Module | X | X | YES |
| TransMount Image Transmission Transmitter 2.0 | X | X | YES |
| TransMount Phone Holder with Crown Gear | X | X | YES |
| TransMount Focus/Zoom Control Motor 2.0 | X | X | YES |
What makes the Crane 2S Pro package different are the inclusion of the following accessories:
TransMount Image Transmission Transmitter 2.0: realizes a substantial upgrade in both stability and efficiency in signal output, allowing high-res monitoring on multiple devices.
TransMount Follow Focus Motor 2.0: enables automatic motorized focus for supported cameras and lens.
TransMount CRANE 2S Sling Grip Handle: allows effortless switching from upright to sling handheld, plus plenty of thread holes providing easy opportunities to expand your system.
TransMount CRANE 2S DualCam Extension Module: Solution allows you to get close-up and wide-angle shot footage at the same time.
TransMount Phone Holder with Crown Gear: helps you choose the best angle to monitor your shooting using your smartphone
TransMount Handheld Mini Tripod.
(3) three 18650-format 2600mAh Li-Ion Batteries: offers 12-hour runtime for challenging video shooting situations.
For the Pros, by the Pros
Crane 2S offers a ton of improvements compared to its previous generation. Its modular design is its greatest asset, which allows you to use supported accessories and mount HDMI monitors and smartphones for easy access and control. While it isn't unique to Crane 2S, it has the advantage over its competitors because of Transmount accessories for it. If you're a professional, you will find all accessories useful and would drive you to get the Pro Package because of the value you get from it.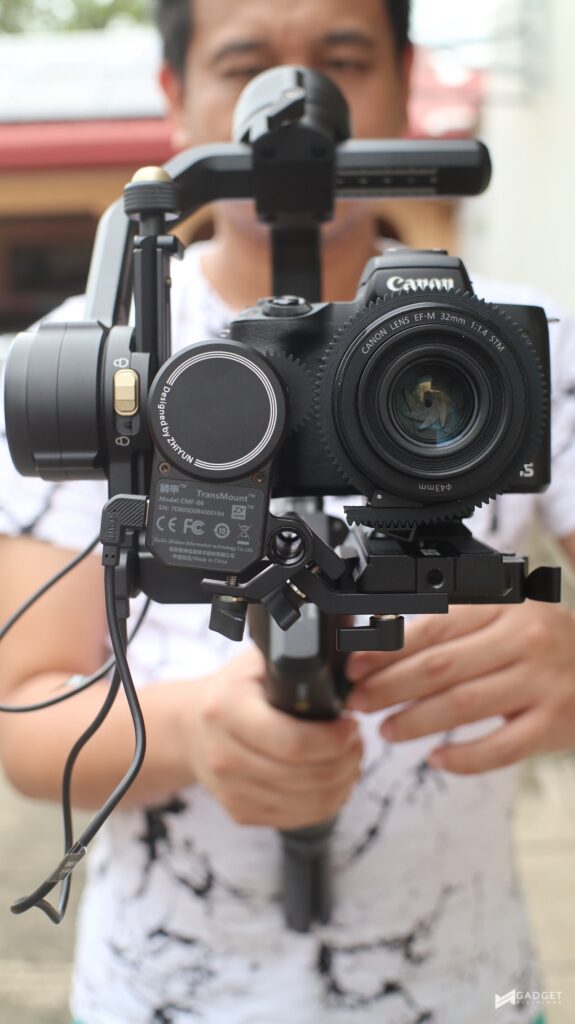 Even without the accessories, Crane 2s is profoundly impressive. It has all the features you need to in order to achieve essential and creative shots to produce stabilized videos. Since the gimbal is made with slightly lighter materials (especially the one-of-a-kiond carbon fiber handle) and modular and portable design, Crane 2S is a joy to use and bring along.
Payload capacity is topnotch. The gimbals are world-class. The features you can get with its app are straightforward and functional. Battery time is incredible. Now, let's break everything down.
What Payload?
One of the reasons why you're getting the Zhiyun Crane 2S is its ability to carry larger payload. From BMPCC 6K down to Micro 4/3 cameras, this gimbal can pretty much deal with bigger cameras.
My case is quite special because I'm still using my trusty old Canon M50, but I needed one because I sometimes use larger than usual lens and I'm now saving for a BMPCC 6K. I also consider myself a newbie when it comes to using camera gimbals, yet I found the Crane 2S to be very easy to get acquainted to and use.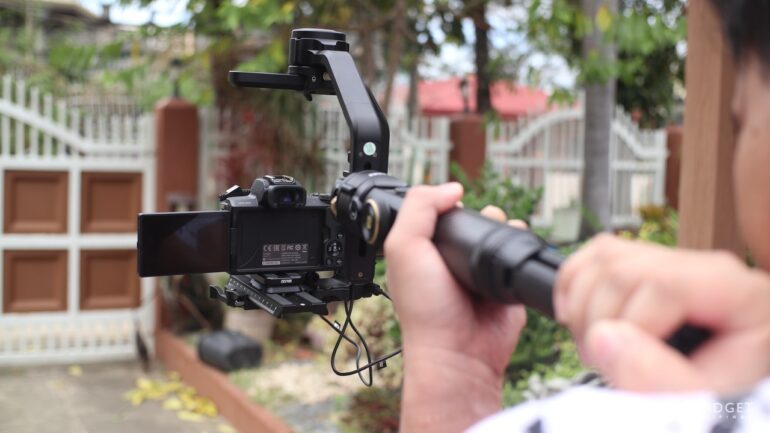 Again, speaking of my payload, I used the following on my Crane 2S:
Canon M50
Canon EF-M 32mm f/1.4 STM
Sigma EF-M 16mm f/1.4 DC DN
The Canon M50, while it is not included in the supported devices, works on the Crane 2S. The included Micro USB to Type C cable allows the gimbal to communicate directly with the camera. This gives complete control on specific settings like aperture, shutter speed, and ISO. The only downside is that you can only tweak the exposure value if you set the video settings to auto-exposure, which does not make sense to me. Perhaps, Zhiyun will add Canon M50 as one of the supported devices once they have fixed this. Fortunately, updating the gimbal's firmware is easy through its ZY Play app. I'll talk more about this later.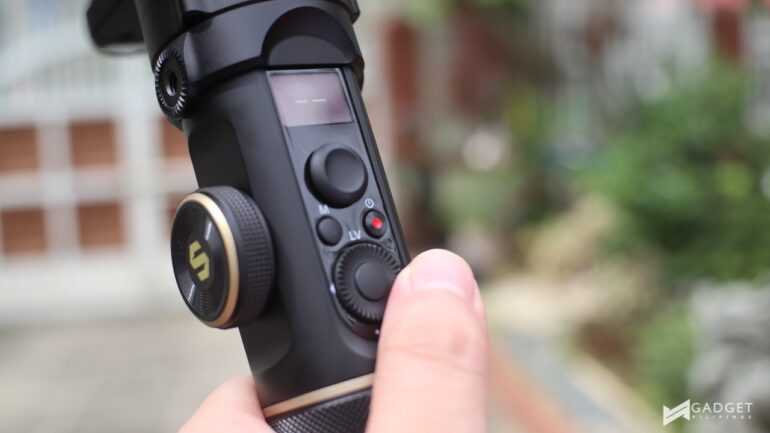 Unfornately, Zhuyin's website does not show the maximum payload this stabilizer can carry. If you want to know if your camera is supported by Crane 2S, Zhiyun prepared a PDF, which they are constantly updating here. If your camera is not supported, I don't recommend that you bank on luck so it would be best to bring your camera to the shop where you want to buy it and have it tested before committing to buy one.
Movement Fidelity
| | |
| --- | --- |
| Following Deviation in Motion State: | |
| | Standard: ± 0.1 ° |
| | Min: ± 0.05 ° |
| Following Deviation in Static State: | |
| | Min: ± 0.01 ° |
| | |
| | Min: -91 ° |
| | |
| | Min: -57.5 ° |
| Pan axis movement angle range: | |
The specs alone would tell you that the Zhiyun Crane 2S is quite a capable and flexible stabilizer despite carrying a hefty payload.
In my experience with the Canon M50 with the Sigma 18mm f/1.4, I found it quite easy and quick to balance. I simply balanced the 3 axis one at a time. Fortunately, this is where the axis locking mechanism on Crane 2S come it. Whether you're shooting in landscape or portrait mode, the processing balancing is very much similar. As a newbie, this streamlines my goal of balancing each axis.
Zhiyun Crane 2S packs a bevy of gimbal features, which can definitely bring out your creativity: Pan Following, Locking, Following, Full-Range POV, Vortex, Go mode.
Among these modes, Vortex and Go Mode really captured my attention. In Vortex Mode, the stabilizer will fully tilt the camera up, which you should then follow through by pointing it forward. Establish your shot and rotate it camera by panning it until the end of your clip. The control is yours and the effect is stunning especially when your shot is in slow motion.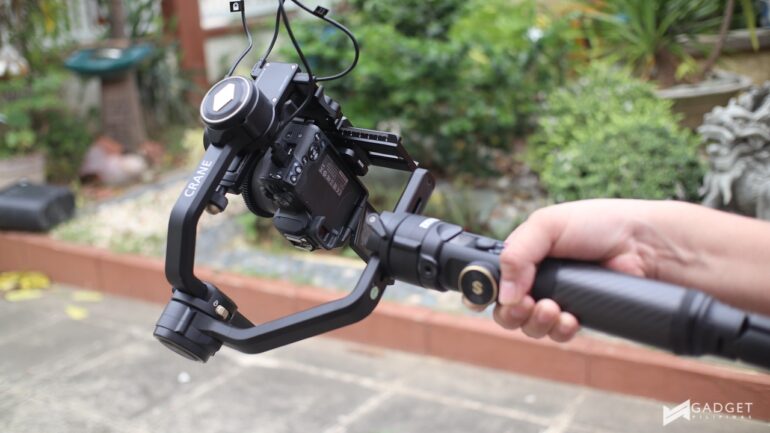 Go mode, on the other hand, speeds up the response of each axis to your movement. It's like a supercharged PF, which is perfect for those who are shooting subjects in quick motion.
What I particularly like about this gimbal is the location of its trigger, which lets you lock the axis on demand. Double pressing recenters the gimbal and triple pressing the trigger pans the camera to 180-degrees to engage selfie-mode. While it seems unlikely you'll do this unless you've got strong arms, it's interesting for Zhiyun for even considering to include this as one of the features.
Shoot in Vertical
Just in case you missed it, this may be the only gimbal that can accommodate bigger cameras to have a modular mount that supports horizontal or vertical shooting. I find this helpful because it helps me become flexible with how I shoot videos without doing too much adjustments; and innovating because Zhiyun thought of of adapting to this change by incorporate it to Crane 2S without sacrificing mobility, compatibility to bigger payload and features.
Features are made even better by the App
Crane 2S has a .96″ OLED display, which lets you access its key modes and parameters. It displays valuable information about the mode you have selected, and even warns you if  you accidentally forgot unlocking the axis or if the gimbal is running out of batteries.
The display may not be able to accommodate all features you can do with the gimbal. This is where ZY Play comes in.
ZY Play, while it has flaws and room for improvement, has the essential features in place for me to use it on the Crane 2S. Connected via Bluetooth 5.0, it helps me initialize the gimbal and access features that you wouldn't find on its on-device menus. The features you can do with ZY Play vary on the camera you're using. In my case, most of the features are available except live view, which seems to be unsupported yet.
Regardless of this, additional modes like panorama and programmable timelapse may be set via the application. It can be quite confusing at first because the displayed instructions in the applications are not enough to undertand how things are done.
Setting up the programmable timelapse may also be quite confusing for newbies too. In my case, I needed to disconnect the USB connection between the gimbal and my Canon M50 just to be able to enabled timelapse mode on my camera. This is the only way to sync the internal meter of my camera and ZY play in order to achieve a successful timelapse video.
Apart from this, you can also use your phone as wireless controller for all the axis. You tilt, plan and roll your camera without even touching the stabilizer.
Long Lasting Usage
What powers the 3 axis gimbal are 3 2600mAh (7,800mAh total) lithium batteries. This can last for over 10 hours based on my usage and it's definitely something to be wowed for.
This is also a major advantage over other stabilizers in the market because the batteries are user-replacable.
The Reason why Pros Need this
Crane 2S' modular design is one of its biggest assets. It comes with screw holes, which lets you attach compatible third party and Transmount accessories. I have used the ones included in the package except for Wireless Trasmission Module (because I still don't have yet the right equipment to pair it up with), and I can tell you that everything is godsend.
While the stabilizer has a built-in digital focus control, I am unable to use it because my camera is not yet supported. Fortunately, I've got a Follow Focus Motor, which is included in the Pro Package.
Zhiyun Crane 2S Pro Review 11
Zhiyun Crane 2S Pro Review 20
The Follow Focus Motor is, by far, my favorite among all because it allows me to break free from autofocus and have more control with my composition. This a big deal for me as an amateur filmmaker. The motor is not just limited to focus because you can set it to control your zoom.
Another one that I like attached on the Crane 2S is Transmount Phone Holder with Crown Gear. This helps you pack both your phone and gimbal into one package. I find this quite useful when I would use the extra features that can be accessed via ZY Play app.
Another one is the Sling Grip Handle which allows you to be more flexible with your shot. This is best used when shooting at underslung position for low and tight shots.
Verdict
There is no reason why you should not consider the Zhiyun Crane 2S Pro Package as your next stabilizer. This package is packed with the essentials, which can definitely kickstart your creativity as a video content producer.
While this stabilizer is quite easy to use – even for beginners – consumers may find the price of the pro package quite steep. This should not stop you from still be able to buy the Standard or Combo, which are priced $539 and $590 respectively.
Availability
The new Crane 2S Pro is now available for $849. You may buy it directly via Zhiyun's website here.
Giancarlo Viterbo is a Filipino Technology Journalist, blogger and Editor of gadgetpilipinas.net, He is also a Geek, Dad and a Husband. He knows a lot about washing the dishes, doing some errands and following instructions from his boss on his day job. Follow him on twitter: @gianviterbo and @gadgetpilipinas.