Introduction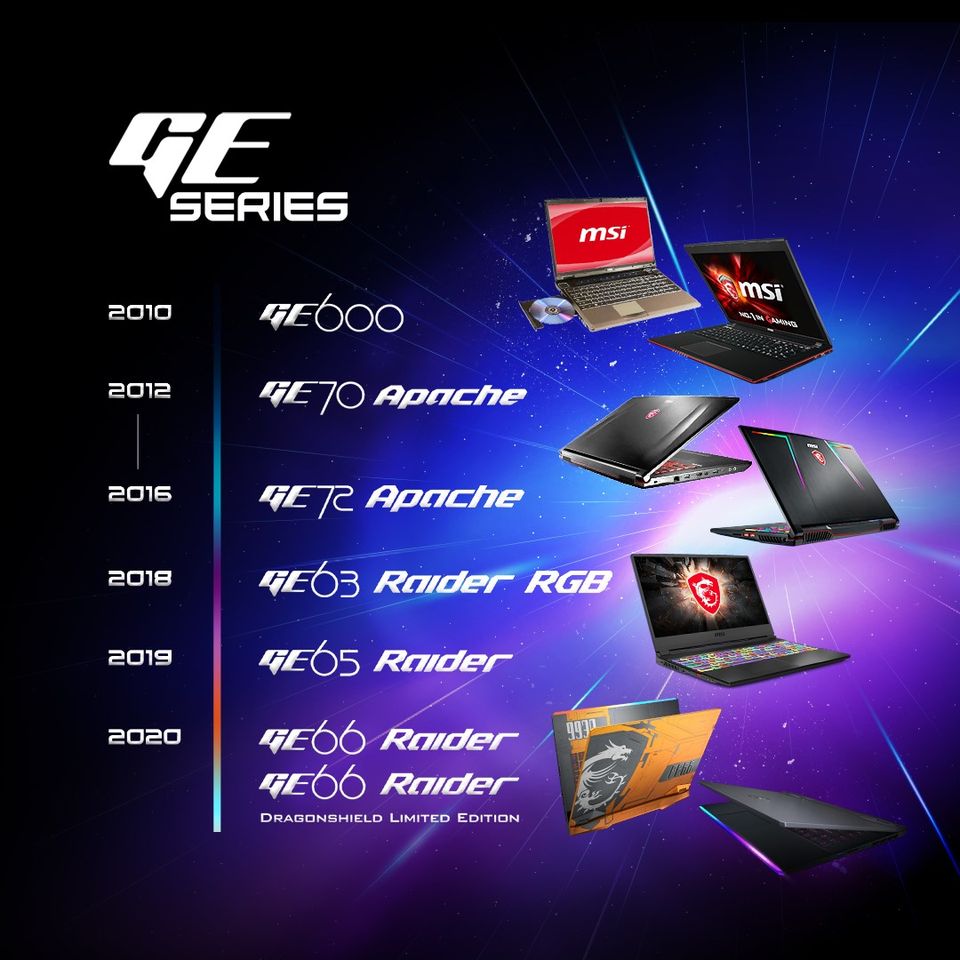 MSI is one of the longstanding brands when it comes to gaming laptops with popular models such as the GS Sealth, or GT Titan being the flagship laptops in their respective categories. In spite of the somehow complicated naming scheme by the brand, MSI's raider series started to make noise in the market as one of the performance-centered laptops. In our lab is the MSI GE66 Raider, which the Intel 10th-gen refresh popular MSI GE65 Raider. Taking a closer look at the MSI GE66 Raider shows that has something more to offer than just a 10th gen CPU swap over its predecessor.
The MSI GE66 Raider has several configurations with either an Intel Core i9-10980HK or i7-10875H options on the CPU, Nvidia RTX 2070 or its super variant on the GPU, and finally the screen option of either a 240Hz IPS-level panel or a 4K IPS, both of which are in a 15.6″ chassis. Unfortunately, not all options are available locally with only the Intel Core i9-10980HK and RTX 2070 Super at Php 189,995 or the Intel Core i7-10875H paired with the RTX 2070 at Php 159,995. Both models sport the 240Hz FHD panel. Our review unit is the GE66 Raider 10SF-026PH model or the Php 159,995 variant sporting the i7 10875H and RTX 2060.
Unboxing and First Impression
The MSI GE66 Raider is wrapped in a gunmetal finish that's almost similar to the Prestige 14's color scheme. Depending on the lighting condition the lid finish is closer to blue than grey. The gunmetal design extends all the way to the exhaust vents, creating a two-tone finish for the GE66 Raider.
The MSI badge logo is still present but with a monochromatic finish instead of the regular white or red logo to maintain a premium feel.
While the edgy and bulky hinge design might look like it's only for aesthetics, MSI claims that the GE66 has a stronger hinge making it more durable and lower the defect. True to MSI's promise, the hinge resisted moving when we did our simple "wiggle" test.
The left and right side of the MSI GE66 Raider is divided into three regions. The IO ports are surrounded by the side-firing speakers and exhaust vents. IO wise, the right side sports two USB 3.2 Gen 1 Type-A ports and an SD card reader rated up to UHS III.
The left side shows another USB 3.2 Gen 2 Type-A port, a USB 3.2 Gen2x2 Type-C port and a 3.5mm combo jack.
More ports are available at the back in between the exhaust vents. There is another USB 3.2 Gen2 Type-C ports that support display input via DP 1.4, a mini Display Port 1.4, an ethernet jack, and an HDMI 2.0 port.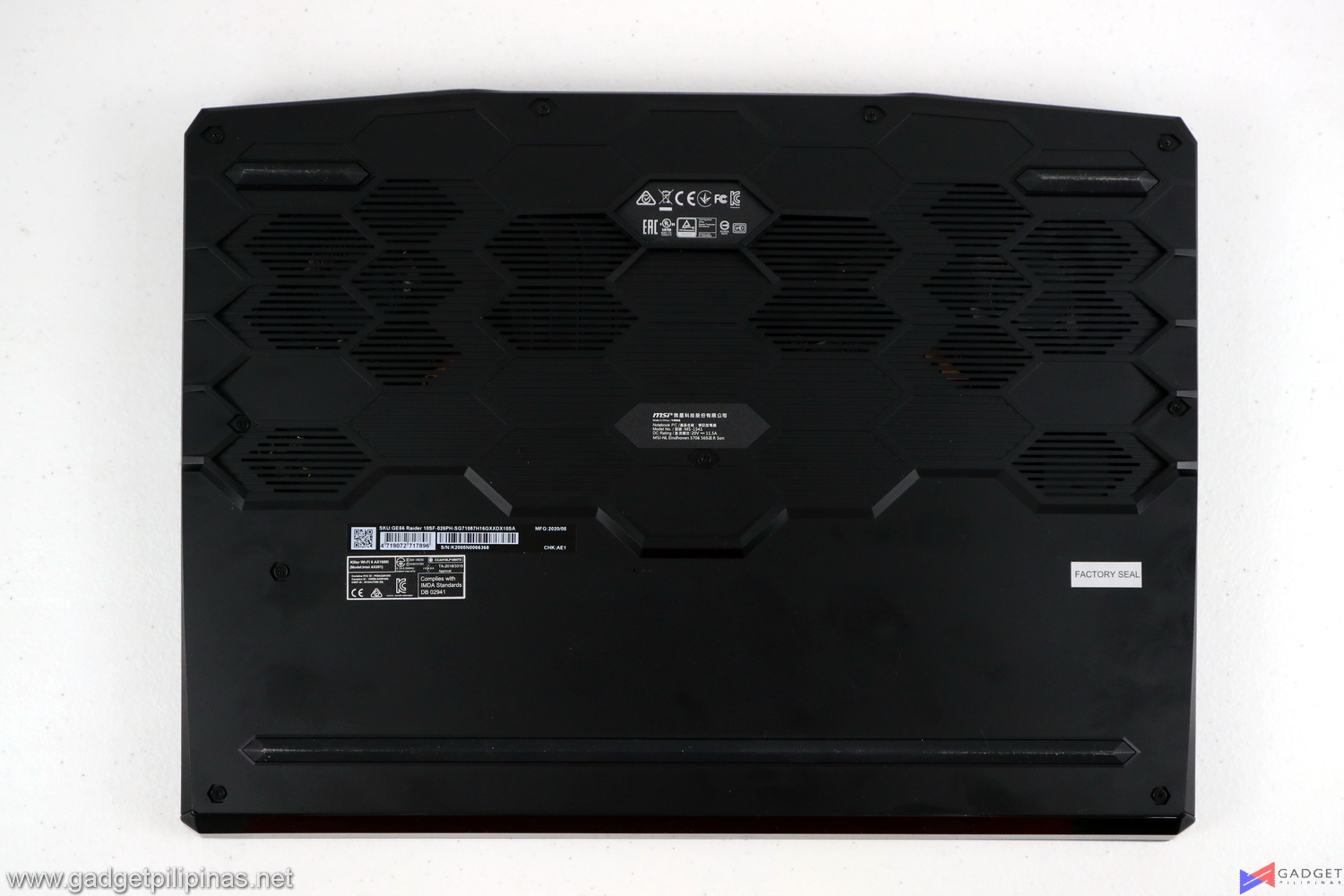 Honeycomb-like perforations are present underneath the laptop where the cooling fans should be to provide an ample amount of airflow. Additionally, there are plastic bulges on the bottom center to help elevate the laptop aside from the three strips of rubber feet.
The MSI GE66's keyboard feels cramped for a 15.6″ form factor. The main reason being the shallow design that makes it feel and look like its submerged. Each key is lit with MSI's mystic light RGB and props to MSI for making the secondary function of some keys light up as well.
In most gaming laptops, either the FN key or windows key is omitted on the left side of the keyboard to avoid accidental keystrokes. MSI's choice to omit the left FN key and to make the left control key occupy its spot is a double edge sword for some. The 2u CTRL key is especially useful for FPS games but might pose an issue as far as typing experience is concerned. As for the "double edge" part, we'll get to that in the other side of the keyboard. Moreover, the "`" key is halved to compensate for the whole row which might take some time to get used to.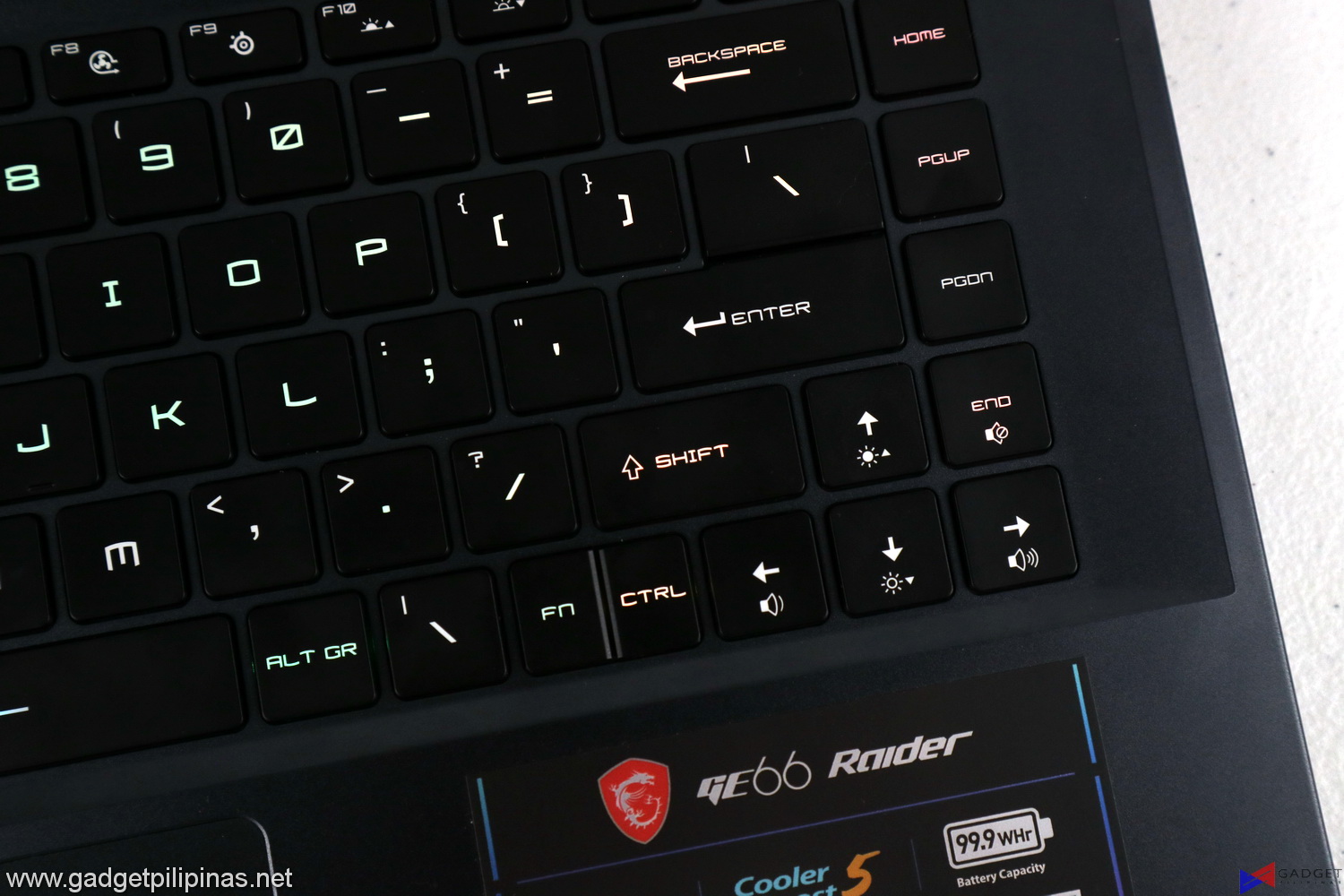 While we commend MSI for having full-sized arrow keys, the choice to split the FN and right CTRL key are questionable given their choice of opting for 2u left CTRL-key. Not only do users have one FN key to work with, but they also have a lot of time to get used to with the .5u FN key. Not to mention being prone to right CTRL misclicks as well as the weird "\" placement.
MSI GE66 Raider Review 060
MSI GE66 Raider Review 059
The GE66 Raider has a decent sized trackpad for 15.6″ gaming notebook and is possible thanks to the omission of physical right and left click buttons. The compact keyboard of the MSI GE66 Raider makes the trackpad a possible nuisance when gaming. MSI compensates this by having their MSI Dragon Center app automatically disable the trackpad when a game is launched.
Making things worse with the overall keyboard experience is the power button placement of the MSI GE66 Raider. Users are prone to accidentally shutting down their laptops if they mean to press delete/insert or home key.
Display and Camera
The MSI GE66 Raider's display is one of the machine's highlights as it sports a 15.6″ 1080p screen with a whopping 240hz refresh rate. It's definitely one of the thickest bezels in the market with the GE66 Raider having an 82% screen-to-body-ratio.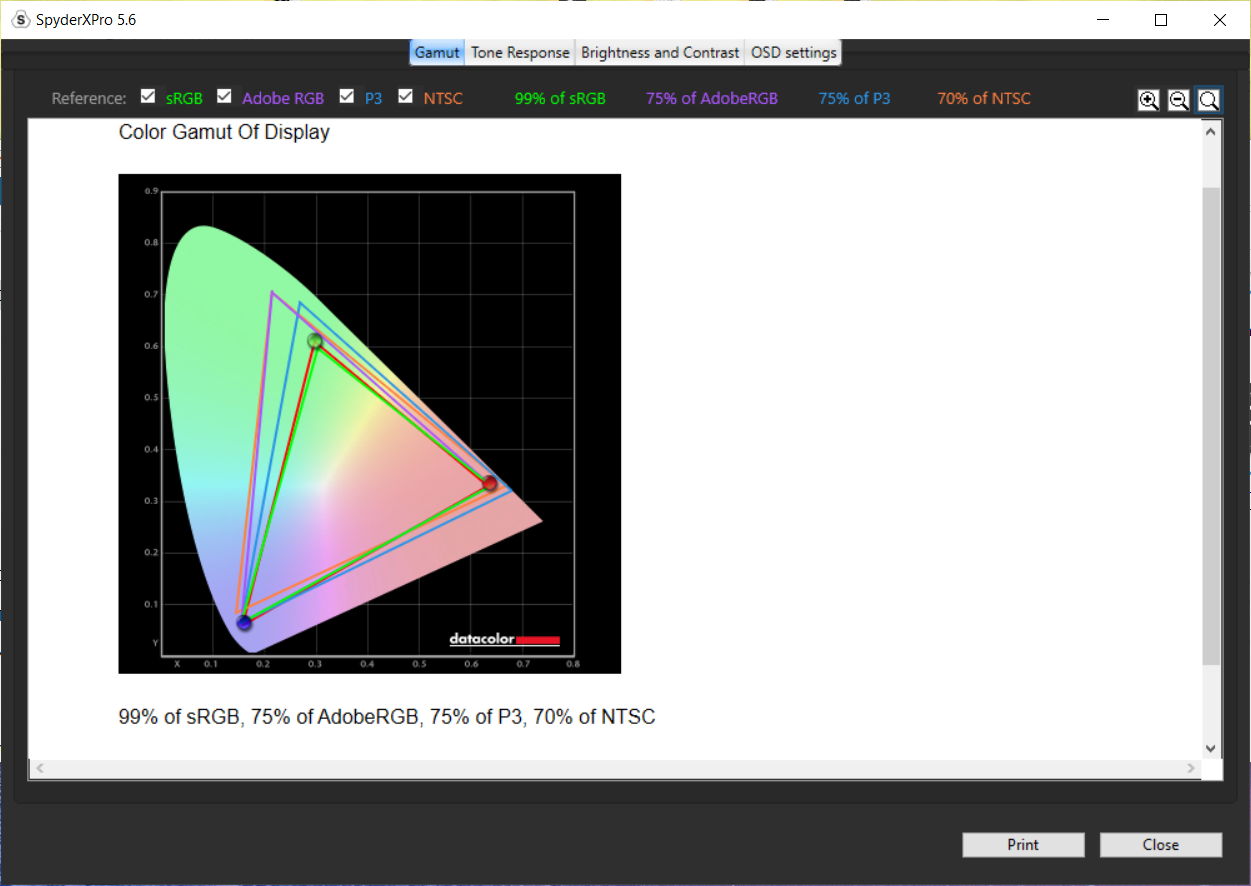 The MSI GE66 Raider's display excels not only in refresh rate and response time but also in panel quality as well. The 99% sRGB and 65% AdobeRGB rating make the GE66 Raider a good candidate for a photo and video editing laptop, especially as a same-day edit machine with its top of the line specs.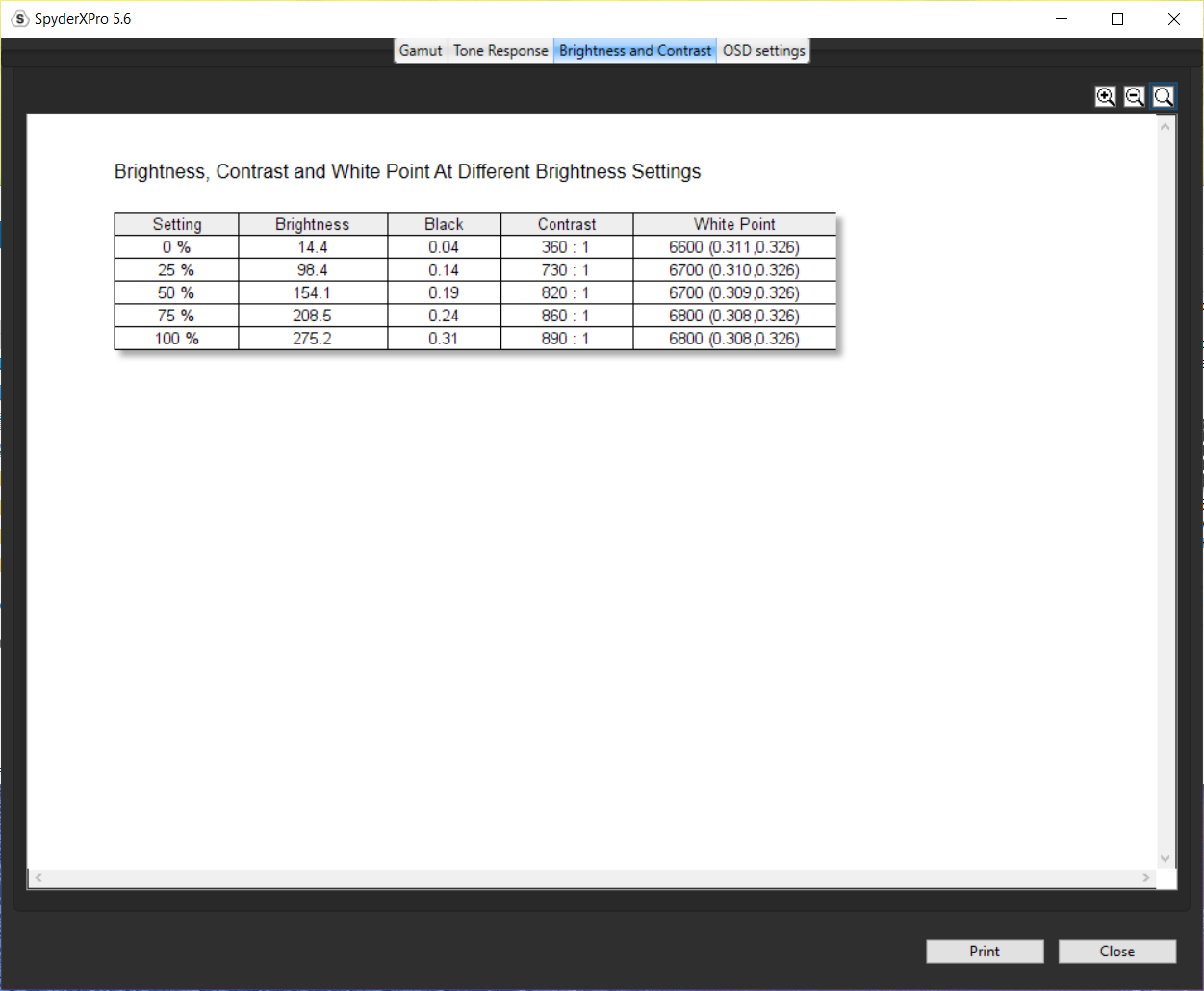 Unfortunately, the amazing visuals are slightly held back by its brightness as we were only able to measure 275nits at the MSI GE66's max brightness level at 100%.
Backlight Bleeding

Backlight bleed is very minimal on the corners on the MSI GE66 Raiders. While disappointing, it cannot be avoided with IPS-level aka TN panels with good color accuracy. Note that backlight bleeding on the Sharp LQ156M1JW03 panel is very minimal considering the dim 280nit brightness measurement that we got, so we'll give it a pass for the GE66 Raider.
The MSI GE66 Raider's camera is positioned at the top of the display with no extra fuss about a privacy shutter.
MSI Dragon Center, SteelSeries Engine and Bloatware
MSI Dragon Center is the brand's control center application similar to ASUS ROG's Armoury Crate and Lenovo's Vantage Softtware. MSI Dragon Center handles the GE66 Raider's performance profiles, display color profiles, hotkeys and supports hardware monitoring as well. Unlike the two most recent laptops we reviewed, the MSI GE66 allows the user to create its own performance profile apart from the 4 preset profiles available.
MSI GE66 Raider Review Steel Series Engine 3
MSI GE66 Raider Review Steel Series Engine 3 Keyboard
MSI has a long-standing relationship with SteelSeries from the desktop space to the laptop department. SteelSeries Engine powers the MSI GE66 Raider's keyboard and handles its Mystic Light RGB illumination. The software lets you control lighting as well as hotkey mapping for the GE66 Raider's keyboard.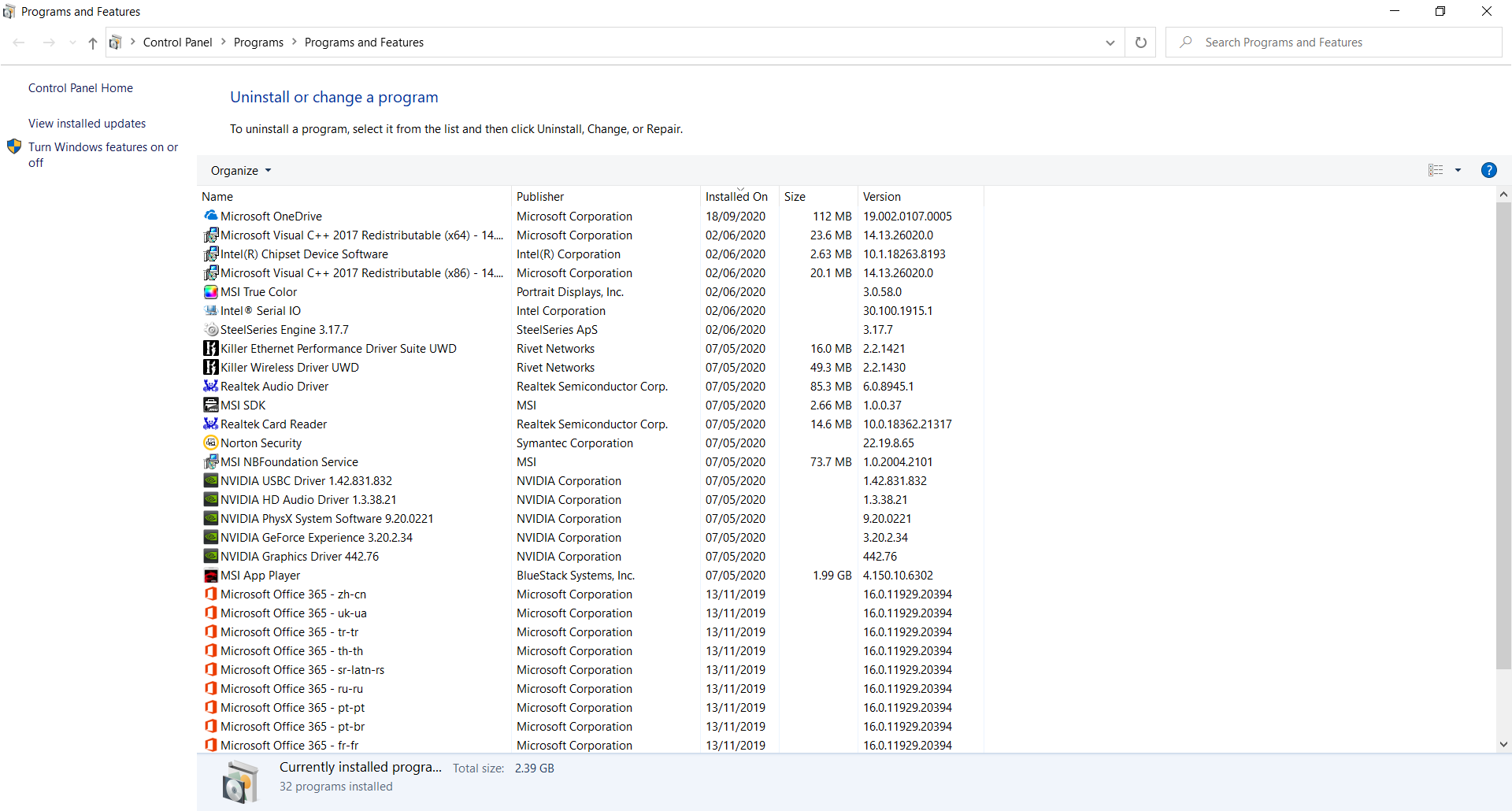 If we didn't account for the brand's own software, the MSI GE66 Raider has one of the cleanest laptops with only the necessary drivers installed and the pesky Norton Security antivirus.
Synthetic Benchmarks
We benchmarked the MSI GE66 Raider together with its different power settings found in the MSI Dragon Center App. The main purpose of benchmarking power profiles will show how aggressive or conservative the manufacturer is in thermal management. These profiles will affect the CPU and GPUs' boosting behavior in terms of duration and max clock speed which will translate to higher scores and stable framerates.
SuperPI 32M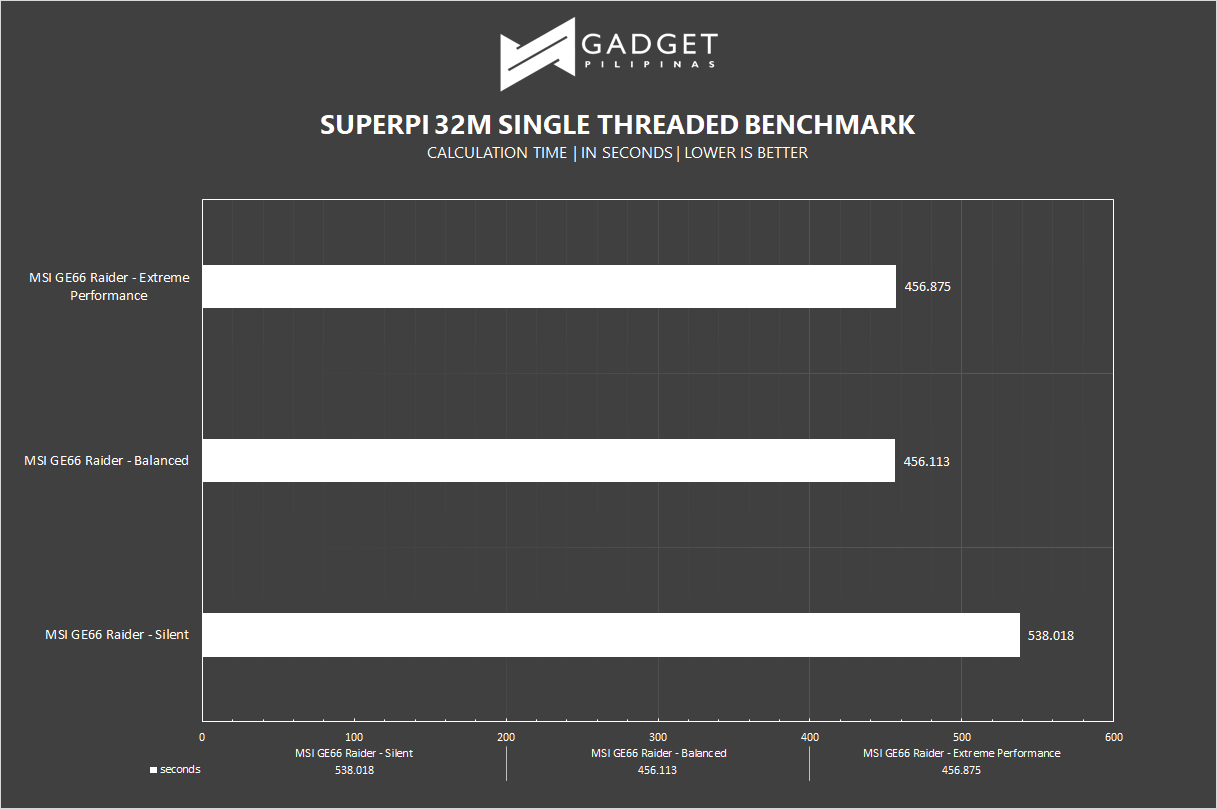 SuperPI is a single-threaded benchmark application that lets the CPU calculate Pi(π) to the nth digit. In this benchmark, we selected the Pi calculation to 32M, the highest available for the app.
wPrime 1024M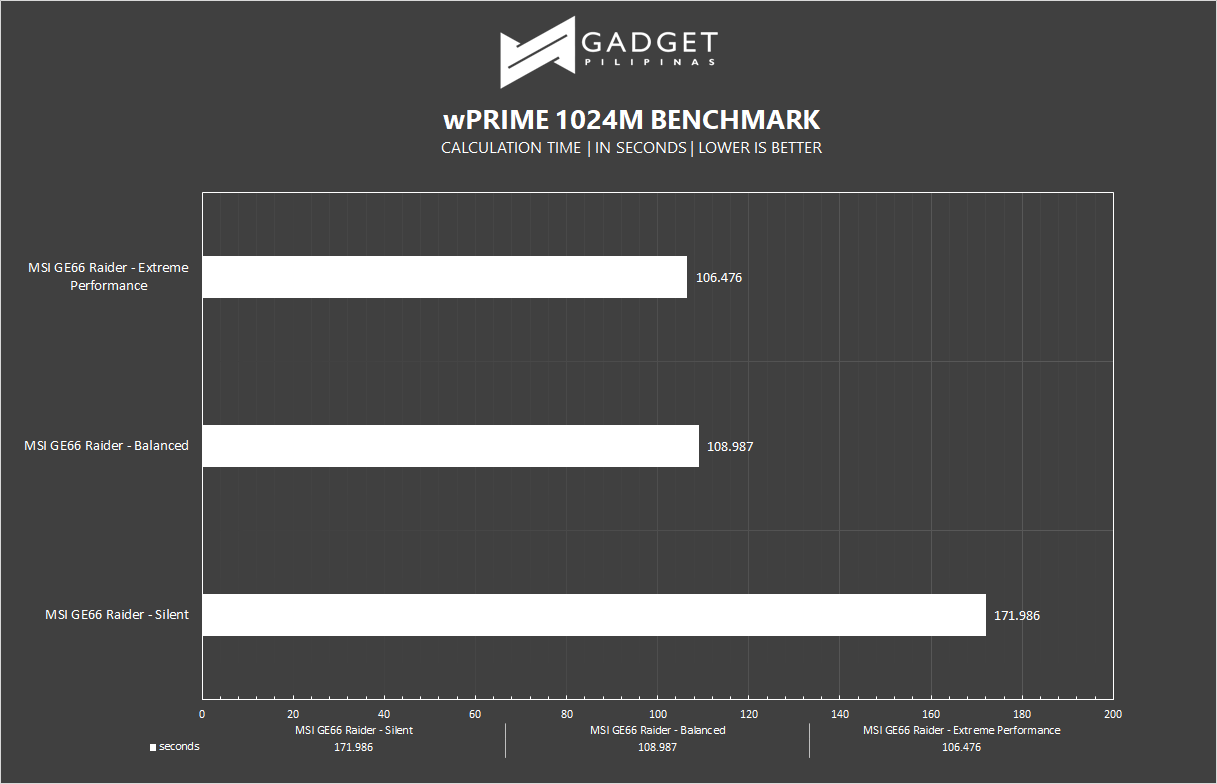 wPrime is a benchmark tool similar to SuperPI, but the former takes on finding prime numbers using Newton's Method. The benchmark is set to calculate 1024M, and measured according to calculation time.
GeekBench 5
Geekbench is a multi-platform benchmark that's used to gauge CPU performance and compare them across Windows, Mac, and Mobile. Geekbench 5 is the latest version and doesn't rely on memory as much compared to the previous Geekbench 4, making it a great tool to
CINEBENCH R20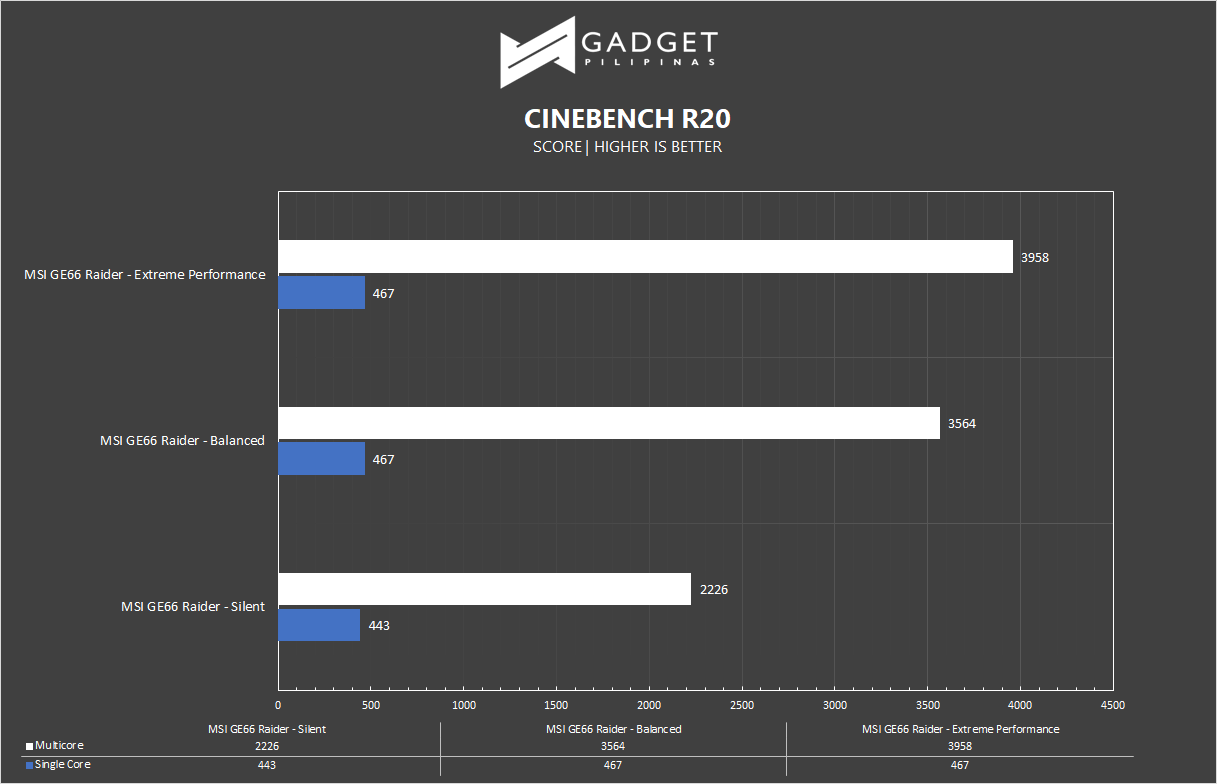 Maxon's Cinebench benchmark is one of the most iconic benchmark applications used by reviewers and enthusiasts. The latest Cinebench R20 uses the latest rendering architectures, including Intel's Embree ray tracing technology and other advanced features from AMD and Intel that allows users to render the same scene on the same hard. Cinebench R20 uses a larger and more complex testing scene than Cinebench R20 by about 8x computational power and requires 4x the memory.
V-RAY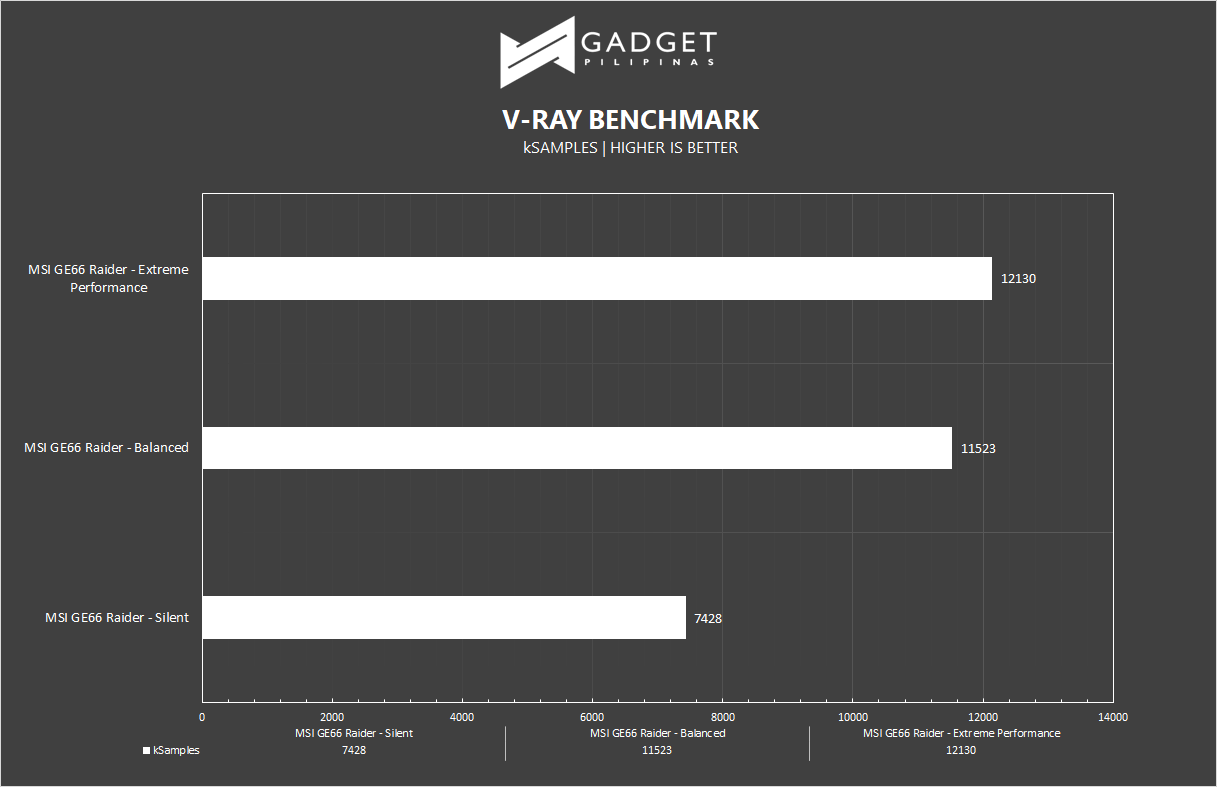 V-Ray Benchmark is a stand-alone version V-Ray developed by Chaos Group. It is designed to test the CPU and GPU by rendering sample scenes at a fixed amount of time. V-Ray is plug-in mostly utilized by 3D computer graphics software applications mainly for industrial design, product design, architecture, film, and video game production. V-Ray is not limited to 64-threads as it supports multi and mega threading.
BLENDER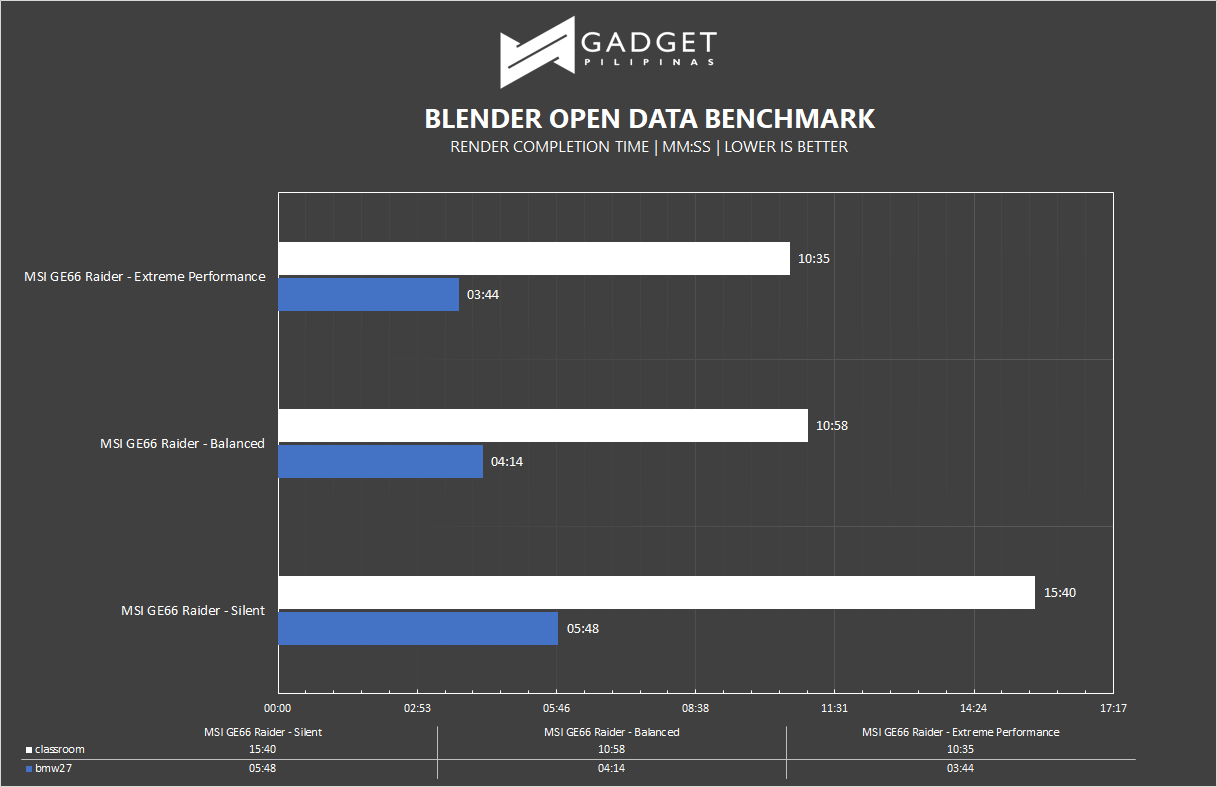 Blender is a widely used, free, opensource 3D creation suite. It supports the whole 3D pipeline process from modeling, rigging, animation, simulation, rendering, and even motion tracking. Blender has become a standard for CPU benchmarks with the BMW27 and Classroom scene most used. This prompted the company to release Blender Open Data Benchmark in 2018, a benchmark-specific version which allows users to run a preset benchmark and share the results online similar to 3D Mark.
CORONA RENDERER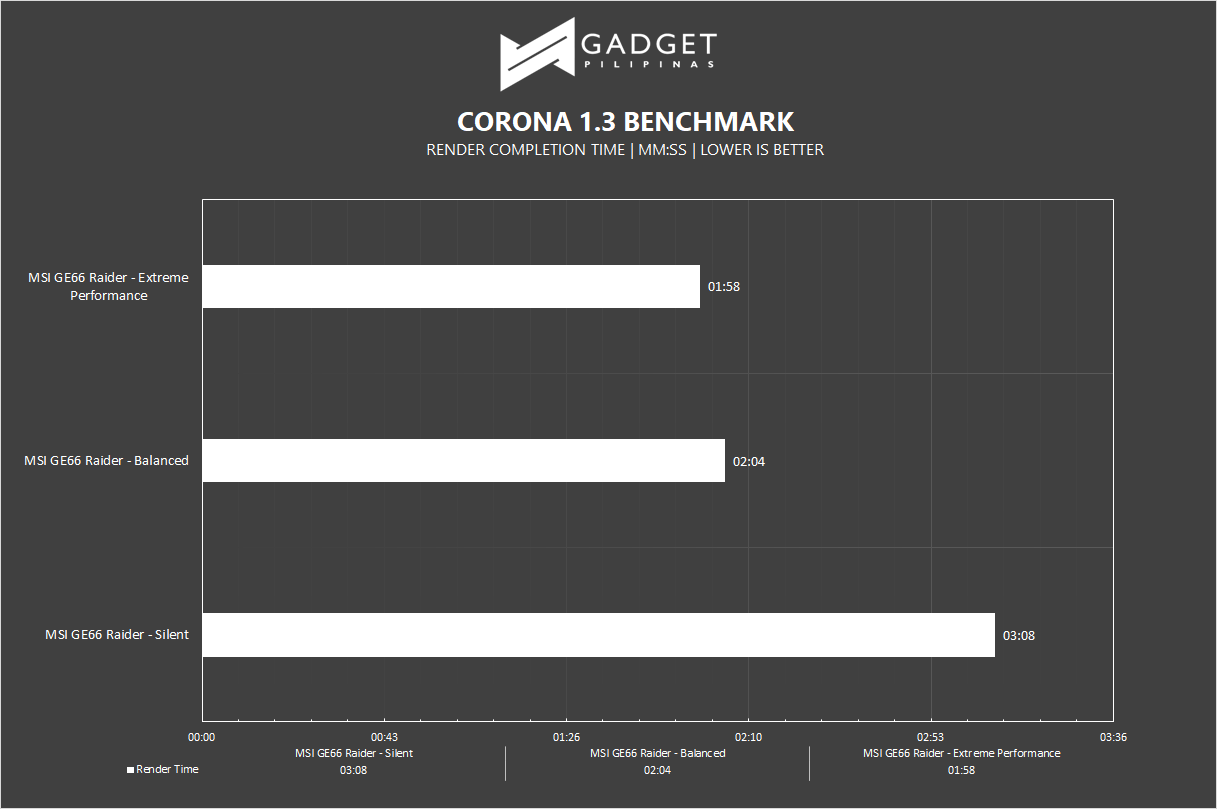 Corona Renderer is an unbiased photorealistic render available for Autodesk 3Ds Max, Maxon Cinema 4D, and as a stand-alone application. Its popularity, similar to Blender, led Chaos Group to develop a benchmark version of the app which runs using Corona Renderer 1.3. Workstation systems, especially CPUs, can utilize Corona Benchmark as up to 72 threads can be used in the benchmark, making it very suitable for CPUs with various price segments.
While the big performance boost in switching from the conservative silent mode to balanced mode is very much expected switching from balanced to extreme yields almost a minimal improvement, especially in long, CPU heavy workloads.
SSD Benchmark
MSI GE66 Raider Review SSD Benchmark
MSI GE66 Raider Review CrystalDiskMark Benchmark
Developed by Noriyuki Miyazaki, CrytalDiskMark is a free benchmark tool that is being used by thousands of experts. This tool measures SSD's sequential read and writes speeds. That means how fast files can be read from and written to the drive, usually measured in MB/s.
MSI uses a Samsung MZVLB1T0HALR SSD, commonly known as the Samsung PM981 SSD on the MSI GE66 Raider. It's one of the fastest OEM SSDs available for a laptop. The 1TB model is rated for 3200MB/s read and 2,400MB/s write which is gladly the GE66 Raider's speed on our CrystalDiskMark benchmark.
Gaming Benchmarks
We use CapFrameX Capture and Analysis Tool v1.5.5 to capture framerates for our benchmark run. We are using the latest Nvidia Game Ready 456.55 driver for our benchmarks of the MSI GE66 Raider. HWMonitor and HWInfo64 are both used to measure CPU and GPU temperatures.
3DMARK
MSI GE66 Raider Review 3DMark Firestrike Benchmark
MSI GE66 Raider Review 3DMark TimeSpy Benchmark
3DMark is the go-to benchmark for gamers because of the ability to share and compare results online. We used Time Spy DX 12 benchmark and Fire Strike DX 11 benchmark and opted out of Port Royal since all the GPUs used in this review do not support Ray Tracing.
DOTA 2
MSI GE66 Raider Review Dota 2 Benchmark
MSI GE66 Raider Review Dota 2 Benchmark Frametimes
Most gamers play at least one of the following free-to-play titles: League of Legends, CS: GO, Dota 2, and/or Fortnite. Dota 2 is a good representation of the F2P titles as it is the most demanding game in the spectrum. The benchmark will give you an idea of the laptop's relative performance on other lesser demanding titles. Our benchmark sequence is based on a replay of OG vs. Liquid in the TI9 grand finals from the team fight that happened on 28:30 to 29:30.
Far Cry 5
MSI GE66 Raider Review Far Cry 5 Benchmark
MSI GE66 Raider Review Far Cry 5 Benchmark Frametimes
Far Cry 5 is an FPS game published by Ubisoft and uses the Dunia engine. It heavily relies on and takes advantage of DirectX 11 to render a realistic environment that makes it taxing to both the CPU and GPU.
Rainbow Six Siege
MSI GE66 Raider Review R6S Benchmark
MSI GE66 Raider Review R6S Benchmark Frametimes
Rainbow Six Seige is one of the few popular AAA games that's still popular in 2020 due to its competitive gameplay mechanics. R6S uses the AnvilNext game engine, which is developed by the game's publisher, Ubisoft. As of writing, Rainbow Six Siege is currently the most popular Tom Clancy title beating out Wildlands, Breakpoint and even, Division 2.
Battlefield V
MSI GE66 Raider Review Battlefield V Benchmark
MSI GE66 Raider Review Battlefield V Benchmark Frametimes
The Battlefield series is an iconic FPS title in our generation matching Halo and Call of Duty. Battlefield V, set in WW1, is the latest installment in the franchise developed by DICE using the popular Frostbite engine. It's also the first game to incorporate DX 12, Ray Tracing, and DLSS making it a great choice in our game bench library.
Assassin's Creed: Odyssey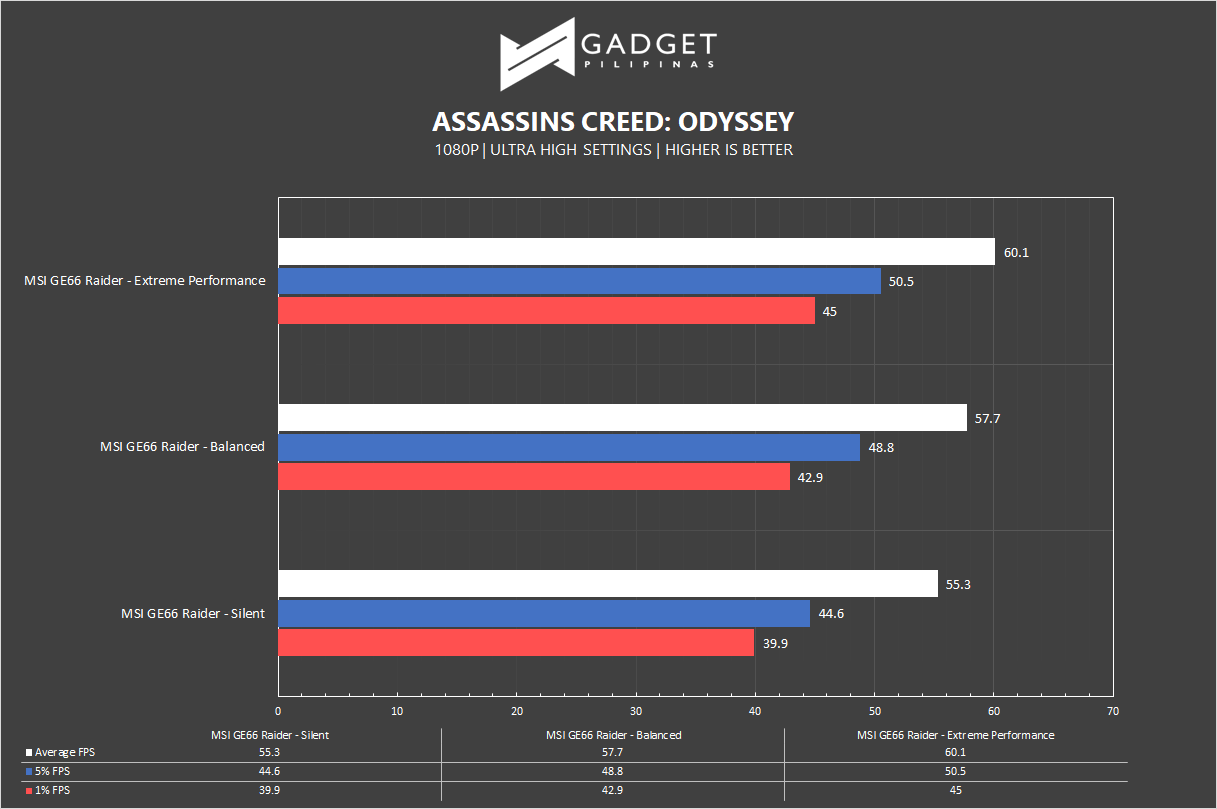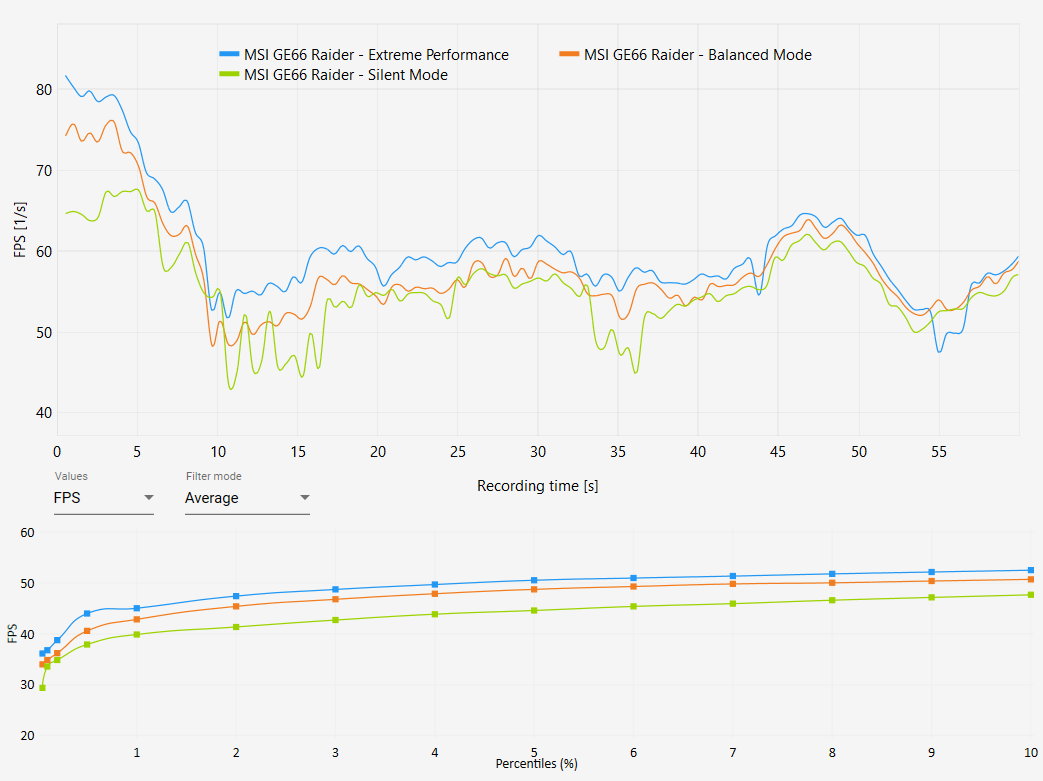 Assassin's Creed Odyssey is the latest franchise installment from Ubisoft. It's by far the most popular and stable Assassin's Creed title since AC IV: Black Flag. It uses the AnvilNext 2.0 game engine, an updated version of Rainbow Six Siege's game engine, and uses the DirectX 12 API.
Anno 1800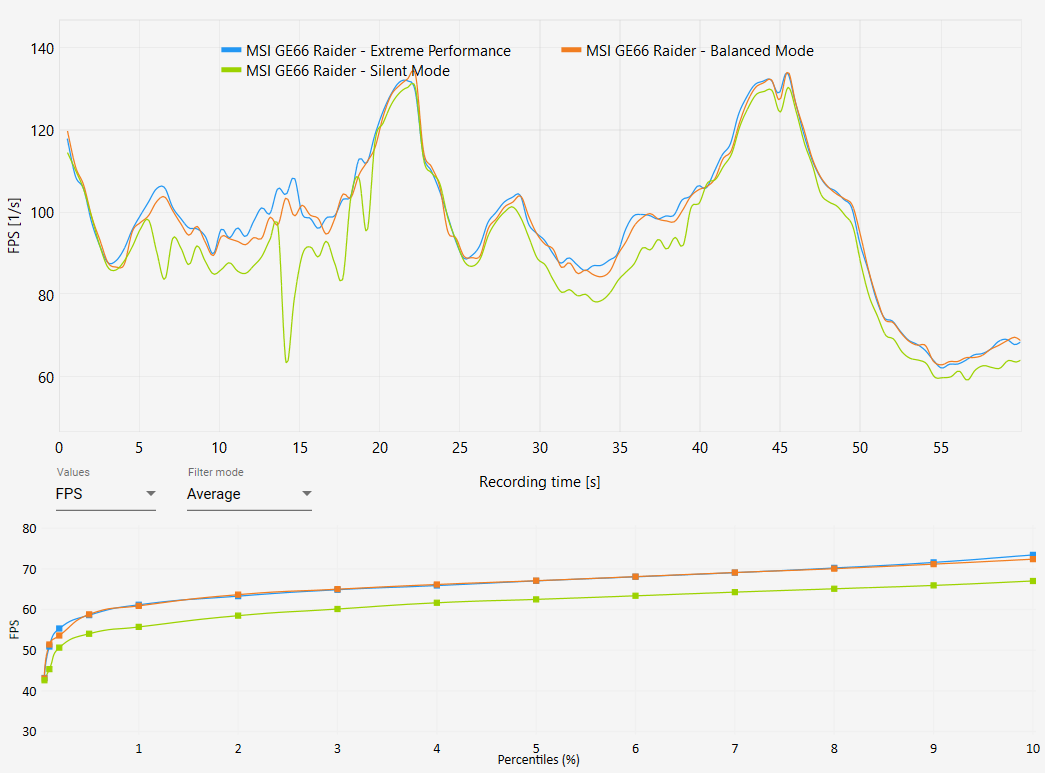 Anno 1800 is one of the most popular RTS games next to seasoned classics such as StarCraft 2, Red Alert, and Civilization V. Anno 1800 uses an improved Anno Engine version previously used by previous titles. It's one of the latest RTS games (as of writing) with impressive graphics, making it a great representation for RTS and City-building games.
Our gaming benchmarks tell the same story to what we found in our synthetic benchmark run. Now that both the CPU and GPU are under load in gaming, we are seeing tighter gaps across the GE66 Raider's performance profiles. It's worth noting that switching to more aggressive profiles is still beneficial in terms of framerate stability as represented by our 5% and 1% lows.
Battery Life and Thermals
In gaming laptops, battery life doesn't matter as users usually plug in their devices to get the best possible performance. But that didn't stop MSI from equipping the GE66 Raider with a 99.9wHr battery which is the largest battery allowed on an airport. Combining the massive 99.9wHr battery, Intel's 10th gen CPU, Nvidia's Optimus Technology, and MSI Dragon Center's profile presets allows the GE66 Raider to last 8 hours on our benchmark. 8 hours is what you would consider average for an ultrabook but since the GE66 Raider is a thick gaming laptop, it's more than double the average for its class. Even with the balanced mode at 50% screen brightness and keyboard lighting, the MSI GE66 Raider is able to last almost 5 hours and 30 minutes on PCMark10 – still more than the average gaming laptop battery life.
MSI GE66 Raider Review CPU Temps
MSI GE66 Raider Review GPU Temps
Whether its bad cooling or just unlucky silicon lottery, CPU and GPU temps are what hold back the GE66 Raider from performance gains in our profile-based benchmark. Switching between the three profiles did not merit any CPU cooling efficiency while GPU temps show very minimal improvement.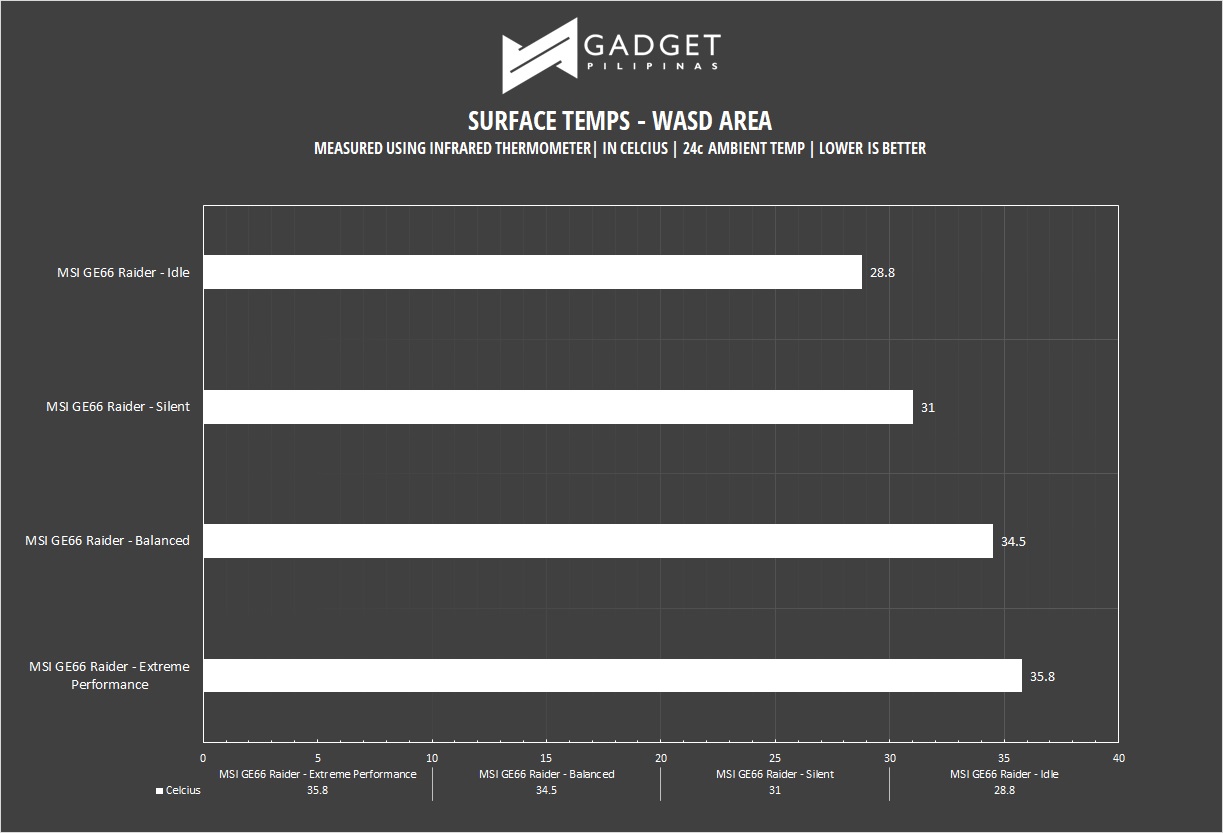 Surface temperatures, on the other hand, tell the opposite, depressing story with our internal temps. Regardless of which performance preset the MSI GE66 Raider runs at, the WASD area's surface temps never exceeded 36°C. The component positioning in the laptop and MSI's Coolerboost 5 technology are what makes the comfortable gaming experience possible.
Conclusion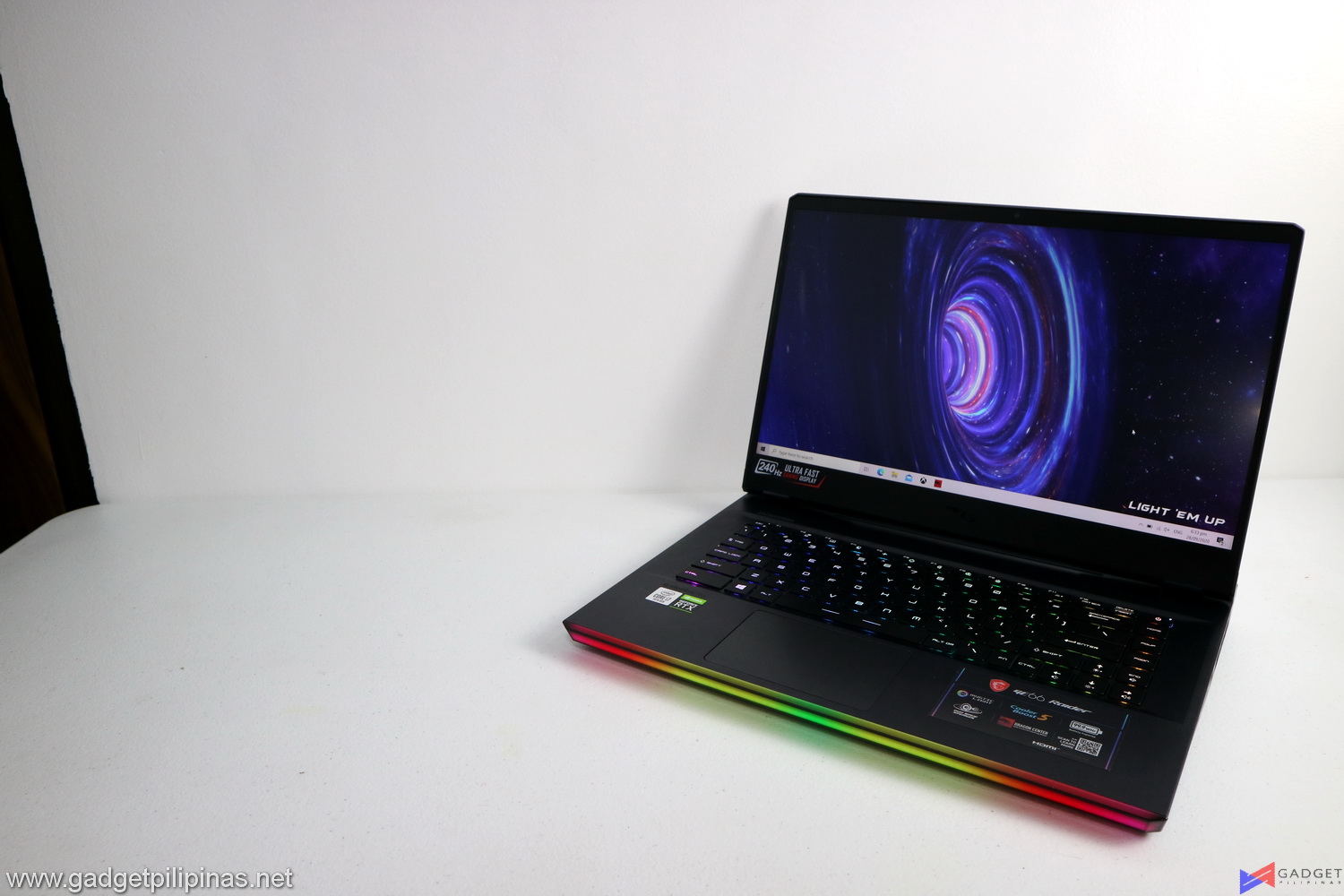 The MSI GE66 Raider is a much-welcomed improvement over the previous GE65 both in aesthetics and performance. However, the overhaul that it received didn't make it shine in a single department. It has great, top of the line specs but its cooling couldn't seem to keep up. Yes, it has a fast 240Hz refresh rate with a 75% AdobeRGB panel but its 280-nit brightness draws it back. Finally, you have the outstanding battery life but a love-hate relationship with its keyboard. But that doesn't make the MSI GE66 Raider laptop bad per se, it's not just the laptop you should choose if you're aiming for the top of the line performance in a laptop. It's also not the best multimedia professional laptop due to its brightness level. It's a laptop that is able to do it all, but it comes with a hefty Php 159,995 price tag.
So who is this laptop for?
The quote "It's Better To Have It And Not Need It, Than To Need It And Not Have It!" seems to be the mantra of the MSI GE66 Raider. It certainly isn't the best gaming or professional laptop available but its specs and configuration make it better than the average in every department that makes it enticing for users who can't make up their mind or for those who want all bases covered. So, if you're looking for a good all-rounder laptop to work by day, game by night, and lasts for almost a day, then the MSI GE66 Raider is one of the best options available.
Grant is a Financial Management graduate from UST. His passion for gadgets and tech crossed him over in the industry where he could apply his knowledge as an enthusiast and in-depth analytic skills as a Finance Major. His passion allows him to earn at the same time help Gadget Pilipinas' readers in making smart, value-based decisions and purchases with his reviews and guides.