Ever had the hypothetical lightbulb in your head sparking up, telling you that you just had an idea worth acting on? Pumped and inspired, you reach out for your 8-year old laptop or turn on an equally old desktop and you wait for the app to open so you can write down and flesh out your brilliant idea. And you wait. And you wait. And you wait. By the time your device boots up, the idea is fading, the excitement is dwindling, the spark is dying.
It's probably time for a new laptop. Enter the Lenovo IdeaPad laptops. They're fast, intuitive, and trusted, and they can help you turn your ideas into life before they fade in the waiting area.
The IdeaPad line is Lenovo's entry-level device lineup geared towards first-time laptop users. However, Lenovo's IdeaPad series was recently revamped with lower starting prices to reach a wider set of audience as well as bringing in bang-for-the-buck features that disrupt the market. Currently, Lenovo's IdeaPad line consists of the Slim, Flex, and Gaming series, with each one having different product tiers embracing different mixes of form, function, style, and performance. With the plethora of models available from Lenovo's lineup, we've taken up the liberty to sort each one and evaluate the whole IdeaPad line and select the best laptop that would fit a certain use-case scenario.
IdeaPad Slim Series
The IdeaPad S series or commonly known as the "Slim series," is Lenovo's ultrabook market disruptor bringing an ultraslim product line at an affordable price. The IdeaPad S series is thin and light, making it ideal to bring around for work and travel.
Our go-to all-rounder laptop that we often recommend happens to be under the IdeaPad line, the Lenovo IdeaPad Slim 5i. It's our all-rounder of choice due to the IdeaPad Slim 5i's versatility thanks to its specs, form factor, and pricing. The IdeaPad Slim 5i can be configured up to the latest Intel Core i7 1065G7 GPU paired with 8GB 3200Mhz RAM and 512GB of NVMe storage. For users wanting extra horsepower, the Slim 5i also has an Nvidia MX350 GPU option for GPU accelerated workloads and light gaming. Users also get to choose if they want a compact, portable, 14-inch chassis or enjoy a larger screen with the 15.6" variant. Either way, you get to enjoy a premium and powerful ultrabook at a budget-friendly price.
Read a more detailed feature breakdown of the Lenovo IdeaPad Slim 5i here.
IdeaPad Flex Series
The IdeaPad Flex series offers a whole new level as it brings Lenovo's Yoga series' flexibility at an affordable price. Gone are the days when 360-convertible laptops are out of reach for most consumers due to the insane price tag that comes with the 360 feature. If you're torn between getting a tablet or a laptop, then don't compromise and get the IdeaPad Flex series to enjoy the best of both worlds.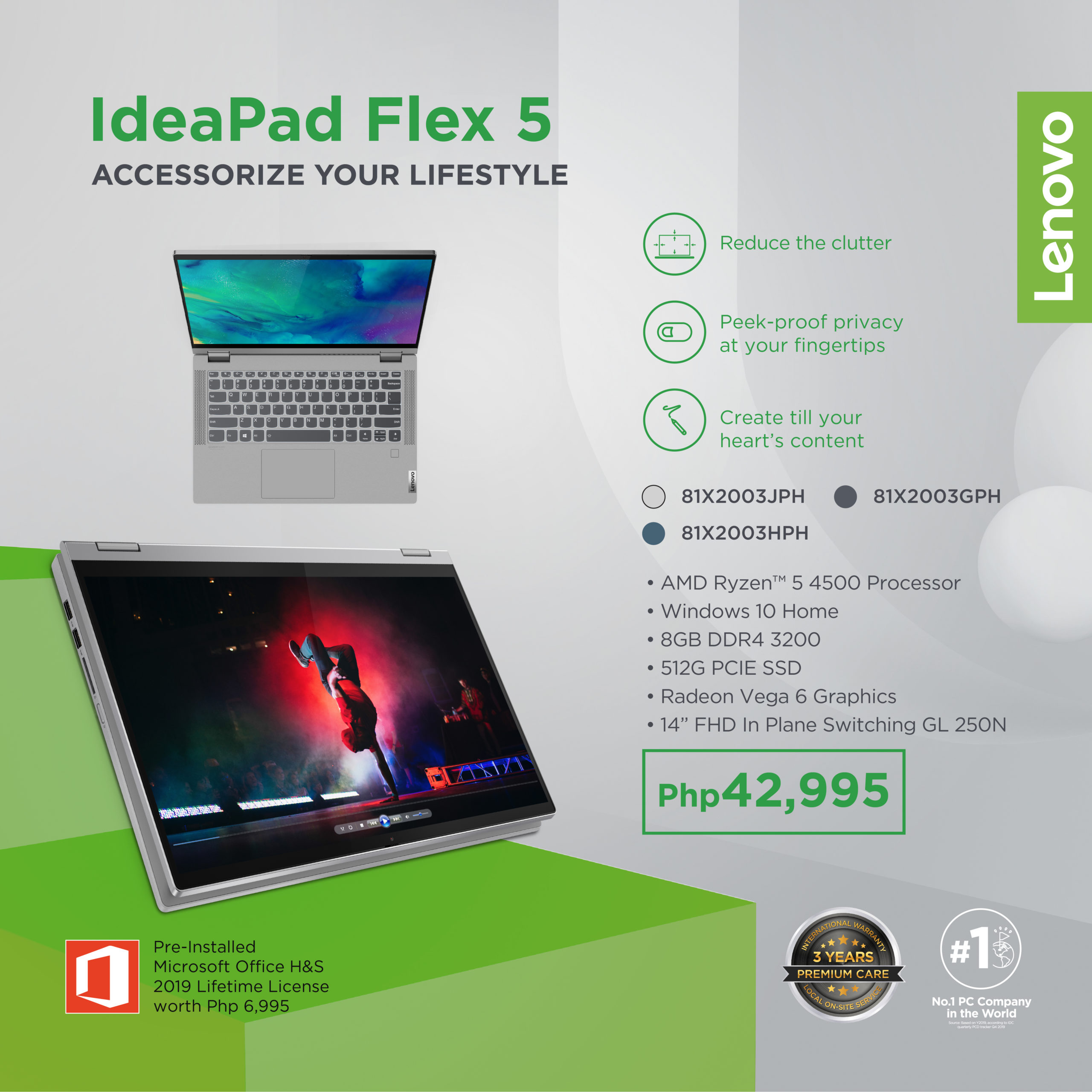 We're going team red for our IdeaPad Flex 5 variant of choice mainly due to the AMD Ryzen 4000 mobile processor's insane power efficiency making the IdeaPad Flex 5's battery life almost too good to be true. For the best balance of performance and battery life, we opted for the Php 42,995 variant with the Ryzen 5 4500, 8GB Ram and 512GB NVMe SSD. The Ryzen 5 4500 processor is more than enough for both productivity and entertainment that offers an all-day battery life. The IdeaPad Flex 5 is also ideal as a starter laptop or an online learning laptop, with the Ryzen 3 4300 variant for only Php 34,995. If you're looking for a more powerful, versatile option for productivity, some light gaming, and future-proofing, then the IdeaPad Flex 5 Ryzen 7 4700U with Vega 8 graphics is the way to go for only Php 49,995.
All variants of the IdeaPad Flex 5 come with a free Lenovo Digital Pen. Learn more about the IdeaPad Flex 5 here.
IdeaPad Gaming
Laptops don't have to require a huge price if it's made for gaming, as represented by Lenovo's IdeaPad Gaming line. As the name suggests, the IdeaPad Gaming series is for users who prefer gaming and for those looking for a more powerful device overall without worrying that much about battery life and portability. The IdeaPad Gaming line is ideal for photo and video editors, engineering and architecture students, and of course, those who are professionals by day and gamers by night.
Ideapad Gaming 3i PH Price
Ideapad Gaming 3 PH Price
If you're leaning more towards gaming rather than productivity most of the time, then the IdeaPad Gaming 3i is the way to go. The Intel Core i7-10750H and Nvidia GTX 1650Ti combo pack a punch at 1080p gaming while maximizing the display's 120Hz refresh rate. If it's the other way around where rendering, encoding, and computing are the main tasks, the Ryzen 7 4800H paired with GTX 1650 Ti makes a great productivity machine.
Value add-ons
Despite being Lenovo's entry-level budget laptops, all of the IdeaPad laptops carry a generous three-year Premium Care warranty. It's the same home-service warranty that the Lenovo Yoga and Legion Gaming have. Moreover, both the IdeaPad Slim and Flex series are bundled with a free Microsoft Office Home & Student 2019 Lifetime License worth Php 6,995. Yes, a lifetime subscription so long as you have the IdeaPad. The IdeaPad Gaming laptops, on the other hand, offer a gaming backpack and a gaming M100 mouse instead of the MS Office license.
Lenovo's innovation with the widest range of PCs, tablets, accessories, smartphones, software and services, and other industry-leading tech solutions positions it as one of the industry's most prolific end-to-end global technology organizations that deliver smarter technology for more people and businesses to unlock their potential.
Where to buy
Lenovo PH just launched its Lenovo Lazada store as well as the Legion store. Lenovo IdeaPad laptops are also available at authorized retailers: https://lenovoph.com/authorizedresellers
Grant is a Financial Management graduate from UST. His passion for gadgets and tech crossed him over in the industry where he could apply his knowledge as an enthusiast and in-depth analytic skills as a Finance Major. His passion allows him to earn at the same time help Gadget Pilipinas' readers in making smart, value-based decisions and purchases with his reviews and guides.