If you're part of the creator sphere, you may have heard of the amazing things that the Galaxy Z Flip can do. Most of the creator-focused features of the Z Flip received good feedback and some of our readers have wished for such features to be ported to the new Z Fold2.
Now that the Z Fold2 and its features have already been announced by Samsung, they have confirmed that the new Fold will have flagship creator-focused features that we have seen on the previous Fold and the Z Flip.
An array of impressive cameras
The new Z Fold2 has impressive sets of cameras. Its Triple Rear Camera setups support Dual OIS, .5x out and 2x optical zoom, up to 10x digital zoom, HDR10+ recording, and tracking AF. Each lens is 12MP in varying configurations – 12MP Ultra Wide (f/2.2, 1.12um, FOV 123-degrees), 12MP Wide-angle (Super Speed Dual Pixel AF, OIS, f/1.8, 1.8um, FOV 83-degrees), and 12MP Telephoto (PDAF, f/2.4, OIS 1.0um and FOV 45-degrees).
Z Fold2 has 2 more cameras – one front-facing (unfolded) and another cover camera. Both front and cover cameras feature 10MP with f/2.2 and 1.22um.
While they seem to be "downgrades" from the previous generation, the new lens can capture more light and better colors based on specs.
Flex the Flex Mode
The Z Fold2 can be flexed from 75 to 180 degrees. The 75 and 115 degrees are going to very useful in both viewing and camera modes whether apps are accessible on Cover or on the Main Screen.
The foldable phone further shines when you use it for camera modes. The display's UI shifts to a dedicated camera UI when it's flexed. You get a view of your usual viewfinder on top and media library and shutter buttons at the bottom. We have seen this same implementation on the first Fold and a more refined version on the Z Flip.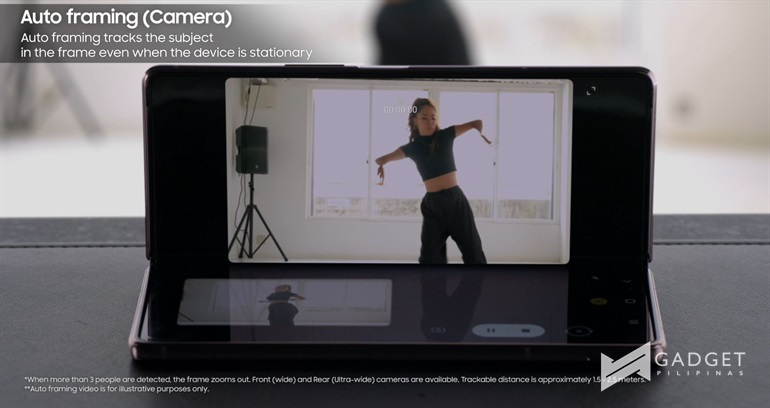 The new camera UI also showcases a new feature called Auto framing. Unlike the ones we have seen from other brands, this feature works natively from its camera UI. A simple tap of a button turns this feature on, and it will automatically frame the subject for as long as the phone is stationary.
According to Samsung, more than 3 people can be detected by these features, and the trackable distance is approximately 1.5-2.5 meters. This is something that makes more sense on a device that you place on a table, which acts as its natural tripod. While it is possible to port this to non-Fold smartphones of Samsung, it will require a sturdy, immovable and flat surface (or tripod) for it to work without issues.
Dual Preview, Pro Video, and Rear Cam Selfie
If you've been thinking if this device may be used as your daily smartphone camera driver, then it might just have the right features for you. The new Fold now makes use of the Cover display as a preview for the subject you are taking a photo of. Samsung calls this Dual Preview, and it looks rad!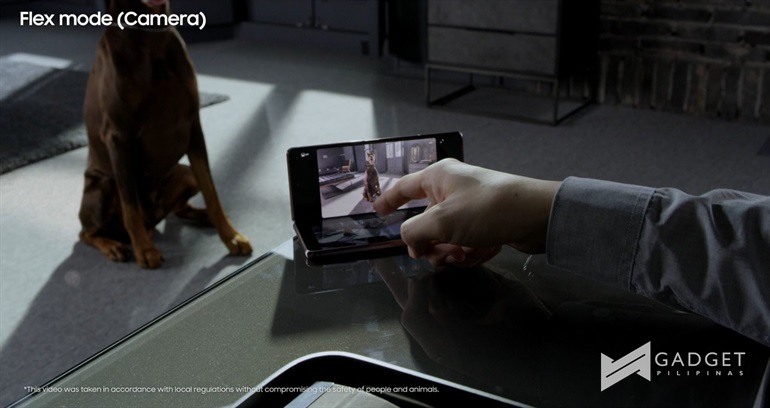 It also has a Pro Video mode, which is one of the most requested by creators. With this feature, you can maximize the 12MP triple camera of the device and shoot videos however you like.
Also, if you want to take better resolution selfies, you can always make use of the Rear Cam Selfie mode of the Z Fold2! Using a hand gesture as your shutter, you can use the cover display as a preview of your selfie with the rear lens as your camera.
It will just get better from this
Whether you're going to get the Z Fold2 or not, the creator-focused features that Samsung has showcased on the Z Fold2 promise great things to come for consumers. Samsung's foldable segment is getting better every iteration, and it will only be a matter of time for them to make this as a mainstream category for all.
For more information, click here.
Giancarlo Viterbo is a Filipino Technology Journalist, blogger and Editor of gadgetpilipinas.net, He is also a Geek, Dad and a Husband. He knows a lot about washing the dishes, doing some errands and following instructions from his boss on his day job. Follow him on twitter: @gianviterbo and @gadgetpilipinas.