It has become very clear that Virtual meetings, remote collaboration, and flexible hours are becoming the new norm in terms of working.
But flexibility isn't the only thing that workers want. Working away from our typical offices has significantly increased the demands we're getting from many directions – in both our personal and professional lives. People may feel overwhelmed with too much information and too many tasks across too many different tools.
Instead of learning another tool, what if we can reshape the tools that we already use to be even more effective and helpful, in an integrated, intuitive way.
As such, Google has introduced changes in G Suite that integrate core tools such as video, chat, email, files, and tasks, and made them work together more seamlessly.
Bringing things together
By integrating Meet into Gmail, users will easily be able to join video meetings from their inboxes (Web, Android, iOS).
Last month, Google Chat was integrated into Gmail for more seamless communication.
Soon, Chat will be available on Gmail for Android and iOS
Shared files and tasks will be added to chatrooms
Chat lets users create rooms that can include people outside their company
Open and co-edit documents with your team without leaving Gmail
Easy access to third-party apps
Making things better together
Users will be able to quickly join a video call from a chat
Chat messages can be forwarded to the user's inbox
Users will be able to create a task from a chat message
Gmail's search will include chat
Users will be able to pin important rooms
Users will be able to set their availability to "Do Not Disturb" and "Out of the Office"
Enhanced security for Meet and Chat
In the coming weeks, Google will be rolling out new security capabilities for Google Meet that give hosts additional control over meetings, such as being able to set who can join or collaborate within them.
Starting with G Suite for Education customers, these features will include:
Knocking controls: Once an attendee is ejected, they won't be able to attempt to join the same meeting again by knocking, unless they get re-invited by the host.
Safety locks: Hosts can now decide which attendees can chat or present in the meeting.
Google will also be extending the strong phishing protections built within Gmail to Google Chat. For example, when a user clicks a link in Chat, it will be scanned in real-time and flagged if it's found to contain malicious content.
More on the way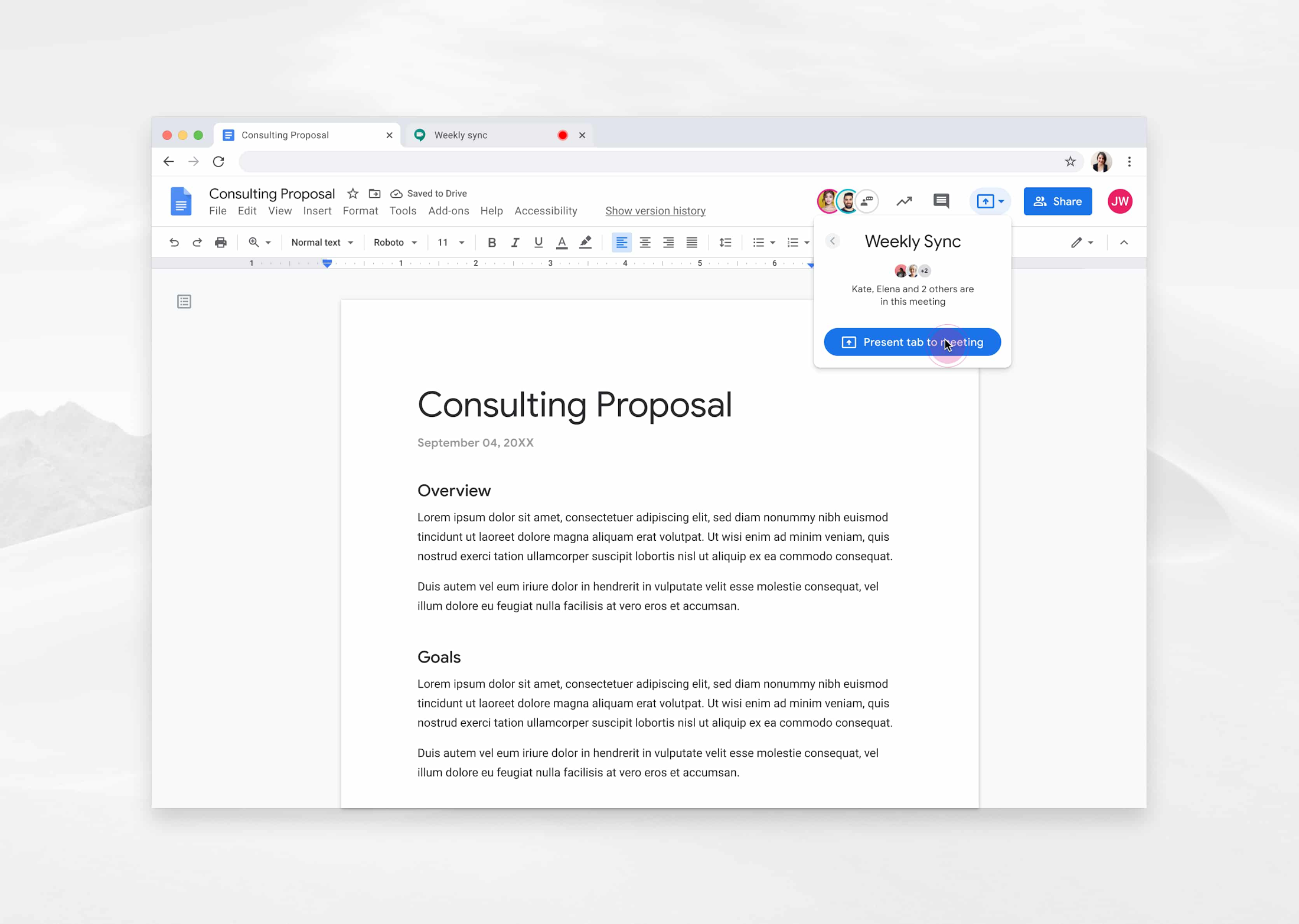 Other recent improvements that were rolled out include:
Being able to respond to document comments or actions directly from the inbox on mobile.
Connected sheets to help you connect and analyze data across an organization
New collaboration capabilities in hardware offerings
In the future, users can expect a further expansion of the integrated workspace and look forward to the following:
Picture-in-Picture video calls in Gmail
Integration of Google Meet into content tools such as Docs, Sheets, and Slides
Companies who want to try the new GSuite can sign up here. They'll be notified accordingly once they are part of the roll-out.