The Phone to Beat this Summer
There are so many good things to say about the Huawei P40 Pro. I've been using this for almost 2 weeks now, and it managed to impress me to the point of recommending this over other flagship smartphones we recently reviewed.
Let me get to the bottom of everything with this comprehensive review.
Without question, the Huawei P40 Pro is the best device we've reviewed from Huawei. Yes, the Mate30 Pro has features that impressed us, but the P40 Pro has surpassed our expectations. Let's start with how it looks.
Elegant and Beautiful
Huawei P40 Pro looks quite different from its predecessor. One of the major differences between the P40 Pro and its predecessor is the new Quad-Curve Overflow Display. It is mostly aesthetics in nature, and it's beautiful. My only issue with is that it does not contribute much to the user experience. I am personally not a fan because not all software UI would support it. Since all sides of the screen are super curved, some contextual tabs of apps can't be tapped easily. Regardless of that minor relative issue, Huawei P40 Pro looks elegant and beautiful.
What we got is the Deep Sea Blue variant. It features a refractive matte finish, and no matter what I do, it does not leave any fingerprint or any residue. It's an engineering marvel, and I am just happy that they finally implemented something that they missed putting on the Mate30 Pro.
The physical buttons are back on the Huawei P40 Pro! Coming from Huawei Mate30 Pro, while it's an ingenious and bold move to ditch the physical buttons in favor of digital and haptic ones, it is sometimes better to have physical buttons. This allows you to still be able to control the volume in tight situations. I remember the time when I forgot to turn my Mate30 Pro to silent mode. Someone called me in the middle of a meeting and I was not able to mute it right away because the Mate30 Pro didn't have any physical button.
90Hz Display, finally!
The OLED display is much bigger than its predecessor – both in size and resolution. It's impressive to know that Huawei was able to do this on a slimmer device. All the good things found on Huawei Mate30 Pro's display is now on the P40 Pro with a new addition – 90Hz frame refresh rate. Finally.
I would have wanted a display with a higher frame rate as the one on Galaxy S20+, but it seems that it is logistically not possible for Huawei because Kirin 990 5G does not seemingly support 120Hz refresh rate.
A Wolf in a Sheep's Clothing
This device is a monster especially when you crank it up by enabling Performance Mode. The latter is disabled to save on battery, but if you want to play your games at relatively better performance, enabling this mode helps a lot.
To get your familiar with the specifications of P40 Pro, check out the table below.
Huawei P40 Pro
SRP
EUR 999 (around PHP 55,500)
Display
6.58-inch OLED up to 90Hz refresh rate
2640×1200
Chipset
HiSilicon Kirin 990 5G
GPU
Mali-G76 MP16
RAM
8GB
ROM
128GB/256GB/512GB
Front camera
32MP f/2.0
Rear camera
50MP Ultra Vision Camera
40MP SuperSensing Cine Camera
12MP Super Sensing Telephoto Camera
3D Depth Sensing Camera
Fingerprint
Under Display
Battery
4200mAh
Charge
40W Wired HUAWEI SuperCharge
27W Wireless HUAWEI SuperCharge
OS
Android 10; EMUI 10
Colors
Deep Sea Blue
Ice White
Black
Blush Gold
Silver Frost
You will notice that it's powered by the same chipset on the Huawei Mate30 Pro 5G. I would have wanted it to have more memory capacity though. Nevertheless, it proved to be very powerful and it seems like its 8GB RAM is more than enough for me to play my favorite games and create content on the go.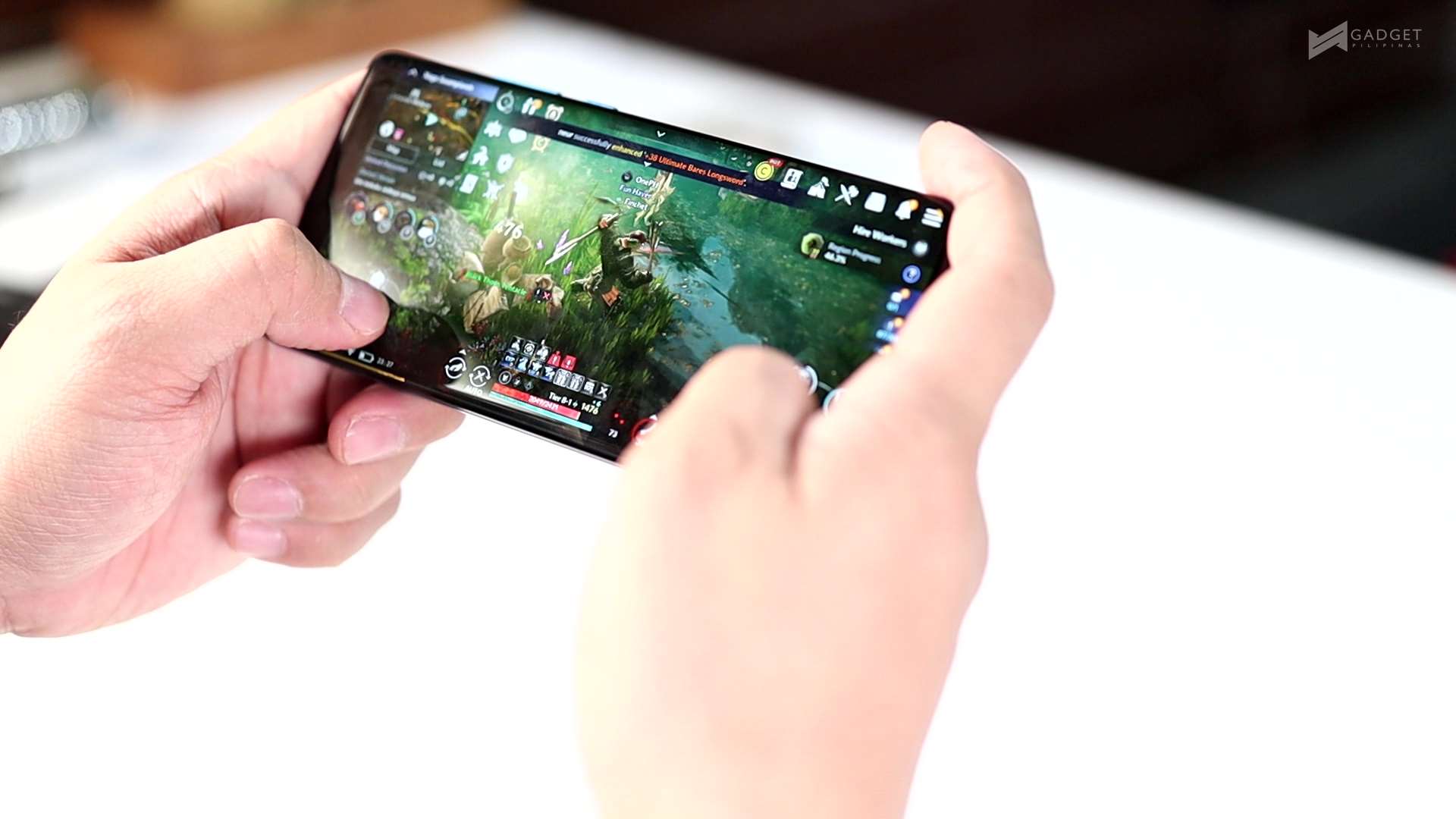 I ran a few benchmark apps on this device with performance mode enabled and got the following scores.
| | | |
| --- | --- | --- |
| Antutu | | 489,463 |
| 3D Mark (Sling Shot Extreme) | Open GL ES | 6,069 (Open GL ES) |
| | Vulkan | 5,624 (Vulkan) |
| PC Mark  | (Work 2.0) | 11,415 |
| Geekbench | Single Core | 716 |
| | Multi-Core | 3,170 |
| Androbench | Seq. Read |  1,787.04 MB/s |
| | Seq. Write |  391.77 MB/s |
| CPDT Benchmark | Seq. Read |  1.25 GB/s |
| | Seq. Write |  341.07 MB/s Sequential Write |
It's fun to play games on this device. With its 90Hz refresh rate, games that support 60fps play at steady 60fps like Black Desert, Arena of Valor and Mobile Legends Bang Bang. Games that can run at a higher frame rate like Alto's Odyssey, Shadowgun Legends and even Minecraft work very well on the device as well.
There are very minimal performance dips, which usually happen when notifications are received while playing games. The best solution here is to add the games in GameCenter via AppAssistant menu to automatically enable Game Acceleration, Uninterrupted Gaming, Mistouch Prevention, etc.
Featured-packed Camera
Huawei P40 Pro's camera features have a good amount of cool sensor and AI implementations.
Front camera
32MP f/2.0
Rear camera
50MP Ultra Vision Camera
40MP SuperSensing Cine Camera
12MP Super Sensing Telephoto Camera
3D Depth Sensing Camera
For starters, the cameras still use RYYB rather than the typical RGGB. This filter makes it more sensitive to light, which makes it better when it comes to taking photos in the dark and portrait shots.
The optical telephoto cameras work better than the Galaxy S20+. Since I want to compare this directly to my Galaxy S20 Ultra, I thought that it would be unfair because the P40 Pro can only go as high as 50x zoom.
Anyway, if you pay close attention to these sample photos using 50x Zoom, the level of detail is impressive despite the range. Color accuracy is slightly preserved as well.
Hi-res copies of the photos below may be seen and downloaded from this link.
I am super impressed with the high dynamic range of this smartphone. This is a compressed copy of the photo in high-resolution mode. The colors of the horizon were captured accurately. The image is pretty sharp too. Using our laptop, we zoomed to the logo of All Home from a distance. Here's how it looks like. We, of course, did post-process or edit anything to prove our point.
Huawei P40 Pro's monochrome photos stand out. This is a major expectation from Huawei P-series, and P40 Pro delivered outstandingly.
Here's my photo subject for Portrait photography — Baby Groot. I also included a blown-out screenshot of his face for a better look at how precise and sharp the photo is.
50x Zoom is back, and it's better than ever before. Unlike the P40 Pro+, P40 Pro can only zoom up to 50x. Here's a demo of the zooming feature of Huawei P40 Pro. You're looking at a view of Manila from our rooftop. We zoomed 50x to see the buildings in Makati and Manila.
https://www.youtube.com/watch?v=WzZ61plz-50
Aperture Mode is back and it is more precise this time. It isn't perfect though as the edges of our faux-plant aren't perfectly captured. It also did not isolate a portion of my Nanoleaf from my main subject. This is an extremely difficult scenario for the AI to process that even my Samsung Galaxy S20 Ultra failed to pull off properly either.
Huawei P40 Pro's portrait selfie is the best I've seen so far. The image is sharp and the AI beautification mode is not overwhelming.
Meanwhile, the photo below was taken earlier this morning. I didn't have any artificial light on, and the light in my study room is completely turned off. I have a blown-up copy of one of the sections of my PS4 DVDs. Can you still read "Red Dead Redemption 2"?
For more sample photos, you can check out our Instagram.
You gotta love the new EMUI
EMUI 10.1 is the gift that keeps on giving, especially on the Huawei P40 Pro. It just makes the device the most feature-packed without even taking a hit in its overall performance. Some people would normally equate "software features" as "bloatware". I see it differently on the Huawei P40 Pro, thanks to the smooth integration of all the features that its chipset can natively support.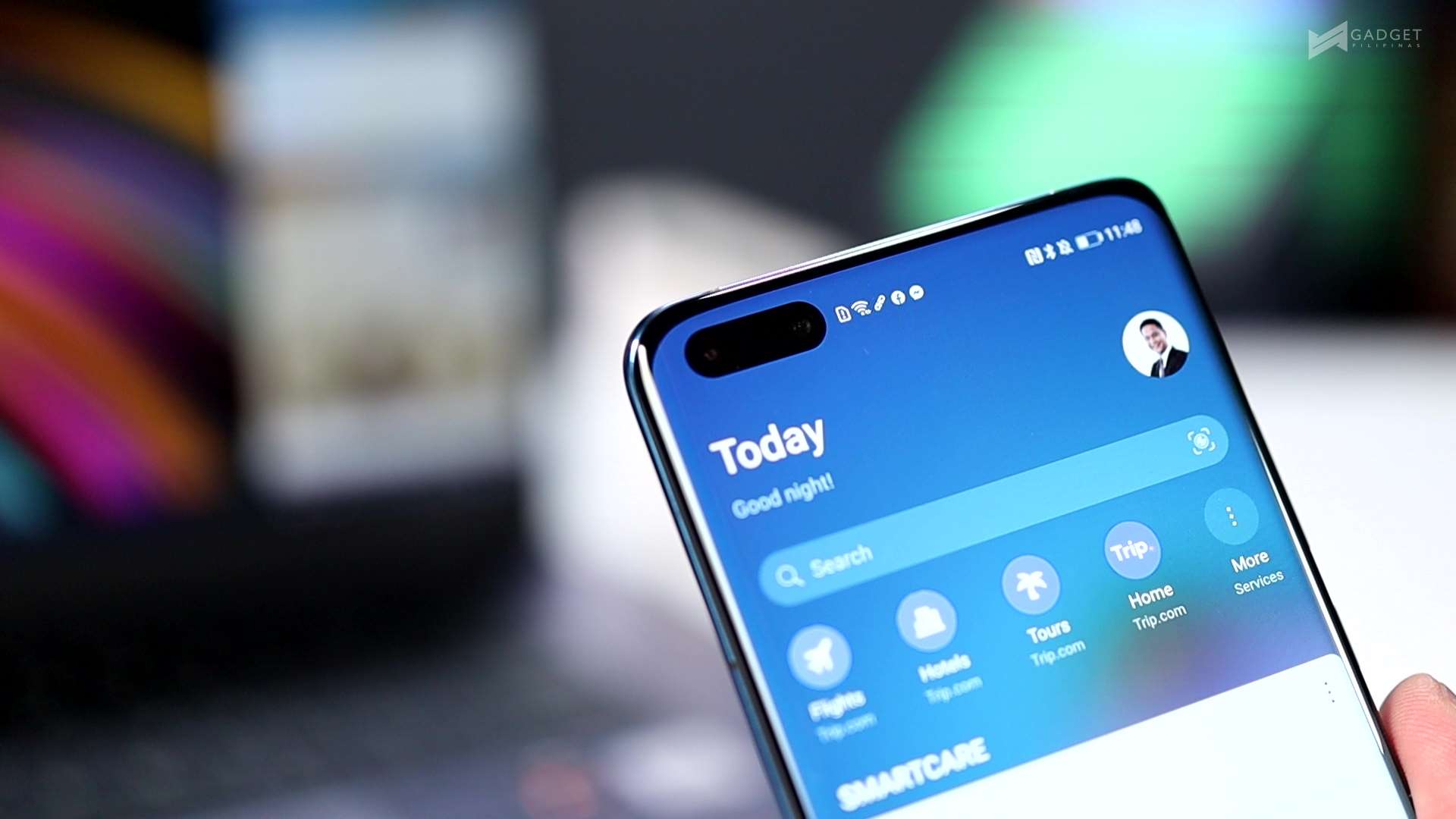 For instance, all the AI features of the camera like Golden Snap, Best Moment and Remove Passerby are natively supported by Kirin 990 5G's AI capabilities. Other UI/UX features like Multi-Device Control Panel allow users to maximize its Multiscreen Collaboration feature, which works on Matebook and MatePad devices. I was able to connect this on my Matebook D15, and using it was such a breeze. I can drag and drop the photos I took with the Huawei P40 Pro to Matebook, and edit it using Lightroom. I didn't have to connect it using my Type-C cable.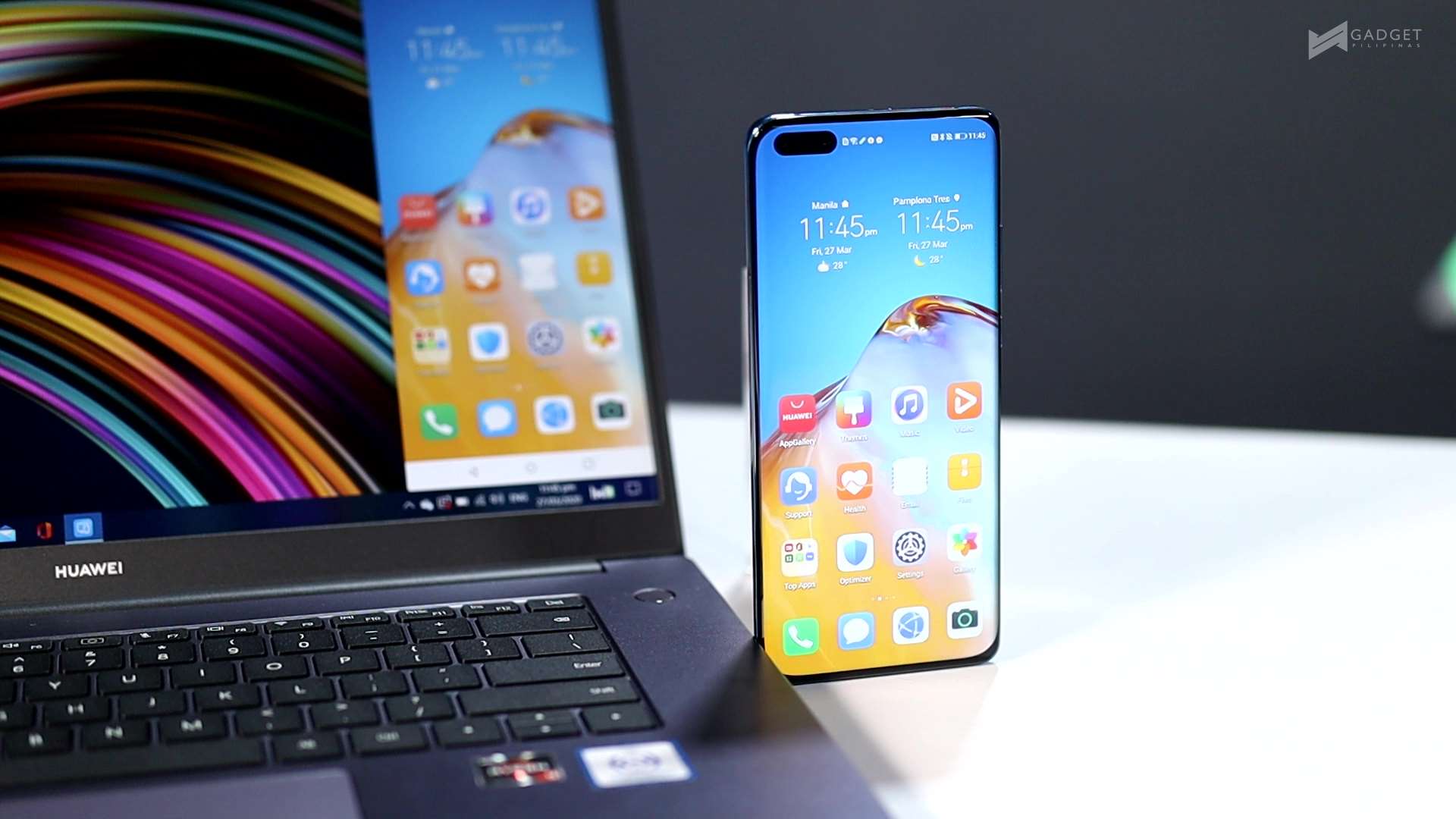 The AppGallery is packed with a growing number of applications. I managed to maximize the device despite not having Google Play Store, which some of our readers are concerned about. Most of the applications are available via APK Pure and APK Mirror, and I remain positive that the apps will also come to AppGallery in the future.
Battery Performance
In terms of battery performance, its 4200 battery lasted up to 14 hours and 43 minutes with the following conditions:
Medium Usage
Wifi Enabled
90Hz Enabled
Played 5 instances of Black Desert Mobile (15 minutes gameplay each instance)
Played 2 instances of PPSSPP with a controller connected (15 minutes gameplay each instance)
Facebook usage is clocked at 1 hour 2 minutes
52 unlocks since full charge
This is within range of our expectations with the set conditions. However, we need to update this further once ECQ is over with both 4G and 5G connections enabled.
Verdict
Priced at PhP50,990, Huawei P40 Pro sits atop the competition in terms of overall performance and price. If you're after improving your mobile photography skills and output, I don't see any reason for not even including this phone in your choices.
Giancarlo Viterbo is a Filipino Technology Journalist, blogger and Editor of GadgetPilipinas.net, He is also a Geek, Dad and a Husband. He knows a lot about washing the dishes, doing some errands and following instructions from his boss on his day job. Follow him on twitter: @gianviterbo and @gadgetpilipinas.