CPU Benchmarks
Our particular review unit sports a 10th gen Intel Core i7-1065G7, 16GB RAM, and an Iris Plus GPU. On paper, the Intel Core i7-1065G7, having a 10nm architecture, is the better CPU compared to the Core i7-10510 GPU which is a 14nm+++ refresh. Cinebench benchmarks show the 1065G7 getting a better CPU score but flops in OpenGL.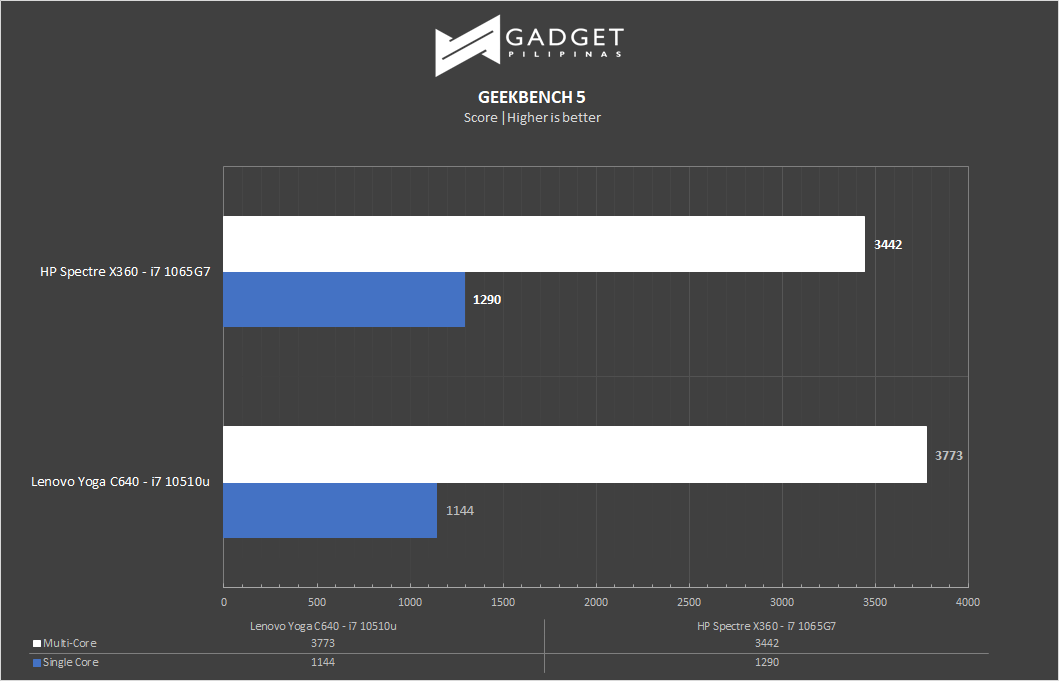 The same scenario is seen in Geekbench 5. The 1065G7 triumphs in single-core but falls behind the Core i7-10510u in multi-core. The scores could be an early indication of thermal throttling
SSD Benchmark
Developed by Noriyuki Miyazaki, CrytalDiskMark is a free benchmark tool that is being used by thousands of experts. This tool measures SSD's sequential read and writes speeds. That means how fast files can be read from and written to the drive, usually measured in MB/s.
The HP Spectre X360 uses an Intel Optane+ H10 series 1TB NVMe SSD. It's a QLC SSD with 32GB Optane. The SSD is at around 25% capacity during our benchmark run and we were able to get around 1,400MB/s Read and 350MB/s writes. The SSD is definitely one of the cost-cutting measures made by HP. Most premium ultrabooks use a Samsung PM981 SSD or something equivalent. It is definitely one of the notebook's weakest point.
DOTA 2 Benchmark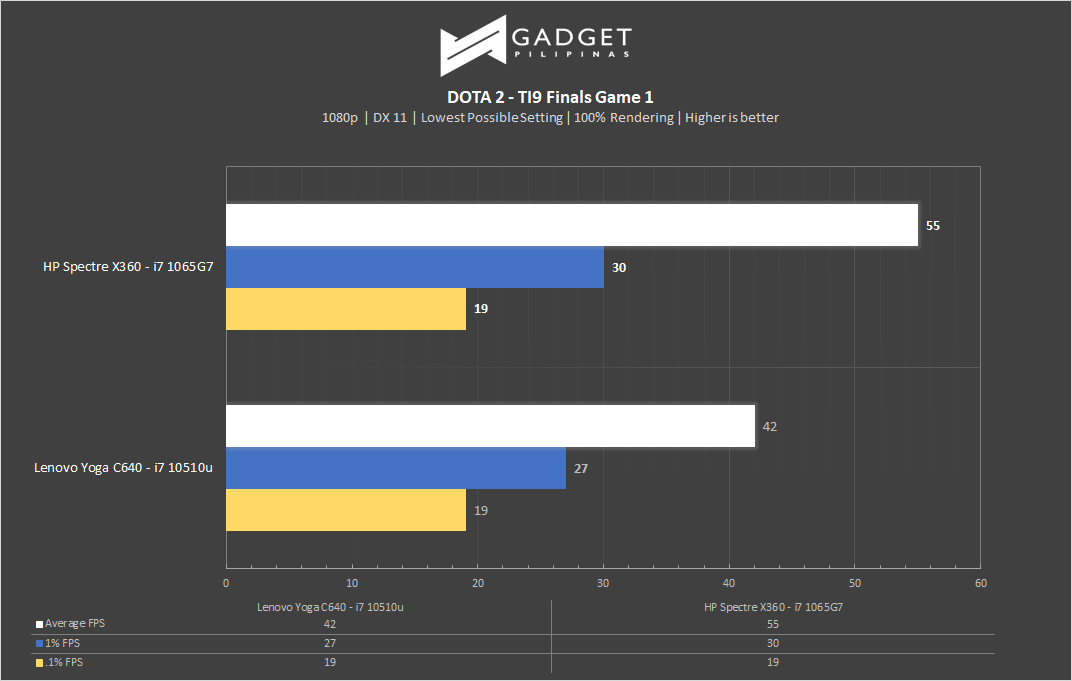 Most gamers play at least one of the following free-to-play titles: League of Legends, CS:GO, Dota 2, and/or Fortnite.  Dota 2 is a good representation of the F2P titles as it is the most demanding game in the spectrum. The benchmark will give you an idea of the laptop's relative performance on other lesser demanding titles. Our benchmark sequence is based on a replay of OG vs. Liquid in the TI9 grand finals from the team fight that happened on 28:30 to 29:30.
The 10nanometer Intel Core i7-1065G7 CPU shines in gaming as it outputs 30% more frames than the 10510u. The HP Spectre X360 could definitely run popular free to play titles, provided you lower the resolution to 1080p and play at lower settings.
HP Spectre X360 2020 Review – Setting The Gold Standard
The Gold Standard
Priced at Php 109,990 for our specific review unit, the HP Spectre X360 is definitely an expensive ultrabook. But considering that other manufacturers charge a way higher price for a portion of the feature set that the HP Spectre X360 offers, it is definitely a bargain. Its flaws are easy to overlook as it is heavily outweighed by the benefits and how fun it is to use. The HP Spectre X360 is an easy recommendation for business professionals, digital artists, and enthusiasts wanting a near-perfect ultrabook experience. It is also a great MacBook alternative as it goes head to head in terms of keyboard and screen, which is the MacBook's greatest features. It is a laptop worthy to be called a premium ultrabook as it sets the standard and highlights the must-have qualities of an ultrabook.
What's Good
4K Touchscreen AMOLED Display
One of the best keyboards on a laptop
Decent speakers
Ports and Connectivity
Battery Life
Premium Build Quality & Design
What's Not
Slightly heavy
HP Tilt Pen Stylus latency
short touchpad length
QLC SSD
Grant is a Financial Management graduate from UST. His passion for gadgets and tech crossed him over in the industry where he could apply his knowledge as an enthusiast and in-depth analytic skills as a Finance Major. His passion allows him to earn at the same time help Gadget Pilipinas' readers in making smart, value-based decisions and purchases with his reviews and guides.