Tablets used to be the go-to devices for general entertainment – videos, games, and even web browsing. But the advent of bigger and more capable smartphones, these devices can rarely be seen these days. So it's good to know that there are still a number of brands who care about these products, especially when talking about the more budget-oriented segment.
Today, we're doing a quick comparison of two devices from this category – The Huawei MediaPad T3, and the Samsung Galaxy Tab A 8.0 (2019), to see which one is the better buy.
Design and Build Quality
Both devices sport metal construction and exhibit premium feel. The MediaPad T3 features a unibody design is said to be made from a single piece of aluminium, which makes it very sturdy, a testament of Huawei's trusted quality. At about 350 grams, it's also very easy to carry around, and fits nicely even in a small bag. It's designed with kids in mind, so it uses materials that are safe, and non-toxic.
Button placement is basically the same for both devices – Volume Rocker and Power Button on the right. Both are also capable of using a SIM Card for 4G/LTE connectivity, a very handy feature when Wi-Fi isn't available. Both can also accommodate a microSD card for more storage.
The back panel on the MediaPad T3 sports a metallic finish and shows more curvature on the sides, while the Galaxy Tab A sticks to matte. Both utilize a standard microUSB port, along with a speaker grille at the bottom, and a headphone jack up top.
Despite both having 8-inch screens, the MediaPad T3 boast a more vivid IPS display, compared to a mere TFT LCD on the Galaxy Tab A. Both are at HD resolution, so don't expect tons of detail.
Performance
Considering their price points, both these tablets are running on entry-level processors – The MediaPad T3 on a Snapdragon 425, and the Galaxy Tab A on a slightly more powerful Snapdragon 429. Both pack 2GB of RAM, with the Samsung Tablet boasting twice the storage at 32GB compared to 16GB on the Huawei.
As far as day to day use is concerned, we did encounter occasional stutters on both devices, which is kind of expected, but nothing deal breaking. Apps still open as fast as you'd expect, and you can still do some light multi-tasking. If media consumption is your main use for any of these two, you'll be fine.
As far as benchmarks go, the MediaPad T3 isn't compatible with the latest version of the AnTuTu benchmark app, so we decided to go for Geekbench 5 instead.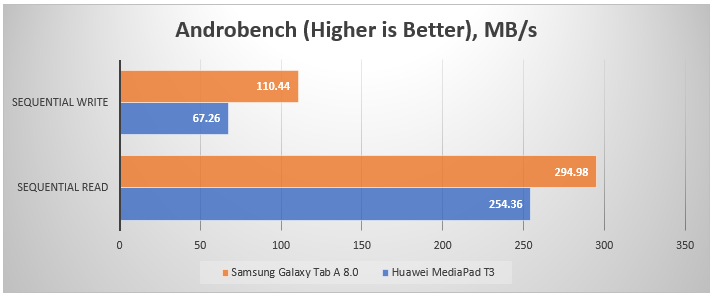 As expected, Samsung's tablet pulls slightly ahead in both single-core and multi-core tests, thanks to its more capable processor. Storage-wise, the Galaxy Tab A also slightly tops the MediaPad T3 in both sequential read and write.
We also tried playing Mobile Legends on both tablets, and surprisingly, both support HFR Mode. We did notice stutters on some screens which involve a lot of animation, but you'll be able to play the game with no major issues.
Software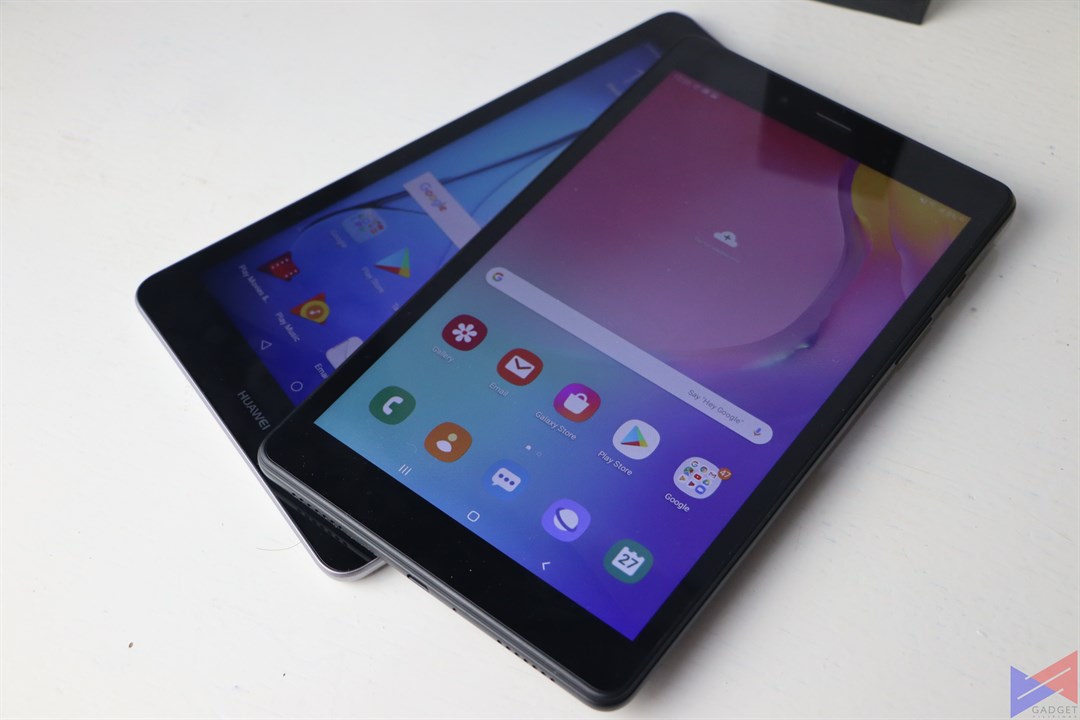 While this goes down to personal preference, it's important to note that the Galaxy Tab A runs on Samsung's OneUI on top of Android 9, Pie, while oddly, the MediaPad T3 still runs on Android 7, which is really outdated, and also means it doesn't have the latest security patches.
That being said, Huawei's tablet does offer children-oriented features, such as parental control, and apps that are specifically made for kids. For productivity, it also offers split screen mode, and comes pre-loaded with Microsoft Apps.
MediaPad T3 also boasts intelligent network connectivity, which means it can automatically select the best network to connect to at any given time.
Battery Life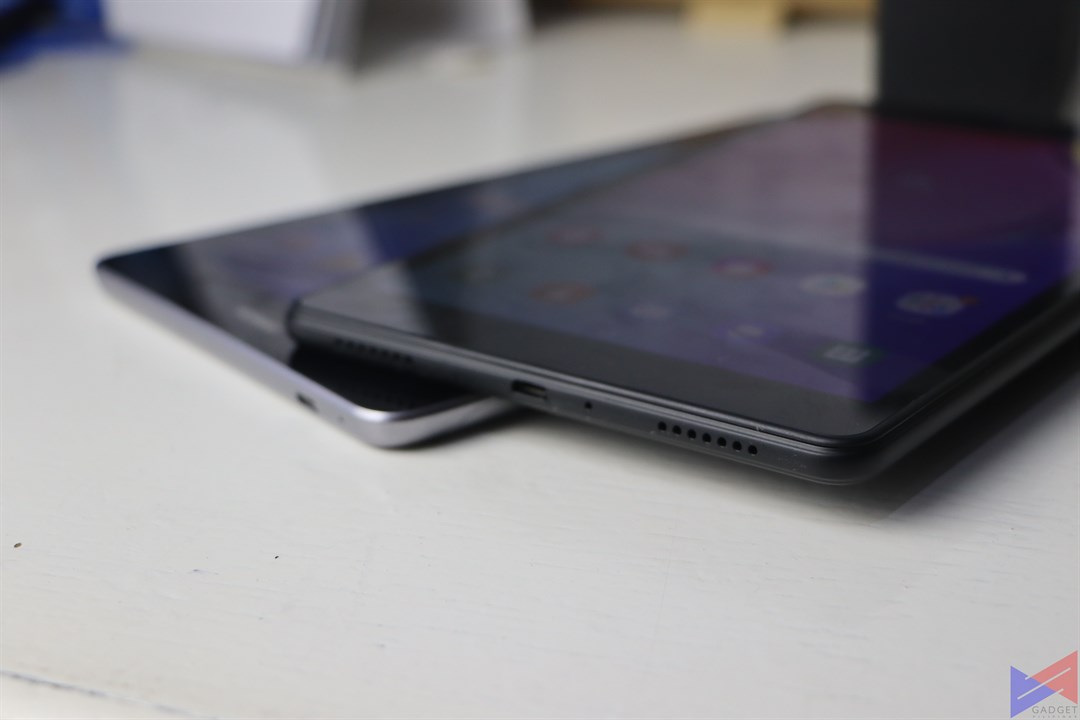 Playing a 1080p video on loop with brightness at 50% and volume at 80%, both the Huawei MediaPad T3 and the Galaxy Tab A managed to churn out around 13 hours of uptime. Of course, your mileage may vary depending on which apps you use.
Quick Verdict
Both the Huawei MediaPad T3 and the Samsung Galaxy Tab A are decent budget tablets that will perfectly cater to those who want an affordable device with a big screen for watching videos, browsing the web, and even some light gaming.
Both are built well, with Huawei's tablet acing the contest in terms of display quality. As for what's under the hood, the Samsung does have a slight edge in performance, which is noticeable when using the tablets side by side – you can tell that it's just a bit smoother compared to the other.
No need to worry about battery life, as both will most likely last at least a full day of light to moderate use.
So which one would we recommend? That depends. If you just want an affordable tablet that's well-made, child-friendly, has a good display, great longevity, and can handle basic tasks decently, go for the Huawei MediaPad T3, priced at PhP6,490.
If you however, want a device that offers a slightly better user experience, and if having an up to date device software-wise is your priority, and if you're willing to pay the extra cost, the Samsung Galaxy Tab A is a better bet at PhP8,990.