The RX 5600 XT Graphics card is the most heated release yet by AMD, and I don't mean temperature-wise. Announced last CES 2020, the Radeon RX 5600 XT 6GB is set to compete with Nvidia's GTX 1660 Super and GTX 1660 Ti graphics card. The RX 5600 XT is a 1080p contender and aims to take a big chunk of Nvidia's market share in the 1080p mid-range segment. Days before the release of AMD's 1080p champ, Nvidia dropped the price of the RTX 2060 Founder's Edition to $299. AMD then retaliates by injecting the RX 5600 XT a massive speed boost in clock speed and memory bandwidth. Let's see if the AMD's RX 5600 XT, represented by the Sapphire Pulse RX 5600 XT can avenge the RX 5500 XT and take the 1080p crown from Nvidia.
SPECIFICATIONS
| | | | | | | |
| --- | --- | --- | --- | --- | --- | --- |
| Specs | RX 5500 XT | GTX 1660 Ti | RX 5600 XT (Announcement) | RX 5600 XT (Release Specs) | RX 5700 | RX 5700 XT |
| CUDA Cores / Stream Processors | 1408 | 1536 | 2304 | 2304 | 2304 | 2560 |
| SMs / Compute Units | 22 | 24 | 36 | 36 | 36 | 40 |
| Base Clock | 1717 Mhz | 1500 | 1375 Mhz | 1560 Mhz | 1465 Mhz | 1680 Mhz |
| Boost Clock | 1845 Mhz | 1770 | 1560 Mhz | 1750 Mhz | 1725 Mhz | 1930 Mhz |
| Texture Units | 88 | 96 | 144 | 144 | 144 | 160 |
| Memory Clock | 14, 000 Mhz | 12 Gbps | 12 Gbps | 14 Gbps | 14Gbps | 14 Gbps |
| Memory Bandwidth | 244GB/sec | 288 GB/sec | 288 GB/sec | 336 GB/sec | 448GB/sec | 448GB/sec |
| Memory Size | 4GB / 8GB GDDR6 | 6GB GDDR6 | 6GB GDDR6 | 6GB GDDR6 | 8GB GDDR6 | 8GB GDDR6 |
| TDP | 130w | 120w | 150w | 160w | 185w | 225w |
| MSRP | $169 / $199 | $280 | $279 | $279 | $349 | $399 |
AMD seeded out BIOS updates for the RX 5600XT right after Nvidia undercut the price of its RTX 2060. The BIOS update increased both core clocks and memory clocks of the RX 5600 XT, which makes the spec closer to the RX 5700. This is possible because the RX 5600XT uses a locked version of the Navi 10 GPU. AMD's last-minute tune-up with the RX 5600XT makes it a more compelling option for consumers as they didn't adjust the card's pricing. In this review, we have the Sapphire Pulse RX 5600 XT 6GB benchmarked in pre and post-release BIOS versions.
AMD Radeon Adrenalin 2020 Software
AMD also the Radeon Adrenalin 2020 Edition Software alongside the RX 5500 XT 4GB and 8GB variants. We'll be using the new drivers for this review. Listed below are the new features of the software. Refer to this article for an in-depth look at AMD's new software.
Radeon Integer Display Scaling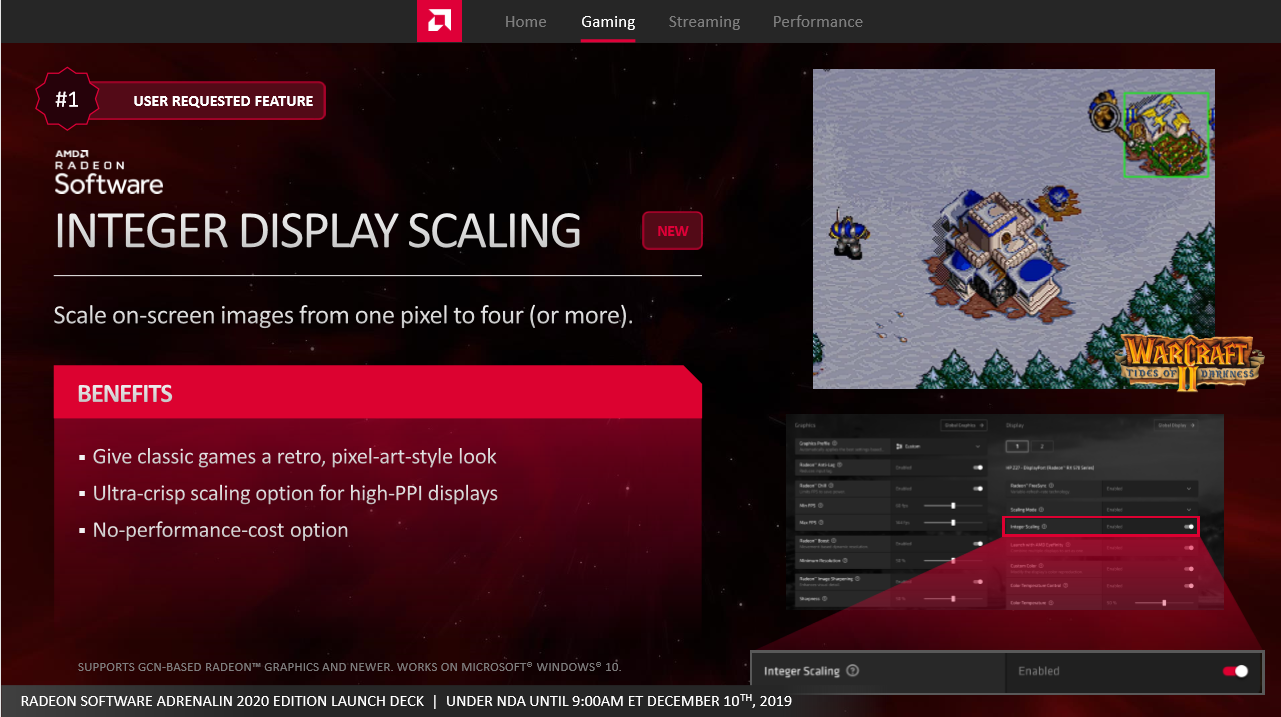 Radeon Integer Display Scaling upscales your olds games to render a better quality image. It takes one single pixel and scales it to four-blocks or more depending on the image for a crisp image display. Radeon Integer Display Scaling is very beneficial in olds games to breathe some life into it, especially if these games are your timeless classic. Gamers with high-resolution displays will also benefit from Integer Display Scaling.
DirectML Media Filters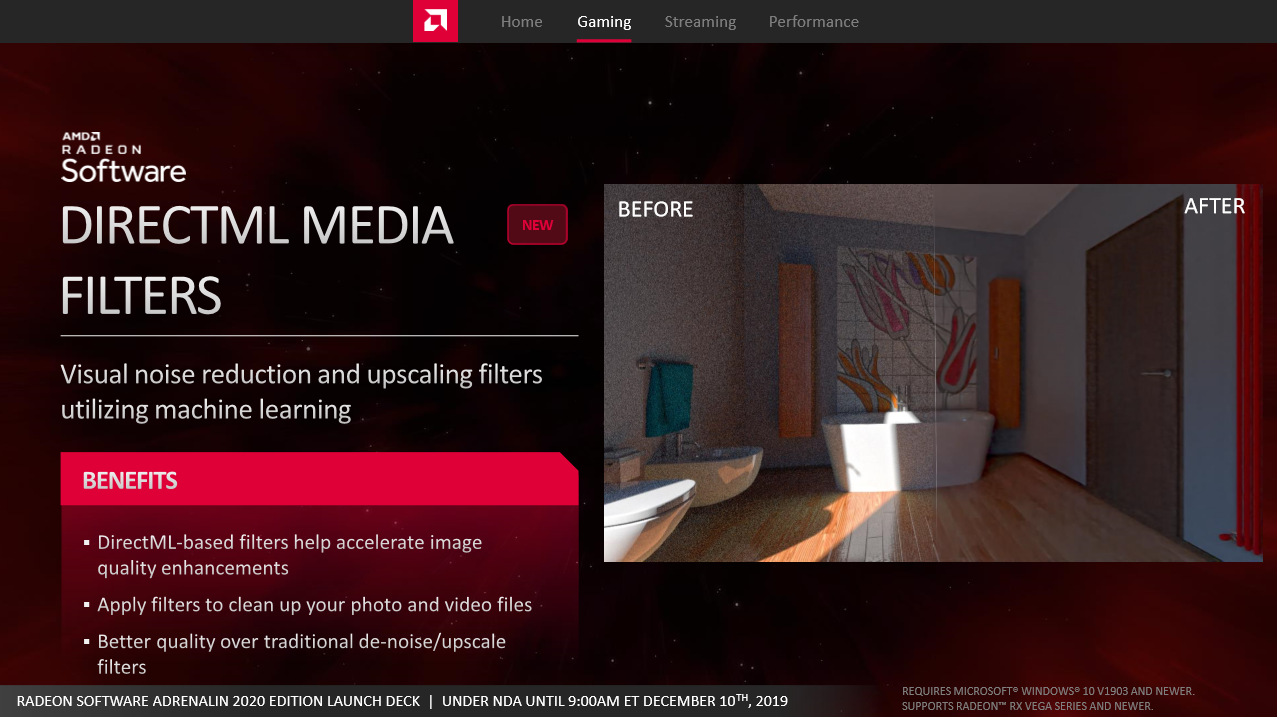 DirectML is Microsft's machine learning API, which enhances videos and photos by reducing noise and upscaling filters. Think of it as a gamer's simplified photoshop.
Radeon Boost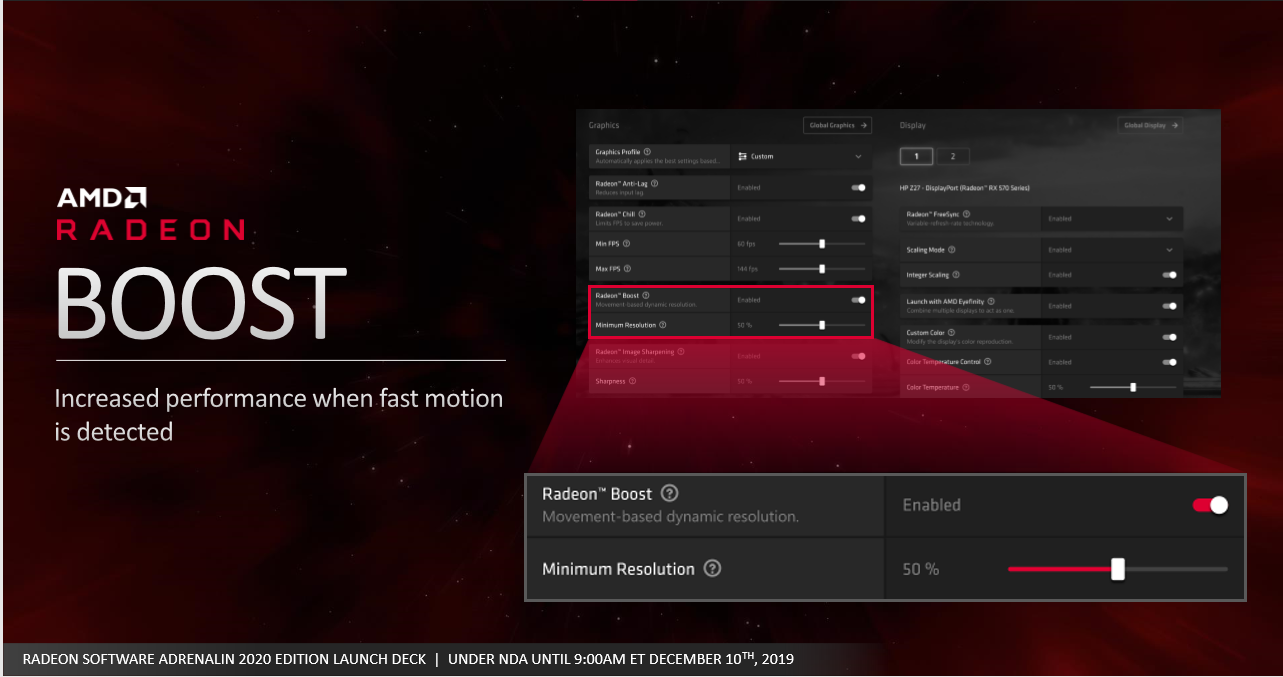 Radeon boost increases your system's performance during fast-motion scenes. The software automatically adjusts your game's resolution when every time it detects enough movements / in-game motion. The feature smoothens the animation as it lowers resolution during these motions such as running, camera rotation. And since the feature takes place during motion, the perceived image quality won't degrade since its a fast-motion scene.
Sapphire Pulse RX 5600 XT Overview
Like the RX 5500 XT, AMD's latest RX 5600 XT series don't have any reference version. Our RX 5600 XT is outfitted with Sapphire's Pulse branding, which is one of the brand's higher-tier models. We previously reviewed the Sapphire Pulse RX 5500 XT 4GB when it launched last December. The Sapphire Pulse RX 5600 XT's packaging design is similar to its younger brother, albeit in a portrait format.
The Pulse RX 5600 XT's sports an identical shroud to the RX 5500 XT. However, the 5600 XT has a more vibrant design as opposed to the 5500 XT's muted "pulse."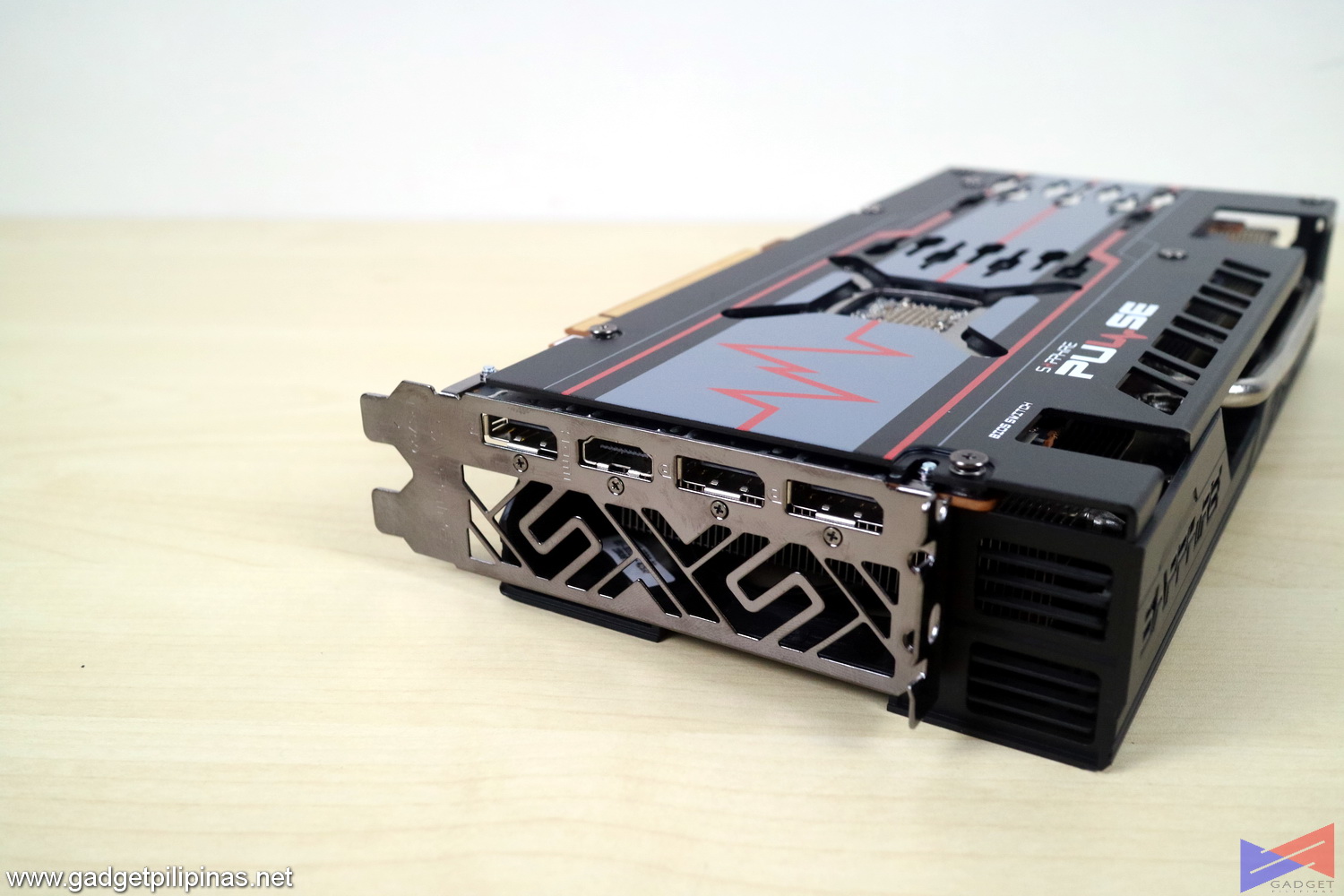 The Sapphire Pulse RX 5600 XT sports three(3) Display Ports and one(1) HDMI port. Both interfaces support high refresh-rate and Adaptive-Sync technology.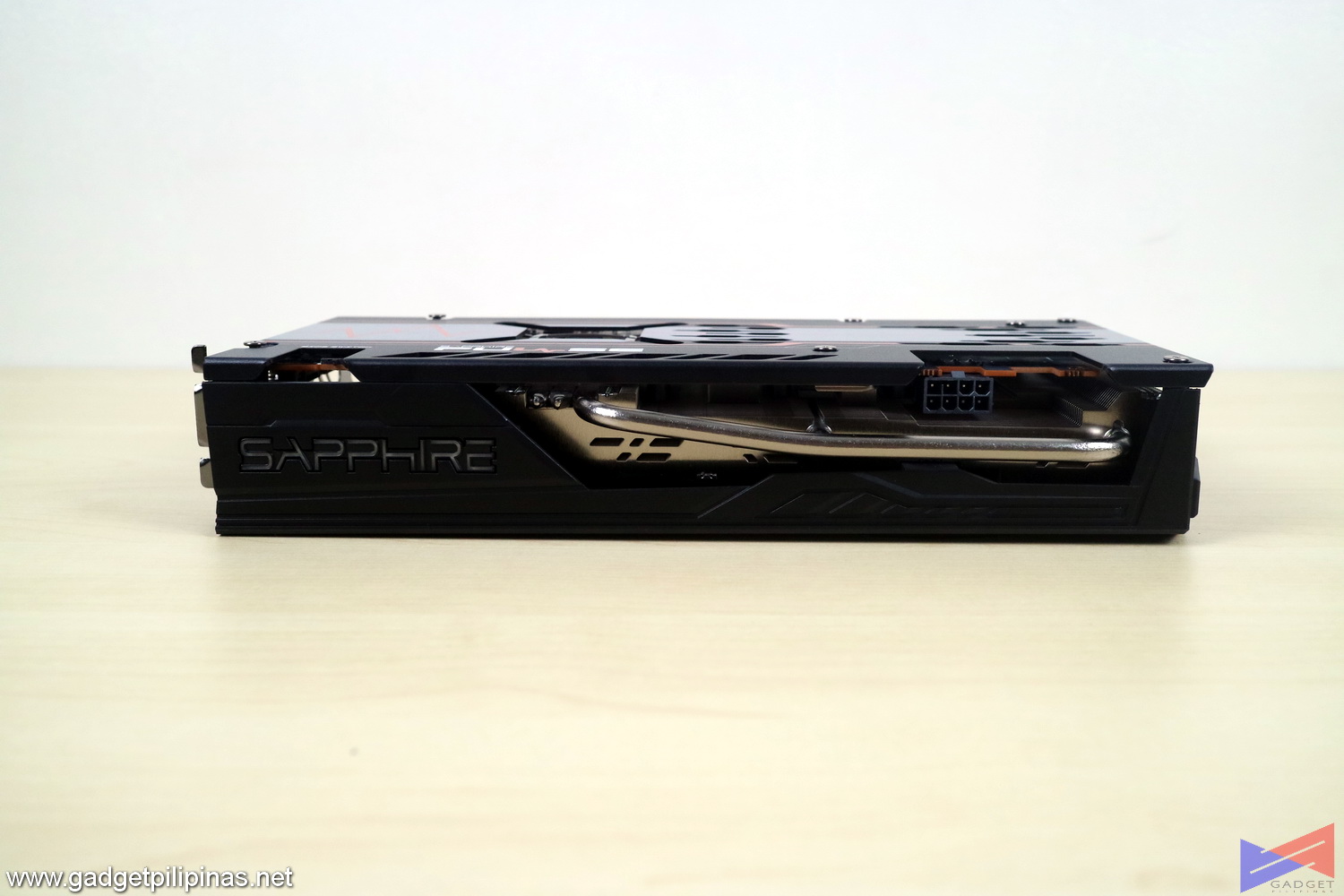 The Boxy design of the Sapphire Pulse RX 5600 XT disguises the GPU's form factor at 2.3 slots. The shroud and backplate slightly extend at the PCB with a total dimension of 254mm x 135mmx 46.5mm – a medium-sized graphics card.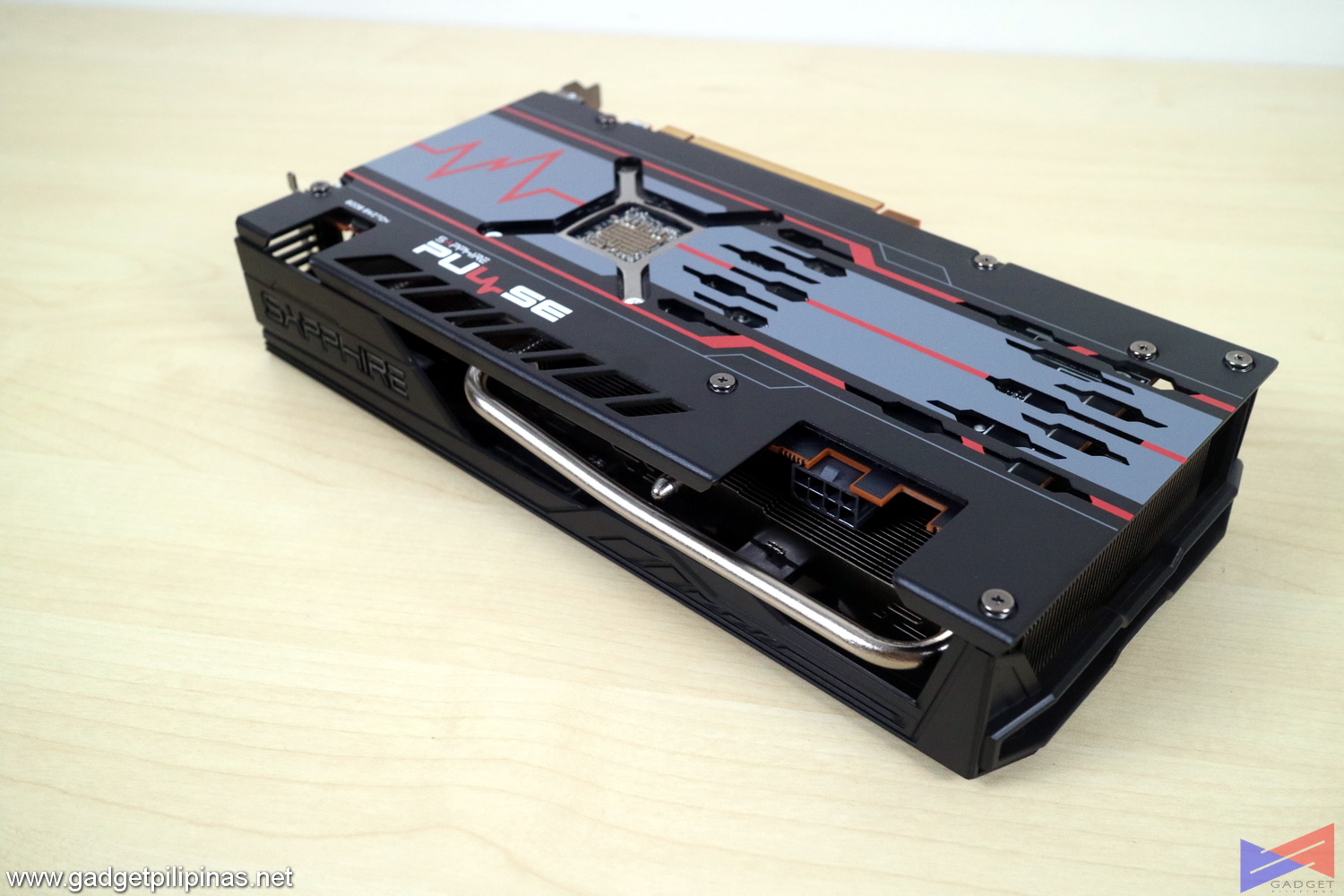 The RX 5600 XT requires a single 8-pin PCIe power for its 160-watt rated TDP. Interestingly enough, the cutout of the shroud and PCB layout shows room for an additional PCIe connector. This confirms that the RX 5600 XT is a cut-down version of the AMD Radeon RX 5700.
BENCHMARKS
The performance of the Sapphire Radeon Pulse RX 5600 XT 6GB Pulse shall be evaluated using a mixture of synthetic and gaming benchmarks. Windows is updated to the latest stable build as well as drivers. BIOS settings are set to UEFI default as well as each individual GPUs' clock and fan speeds. Tests are performed at 1920 x 1080p resolution ina 30°c ambient room.
| | | |
| --- | --- | --- |
| AMD Radeon RX 5600 XT 6GB | CES Announcement Specs | Launch Day Specs |
| Base Clock | 1375 Mhz | 1560 Mhz |
| Boost Clock | 1560 Mhz | 1750 Mhz |
| Memory Clock | 12 Gbps | 14 Gbps |
| Memory Bandwidth | 288 GB/sec | 336 GB/sec |
| TDP | 150w | 160w |
AMD upgraded the Radeon RX 5600 XT 6GB right before its launch. This is in response to Nvidia's RTX 2060 price-cut to block AMD's launch. Specs before the release date point the RX 5600 XT to be a small upgrade over the 5500 XT due to its lower overall clock speeds. The RX 5600 XT draws closer to the 1440p-oriented RX 5700 following final spec adjustment – leaving a wider gap between the 5500 XT and 5600 XT.
We were able to test both CES and Launch Day specs of the RX 5600 XT, so we'll be showing two results. Do note that the "BIOS FLASHED" ticker is the FINAL and RETAIL configuration of the RX 5600 XT.
TEST BENCH
Processor: Intel Core i9 9900K @ 5Ghz
Cooling: ROG Ryujin 2400mm Cooler
Motherboard: ROG Maximus 11 Formula
Memory: HyperX Predator 16GB  3200Mhz
Storage: SanDisk 512GB M.2 SSD | HyperX Fury 240GB  RGB SSD
PSU: ROG Thor 1200w Platinum
GPU:  Colorful iGame GTX 1660 Super Ultra | Galax GTX 1660 Ti 1-Click OC | Sapphire Pulse RX 5600XT | ROG Strix RX 5600XT 6GB 
OS: Windows 10 Pro Build 1903
Drivers: GeForce 441.87 | Adrenalin 2020 Editon 20.1.1
3DMARK
3DMark is the go-to benchmark for gamers because of the ability to share and compare results online. We used Time Spy DX 12 benchmark and Fire Strike DX 11 benchmark and opted out of Port Royal since all the GPUs used in this review do not support Ray Tracing.
DOTA 2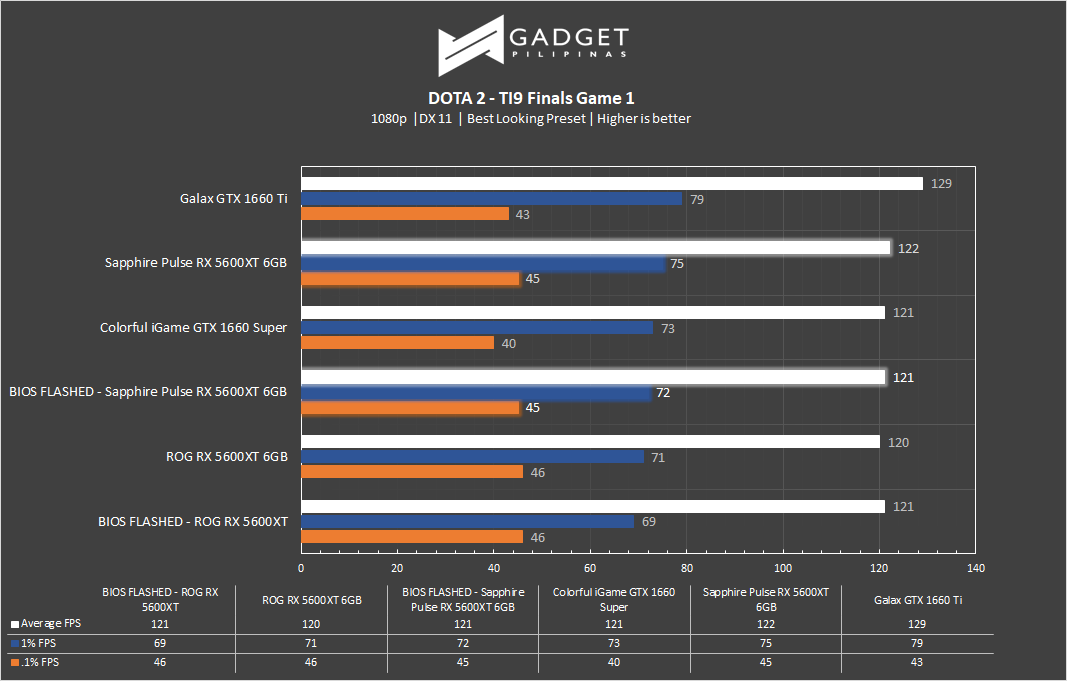 Dota 2 is one of the most popular games globally; that said, chances are you'll be playing one of the popular F2P titles. Our benchmark sequence is based on a replay of OG vs. Liquid in the TI9 grand finals from the team fight that happened on 28:30 to 29:30.
The Sapphire Pulse RX 5600 XT manages to hit the 120 FPS beating out Nvidia's GTX 1660 SUPER but falls behind the GTX 1660 Ti. The BIOS update, which boosts clock speeds and memory bandwidth, didn't seem to affect the results in our DOTA 2 benchmark.
Far Cry 5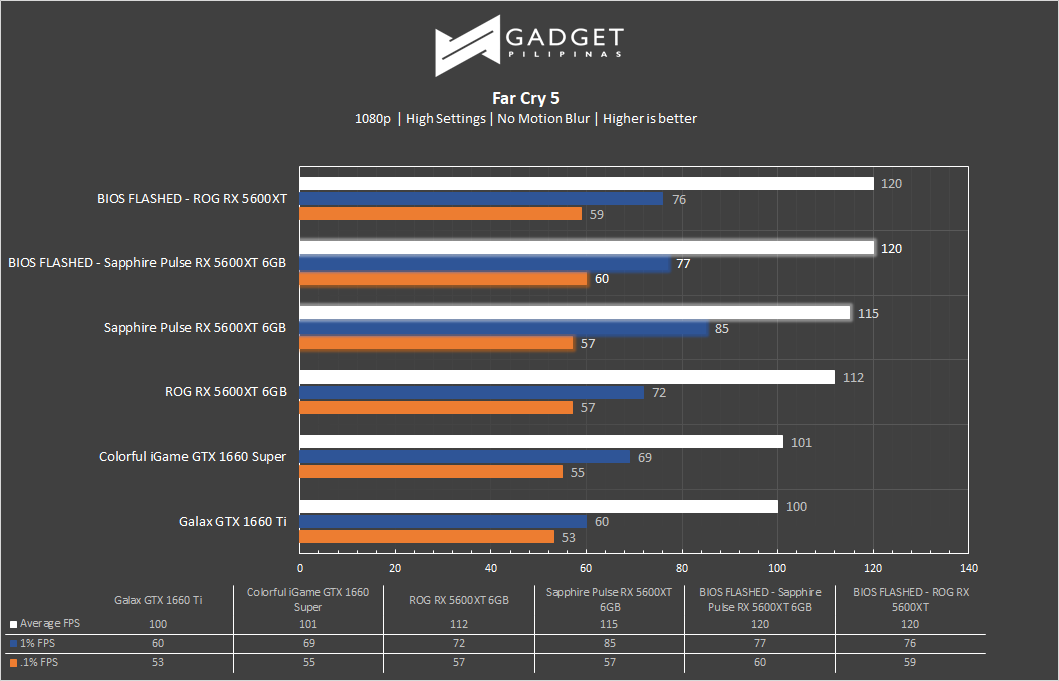 FarCry 5 is an FPS game published by Ubisoft and uses the Dunia engine. It heavily relies on and takes advantage of DirectX 11 to render a realistic environment that makes it taxing to both the CPU and GPU.
The Sapphire Pulse RX 5500 XT takes the crown in Far Cry 5 with a 120 average FPS lead. The Launch day BIOS managed to up the Pulse RX 5600 XT's performance by 4.34% in the Far Cry 5 run.
Rainbow Six Siege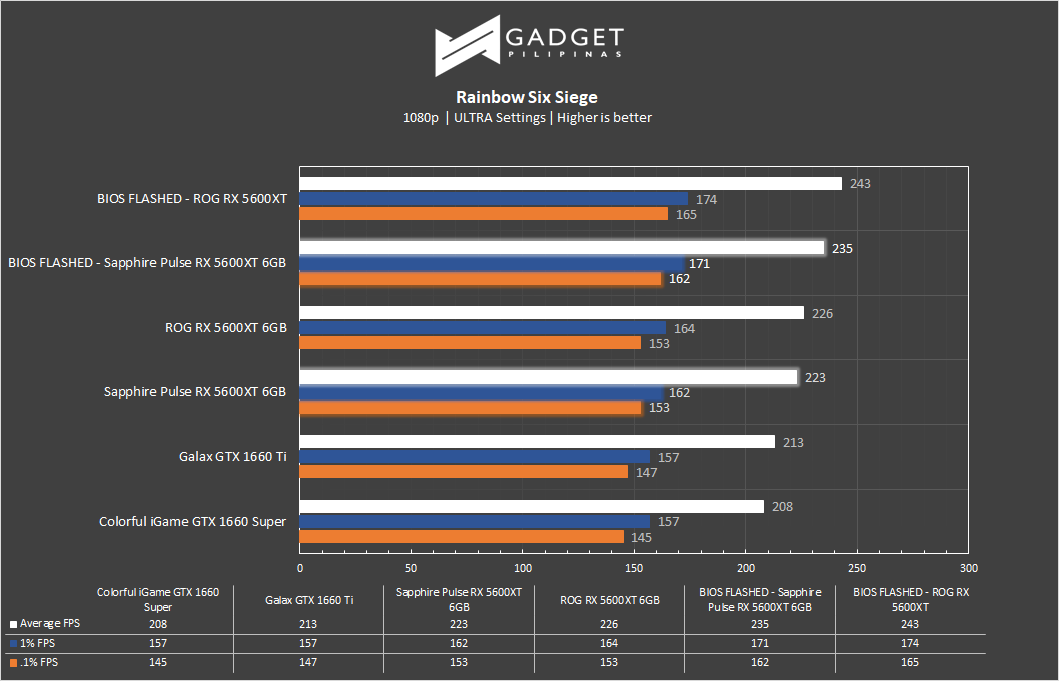 Rainbow Six Seige is one of the few popular AAA games that's still popular in 2019 due to its competitive gameplay mechanics. R6S uses the AnvilNext game engine, which is developed by the game's publisher, Ubisoft. As of writing, Rainbow Six Siege is currently the most popular Tom Clancy title beating out Wildlands, Breakpoint and even, Division 2.
The same story can be said with our Rainbow Six Siege benchmark. The BIOS update boost provided by AMD shows a performance improvement of 12 FPS or 5.38%. This outputs 22 more fps compared to the GTX 1660 Ti.
Call of Duty: Modern Warfare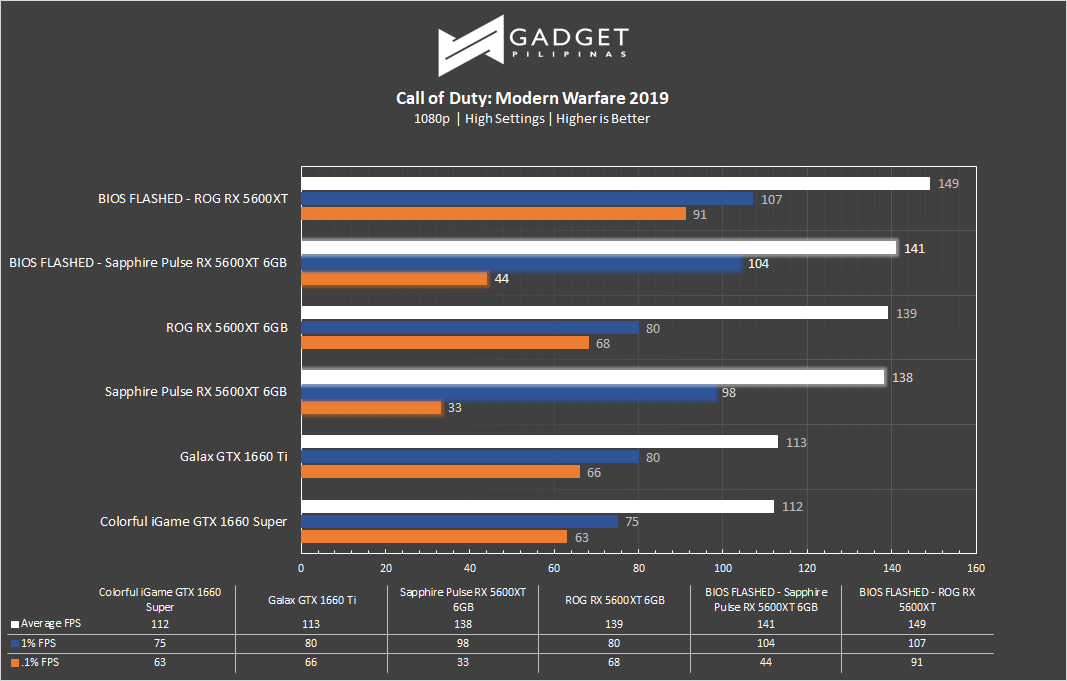 Call of Duty: Modern Warfare is arguably the most anticipated game of the year. It's the first cross-play compatible game title of the franchise. COD: MW, developed by Infinity Ward, is using a new IW engine and published by Activision. The game uses DX 12 by default, which makes it an excellent choice to include in our benchmark suite.
The Sapphire Pulse RX 5600 XT once again pulls ahead crushing both GTX 1660s by over 25 percent more FPS. The BIOS update provides a more stable experience represented by the 1% and .1% lows thanks to the higher clock speeds.
Apex Legends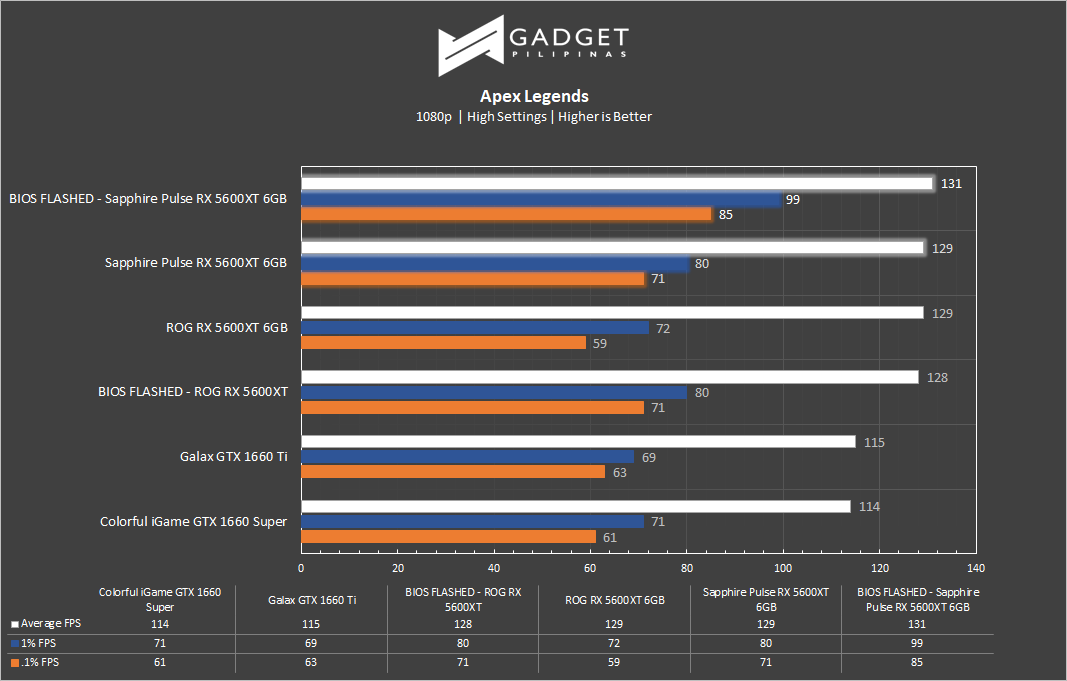 Apex Legends is a character-based Free-to-play battle royale game developed by Respawn Entertainment, the makers of Titanfall and Titanfall 2. It utilizes a modified version of Valve's Source Engine.
Apex Legends is where the Sapphire Pulse RX 5600 XT dominates with a higher and more stable frame rate output depicted by the 1% and .1% FPS.
Battlefield V
The Battlefield series is an iconic FPS title in our generation matching Halo and Call of Duty. Battlefield V, set in WW1, is the latest installment in the franchise developed by DICE using the popular Frostbite engine. It's also the first game to incorporate DX 12, Ray Tracing, and DLSS making it a great choice in our game bench library.
The Sapphire Pulse RX 5600 XT takes charge at Battlefield V in both DirectX 11 & DirectX 12 APIs by 49% and 30%, respectively. The BIOS update also made the RX 5600 XT more stable against frame drops.
TEMPERATURES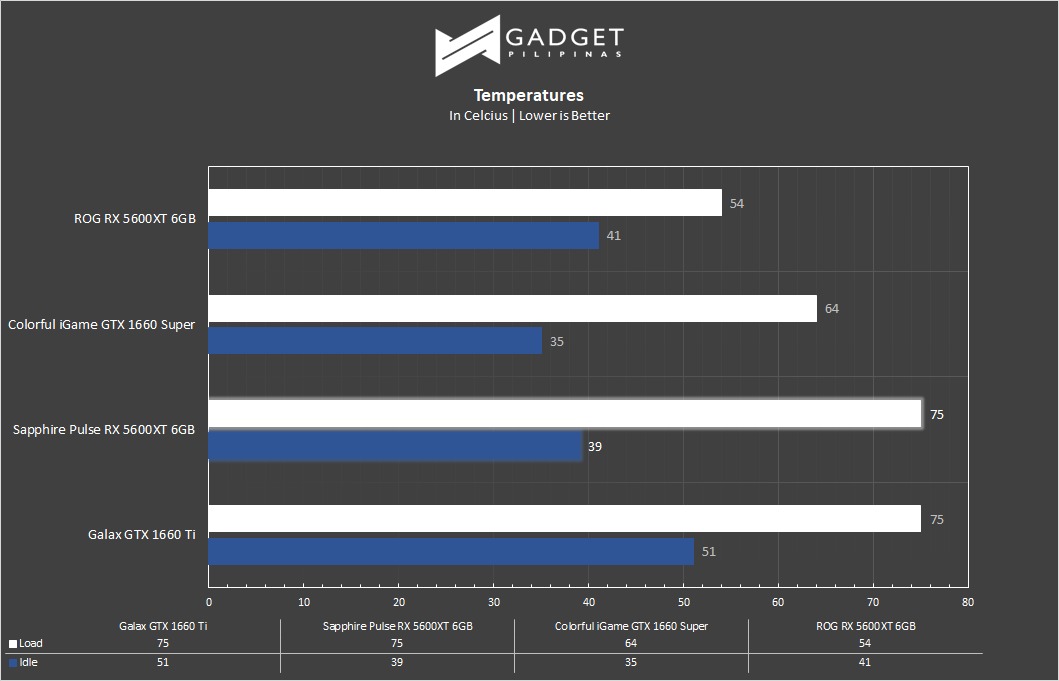 Temperature-wise, the Sapphire RX 5600 XT sits at 75-degrees, and that's with the higher clock and memory speeds via the BIOS update. It's not the coolest, nor the hottest aftermarket cooled GPU. A more aggressive fan profile could help in toning down the temperature since most brands opt for a conservative, silent fan profile.
POWER CONSUMPTION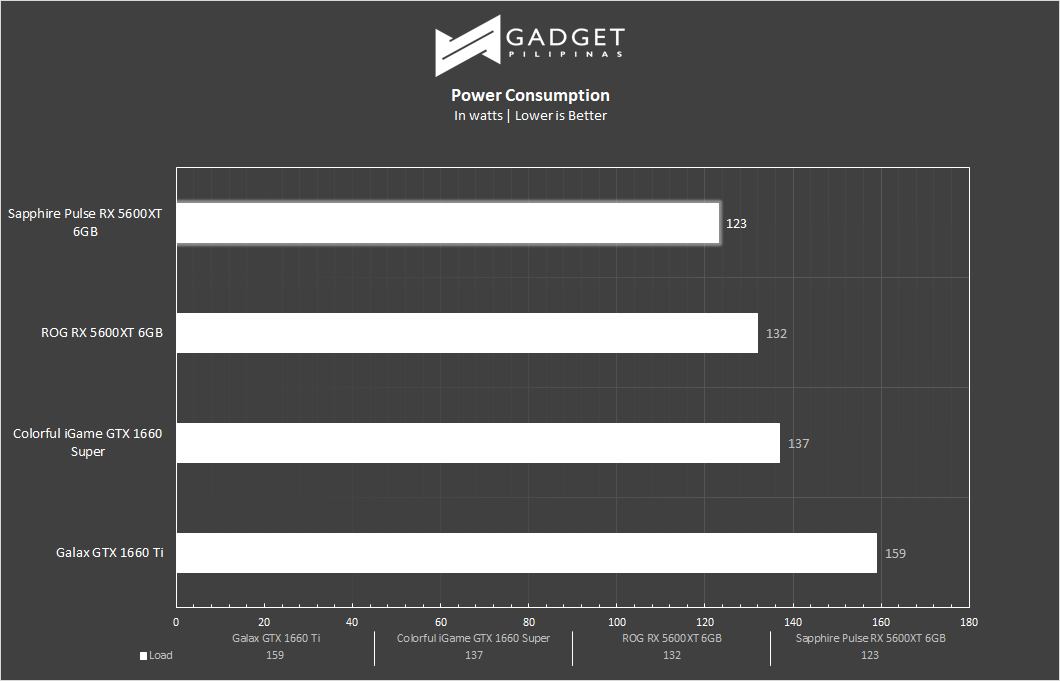 Despite the warm temperature, the Sapphire Pulse is the most energy-efficient GPU in our product stack, thanks to the 7-nanometer FinFET process.
CONCLUSION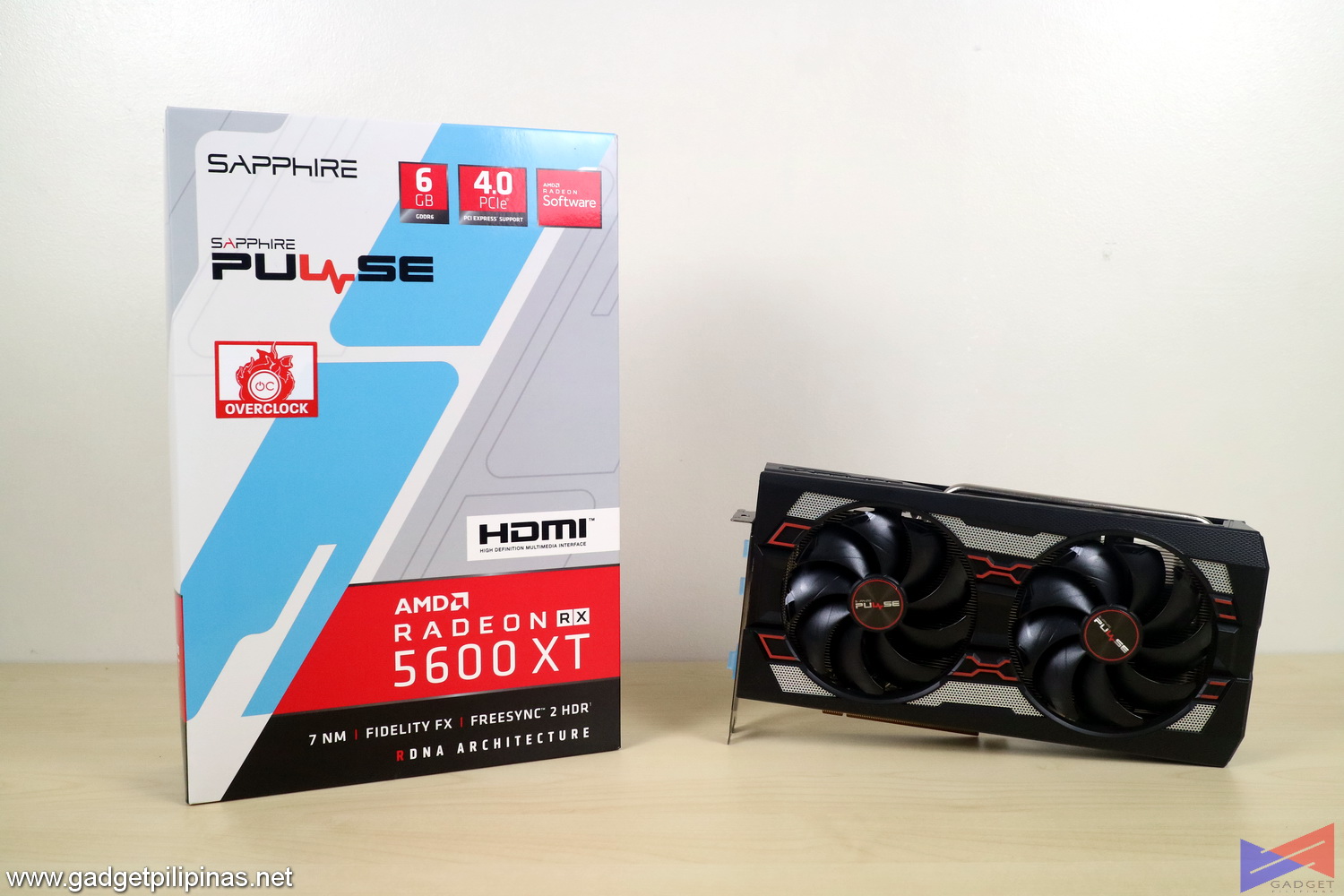 If it weren't for the Nvidia RTX 2060 price cut, we would've gotten an ideal Vega 56 and 64 replacement, which will disappoint a lot of consumers. The retail RX 5600 XT with the updated BIOS gives justice to the long-time AMD fans and gives the green team a run for its money with the card's superior 1080p gaming performance. This move makes us question whether the RX 5600 XT can be flashed to a Radeon RX 5700 considering that AMD has a track record with their Athlon CPUs and RX 480/580 GPUs.
AMD's Radeon RX 5600 XT 6GB graphics card is a slightly unorthodox approach by the brand. AMD tends to maximize the manufacturing process's efficiency by clocking higher speeds as much as they can, resulting in a toasty GPU. However, that's not the case with the RX 5600 XT. It's more like that AMD applied Nvidia's strategy of cutting out a high-end product to fit a lower market – to which they executed beautifully.
With an enticing Global SRP of $279( Php 14,500) or a Php 16,500 local price tag, the Sapphire Pulse RX 5600 XT sits between the GTX 1660 Ti and RTX 2060 which averages at Php 15,547 and Php 18,962 respectively. AMD's competitive pricing in the form of the Sapphire Pulse RX 5600 XT allows consumers to opt for a more powerful 1080p GPU than the GTX 1660 Ti without the Ray Tracing tax premium attached to the RTX 2060.