These days, smartphone brands are investing more in accessories that enhance the overall user experience, such as cases, wireless chargers, and more commonly, audio products.
Realme is a case in point, with the new realme Buds Air, which touts quite a tall order for its price (PhP3,990) – good sound, good comfort, good battery life, and the usual things you'll spot in the marketing materials of just about every TWS out there, plus some "exclusives."
The big question is, does it deliver all those promises?
Specifications
| | |
| --- | --- |
| Chip | R1 Headphone Chip |
| Controls | Touch Control |
| Calling | Dual Mic |
| | ENC (Environment Noise Cancellation Technology) |
| Connectivity | Bluetooth 5.0 |
| | GFP (Google Fast Pair Technology) |
| | 10 Meters Effective Range |
| Size and Weight | Charging Case |
| | Height: 51.3mm |
| | Width: 45.3mm |
| | Depth: 25.3mm |
| | Weight: 42.3g |
| Charging Case | Qi Wireless Charging |
| | Type-C Charging |
| Battery | Up to 17 Hours Playback (Up to 3 hourse per charge) |
| Sensors | Optical Sensor for Wear Detection |
| In the Box | Buds |
| | Wireless Charging Case |
| | Type-C Charging Cable |
| | Quick Guide Book |
Design
Like many other True Wireless Earbuds out there, realme Buds Air "takes inspiration" from Apple's Airpods as far as looks go, and that's not a bad thing, since that's what's popular.
The buds themselves are void of any buttons which you may accidentally press. Everything is controlled by touch.
Double Tap to Play and Pause a Track, and to Answer a Call, Triple Tap to Skip Tracks, long press on one side to launch your voice assistant, and long press both sides to enter/exit Gaming Mode, which supposedly reduces latency in games and videos.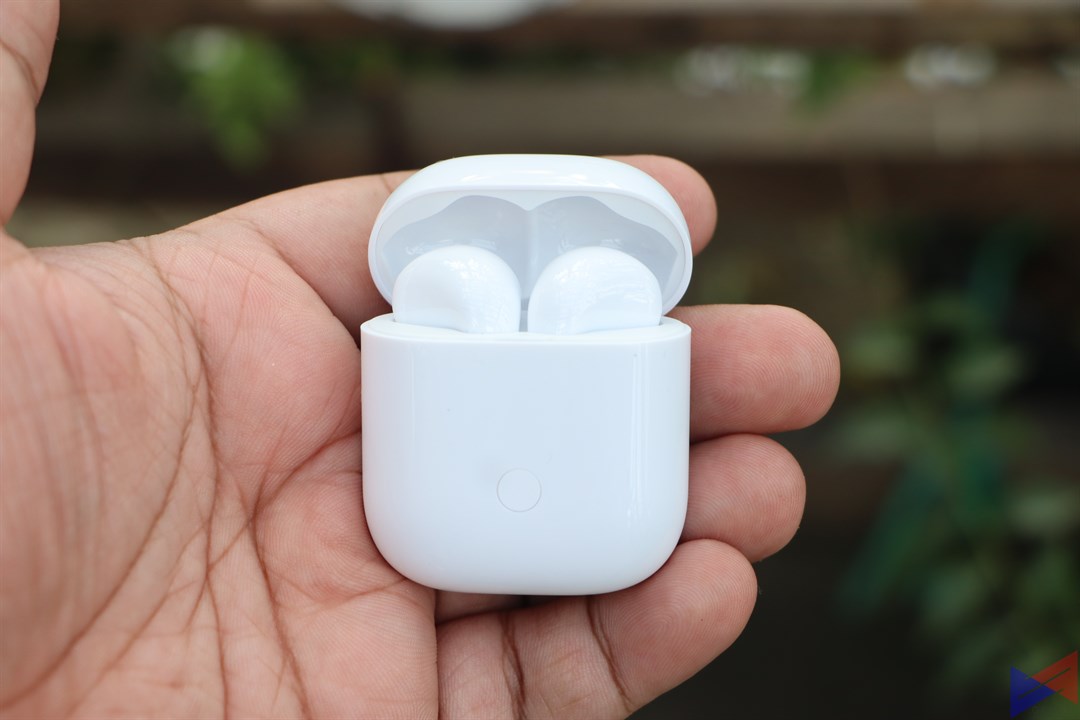 Like most other TWS, realme Buds Air also comes with a case that works as a charger. The difference is that the case can be charged using a wireless charging pad, or its USB-C port. The indicator light shows how much power is left for both the case, and the buds.
It's also supposed to show when the buds are charging, at least according to the manual. Though in my case, it never really lit up after I put the buds back in, almost drained. So basically, you don't know if the buds are charging or not.
To pair the buds with say a smartphone, simply press the pairing button on the case for a few seconds until the led light blinks green for ten seconds. Its Open-up Auto Connection feature means you only need to pair it once, and then afterwards, you'll only need to open the case and the buds will automatically connect to your phone. Clever.
Another feature of the realme Buds Air, is the ability to detect when you're actually wearing them, and automatically pause or resume playback. Now, it did work, but not without some issues. At one point, i tried remove the right bud to see if it would stop playback – it didn't. So I was able to listen wearing only the left bud for a few minutes.
Then, something weird happened. I was queuing up at a store, and I removed the right bud to talk to the cashier, and guess what? playback stopped, and resumed only when I wore it again.
Comfort and Isolation
The first thing I noticed is that it's kind of hard to get a good fit, since there are no eartips that can adjust to your ear.
Anyway, after fiddling for a few minutes, I was finally able to get a comfy fit. Next, I tried moving about to see if they would come off easily. They did, once.
If you're daily commute is a Grab, or a Taxi, or if you have your own car, then these would be fine, but if a bus or jeep is your main mode of transportation, be ready to crank up the volume, because every bit of sound from the outside just goes in.
Latency and Stability
Realme has equipped its TWS with a custom chip, called the R1, which packs Bluetooth 5, supposedly to ensure instantaneous and stable connectivity, amongst other benefits.
As far as stability is concerned, the buds managed to stay connected to my smartphone all the time that it was in my pocket, during my commute, and a during my short walks. As far as distance is concerned, it took about 10 meters before I experienced any drops.
Another unique feature of this product is Gaming Mode, which can be enabled with a long press on both buds, after which, you'll hear the sound of a speeding car. What it basically does is it reduces latency by a certain percentage, so the sound you hear is synchronized with the game you're playing or the video you're watching.
Do note that it doesn't totally eliminate the delay, but it makes it barely noticeable. I'm not so sure if it's just me, but it also seems to change the sound signature just a tiny bit.
Sound
Realme Buds Air uses Dynamic Bass Boost Drivers, which is kind of ironic, as these aren't exactly bassy. In fact, the lows is the least emphasized frequency. You do get some punch, audible punch, but it's the kind of bass that delights non-bassheads.
Vocals aren't too upfront, sort of in the middle, but maintain a good level of detail. Highs, which seem to have the most emphasis are crisp and clear, so long as you don't go over 70% volume, at least on my device. Any higher, and the treble becomes too sharp and piercing.
Except EDM, I'd say the sound signature of this pair will suit most genres.
Now, that's if you're not it Gaming Mode. Enable it, and that piercing treble is almost gone, as if it dials some of the knobs down for a more laid back sound.
As for calls, the device uses two microphones to intelligently filter out outside noise, so your voice comes out clear on the other side. Nothing to say, except that it works well.
Battery Life
Realme advertises three hours in a single charge, and that's pretty accurate with a mix of music and gaming, jumping from around 50% to 70% volume. The case does give you up to 14 hours of additional playback.
Emman has been writing technical and feature articles since 2010. Prior to this, he became one of the instructors at Asia Pacific College in 2008, and eventually landed a job as Business Analyst and Technical Writer at Integrated Open Source Solutions for almost 3 years.