The Super series of graphics cards from Nvidia has received mixed feedback from enthusiasts. It was the company's answer to AMD's RX 5700 and RX 5700 XT 7 nanometer GPUs. Gamers welcomed the RTX 2060 and 2070 SUPER variants as these cards showed a reasonable upside in performance compared to non-super counterparts. The RTX 2080, however, showed the lowest performance improvement in the whole SUPER line. Nvidia has announced two new SUPER graphics card that falls under the GTX 16 series lineup. We already reviewed the Colorful iGame GTX 1660 Super on launch day, but that specific model is not yet available in the country. The GTX 1660 Super from Galax, however, is already on shelves at Php 14,000. Time to see what's super about Galax's offering.
GTX 1660 Super
| | | | |
| --- | --- | --- | --- |
| Specs | GTX 1660 | GTX 1660 SUPER | GTX 1660 Ti |
| CUDA Cores | 1408 | 1408 | 1536 |
| SMs | 22 | 22 | 24 |
| Base Clock | 1530 Mhz | 1530 Mhz | 1599 Mhz |
| Boost Clock | 1785 Mhz | 1785 Mhz | 1779 Mhz |
| Texture Units | 88 | 88 | 96 |
| Memory Clock | 8,000 Mhz | 14,000 Mhz | 12,000 Mhz |
| Memory Bandwidth | 192.1 GB/sec | 336 GB/sec | 288.1 GB/sec |
| Memory Size | 6GB GDDR5 | 6GB GDDR6 | 6GB GDDR6 |
| TDP | 120w | 125 watts | 120 watts |
| MSRP | $220 | $229 | $280 |
The GTX 1660 SUPER is a beefed-up version of the vanilla GTX 1660, as they both use the same TU-116 GPU. Meaning, it has the same number of CUDA Cores, SMs, Texture units, and even clock speeds. The main difference is the GTX 1660 Super uses high bandwidth GDDR6 memory compared to the GTX 1660's GDDR5 with only 192.1GB/sec of memory bandwidth. The 336GB/sec bandwidth on the GTX 1660 Super is slightly faster versus the GTX 1660 Ti's memory.

The Nvidia slide shows that the GTX 1660 Super has a relative performance increase of 1.5x compared to the GTX 1060 and a 20% increase compared to the vanilla GTX 1660. The GTX 1660 Super doesn't have a founder's / reference edition similar to other GTX 16 series GPUs.
GALAX GTX 1660 Super 1-Click OC
The variant we have is the Galax GTX 1660 Super 1-Click OC, which is one of Galax's entry-level SKUs. Don't fret just yet despite hearing entry-level as the series is pre-overclocked out of the box. Packaging shows a silhouette in typical Galax fashion with their "What's your Game?" tagline.
Nvidia's modified TU-116 chip, aka the GTX 1660 Super, is cooled via two(2) 90mm cooling fans paired with a 2-slot heatsink and four heat pipes spanning across the entire graphics card.
As for I/O, the Galax GTX 1660 Super 1-Click OC sports 1 DVI-D port, 1 Display Port 1.4, and one HDMI 2.0B port. It's nice to see Galax still including a DVI port considering that most users who'll upgrade to the 1660 Super are coming from 900 and 1000 series GPUs from Nvidia or AMDs RX 400 and 500 series.
Unlike the previous GTX 1660 Super from Colorful, the Galax GTX 1660 Super has a compact form factor with its dimensions measuring  228 x 131.5 x 41.5mm. The graphics card only requires a single 8-pin PCI-E connector.
To top it off, Galax included a metal backplate for it's 1660 Super. This is a value-add considering that the GTX 1660 non-super 1-click OC variant has no included backplate.
BENCHMARKS
On to the most-awaited benchmarks. We're using an Intel Coire i9 9900k overlocked to 5 Gigahertz cooled by an NZXT Kraken X62 All-in-one cooler paired with an ROG Strix Z390-F Gaming Motherboard and 16GBs of HyperX Predator memory running at 3200Mhz. Windows and GPU drivers are updated to the latest versions.
The performance of the iGame GTX 1660 Super shall be evaluated using a mixture of synthetic and gaming benchmarks. Windows is updated to the latest stable build as well as drivers. BIOS settings are set to UEFI default as well as each individual GPUs' clock and fan speeds.
TEST BENCH
Processor: Intel Core i9 9900K @ 5Ghz
Cooling: NZXT Kraken X62 280mm AIO
Motherboard: ROG Strix Z390-F Gaming
Memory: HyperX Predator 16GB  3200Mhz
Storage: SanDisk 512GB M.2 SSD
PSU: Corsair HX1200i
GPU: iGame GTX 1660 SUPER | ASUS RX 580 | Sapphire RX 570
OS: Windows 10 Pro Build 1903
Drivers: GeForce 441.07 | Adrenalin 2019 19.10.2
3DMARK
3DMark is the go-to benchmark for gamers because of the ability to share and compare results online. We used Time Spy DX 12 benchmark and Fire Strike DX 11 benchmark and opted out of Port Royal since all the GPUs used in this review do not support Ray Tracing.
Synthetic benchmarks show the Galax 1660 Super lagging behind the Colorful variant and its bigger brother, the Galax GTX 1660 Ti, but are well within our expectations. The Colorful iGame takes the crown thanks to its beefier cooler and more aggressive overclock.
DOTA 2
Dota 2 is one of the most popular games globally. That said, chances are you'll be playing one of the popular F2P titles. Our benchmark sequence is based on a replay of OG vs Liquid in the TI9 grand finals from the team fight that happened on 28:30 to 29:30.
The Galax GTX 1660 Super manages to output an average of 125 FPS and is on par with the Colorful variant. This is to be expected since DOTA 2 is a CPU intensive game, and the difference in clock speeds can only do so much.
Far Cry 5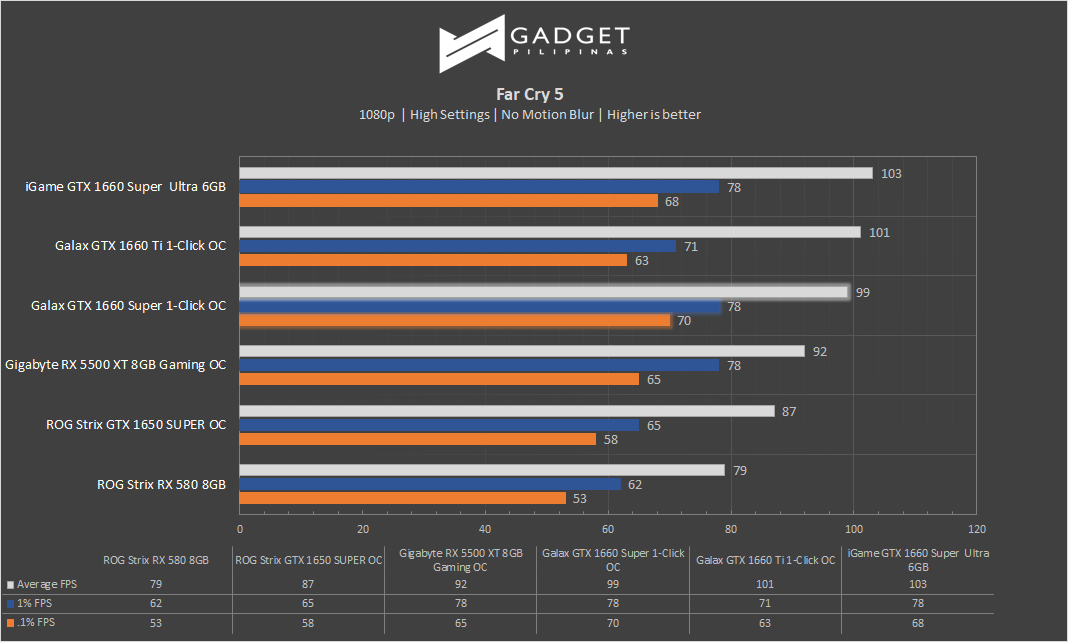 FarCry 5 is a first-person shooter published by Ubisoft and uses the Dunia engine. It heavily relies on and takes advantage of DirectX 11 to render a realistic environment that makes it taxing to both the CPU and GPU.
Here we can see the Galax 1660 Super fall behind its bigger brother, the Galax GTX 1660 Ti by 2 FPS. Despite the Colorful variant topping the charts, the Galax 1660 Super provides a more stable gaming experience compared to the rest of the stack represented by the 1% and .1% FPS.
Rainbow Six Siege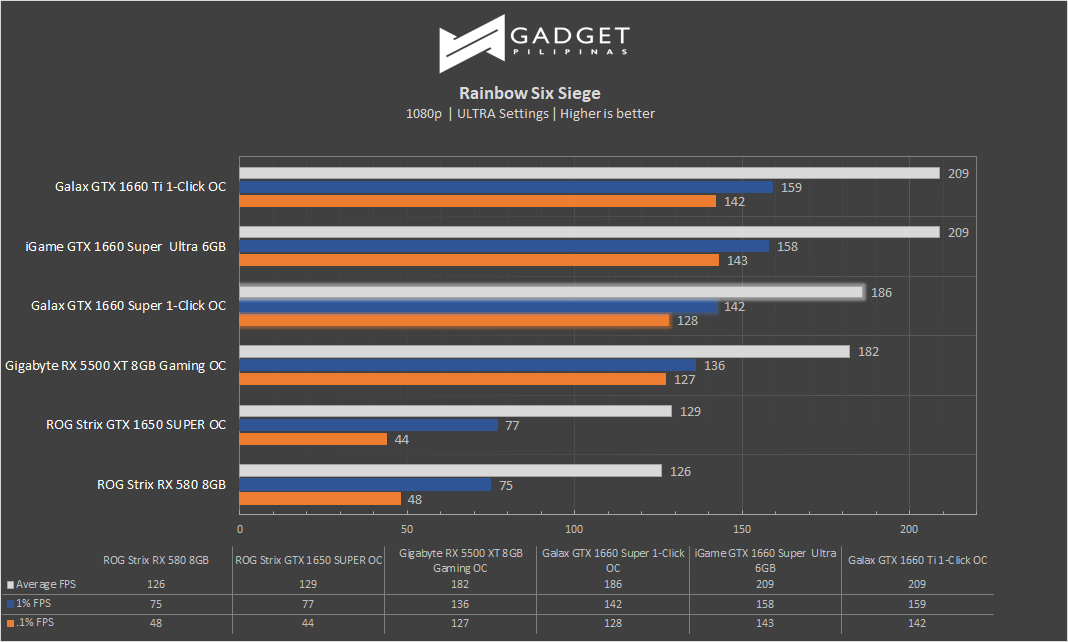 Rainbow Six Seige is one of the few popular AAA games that's still popular in 2019 due to its competitive gameplay mechanics. R6S uses the AnvilNext game engine, which is developed by the game's publisher, Ubisoft. As of writing, Rainbow Six Siege is currently the most popular Tom Clancy title beating out Wildlands, Breakpoint and even, Division 2.
Rainbow Six Seige widens the gap between the GTX 1660 Super and Ti variants. Overclocking the 1660 Super as represented by the Colorful's pre-overclocked GPU shows the 1660 Super can go toe-to-toe with the Ti variant.
Call of Duty: Modern Warfare
Call of Duty: Modern Warfare is arguably the most anticipated game of the year. It's the first cross-play compatible game in the series. COD: MW is developed by Infinity ward using a new IW engine and is published by Activision. The game uses DX 12 by default, which makes it an excellent choice to include in our benchmark suite.
The Galax GTX 1660 Super manages to overtake the pre-overclocked 1660 Super Ultra variant. While it indeed falls behind the GTX 1660 Ti, the Galax 1660 Super manages to compete through framerate stability yet again as per 1% and .1% FPS.
Apex Legends
Apex Legends is a character-based Free-to-play battle royale game developed by Respawn Entertainment, the makers of Titanfall and Titanfall 2. It utilizes a modified version of Valve's Source Engine.
The Galax GTX 1660 Super manages to output 114 average FPS beating the newly released RX 5500 XT 8GB from AMD. The pre-overclocked 1660 Super manages to overtake the Galax variant but only by a shy of 4 FPS.
TEMPERATURES
The peak temperature recorded during our time with the GTX 1660 Super is at 68c. It's cool in our standard considering the Galax GTX 1660 Super 1-Click OC is a reference model. Moreover, Galax has a very aggressive 0db cooling where the fans only ramp up when the GPU reaches 60 degrees. And even at that temps, fan speeds only reach an average of 20 to 30%. So if you're planning to overclock, there's plenty of room for cooling as long as you ramp up the fan speed and make a custom fan curve. Do keep in mind you're sacrificing noise levels.

Nvidia's TU116 chip continues to be one of the most energy-efficient GPUs in the market. Our Galax GTX 1660 Super 1-Click OC manages to consume a peak of 128 watts during our testbench. Considering its frame rate output, I'd say its fair trade for the performance it offers.
CONCLUSION
The Galax GTX 1660 Super teases you what Galax can offer in higher tier variants in terms of performance, aesthetics, and cooling. Its small-sized cooler is very capable of cooling the TU116 GPU with more room for overclocking. Its aggressive 0db technology is a love-hate relationship. While I did enjoy the silence it offers, Galax remained conservative in ramping up the fan profile in heavy workloads. Nonetheless, this issue can be addressed by having a custom fan curve to your liking. The Galax GTX 1660 Super 1-Click proves to be a viable option for Triple-A games at high settings, with some games hitting the 144fps ceiling for high refresh-rate monitors.
Grant is a Financial Management graduate from UST. His passion for gadgets and tech crossed him over in the industry where he could apply his knowledge as an enthusiast and in-depth analytic skills as a Finance Major. His passion allows him to earn at the same time help Gadget Pilipinas' readers in making smart, value-based decisions and purchases with his reviews and guides.