Just when you thought the camera battle between the Huawei Nova 5T, the Samsung Galaxy A70 and the OPPO Reno was a close one, we've decided to kick things up a notch with a full comparison of the three.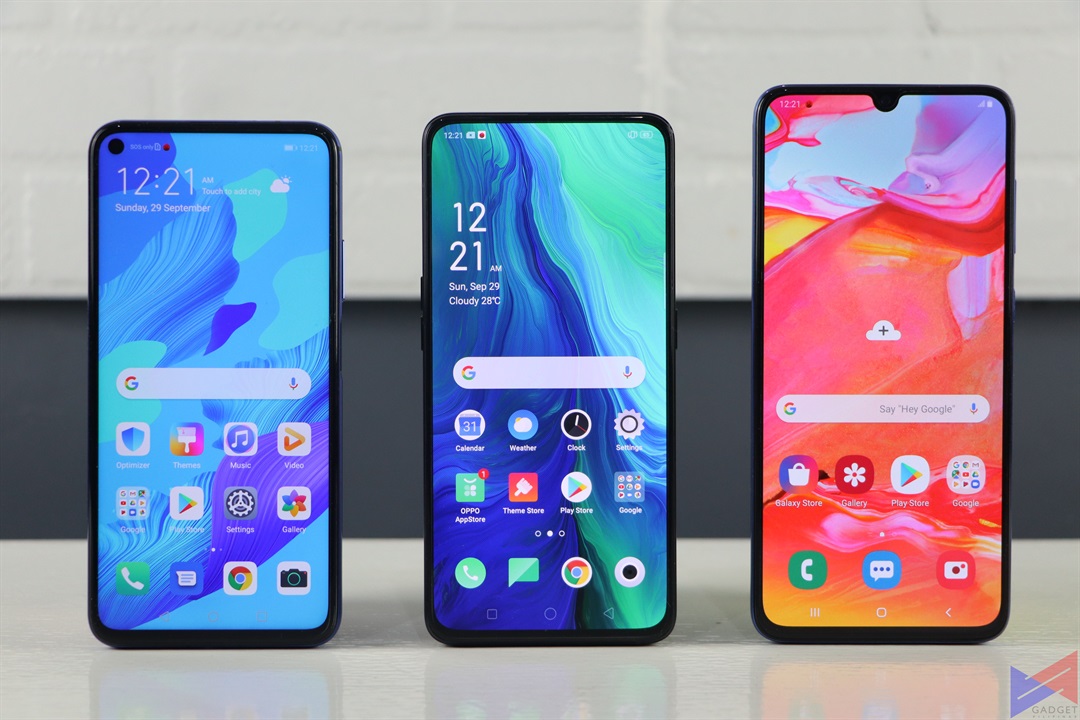 The goal is simple, determine which one offers the best value for money. So, without further ado, let's get to it!
Specifications
| | | | |
| --- | --- | --- | --- |
| | Huawei Nova 5T | Samsung Galaxy A70 | OPPO Reno |
| Display | 6.26″ FHD+ LCD | 6.7″ FHD+ Super AMOLED | 6.4″ FHD+ AMOLED |
| Type | Punch Hole | Notch | Full-Screen |
| Processor | Kirin 980 | Snapdragon 675 | Snapdragon 710 |
| RAM | 8GB | 6GB | 6GB |
| Storage | 128GB | 128GB (Expandable) | 256GB |
| Rear Camera | 48MP (f/1.8) Main | 32MP (f/1.7) Main | 48MP (f/1.7) Main |
| | 16MP (f/2.2) Ultrawide | 8MP (f/2.2) Ultrawide | 5MP (f/2.4) Depth |
| | 2MP (f/2.4) Macro | 5MP (f/2.2) Depth | |
| | 2MP (f/2.4) Depth | | |
| Front Camera | 32MP (f/2.0) | 32MP (f/2.0) | 16MP (f/2.0) |
| OS | EMUI 9.1 (Pie) | OneUI (Pie) | ColorOS 6 (Pie) |
| Battery | 3,750mAh | 4,500mAh | 3,765mAh |
| Interface | USB-C | USB-C | USB-C |
| NFC | Yes | Yes | Yes |
| Bluetooth | 5 | 5 | 5 |
| SRP | PhP18,990 | PhP22,990 | PhP26,990 |
Design
As looks is more subjective than objective, we've decided to break things down for you, so you'll have a better idea of just how different the three devices are in terms of design.
In terms of size, the Huawei Nova 5T is the most compact of the three, followed by the Reno, and then the A70. However, not everyone like prefers big phones, and would are willing to trade-off screen real estate. But let's admit it , it's nicer to watch a movie, or play a game in a bigger screen. So it all boils down to what you prioritize.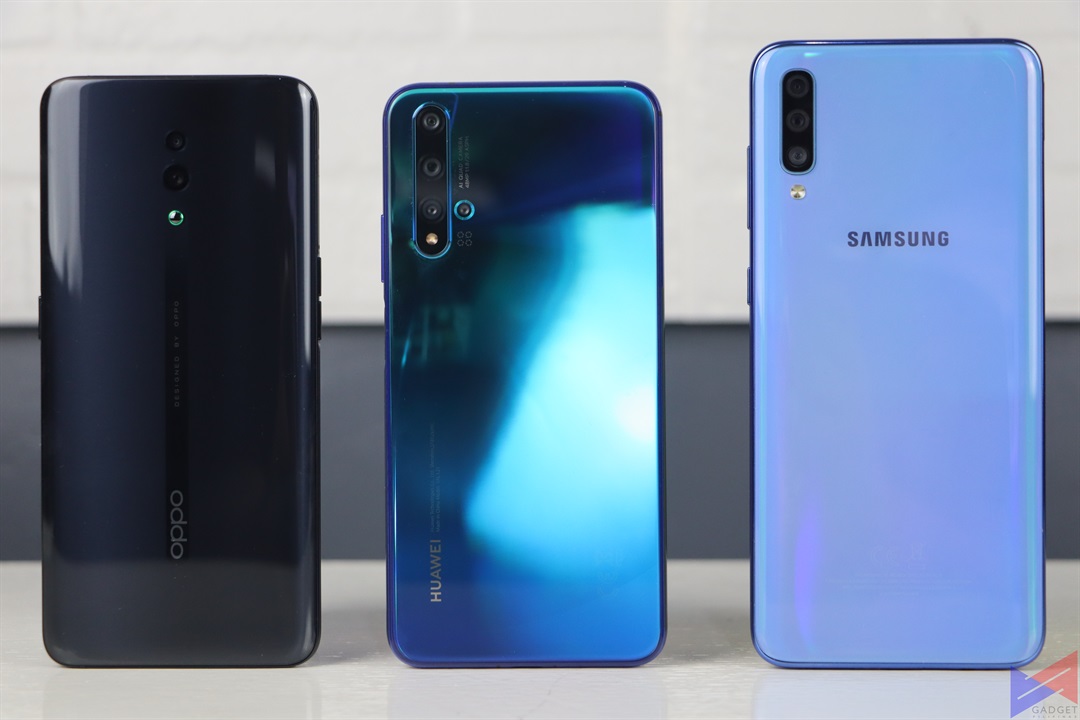 All three sport glossy back panels, which means all three are also smudge magnets. All three also boast a USB-C port and a headphone jack. As for biometrics, the A70 and Reno both have theirs in-screen, while Huawei went a bit old-school, and placed it on the side.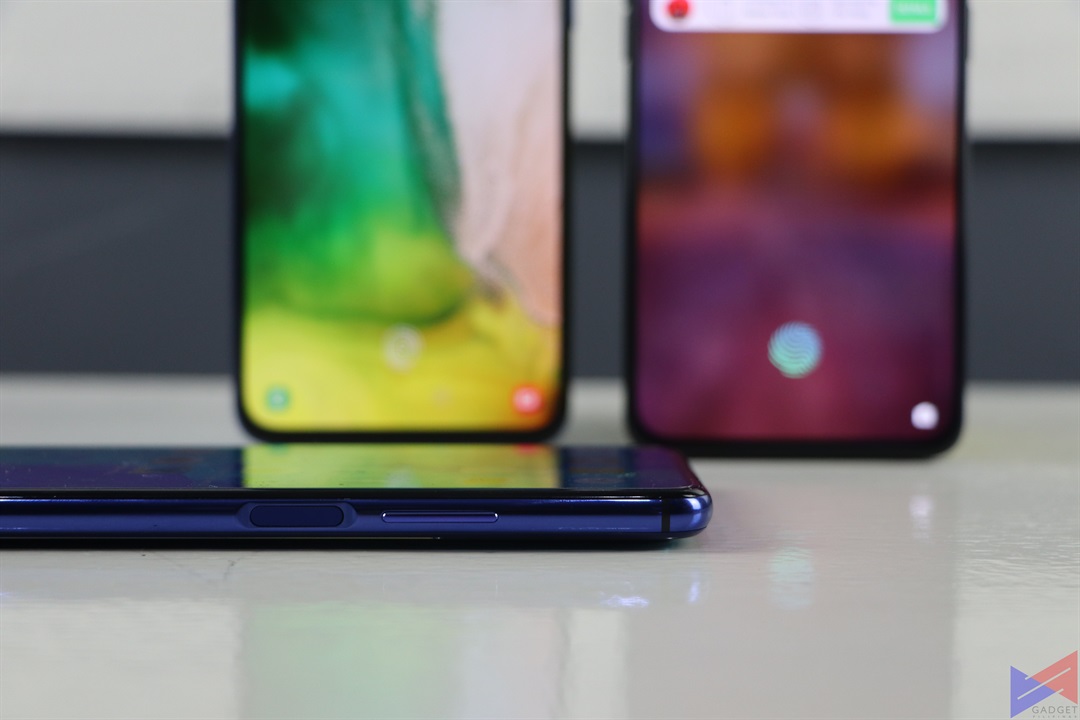 Which one's better? well, I'd say the Nova 5T's fingerprint scanner is the fastest, then the Reno, then the A70. The point is, the difference isn't even that noticeable in everyday use. I mean, would you really hate something because it's .02 seconds slower to unlock? no.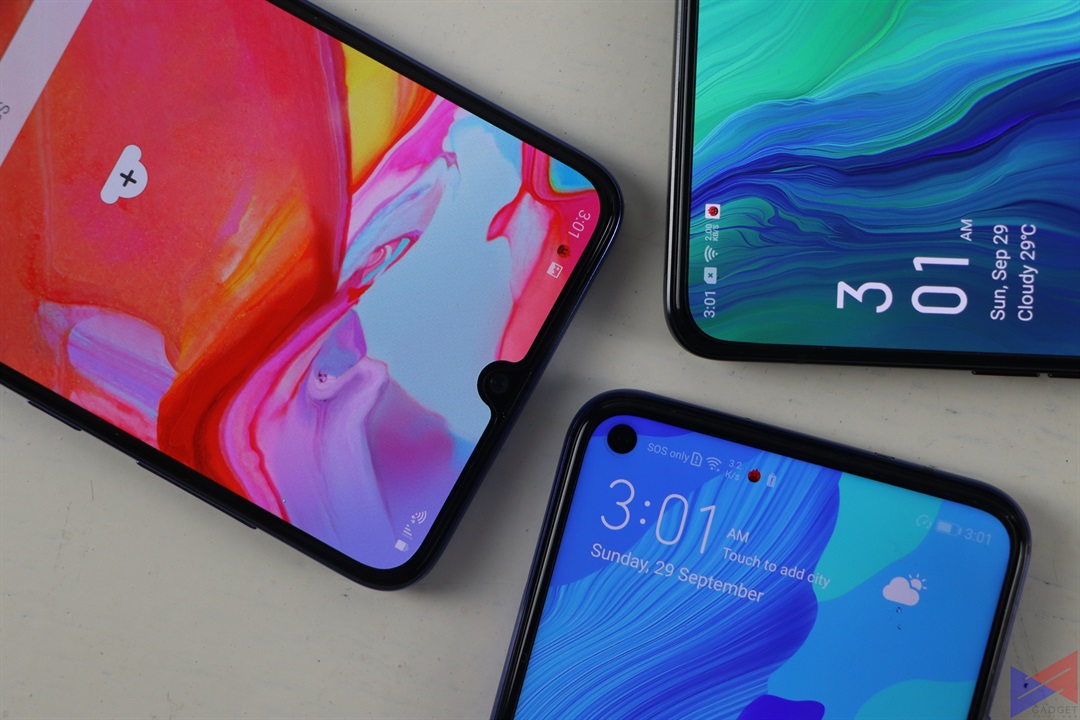 On to the display – Nova 5T has 6.26-inches, Galaxy A70 has 6.7-inches, and OPPO Reno has 6.4-inches. The latter two use AMOLED panels, while the first uses an IPS one. If you want the most punchy colors, go for the A70 or the Reno. Not to say the Nova 5T's is bad, because it isn't.  It's just not as vivid as the other two, which some people may actually like. All three are at Full HD+ resolution.
There's no microSD card slot on both the Nova 5T and the Reno, but they do offer 128GB and 256GB of on-board storage, respectively, which should be more than enough for most users. Galaxy A70 on the other hand, has dedicated slots for two SIM cards and a microSD card, plus 128GB of on-board storage.
Performance
We put the three phones in a series of benchmarks, to have baseline idea of how they'll fare in actual use, more or less. AnTuTu to measure overall performance and Geekbench 5 for CPU performance.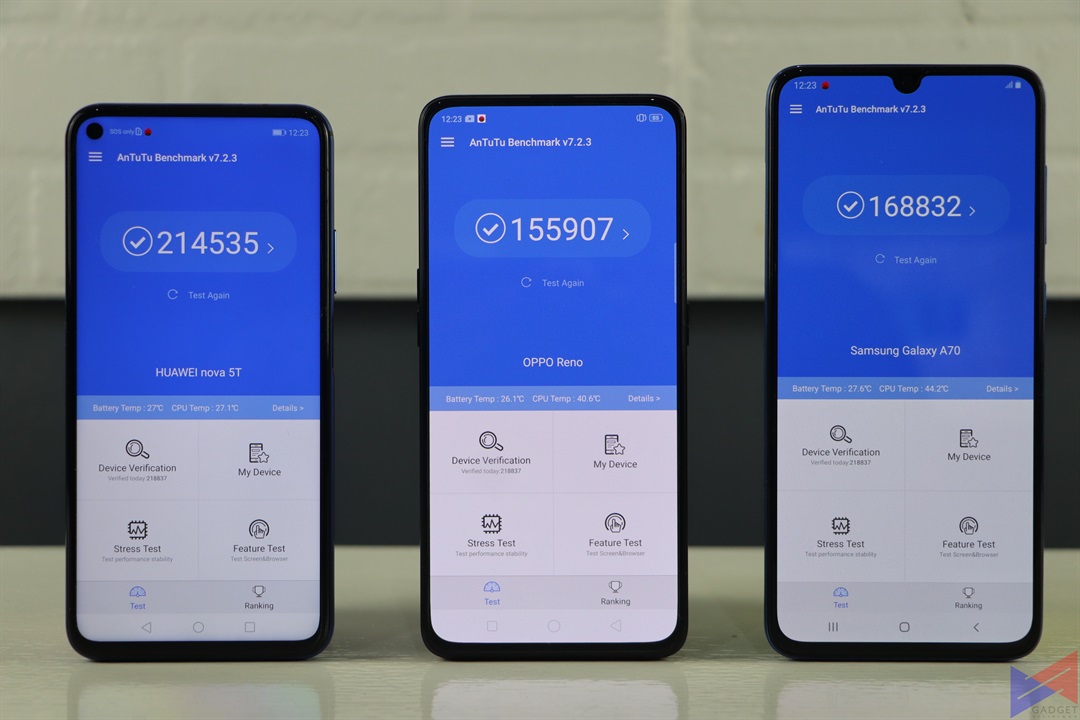 On all tests, the Kirin 980 on the Nova 5T came out on top with authority, which isn't surprising at all, since it is a flagship level chip. The other two aren't a slouch, as they are still ranked up very high in the list, at least against phones with mid-range chips.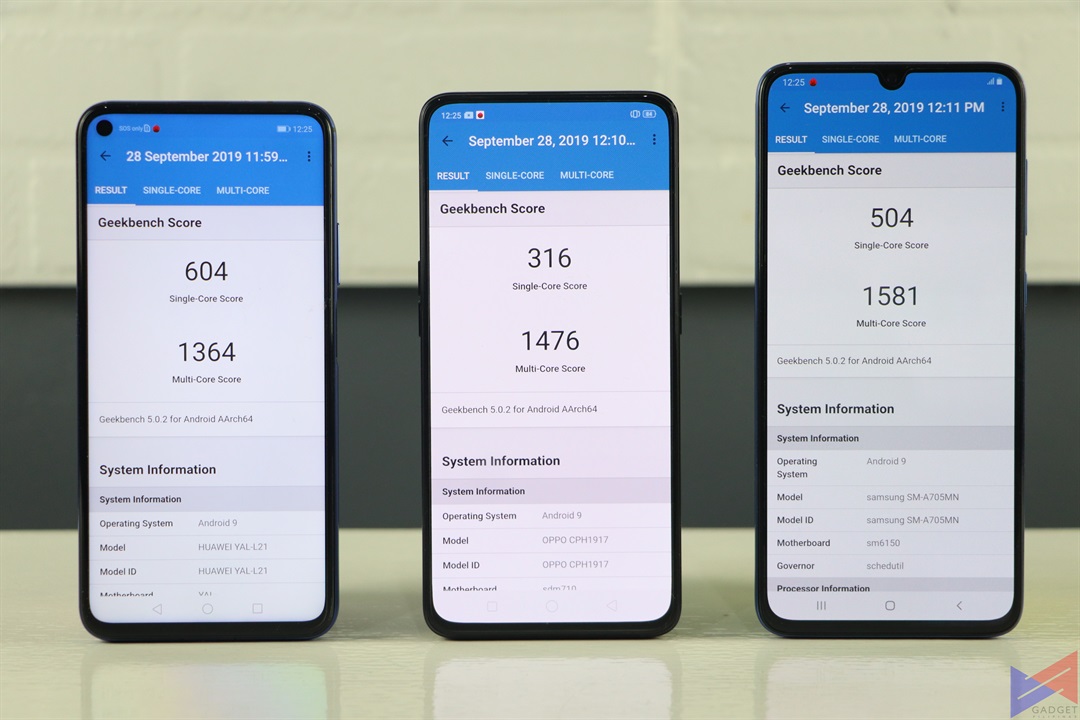 We won't dive in to more numbers for this one, but to give you a general idea, the Nova 5T runs PUBG Mobile at HDR Quality and Extreme Frame Rate setting, while both the Galaxy A70 and the Reno can run the same game in Balanced + Ultra Frame Rate setting.
That's also partly because the Reno and the Nova 5T have software enhancements to further improve the gaming experience – GPU Turbo and Hyper Boost.
Software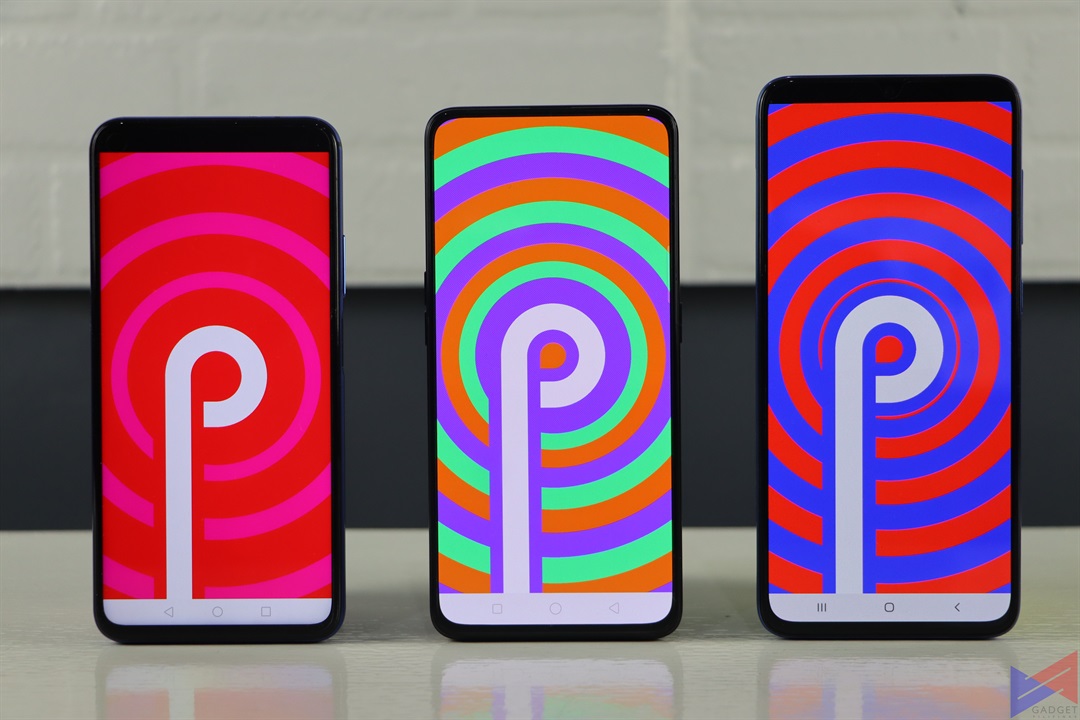 All three devices run on Android Pie. The only difference is the skin on top. Nova 5T runs on EMUI 9.1, A70 runs on OneUI, and Reno runs on ColorOS 6. All three have been around for a while now, each have undergone numerous improvements over their older versions in terms of features, performance, and aesthetics.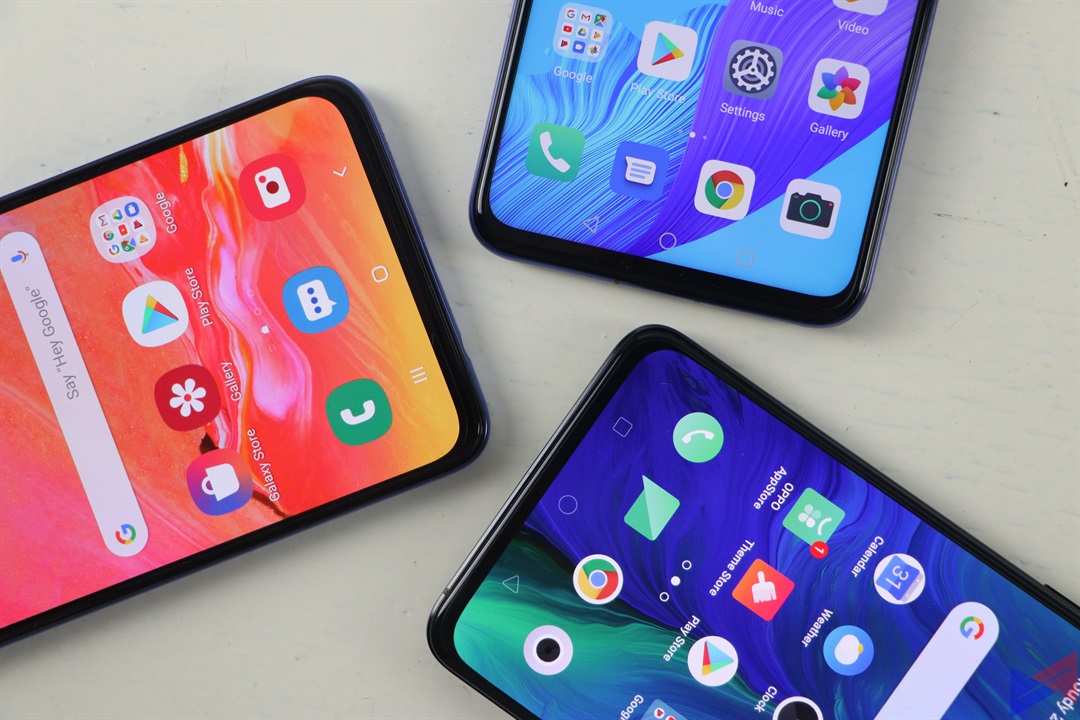 A good balance of simplicity and eye-candy is what makes a great UI, at least for me. All three are just that. It also has to be flexible in terms of security. As such, all three offer face unlock and fingerprint scanning.
In that case, what would be the differentiating factor? it's the little things. The extra features that the brand adds to improve the overall experience.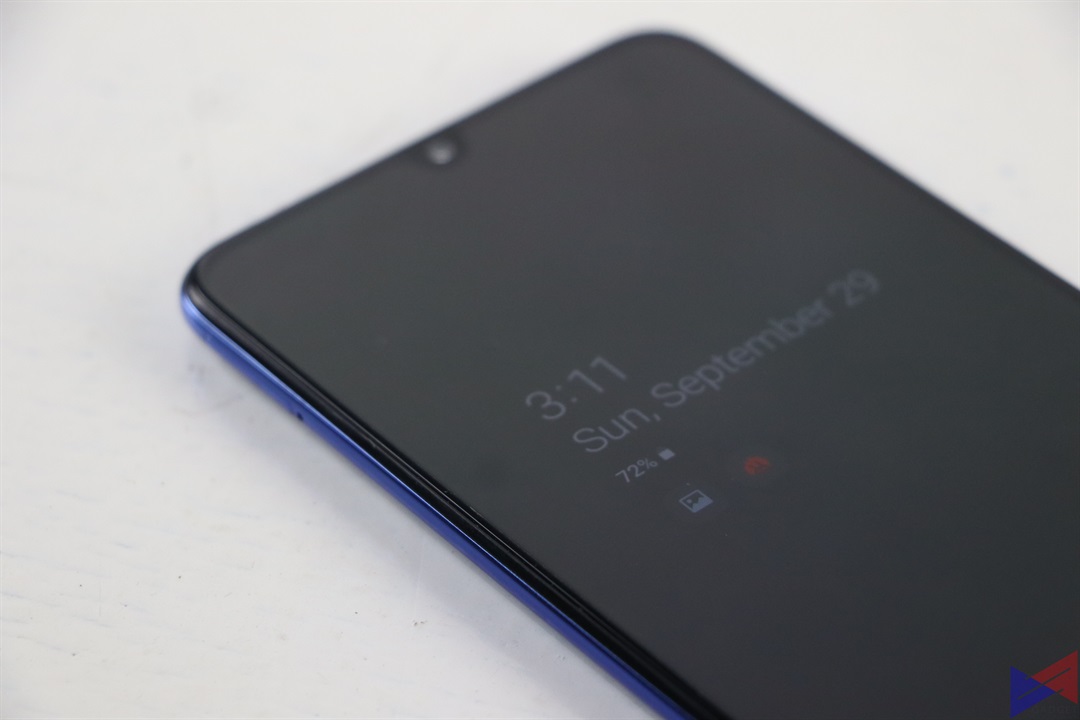 One example is the Always-On display, which gives you a glimpse of your notifications without having to actually unlock your device. In this case, only the A70 has it. The Nova 5T compensates with a notification LED, while the Reno has, nothing.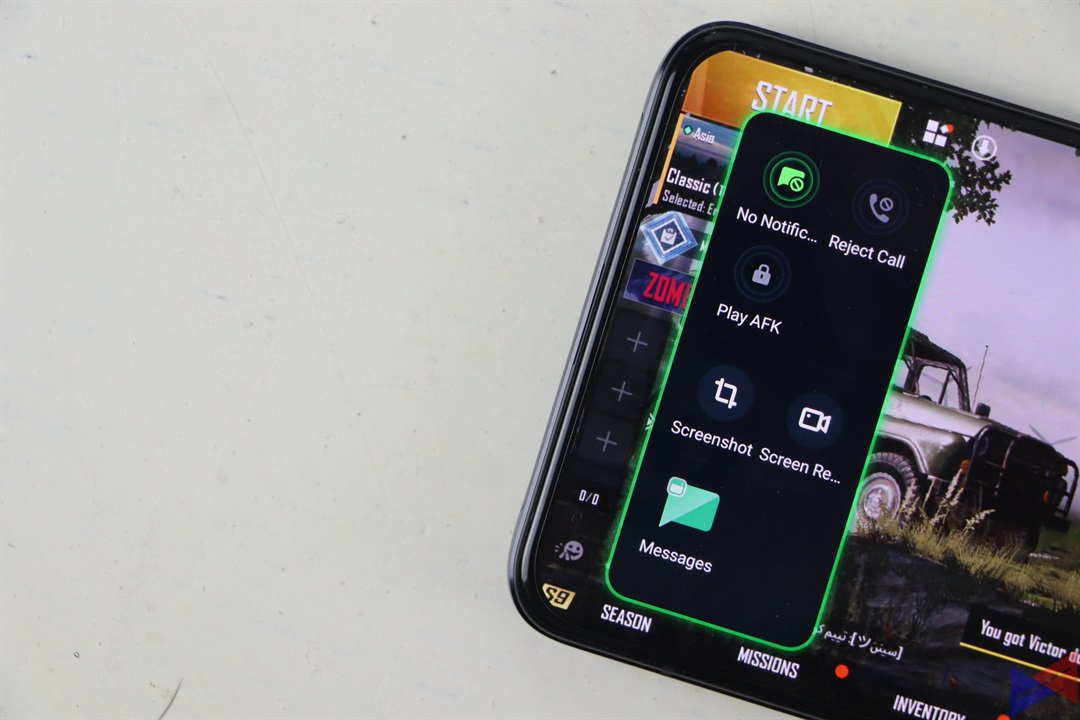 There's the in-game assistant, which means you can do things like taking a screenshot, recording gameplay and a lot more, all without having to go back to the home screen. In this case, only the Reno has that.
So is there one UI that's the best among every other one? that all boils down to which features you need, and which fanciness you fancy. Otherwise, all these takes on Android are great in their own right.
Battery Life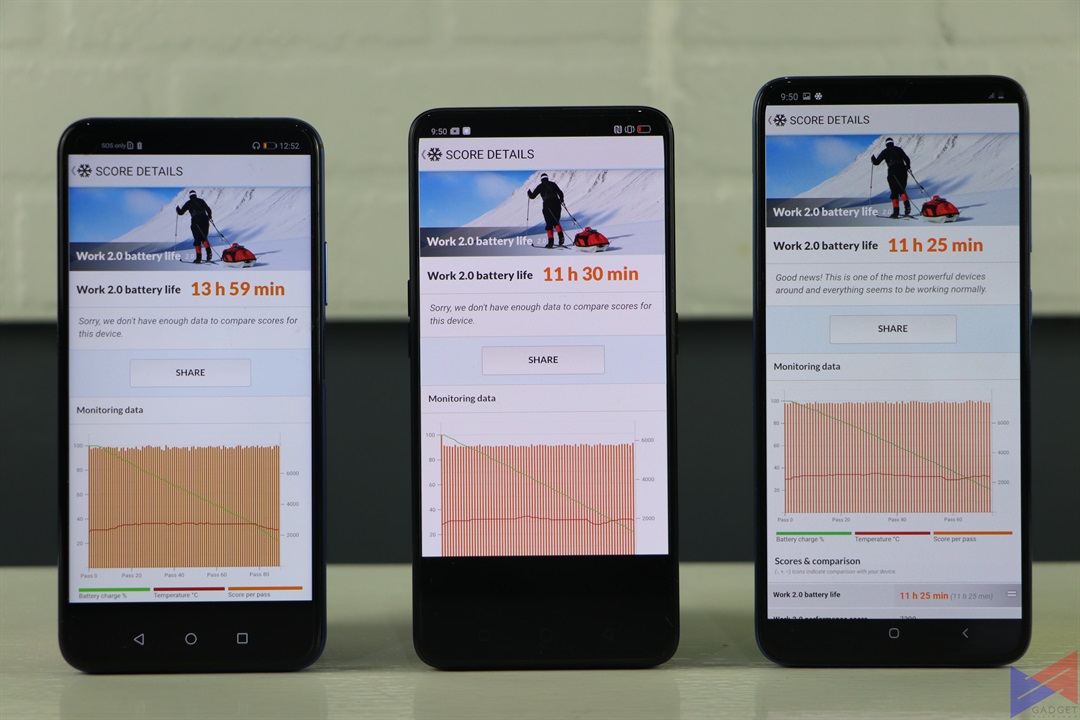 In PCMark's Work 2.0 battery benchmark, which simulates basic video editing and data manipulation, the Nova 5T came out on top with a projected up time of almost 14 hours, while both the A70 and Reno clocked in at around 11.5 hours. Of course, you may get more depending on how you use the phone, but a 2.5 hour difference isn't small, because that's 1.5 movies, 3 or more rounds of an Mobile Legends game, and hours of social media, music, and more.
All three also support their brand's own fast-charging technology – 22.5 Watts for the Nova 5T, 25 Watts for the Galaxy A70, and 20 Watts for the OPPO Reno.
Verdict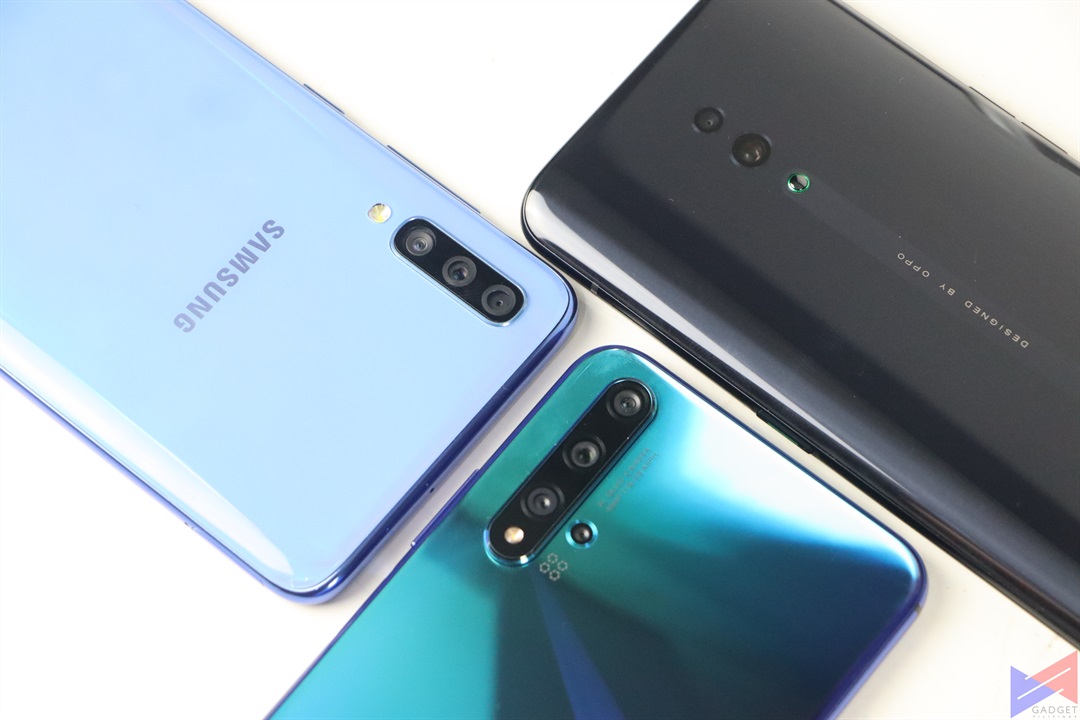 To simply put it, each of these devices are great all-rounders. They all take good looking photos, are well-made, and perform well both in daily tasks and gaming. All three also have great battery life. Which one to get? let's break it down once more.
Get the Huawei Nova 5T if
You prefer a more compact smartphone
You want great performance across daily tasks and games
You want one of the best camera systems on a mid-range phone right now (Check out the camera battle here)
You want to get the most value out of your money
You don't mind the punch hole design
You're fine with missing out on the headphone jack and expandable storage
Get the OPPO Reno if
You prefer a full-screen display
You prefer a more seamless design
You want a phone that excels at selfies
You're fond of recording your gameplay
You don't mind paying more than usual
You don't mind not having expandable storage
Get the Samsung Galaxy A70
If you want great gaming performance on a larger screen
You don't mind a notched display
You want the most vivid colors on your display
You prefer a more traditional design
You don't mind paying more than usual
You want expandable storage
Emman has been writing technical and feature articles since 2010. Prior to this, he became one of the instructors at Asia Pacific College in 2008, and eventually landed a job as Business Analyst and Technical Writer at Integrated Open Source Solutions for almost 3 years.