These days, the notion that a proper gaming PC always has to be huge and bulky is no longer a thing. The perfect case in point? MSI's Trident Gaming Desktop – a deadly combination of powerful hardware, housed in a slim shell that's imbued with a touch of RGB lighting, which is customizable by the way.
We took it out for a quick run for some benchmarks, and ran it with a number of games, to see how this RTX-powered beast will perform. Let me tell you now, it's nothing short of impressive.
Specifications
[table id=323 /]
The Looks
One glance at this powerhouse, and you can't help but be in awe not only of its strikingly gorgeous appearance, but also of the sheer engineering brilliance. I mean, this is powered by no less than a 9th-Generation Core i7 processor, backed by 16BGB of 2666MHz RAM, and an RTX 2080, and yet, you get a compact housing that can fit in small spaces!
If like me, you're a fan of RGB lighting, the Trident will not disappoint, as it's dripping in multi-color goodness right at the front, to both sides, and it's even visible from up top. The glossy front panel also adds a more premium feel to the machine. Want to show off the hardware inside? you can simply swap out the side panel to a tempered glass panel, which ships with it by default. Additionally, that also makes it easier to access the components inside, in case you want to upgrade.
The vents on the side aren't there just for showing off the RGB lighting inside, but are also part of MSI's Silent Storm Cooling 3 mechanism, which separates the GPU, CPU, and PSU in their own chambers, supplied with optimal airflow. This allows you to game for long hours without having to worry about anything breaking down.
As for ports, you get 3 USB ports up front, one of which is a Type-C port, along with an audio combo jack. At the back, there 6 more USB ports for your external devices, a DisplayPort, an HDMI Port, and 5 audio jacks.
Performance (Synthetic Benchmarks)
3DMark
Unfortunately, we didn't have a machine at hand that's worthy of comparison to the Trident, still the 3DMark scores can speak for themselves, as to how capable it is, beating up to 92% of other results in Time Spy.
CrystalDiskMark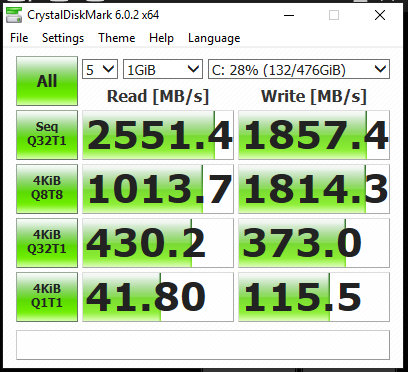 The Trident's SSD isn't the fastest we've seen, but it's certainly no slouch too.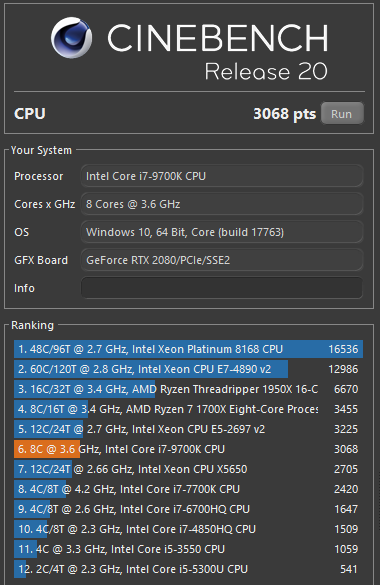 The i7-9700K may be trailing behind its Ryzen 7 sibling, but actual performance is still pretty impressive.
Gaming Benchmarks
We tested the Trident with a number of games spanning across different genres to see how it would fare – PUBG, The Witcher 3, Rise of the Tomb Raider, and Project Cars.
The Trident performed exceptionally well in every game we threw at it, with average frame rate exceeding 60 fps for most of the time, even when the game is cranked to its highest setting.
Thermal Performance
We also took a quick look at the temperature of the Trident's CPU and GPU – the Intel Core i7-9700K did get up to a hot 90° at peak, but we didn't notice any drop in performance during our test. The RTX 2080 on the other hand, was able to keep itself at a cool temperature of only 75° at peak.
Verdict
The MSI Trident X Plus is indeed a beast hiding inside a beautiful cage. We got nothing but stellar performance with every title we threw at it, the ability to easily change the side panel and access the components inside for hassle-free upgrades, the RGB lighting effects, the design of the case itself, and the slim profile.
If we had to nitpick, a card reader would've been nice, and an instruction manual on how to replace the side panel would also be a welcome addition.
Its thermals, particularly on the CPU part may seem a bit worrying, but seriously, we never noticed any visible degradation in its actual performance. For those who just want to have a gaming powerhouse that works out of the box and doesn't take up a lot of desk space, this one better be on your list.
Emman has been writing technical and feature articles since 2010. Prior to this, he became one of the instructors at Asia Pacific College in 2008, and eventually landed a job as Business Analyst and Technical Writer at Integrated Open Source Solutions for almost 3 years.