The Vivo V11 was one of the most well-rounded mid-rangers I've used – it was an ideal combination of eye-catching design and build quality, formidable performance, capable optics, and other premium niceties such as its in-display fingerprint scanner, and dual engine fast charging.
Now, the company has unleashed its successor – the V15 Pro. This powerhouse boasts an arsenal of new weapons, such as an all new look, one of the most powerful mid-range chips to-date, and a new camera system that allows it to get as close to a true full screen design, among many other features.
Specifications
[table id=315 /]
Design and Build Quality
From the get go, you can immediately tell that the company went back to the drawing board and wanted quite a change in looks. As a result, you get a phone that completely separates itself from its predecessors from head to toe.
The phone's back panel uses what they call the Spectrum Ripple Design, which consists of multiple tiny wave-like lines that run across the surface, which when combined with the gradient color, creates a beautiful finish. They've also went a bit minimal on the branding, which I think is a good move.
The camera module protrudes a lot, since they probably had to find space to fit in all those sensors. To be honest, this was a bit distracting at first, since the phone doesn't lay completely flat on the ground, but over time, I got used to it.
The power button and volume rocker are located on the right side, while the SIM slot and the dedicated button for launching the Google Assistant or Jovi, Vivo's own digital assistant, is on the left. Surprisingly, the company sticks to the microUSB port. At least, you do get fast-charging.
The V15 Pro sports a 6.39-inch FullView display at FHD+ resolution. Since it uses a Super AMOLED display technology, you get very punchy and lively colors. It's also good enough to be used even under direct sunlight, so long as crank up the brightness to a high level.
Remember the NEX's elevating front camera? well, someone thought of putting that feature in a mid-range phone. It's quick to elevate and retract, and the mechanism has been tested for continuous movement, 300,000 times. Vivo claims that it can also withstand up to 15kg of external force.
Performance
Vivo did not skip on performance for this one, as the V15 Pro boasts a Snapdragon 675 octa-core processor, along with a hefty 8GB of RAM and 128GB of storage, expandable with a microSD card.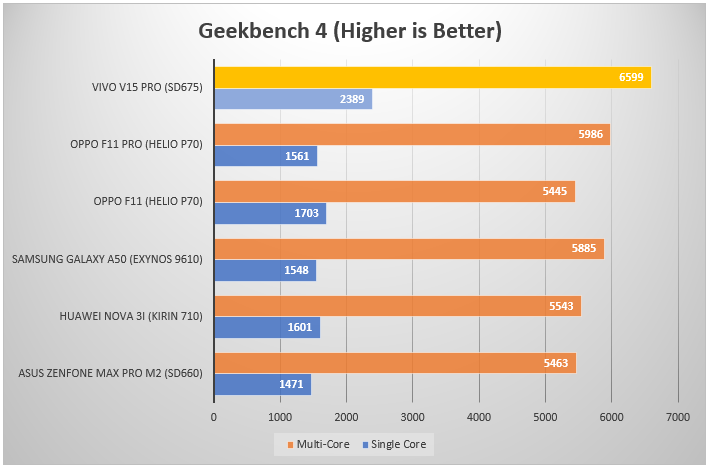 In synthetic benchmarks – AnTuTu and Geekbench 4, this processing packages flexes its muscles, placing the phone on top of its competitors, for the time being of course.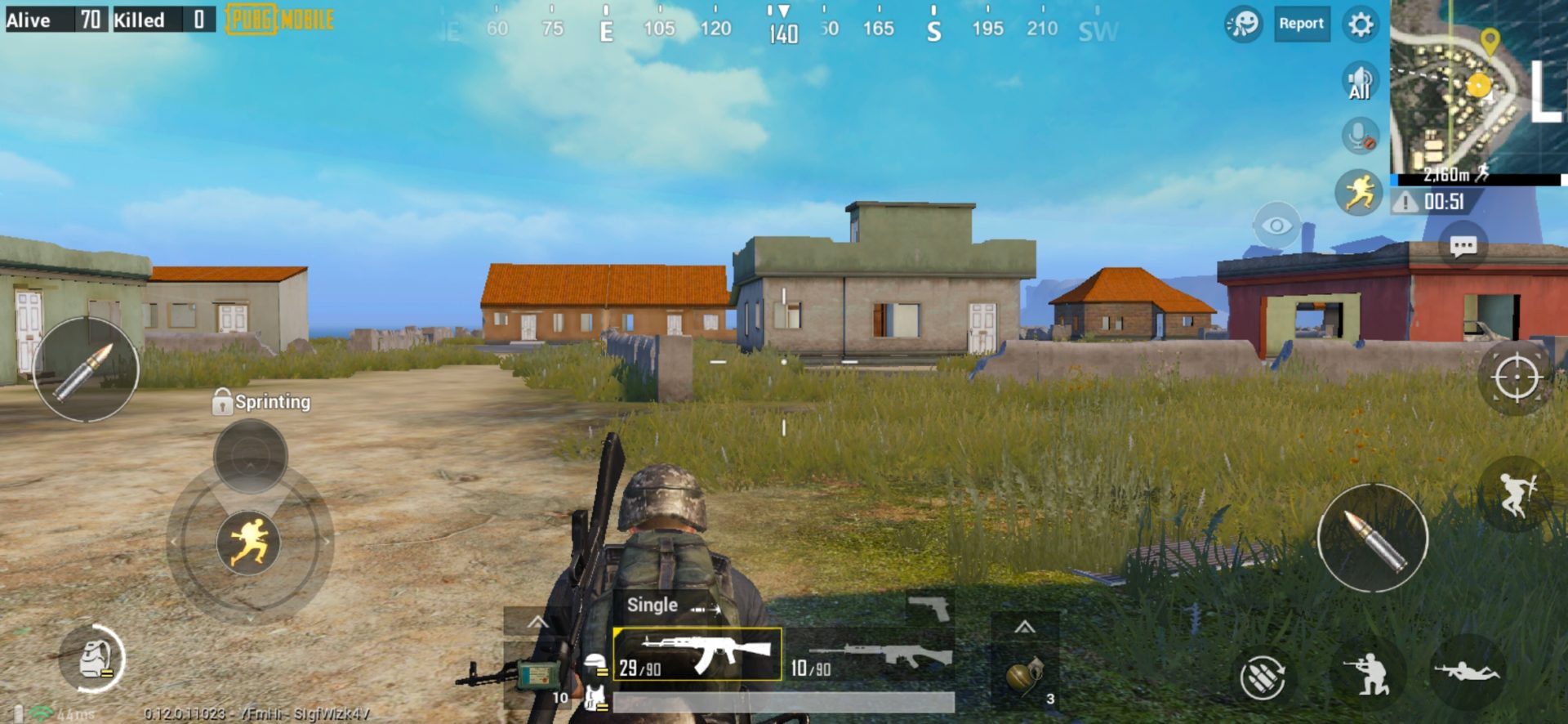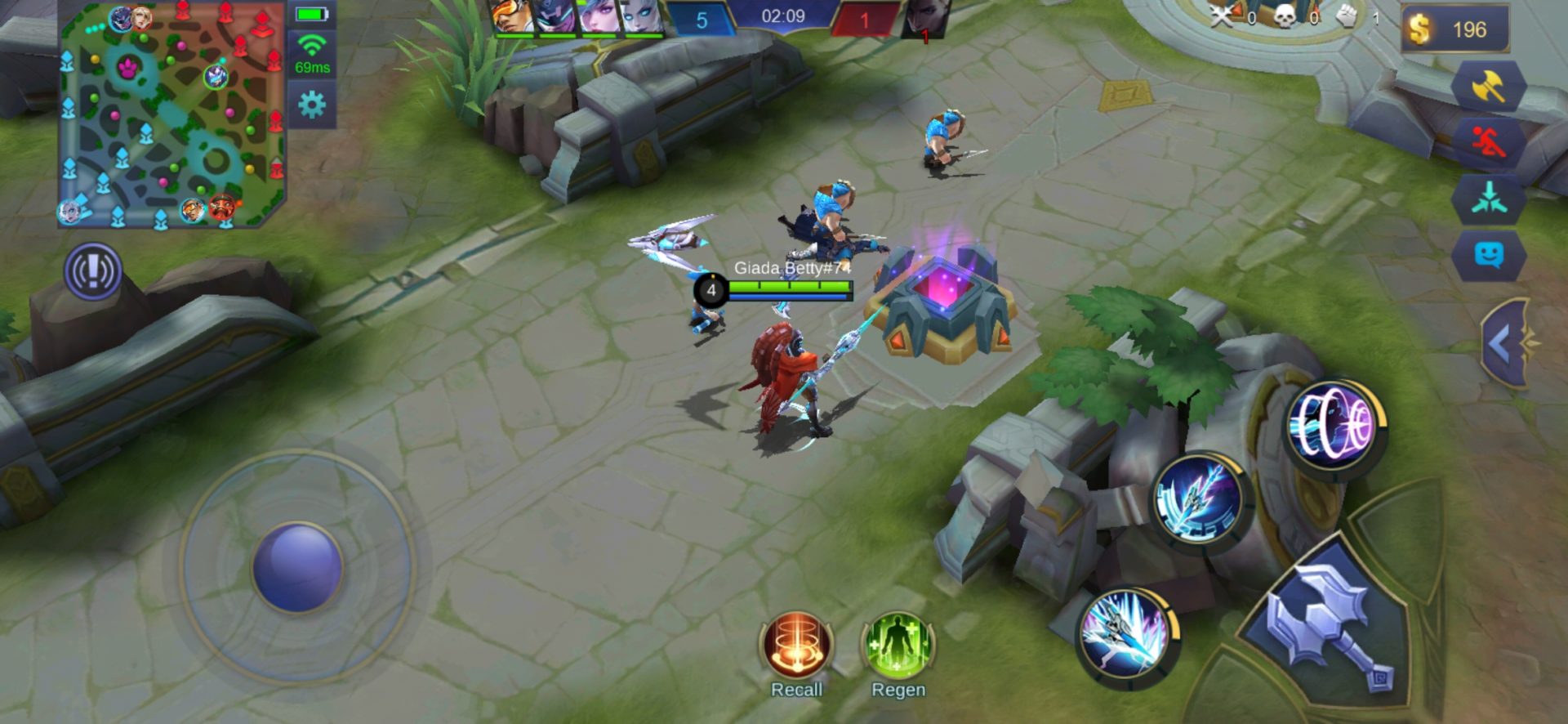 The V15 Pro is also one heck of a gaming device. Unfortunately, the app that we're using to measure statistics like FPS and CPU usage doesn't work on it, but I can tell you now that PUBG runs buttery smooth at Balanced + Ultra FPS setting. If you play a lot of Mobile Legends, this phone's performance will surely deliver an enjoyable experience, as the game can be played smooth and fluid even when everything is maxed out, with HD Display and High FPS setting both enabled.
Camera
The V15 Pro boasts a three rear cameras – one main, one for wide-angle shots, and one for depth sensing. The output of this trio are well-detailed, sharp, and color-accurate photos. The wide-angle lens in particular, is a huge help, as it lets you capture more in every frame.
Thanks to its dedicated Super Night Mode, I was also able to capture some good-quality low-light shots, handheld. I also like how it's able to tame multiple light sources in the background.
The V11 was most impressive in the selfie department, and the V15 Pro doesn't disappoint. As far as overall detail is concerned, it's the best I've seen in a mid-range to-date, and that goes even for low-light conditions.
The depth of field effect it creates is also very accurate and refined.
Software
The V15 Pro runs on Vivo's Funtouch OS 9 on top of Android 9 Pie, which brings the familiar colorful theme with a slight touch of minimalism, which I've always loved.
Over time, Vivo has done a good job of optimizing their OS, and it kind of shows here. Navigating the UI is smooth and fluid, so as in opening apps, as well as switching from one app to another.
One notable feature that stood out for me, was in the camera app. When using filters, you can simply tap AI button, and it then selects the best filter for the shooting condition.
Vivo's GameCube, which serves as your central hub for all things gaming – it allows you to prevent notifications from bothering you while playing a game. There's even esports mode, which allocates the phone's resources to ensure optimal performance.
Battery
As per our usual test of playing a video on loop at 80% volume and 50% brightness, the V15 Pro was able to yield around 18 hours of uptime on a single charge, which is really impressive.
The device is also equipped with Vivo's Dual-Engine fast charging technology, which allows it to get back up from zero to full charge in around 1.5 hours.
Emman has been writing technical and feature articles since 2010. Prior to this, he became one of the instructors at Asia Pacific College in 2008, and eventually landed a job as Business Analyst and Technical Writer at Integrated Open Source Solutions for almost 3 years.