Let me tell you straight that this isn't an article with political nature. This is neither about Huawei's case against the US government about production ban, nor the company's willingness to sell 5G chip to their rival company, Apple. This is all about the inspirations they took and their efforts to disrupt certain ways of doing things for the sake of innovation and progress.
I had the chance to exclusively meet and interview Mr. George Li, Country Manager of Huawei Consumer Business Group Philippines and Mr. Peter Guaden, Global Product Marketing Manager of Huawei Technologies during the official launch of Huawei P30 series in the Philippines. We talked about a number of things specific to Huawei, the products they launched and their future in the Philippines. Little did I expect that the interview will lead to new discoveries about Huawei and a renewed appreciation of the brand's effort to reach out to more Filipinos.
Redefining and rewriting rules in photography
The Huawei P30 series promises a lot of new improvements from previous iterations, and a plethora of new innovations that will delight Filipino consumers. As the series' flagship product that's focused on mobile photography, Huawei successfully attempted to break barriers in photography and help consumers to bring out their creativity while using the new smartphones.
New photography innovations like 10x hybrid zoom, 50x digital zoom and TOF on P30 Pro put more power to consumers and users to express themselves creatively without any hesitation or discomfort. During my interview with Peter Guaden, he said, "With the P30 series, we want to rewrite the rules of photography. So, there are a number of aspects where they take a rule over, rip it up and start it again. 50x zoom gives [users] versatility in focal length. Because if you think about how you use a DSLR camera, you carry around different lenses to snap photos in different focal lengths." This, in essence, encapsulates the inspiration behind putting this kind of innovation on Huawei's latest smartphone.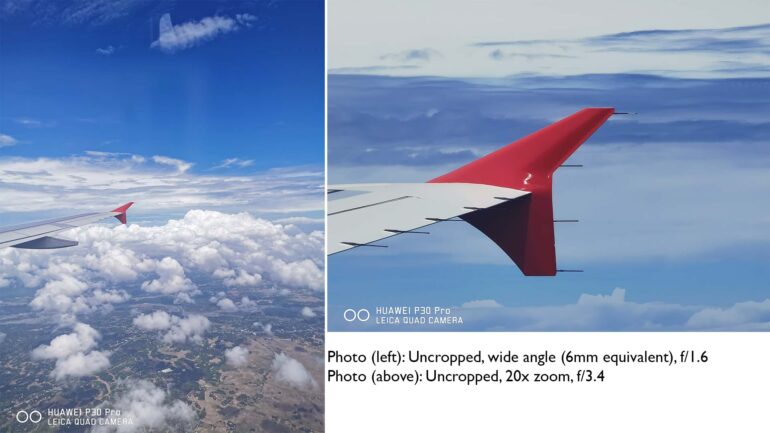 For Huawei, it's all about being able to extend your creativity regardless of environment or situation. If you want to take a photo of a person parasailing from afar, but you don't have super-zoom lens, DSLR and a tripod, you can easily do that with Huawei P30 Pro.

I have been using Huawei P30 Pro and I can attest that this phone has all the futures needed for someone who takes photography as one of his passions. When Huawei said that this phone can let you see what your naked eyes can barely see, they weren't kidding. I snapped a few photos and shared it on my social media accounts, and the reactions I received reflect the same sentiments I had during my first day with the device.
50x zoom is barely scratching the surface of what the smartphone can do, and I cannot wait to share everything with you on my full review.
Apart from its insane zooming features, one of the technologies that I like about Huawei P30 Pro is its TOF camera. TOF, or also known as "Time of Flight", is a process by which the camera – with its AI technology – measure the distance of the light from a particular background or subject to the TOF camera. The farther and defocused it is from lens, the more bokeh it will be generated on the output. It's the simplest way to describe it, but for better appreciation, here are some sample photos I took. The new Huawei P30 Pro understands how far the background and subjects are, and creates a 3D map to determine the amount of depth of field it will generate.
Massive Step forward in DxO Rating
P30 Pro currently has the highest overall DxO rating, beating the Galaxy S10 Plus by 3 points. While some consider DxO process and result moot and academic, it is interesting to see how brands try to get the highest score possible in specific category. Based on the rating provided by DxO, P30 Pro is the best phone in terms of photography and at par compared to Galaxy S10 Plus.
| | | | |
| --- | --- | --- | --- |
| Smartphone | DxO Overall | Photo | Video |
| P30 Pro | 112 | 119 | 97 |
| P20 Pro | 109 | 114 | 98 |
| Mate 20 Pro | 109 | 114 | 97 |
| Galaxy S10 Plus | 109 | 114 | 97 |
This gives further resolve to Huawei's confidence to tell the world that they've got the best phone in terms of photography, and we just can't help but agree with it in certain respects. There is still this sense of reservation because there are instances when I find Galaxy S10 Plus' photos better and more natural than P30 Pro's slightly saturated output. Vibrancy is more pronounced on P30 Pro if you let its AI be in full control of everything, and that has been the case since the P20 Pro. However, if you break away from automatic mode, and use both phones (S10+ and P30 Pro) in their full potential via Manual Raw mode, you will see how superior P30 Pro is.
The value you get outweigh the price you pay
When I talked to George Li, I congratulated him for the impressive prices of the new P-series. Even without 20% tax, the announced SRP of Huawei P30 and P30 Pro in the Philippines are far lower than Global SRP. According to Li, the P30 series is packed with premium features and innovations that outweigh the prices of the devices, and Huawei was even more willing to reward consumers who pre-ordered a unit. In fact, Huawei gave away Huawei Watch GT and Huawei Mediapad M5 Lite to those who pre-ordered last April 6, 2019 – the combined cost of these pre-order bonuses is PhP31,980.
| | | | |
| --- | --- | --- | --- |
| | Global SRP | Conversation to Peso + 20% tax | Confirmed PH SRP |
| Huawei P30 | 699 Euro | PhP 49,064 | PhP 36,990 |
| Huawei P30 Pro | 799 Euro | PhP 56,084 | PhP 50,990 |
A Full Ecosystem that Filipinos can Enjoy
With all these new products introduced during today's official launch of Huawei P30 series, Huawei wanted to glaringly convey a message: Huawei has full ecosystem that you can seamlessly enjoy.
Huawei Matebook 13 Arrives in PH: Price Starts at PhP55,990: link
Huawei Watch GT Active Edition Arrives in PH: link
According to Li, the event and the freebies they provided to all those who pre-ordered are seen by the company as opportunities to introduce their products to Filipino consumers. Huawei may not have made Matebook available to Filipinos in in 2018, their decision to bring the upgraded ones this year makes more sense as its packed with features that make all Huawei devices seamlessly connected.
Founded in 2009 by Gian Viterbo, Gadget Pilipinas is one of Philippines' top sources for news, tutorials, reviews and tips about the latest trends in technology, gadgets, games, social and digital media and cyber culture.